Bottega Americano (Closed): High Quality Brunch in Downtown San Diego
Unfortunately, this restaurant closed in 2018.
Located in the heart of San Diego, only a stone's throw away from Gaslamp, Bottega Americano is a modern bistro with a large inviting dining area and a fantastic menu. For me, brunch is where it's at here though, and luckily they have it on both Saturday and Sunday. Here are all the details so you can experience the fantastic breakfast pizza or something else for yourself.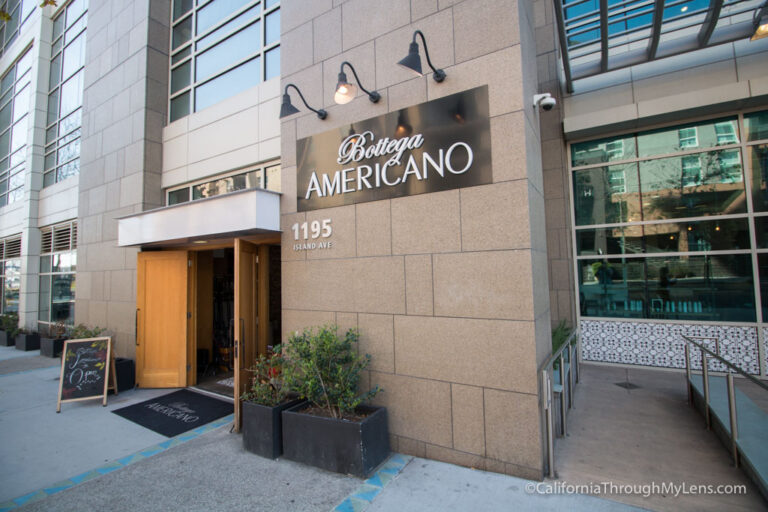 Details
Cost: $15 – $20
Location: 1195 Island Ave, San Diego, CA 92101
This information was from my visit in 2017
Getting There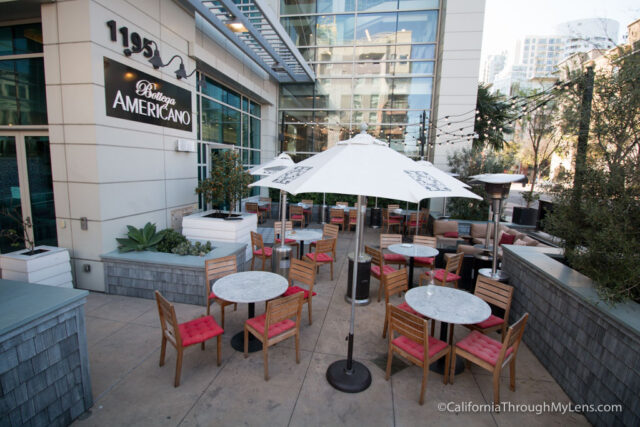 Heading out from downtown San Diego on Market St, you will turn right on Park St. Bottega Americano is on the corner of Park and Island. There is street parking if you can find it, or there is a parking structure one street down on 10th / 11th.
The Restaurant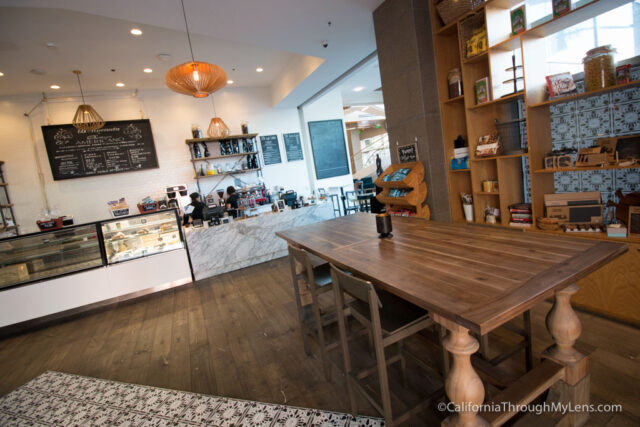 Located on the corner of Park and Island, Bottega Americano takes up about a quarter of the block.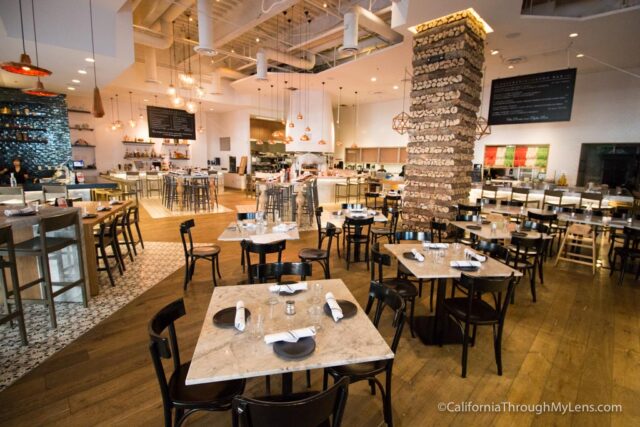 It has a large, open layout with lots of wood and bronze tones from the pendant lights.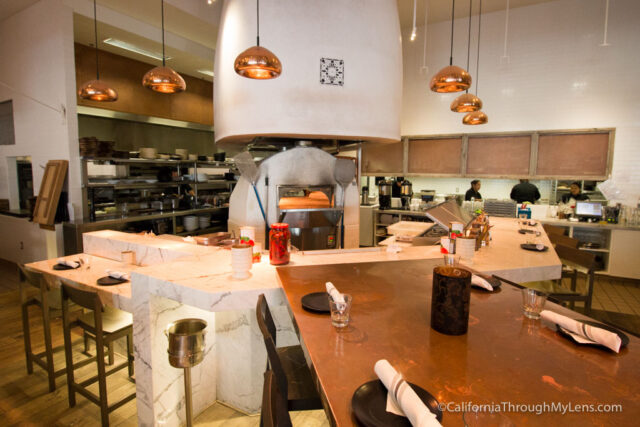 The interior also has a fun vibe with walls covered in old photos and Vespas sitting in the hall. We got seated next to the window and sat down to look over the menu.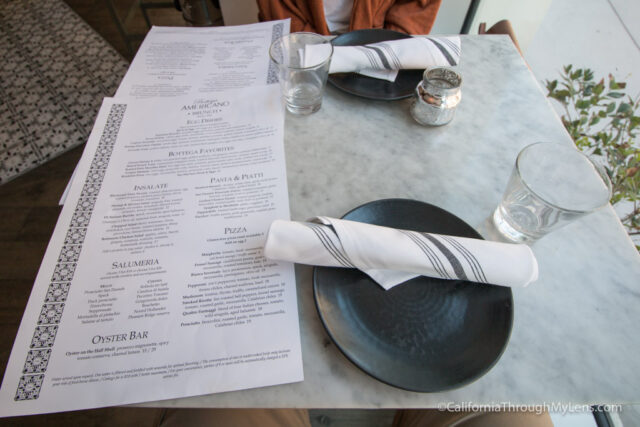 The brunch menu has selections from the usual lunch menu and, of course, breakfast items. I love breakfast food, so that's where I went. Here is what we ordered: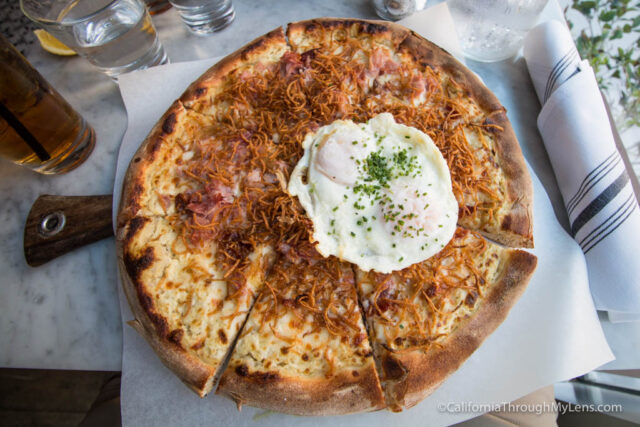 Breakfast Pizza – 12-inch pizza you can easily share and that comes loaded with mozzarella, prosciutto, bacon, caramelized onions, crispy potatoes, and two eggs any style. The pizza is exploding with flavor, especially with the salty pancetta and the yolk from the over easy eggs. One of the best additions comes from the crispy potatoes though, which have a great breakfast potato taste and an excellent crunch. The pizza doesn't have a sauce, the melted cheese forms the sauce, and you won't miss the traditional tomato spread. This is an excellent dish for brunch and one of the best breakfast pizzas I have had.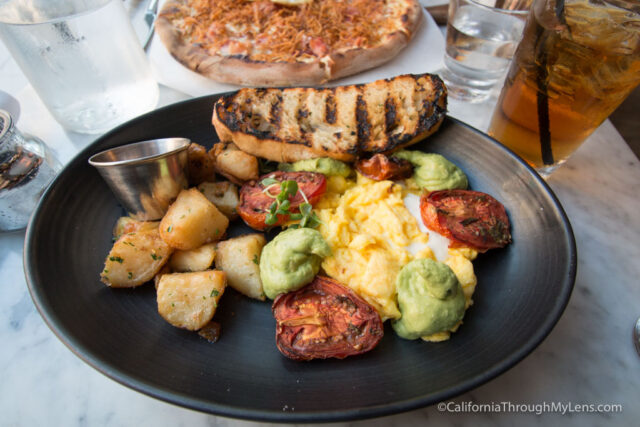 Caprese Scramble – I love anything with burrata, and this is no exception. The fluffy scrambled eggs have a creamy burrata in the middle that is melted and stringy. The whipped avocado pairs well with the roasted tomatoes that are sweet, completing the dish. It is served with a grilled ciabatta that has been rubbed with olive oil, and it's an excellent way to add a nice crunch to the dish. The ketchup is even good, with a sweet taste from being homemade.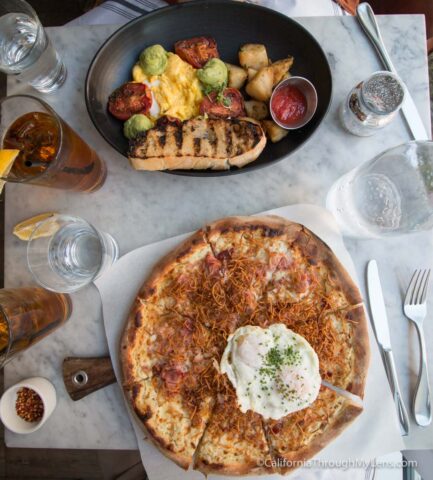 After finishing lunch (with half of the pizza in a to-go box), we decided to try the tiramisu, which had been highly recommended by multiple people. It did not let us down.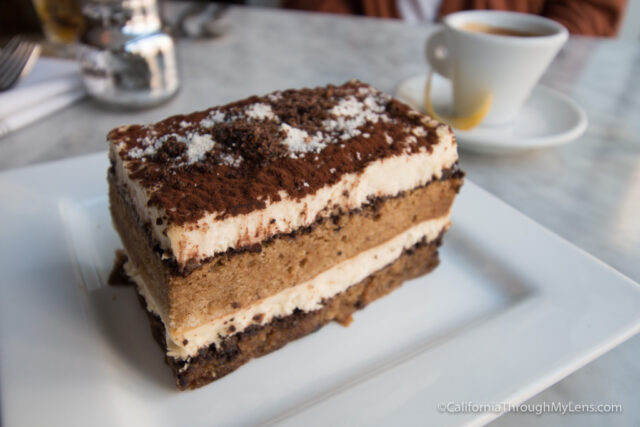 Tiramisu – This dish is a family recipe that the owner makes and that we were told the pastry chef doesn't even have access to the recipe. It is one of the best versions of the dish I have had. The filling is moist, which is hard to do, and it melts in your mouth. It pairs well with the espresso since the bitter espresso and the sweet cake form a good partnership with their individual flavors. Honestly, I wouldn't leave without ordering this dish.
As you can no doubt tell, Bottega Americano was a win during our trip to San Diego. Everything from the staff and food to the layout was impressive, and I will surely be back. Let me know if you have been in the comments and what you thought about this restaurant.