San Diego is a popular destination for tourists and Californians alike. This city has great weather pretty much year round, and it has a ton of amazing spots to explore. While I have not spent as much time in the city as I would like, here are 26 of my favorites.
Video
If you want to see all of these recommendations in a video, check it out below.
Balboa Park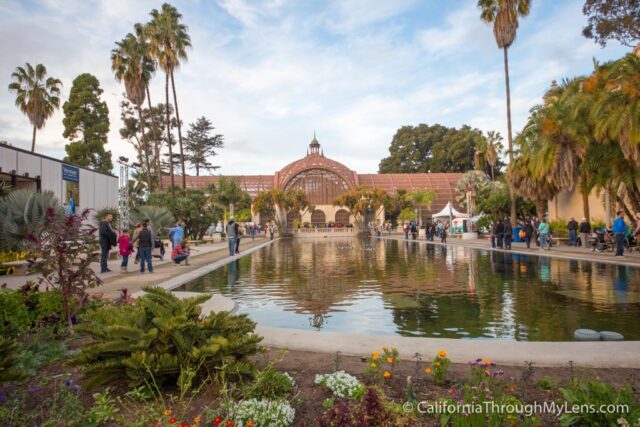 My first recommendation is the museums at Balboa Park. Balboa Park is a place you could take multiple days to explore, with the dozen or so museums located on the property. I recommend spending a half day there and seeing some of the ones that you're most interested in. A few of my favorites are the Museum of Man, the San Diego Air & Space Museum, the Natural History Museum, and the Train Museum. Honestly, you can't go wrong just walking around the area, checking out the Organ Pavilion, and going to the Botanical Gardens. It's a great place to spend a few hours in San Diego.
San Diego Zoo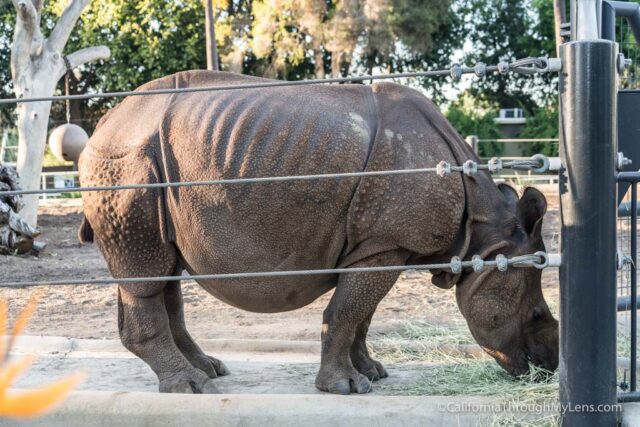 The San Diego Zoo is located in the Balboa Park area, and it's one of the best zoos I've ever been too. The zoo is massive with tons of different animals you can see, ranging from polar bears and elephants to meerkats and flamingos. If you have young kids, this is a great spot to bring them, but even if you don't, I still find a ton of things to enjoy at the zoo every time I go.
Unconditional Surrender & USS Midway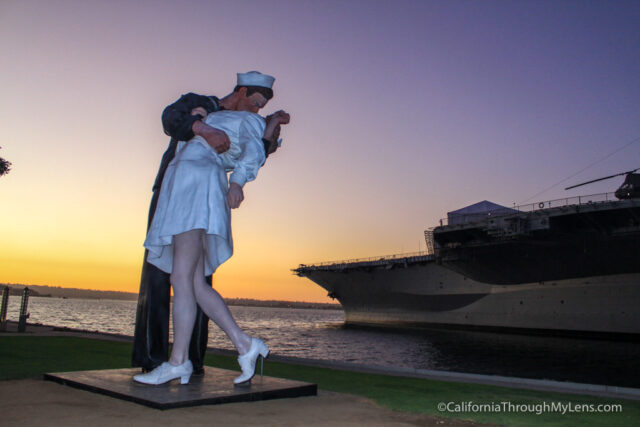 Located right on the water in downtown San Diego the USS Midway has been a top-rated attraction for decades. This large aircraft carrier takes hours to explore fully, and there's a ton of cool stuff to see, as well as great views of downtown San Diego when you get to the top.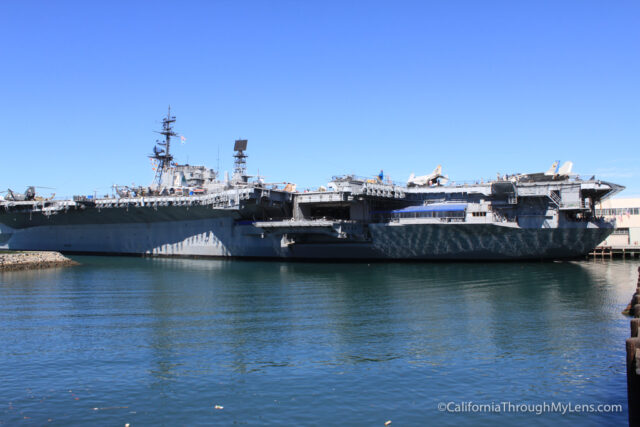 Right next to it is the Unconditional Surrender Statue, which is free to visit. It mimics the famous picture of the sailor kissing the woman on Victory over Japan Day in Times Square in 1945. This statue is about 40 feet tall, and it's an excellent place for photography. Also, right next to is an area dedicated to Bob Hope, which plays some of his speeches he gave to the military and has a lot of bronze figurines that you can check out.
Old Town San Diego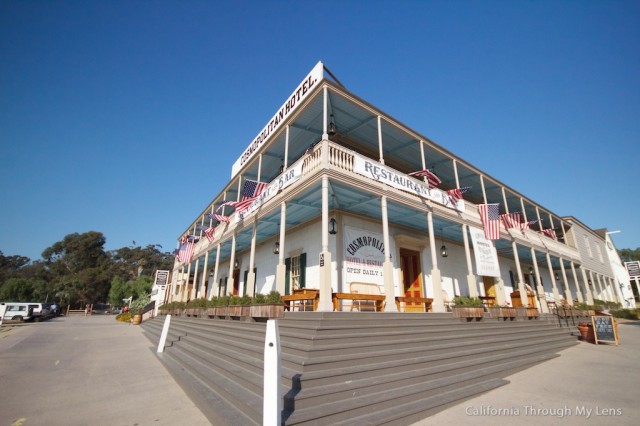 Old Town San Diego is a great place to park and walk around for a few hours. There is lots to explore, including a train museum, the El Campo Cemetery, which has a lot of historic gravesites from the 1800s, and the Whaley House, which is supposed to be one of the most haunted places in all of America. You can also see Old Town itself, which is a collection of museums, shops, places to eat and a big old pavilion that you can walk around.
Maritime Museum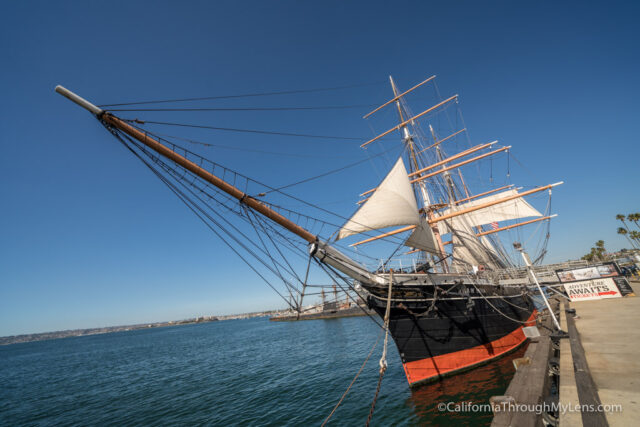 The Maritime Museum is much like the one you would see in San Francisco and is a collection of old ships that you can walk onto and explore. This museum has about eight ships, including the Star of India, an old pirate looking ship, which is one of the most popular. This ship sailed around the world 21 times and is one of the oldest sailing ships still in existence today. I also love checking out the submarine, but there are some tight spaces, so if you're not a fan of those, you might want to stay out of this one.
Belmont Park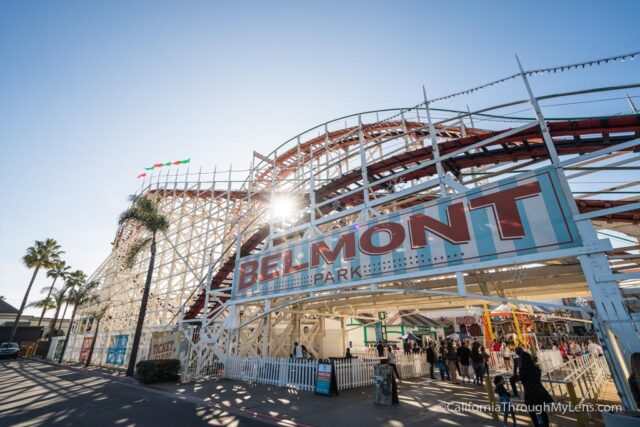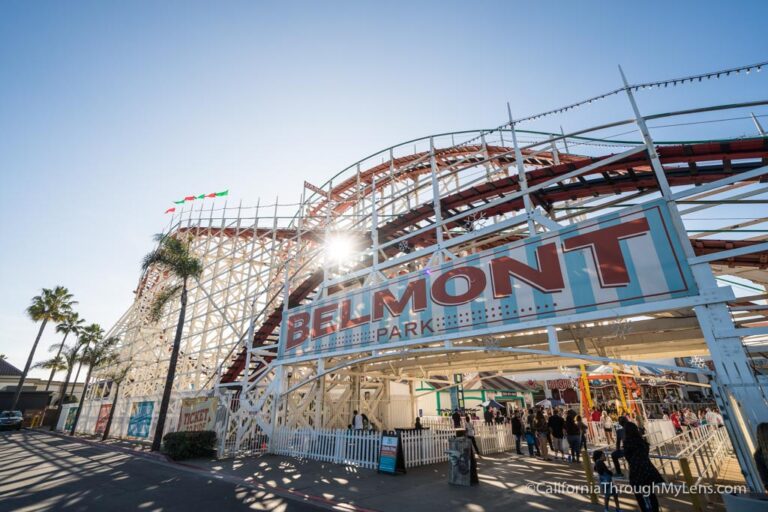 Belmont Park is located right on the beach in the Mission Beach area of San Diego, and it has a fun amusement park area for families. This area was built in the early 1900s, and the roller coaster itself was built around the 1920s. While I haven't ridden the roller coaster, I do love walking around the area, grabbing something to eat, and playing some of the carnival games.
Cabrillo National Monument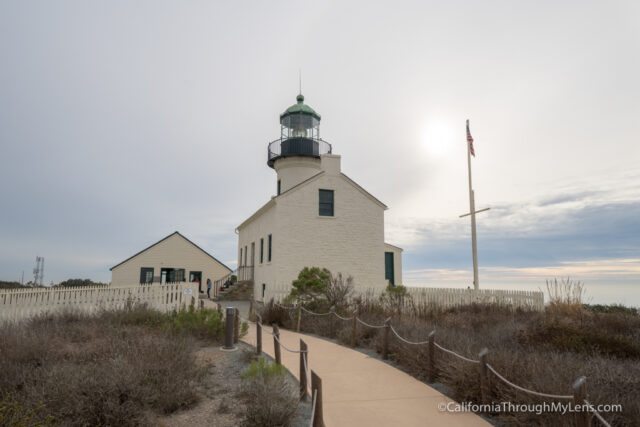 Run by the National Park Service, Cabrillo National Monument is located out on the peninsula, which looks back at Downtown San Diego. This area houses the historic lighthouse, which you can walk into when it's open, a statue of Cabrillo himself and a tide pool area, which is located along in the cliffs.
Sunset Cliffs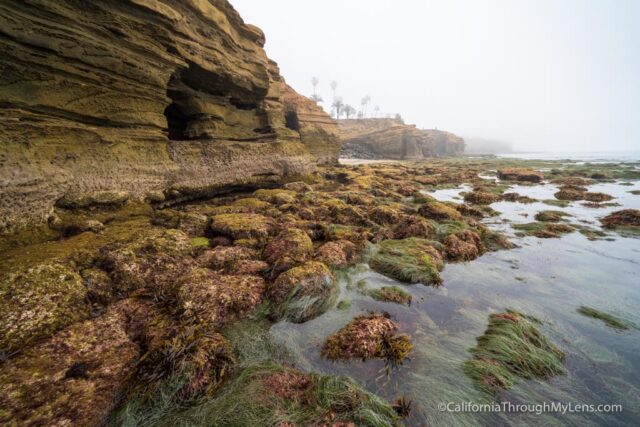 Located right above Cabrillo National Monument, the Sunset Cliff's area includes a stretch of a half dozen or so miles. It is a beautiful place in San Diego, and one of my favorites to watch the sunset at. Walking along the cliffs shows you the erosion of water and provides tons of beautiful vistas for you to see during your walk. If you happen to be there during a super low tide (like a negative two tide), you can walk out to the Sunset Cliff's sea cave, which is an amazing place to experience as well, but only go there if it's low negative tide.
Liberty Public Market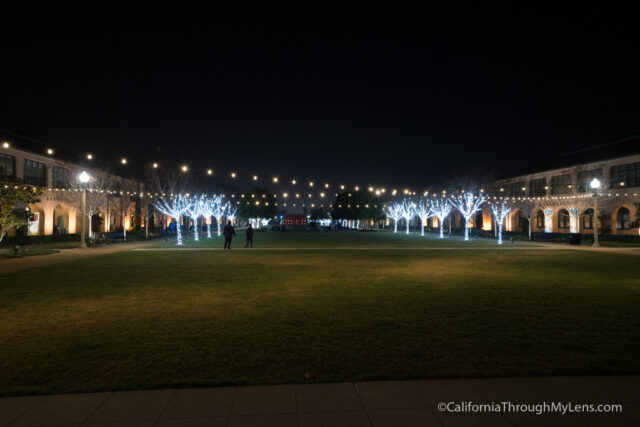 Stop number nine is Liberty Public Market. Liberty Public Market is much like the Oxbow Market in Napa, which is a large building with lots of small spaces for different restaurants, shops, and breweries. I like walking through here, having some oysters, trying some cheese, and finding new beers to check out. It is also where one Stone Brewery's locations are at so if you're a fan of IPAs, it's a great place to check them out.
Pacific Beach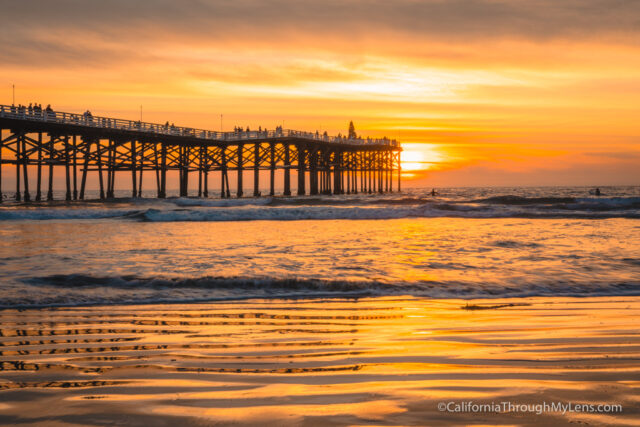 Stop number 10 is the beaches of San Diego but specifically the Pacific Beach area. Honestly, one of the best things to do in San Diego is to head down to one of the beaches. San Diego has excellent weather year-round, and so you can often find people just relaxing, enjoying the waters, surfing, checking out all the San Diego beaches have to offer. I like Pacific Beach because the pier there is an excellent place for sunset photography. Plus, if you're looking for a unique experience, you can book a room on the pier itself.
Torrey Pines State Reserve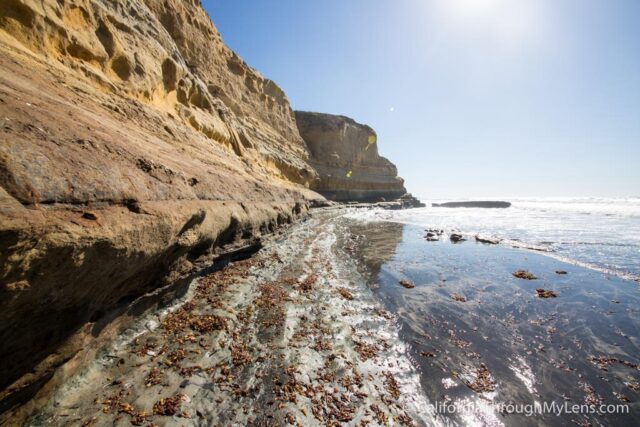 When you're thinking about hiking in San Diego, it doesn't get better than Torrey Pines. Torrey Pines is a great state park to explore as there are miles of hiking trails that take you along the rugged cliffs down to the beach itself. One of my favorite spots is the Razor Point Overlook, which has a dramatic sandstone gorge that you look at over. Also, this is an excellent place for sunset as you get fantastic views over the coastline.
La Jolla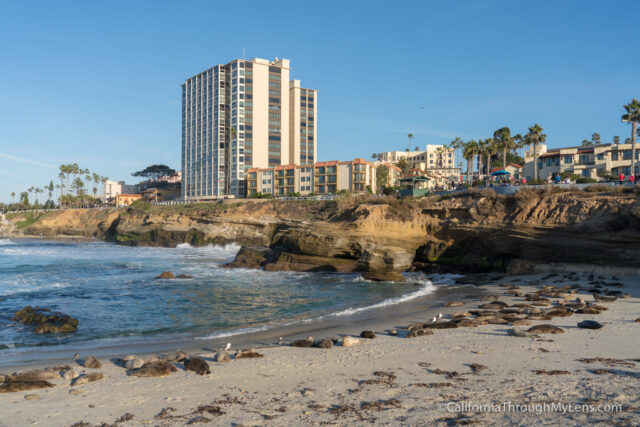 Stop number 12 is to spend some time exploring the small coastal town of La Jolla. La Jolla is one of my favorite places in the San Diego area as there's so much to do for adventures and food. A few of the highlights are going over to Children's Pool, which is where all the seals hang out and kayaking in La Jolla Cove.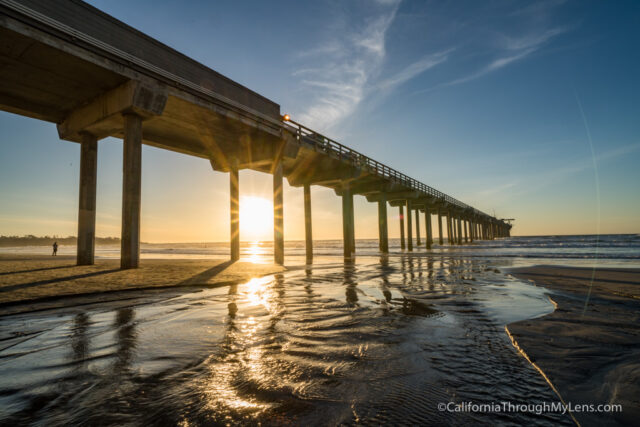 Also, during August and September, most years, leopard sharks come down into the cove. You can snorkel 15 yards off the shore and be seeing sharks below you, which is a pretty unreal experience to have in Southern California.
UCSD Stuart Art Collection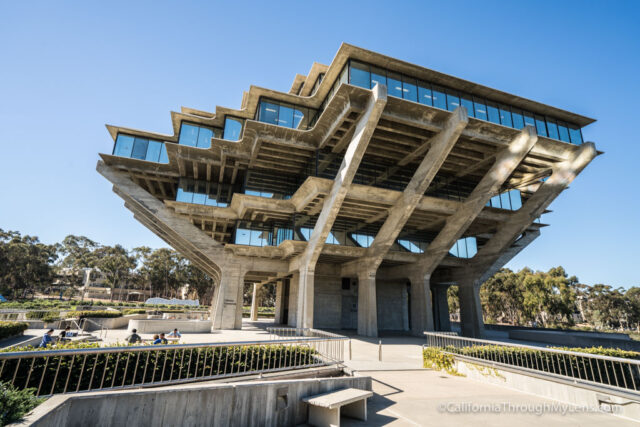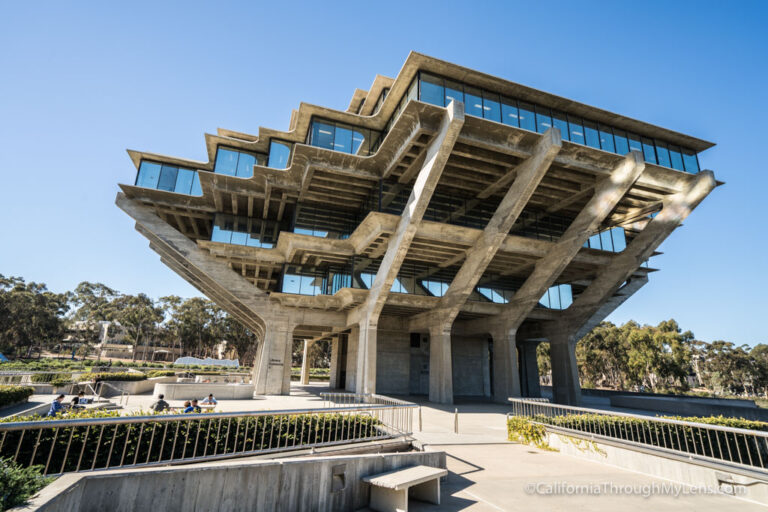 University of California San Diego is a massive campus in the northern part of the city near La Jolla, and the Torrey Pines area. The Stuart Art Collection is located all around the school and is a collection of large-scale outdoor art installations. I think there's about 18 of them and it's fun to walk around and find them all.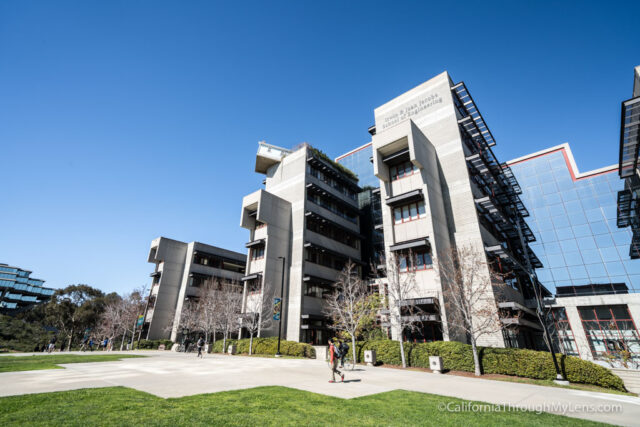 My favorite is Fallen Star, which is a house that looks like it's teetering on the edge of the engineering building, the giant rock bear, and the library, which is named after Dr. Suess.
Mission San Diego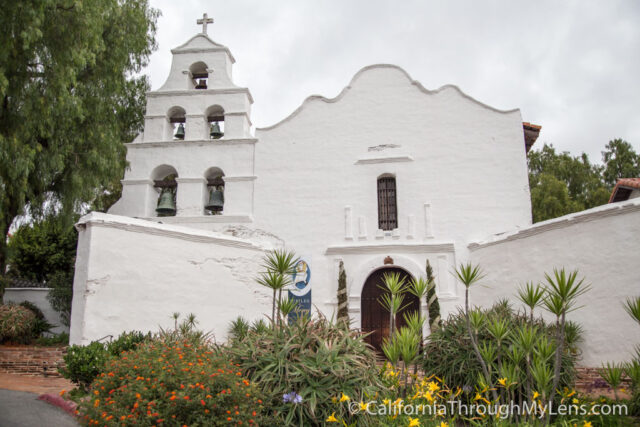 Mission San Diego is one of the 21 Spanish California missions, and it's one of the better ones along the Missions Trail. It's a great place to see the history of the area, including the beautiful gardens, the old bell tower, and the chapel. I recommend about an hour just walking around and checking it all out.
Seaport Village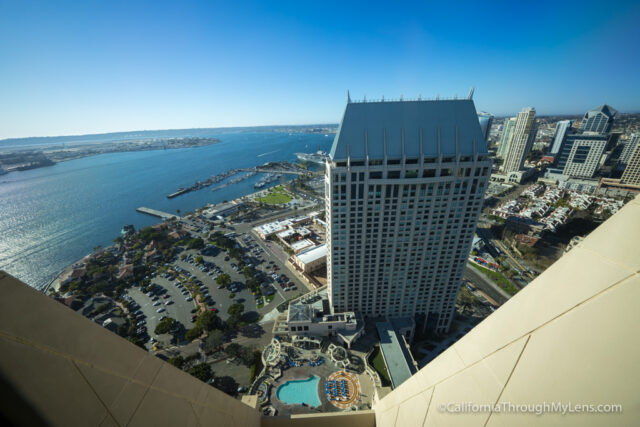 Seaport Village is a touristy spot that's busy on the weekends, and that lots of families visit for restaurants and shopping. My favorite place in Seaport Village is the bar that's located at the top of the Hyatt it's on the 40th floor. It's a great place to get an excellent view of the city. Seaport Village is also a fun spot to visit during Christmas as they often have poinsettia trees and lots of other decorations that you can experience.
Gaslamp Quarter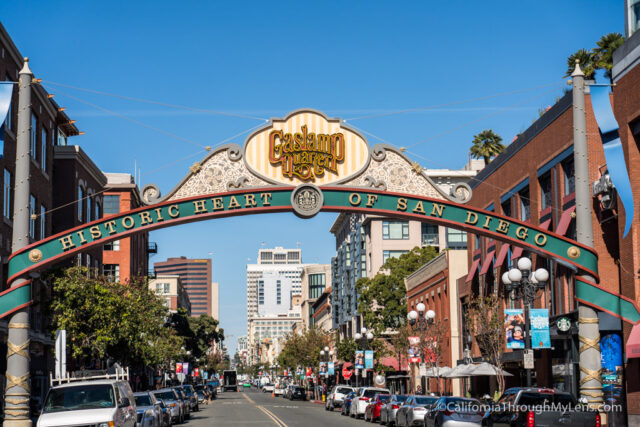 Gaslamp Quarter has a great restaurant and bar scene, and thousands of people descend on it every weekend. If you want to try a unique bar, head to the top of the Marriott, which has a bar that overlooks Gaslamp or go to the Nolen, which is another rooftop bar. If you don't want to visit the bars though there's lots of shopping, a Ghiradelli, which is a fun spot to get a dessert, and great food options. One of my favorite restaurants is Searsucker, which is an excellent restaurant for an upscale dinner in Gaslamp.
San Diego Library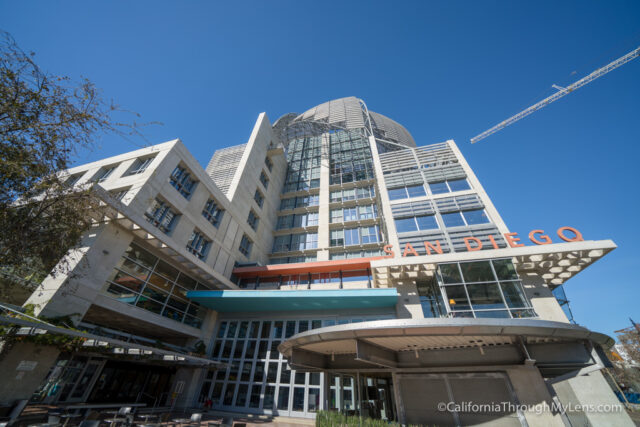 This famous library looks like an egg from parts of the city, and people didn't love it when it first opened. However, it's a beautiful place of architecture to explore in downtown San Diego. I recommend taking the elevator all the way to the top, which lets you see that egg shape that I was describing earlier and has great views of the city and the Coronado Bridge. There's a rare books area up there, so if you're into unique old historic books, it's a cool place to check out.
Grant Hill Park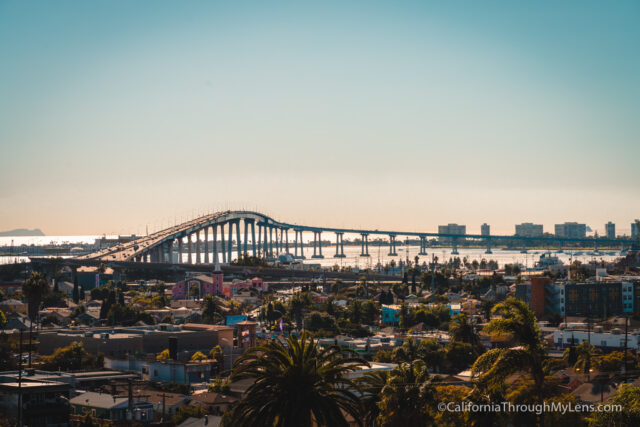 Grant Hill Park is a small area of grass with a playground. It is not a huge destination, but it is a great area to get a view of the Coronado Bridge, which is one of the most popular photography spots in San Diego. I love coming up here with my zoom lens near sunset, as you can get a view of all the cars going along the bridge, but if you are not a photographer, you might skip this one.
Coronado Bridge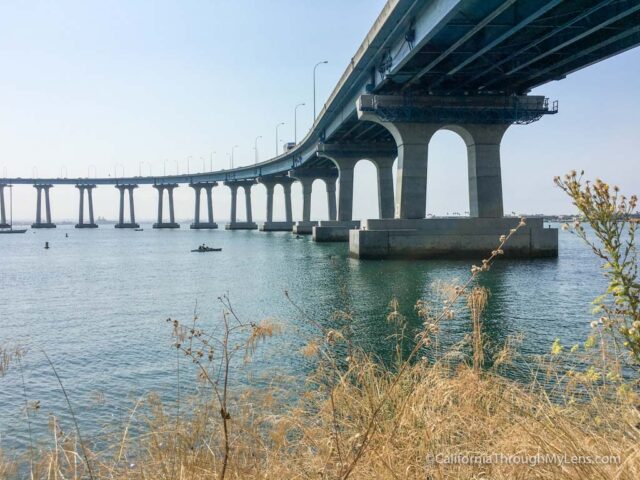 Recommendation 19 is driving over the Coronado Bridge and going into Coronado itself. Coronado is a great small town located right on the water in San Diego. It has the famous Hotel Del Coronado, which sits right on the beach, and during Christmas they have an ice skating rink practically on the sand. Plus, Coronado has Moo Creamery, which is an excellent place for ice cream, a few breweries, and a great bike path that lets you ride a bike all around the island. Also, be sure to stop at the Tidelands Park, which provides excellent views of downtown San Diego and lets you walk under the Coronado Bridge.
Harper's Topiary Garden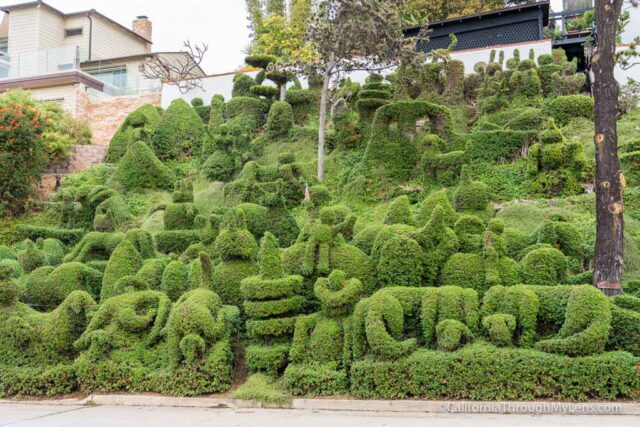 Next up is Harper's Topiary Garden and the Spruce Street Suspension Bridge. These two quick stops are right next to each other and close to the San Diego Airport. Harper's Topiary Garden is a collection of manicured plans in lots of different shapes like animals and other objects. It's private property, so just observe it as you drive by, but it's a fun place for a quick 5 minute stop.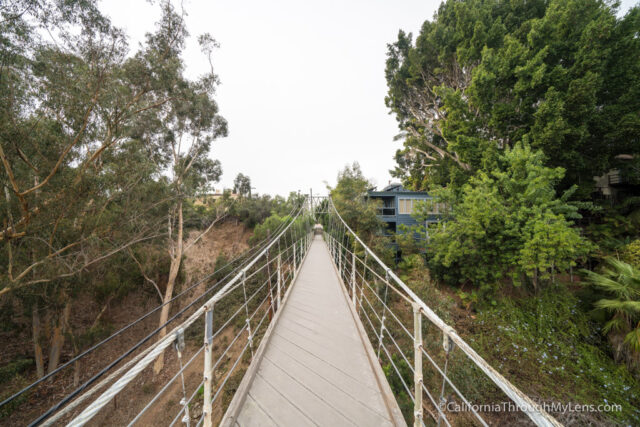 Five minutes away from there is the Spruce Street Suspension Bridge, which is a historic bridge in Downtown San Diego. You can park your car and walk out on this landmark footbridge from 1912, which connects two San Diego neighborhoods. It's usually pretty popular with lots of people walking around and experiencing it, but it's a fun five to ten minute stop in the city.
North Park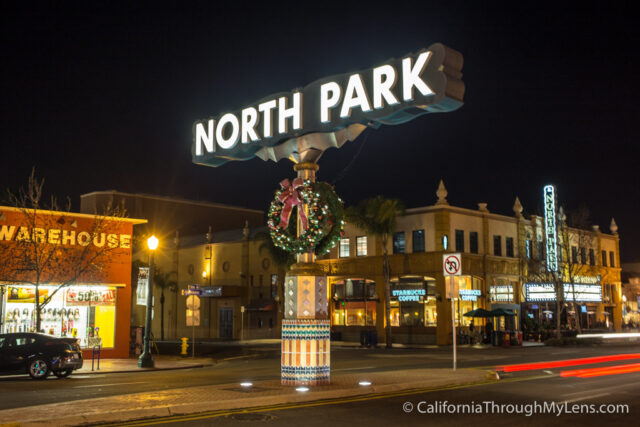 Over the last decade, North Park has come into its own as a popular hipster destination in San Diego with lots of great food, breweries, and other things to explore. Most people come for the food though, which is eclectic unique and impressive. Some of my favorite spots are City Tacos and Hammond's Gourmet Ice Cream, where you can get an ice-cream flight. Lucha Libre is also fun as it has a big old wrestling rink in the middle. Lastly, there's a lot of street art in North Park, and it's an entertaining area to walk around as you never know what's going to be around the next bend.
San Diego Breweries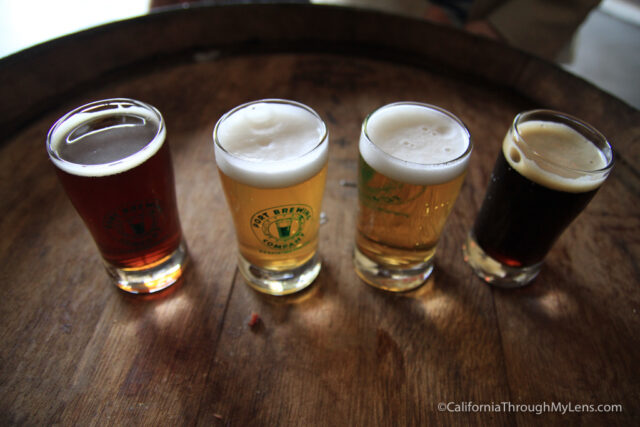 San Diego is quickly becoming one of the top beer destinations in the entire United States, and there are hundreds of breweries you can try while in the city. Some of the most popular are Stone, which has a Liberty Station and Escondido Location, Ballast Point, which is in Little Italy, AleSmith, and Mission Brewery. If you're a fan of the West Coast IPAs, you'll find a lot to like in the San Diego area.
Petco Park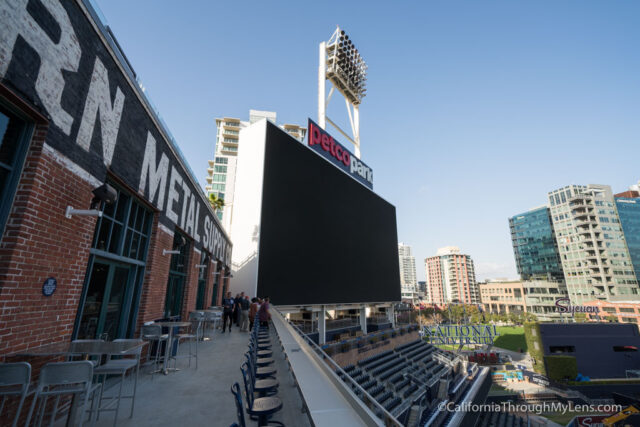 My last recommendation before we talk about food is to visit Petco Park. Petco Park is where the Padres play, and it's a great baseball stadium in the middle of San Diego. During game days, its electric to be anywhere near here, including the park outside, as everybody is just enjoying the San Diego weather and cheering on their favorite team.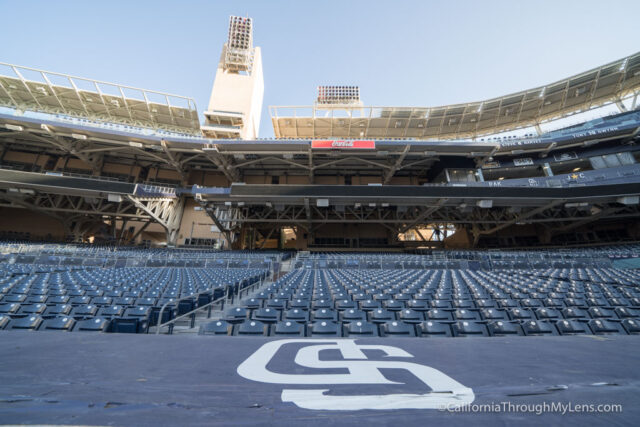 When the Padres aren't in town though, it's fun to take Petco Park tour. The tour takes about an hour and a half and shows you the dugout, the locker room, and a lot of the areas you don't usually see when you go to a game. They use this stadium for other things as well during the offseason though so you may go and not be able to see the field in all of its beauty if there's a motocross event or something like that. If you don't have a chance to take a tour or go to the game, you can walk around the outside area where they have the Hall of Fame and some of the historic statues in the park.
As promised, I'm going to show you three spots in the city to have a food adventure as well.
Taco's El Gordo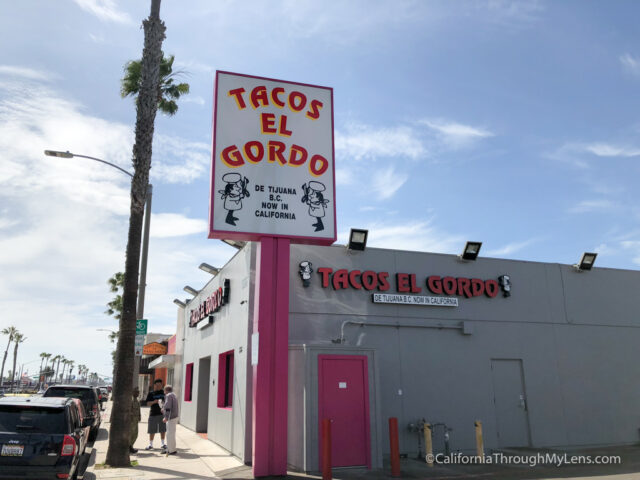 Tacos El Gordo is a Tijuana transplant that makes authentic Mexican tacos right in San Diego. It's an incredibly popular restaurant, so expect to wait 30 to 45 minutes just to get your tacos. Also, there are different lines depending on the taco that you want, but you'll see that the most significant lines are for the al pastor tacos. That's by far my favorite there, and I'll easily wait in the 45 minute line each time I go just to have some of those tacos.
Donut Bar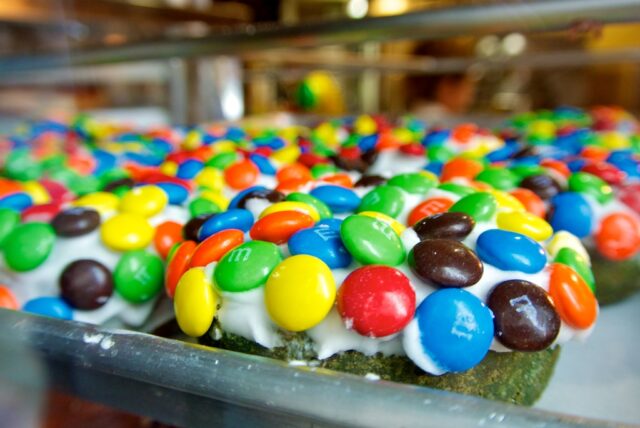 If you followed my blog, then you know that one of my favorite things to find is new donut shops. When I first found Donut Bar five years ago, I fell in love with the unique creations that they have every day. They've now ballooned to multiple locations around the state, but going to the location in downtown San Diego is still my favorite. There are tons of people waiting in line every morning to have their donuts. The one I recommend getting is explicitly the Crème Brulee donut, which is much like the Crème Brulee dessert and the top cracks when you bite into it.
Carnitas Snack Shack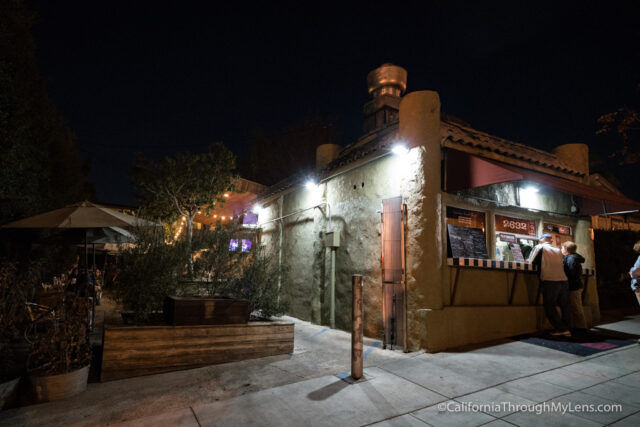 My last food recommendation is the Carnitas Snack Shack in the North Park area of San Diego. There are multiple locations, but the one in North Park is the original one, with a walk-up window that you order at. After ordering, you walk back into the open air seating area with tables, chairs, and market lights for a truly San Diego dining experience. I recommend any of the pork-based sandwichs and don't forget to grab some fries and a drink as they have craft sodas.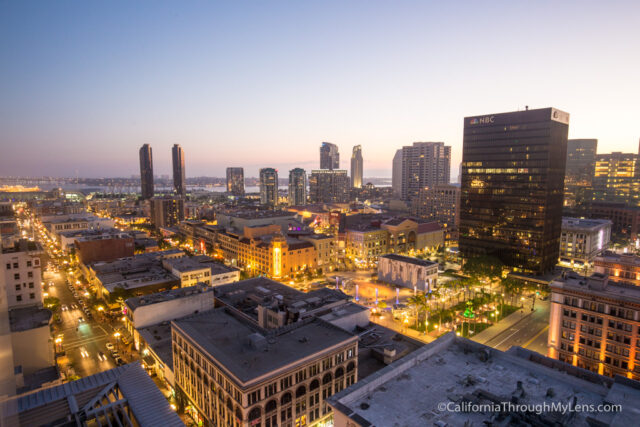 So that's it, my recommendation for 26 things to do in San Diego. Be sure to let me know what I left off in the comments, and if you have suggestions for future lists, leave those in the comments as well.