Cave of Munits & Castle Peak In El Escorpión Park
I love hikes that lead to something unusual like a waterfall or a cave, and if you can bundle that with a summit and make it only 3-4 miles round trip, then to me, it sounds like the perfect hike. The Cave of the Munits fit this description as it goes into a chimney cave, then out the top, up a ridgeline and over to the summit of Castle Peak. If that isn't unique, I don't know what is. Read on for my review, history, and how to do it yourself.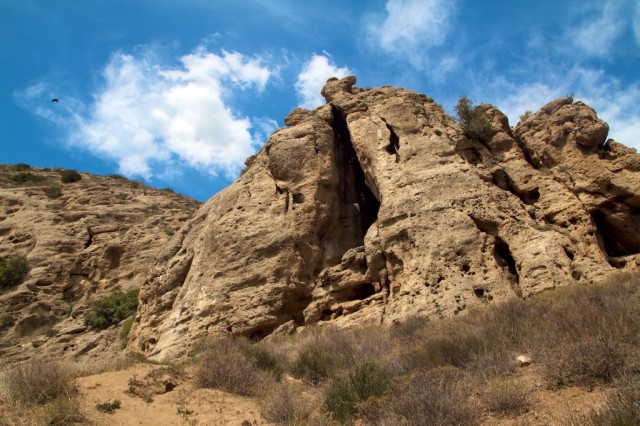 Details
This post was written in 2014

Free parking on the street

3 miles and 700 feet of elevation, however, it is somewhat challenging to go out the top of the cave and up to Castle Peak so some may want to just go back out the cave the way they came in
Get to explore a chimney cave
History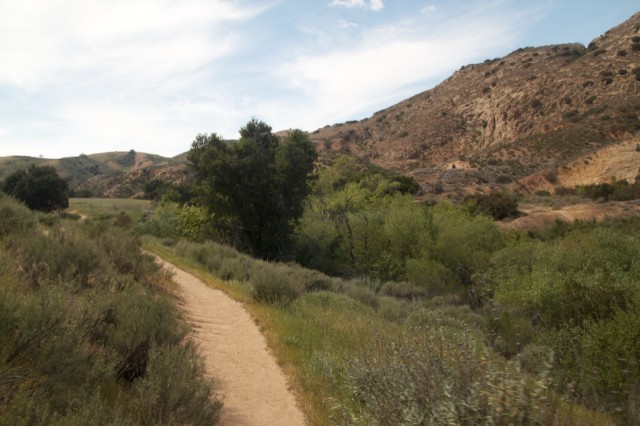 This park, in general, has a lot of historical value for its relationship to Chumash culture. The below is sourced from here
Kas'elew (Castle Peak)
This site has been an area of great ceremonial importance for Chumash people. It was traditionally used by priests and astronomers during winter and summer solstice ceremonies. This site is also significant because it is one of nine alignment points located within Chumash territory. These points are central to maintaining balance in the natural world. Though Castle Peak is located on the LA County side and was therefore not a part of Ahmanson property, it is important to note that the Cave and the Peak can be seen from one another. This connection and proximity make the cave and the peak a continuous area of significance that should not be broken up.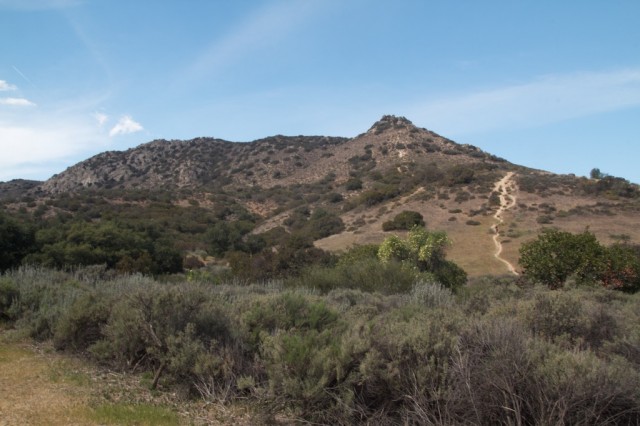 Cave of Munits
The cave is notable because stories about its significance are still known by Chumash people today. According to oral history, this cave was the home of a very powerful shaman who eventually met his end after murdering the son of a politically important chief.
The Hike
After parking on the street (directions below), you will see the start of the trailhead with Castle Peak looming above in the distance.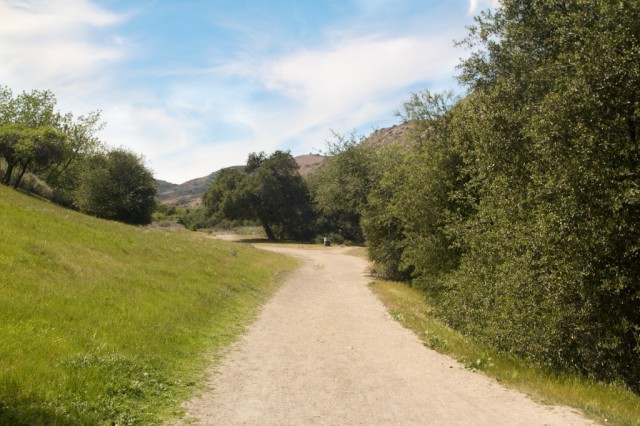 Follow the dirt road and stay to the left at the first junction that you see.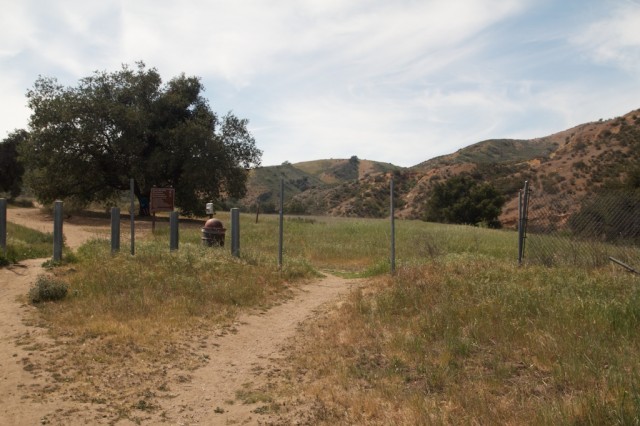 This dirt road will continue for about 3/4ths of a mile until you see a break in the fence.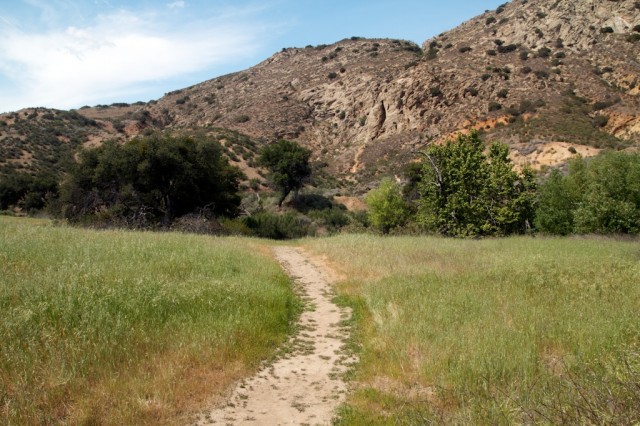 When you get to this break, you can see the cave to your right, and you will want to continue along that path. Up until now, the path has been nice and leisurely, but if you continue to the cave and above it, you will be experiencing a lot of elevation gain.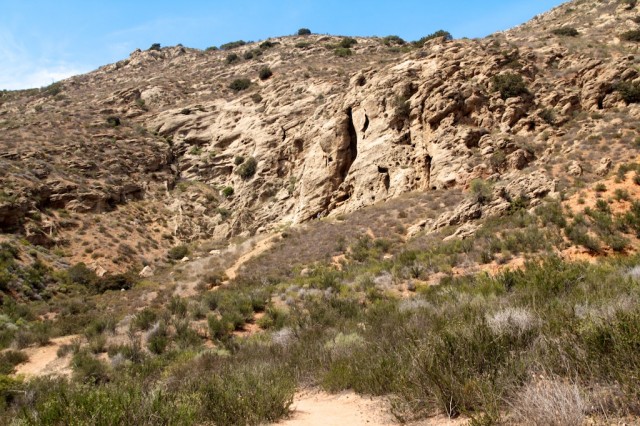 After about a quarter of a mile, you will be nearing the base of the Cave of the Munits. Notice the person below for a sense of scale.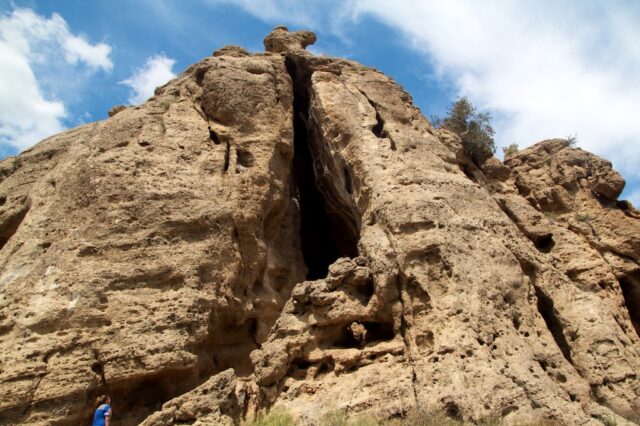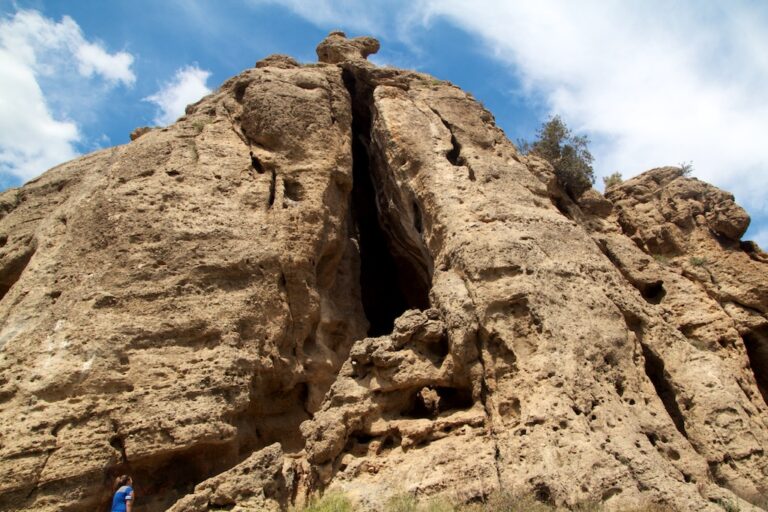 If you are going in, BE CAREFUL as climbing this cave requires navigating some steep rock scrambling. I cannot stress this enough, just getting into the cave requires some decent scrambling (no ropes needed) so if you do not like this type of thing or are nervous on the rock, then you might want to observe from the outside.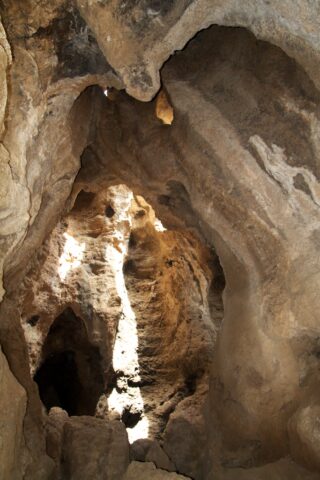 Once inside the cave, I was shocked by how big it is. There are a lot of little corner inlets to explore and great pictures to be taken in the big center area of the cave.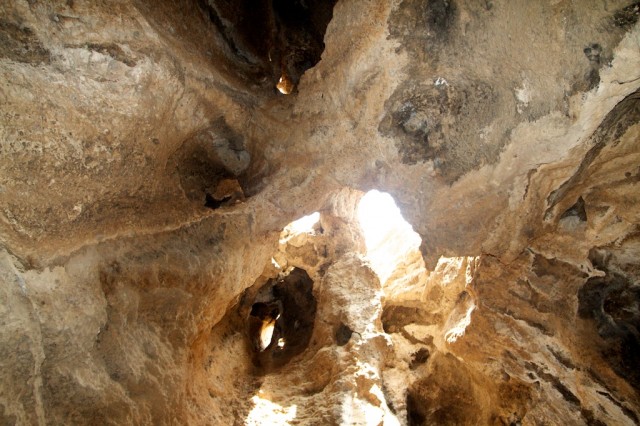 I was surprised that more people have not written about this cave. Here are some of my favorite pictures.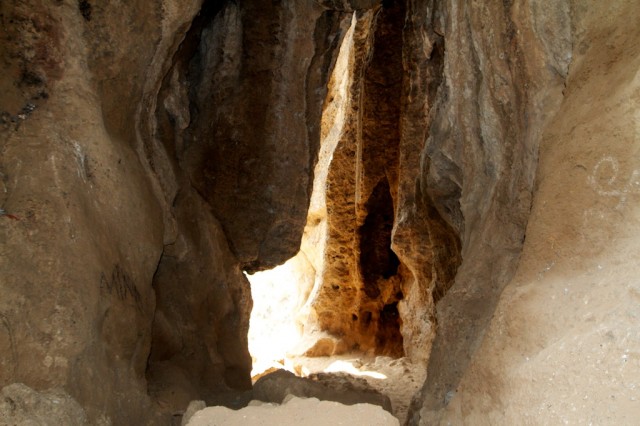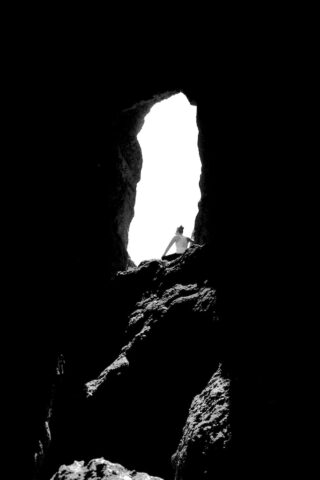 After taking pictures, you can either head back the way you came or out the right side of the cave (picture below) and up to Castle Peak (this is not easy).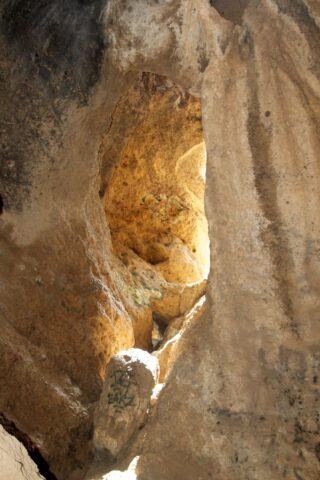 Cave of the Munits to Castle Peak
If you decide to continue, make sure to take your time and know what you are getting into. As soon as you climb out of the cave, you will be walking with a steep vertical incline up the mountain behind it. This is not for the faint of heart as it is exposed to the sun and a very steep walk up.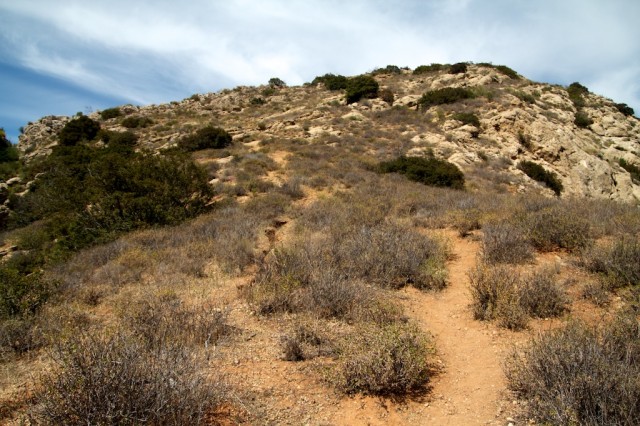 Just getting out of the cave requires more scrambling and will actually take you to the top to see back down into it.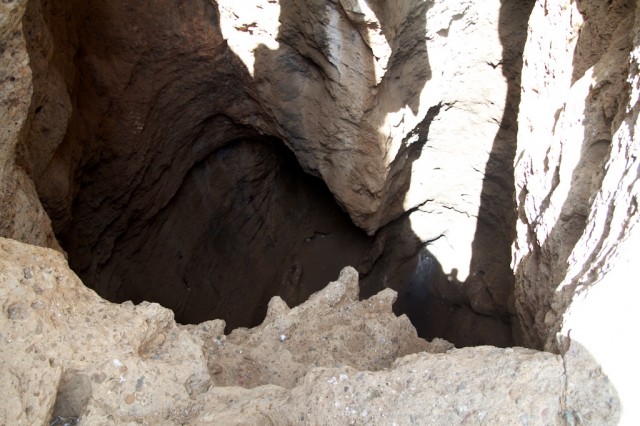 The view from the top of the cave is pretty amazing itself.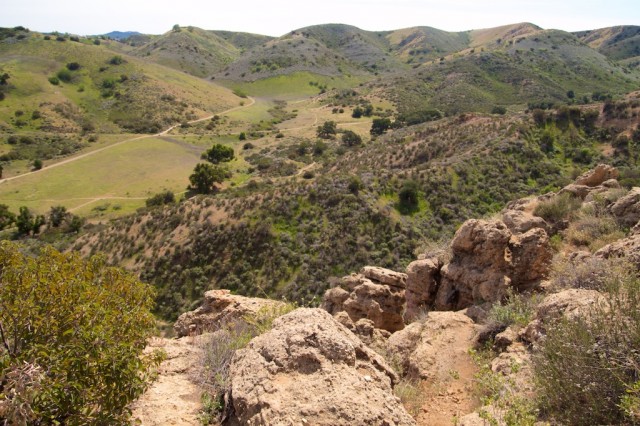 Once you get to the top of the ridgeline above the cave, we had a hard time finding the trail to Castle Peak. There were a lot of faint trails, but nothing that we were sure was the actual trail. The only good part about this is as long as you are going in the right direction, then you should be able to get there.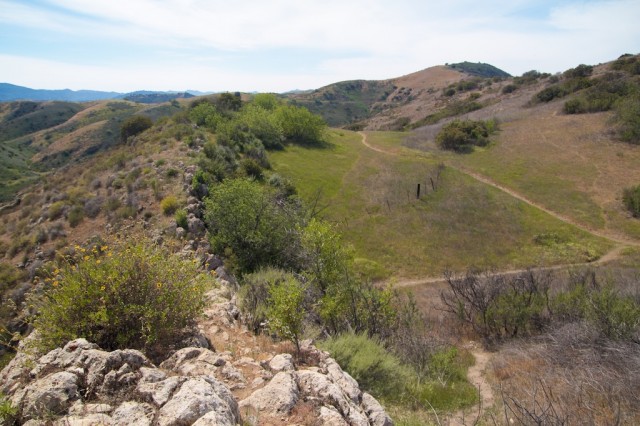 I would caution that this part of the trail took a lot of climbing as well, and it was not an easy trail to follow or to go on. Once you get over the last little hill, then you will see Castle Peak in front of you.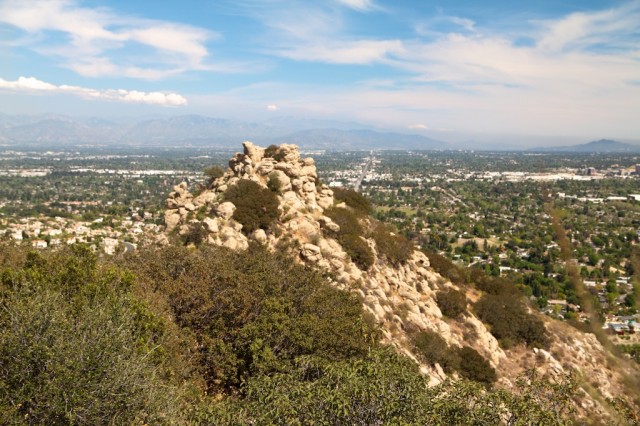 Castle Peak
This peak is nothing more then a collection of rocks sticking out of the land below. There is not much of a trail to the top of this as well. You mostly climb the rocks until you reach the top.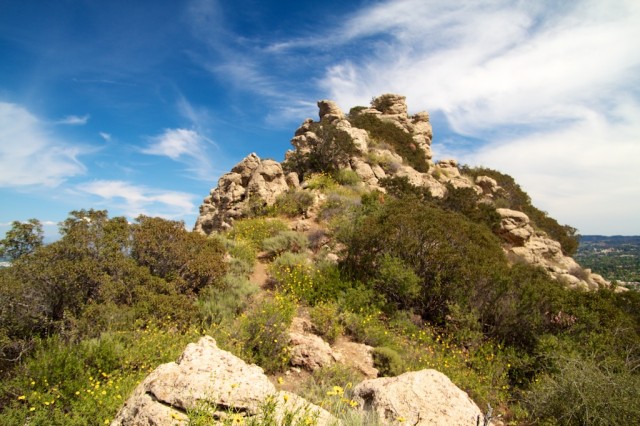 I do have to say though it is a fantastic view when you get up there. You can almost see the LA skyline if there isn't smog, and it provides a great place to sit and relax.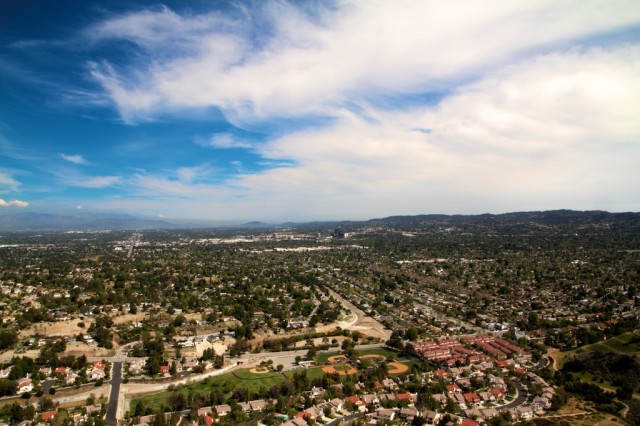 I am not sure if I took the right way to get off the peak, but the hike down, while only a quarter of a mile was very steep and required some scrambling. I have to imagine there is a better way to get down, but we took it slow and were able to get down in one piece.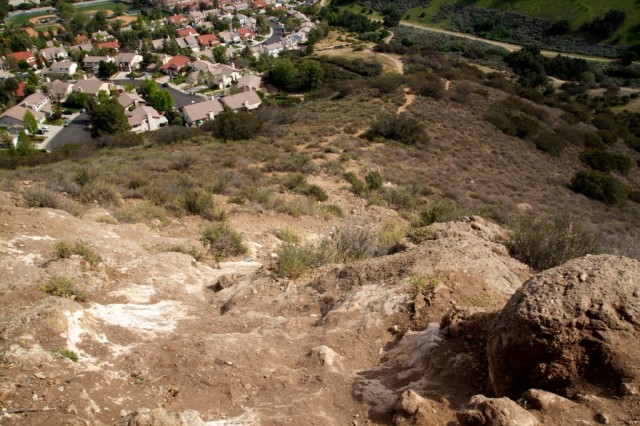 All in all, I loved seeing this cave and getting to the top of Castle Peak. Again I caution that this is not an easy trail once you climb out of the cave, so know that going in and bring water as there is no shade! That being said, if you are up for an adventure like I was, then you should enjoy yourself at the Cave of the Munits. Make sure to leave me a comment if you have been and get directions below.