Eaton Canyon Falls Trail: A Beautiful Waterfall Close to LA
After hearing over and over again about this hike, how dangerous it is and how many people go on it every day, I figured I needed to check it out for myself, so I could see what all the fuss was about. I set out from Riverside and got there at about 9 in the morning only to find the main lot full and only about couple spots left in the overflow. This is never a good sign, but I reserved judgment and got out of my car to start the hike.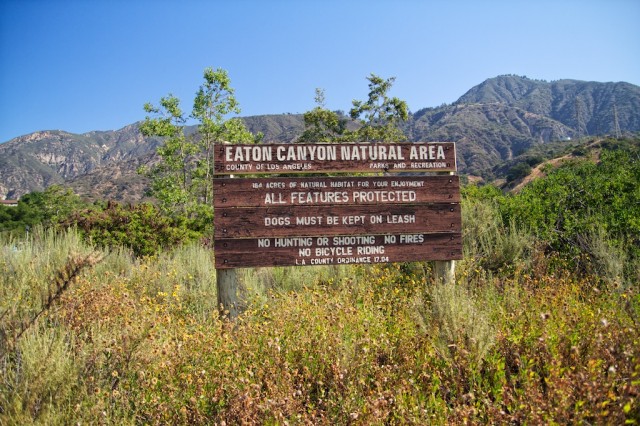 Details
Free to park

3-4 miles round trip (depending on where you park) with ~500 feet of elevation gain
You may need a permit to hike it – more information here.
The Hike
As I set out on the hike, I saw lots of people starting the trail, so I knew I would not be alone; however, I had no idea that I would encounter as many people as I did. The trail itself starts out at a relatively easy grade on a big dirt fire road so there is ample space for all the hikers.
It meanders along this path and goes in and out of the shade for about a mile with some nice views of the trees, houses, and wash to the left. I passed about 20 people during this mile.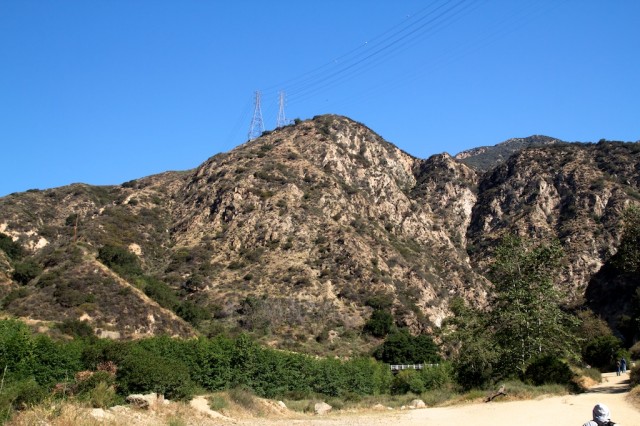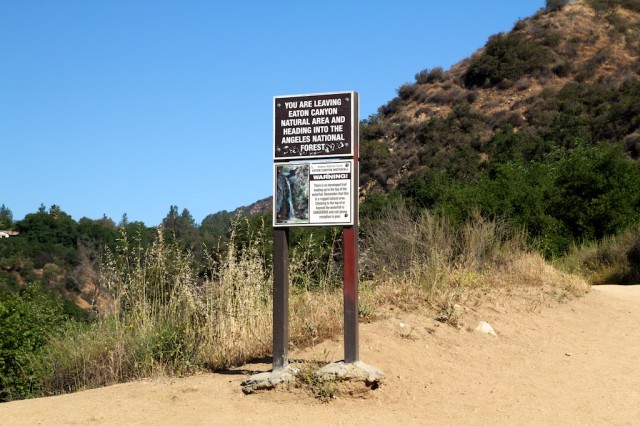 When you go around a bend, you will see the bridge off in the distance, and as you get closer, the path will split. From here, you will want to go to the left on the path that will take you towards going under the bridge.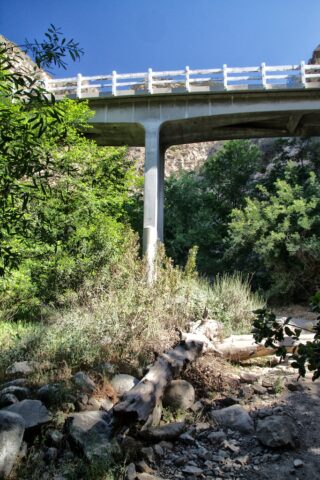 As you pass under the bridge, the path gets a lot more pretty as you will be following and crossing a stream on your way up to the falls.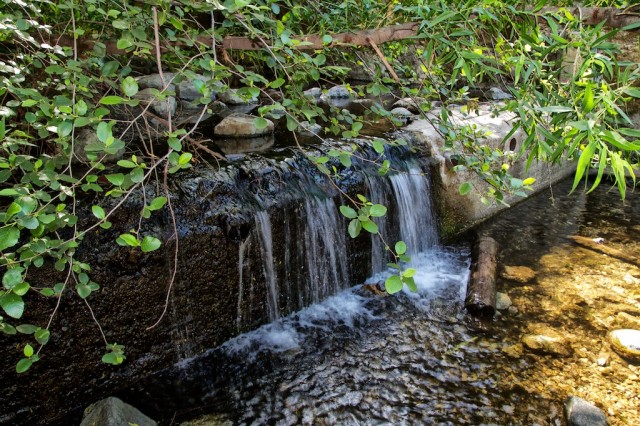 I really enjoyed this part of the trail, however, there were so many people on the trail, and with so many creek crossings, it was pretty slow going. I passed about 30 people coming or going during this part of the path.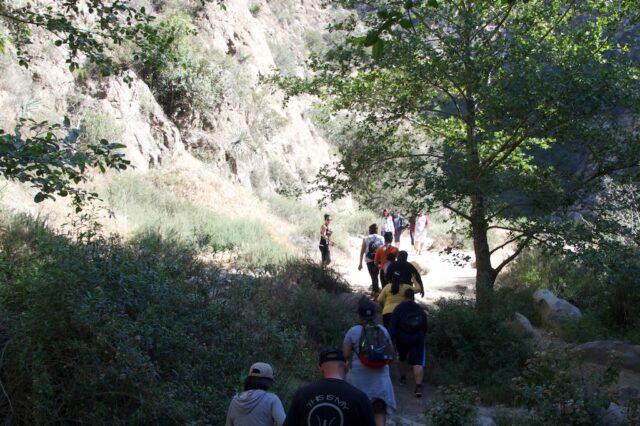 Along the trail, there are smaller waterfalls, a couple of small abandoned buildings from the canyons past and a lot of lush trees; it really is a nice walk.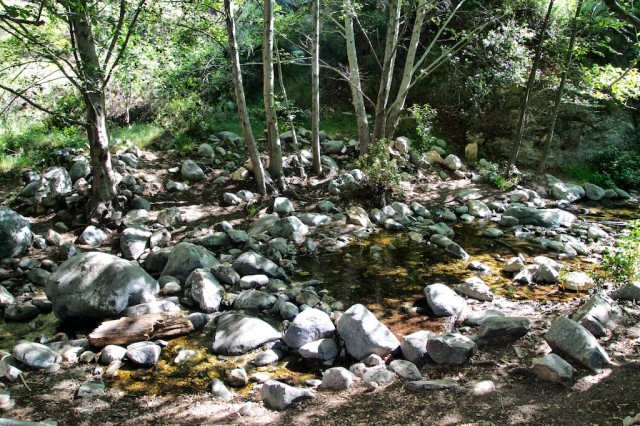 As I rounded the last bend, I heard the sound of people and a faint sound of water, so I knew I must be close to Eaton Canyon Falls.
Eaton Canyon Falls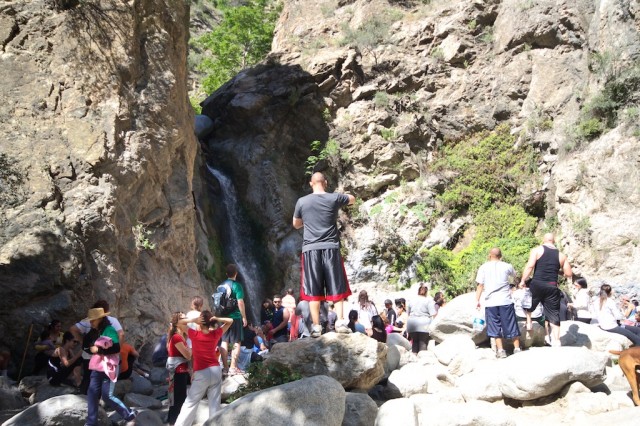 What greeted me was a beautiful 40 foot waterfall that fell into a small pool below. It was nice, and I am sure when it is flowing better and not dry like 2013 was, then it can push a decent amount of water.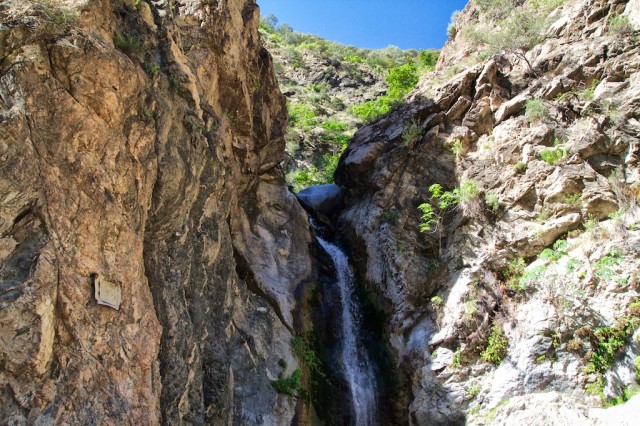 This would have been a nice place to relax before starting back on the trail, but there were over 150 people here, and it was so crowded trying even to get close enough to take a decent picture of the falls.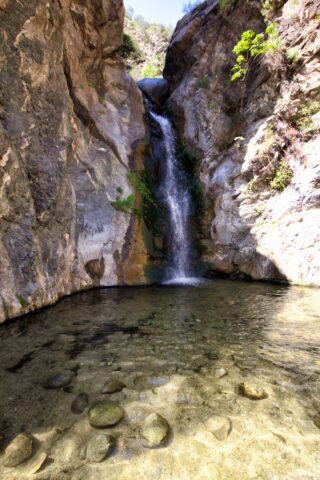 Now I am all for people getting out on the trail, and I am glad there were a lot of people enjoying it, but for me, it was not very relaxing with all the noise and the trash, so I didn't stay too long. It was a good call as I passed way more people on the way back then I did on the way there, so the waterfall was only going to continue to get more crowded.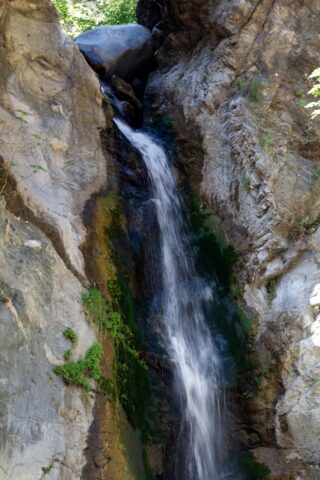 I also did not find the trail to be dangerous at all but after researching that is only when trying to get to the second falls, which I didn't see much of a way to do and can imagine that being pretty sketchy as others have said if you are taking it out of the canyon walls.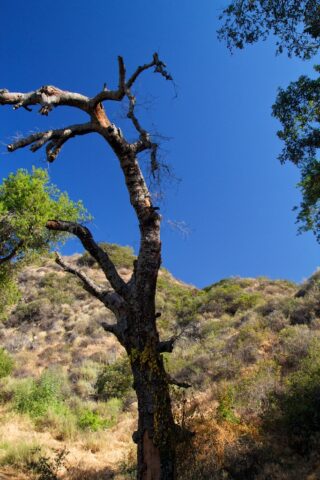 All in all, I liked being able to experience a new hike, and Eaton Canyon was beautiful. That being said, I would probably recommend Bonita Falls, Fish Canyon Falls, or even Sturtevant Falls as they seem to have a lot fewer people on the trail. Let me know what you think of the trek to Eaton Canyon in the comments.