California Missions Road Trip Day 3: Ventura to San Luis Obispo
For day three of the missions road trip, I would recommend that you get an early start to try and fit four missions into the schedule. I recommend this because Mission San Luis Obispo will not take you very much time, and it is better to do four today then tomorrow since there is a lot more driving tomorrow. If you are not able to fit in four, that is fine; just start with San Luis Obispo right when it opens tomorrow. Here is all the information.
Details
Breakfast: Lucky Llama Coffee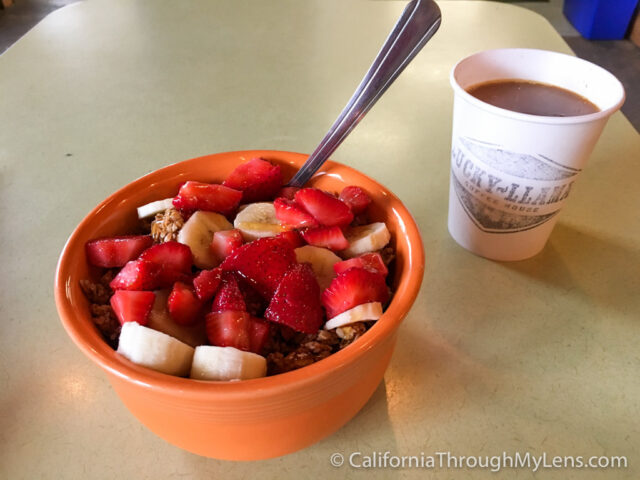 Since you stayed in Ventura or Carpenteria, then I would suggest going to Lucky Llama Coffee House for a coffee and an acai bowl (my favorite is the moon bowl). There are tons of great coffee places in Ventura, Carpenteria, and Santa Barbara though if you want to select another one.
Mission Santa Barbara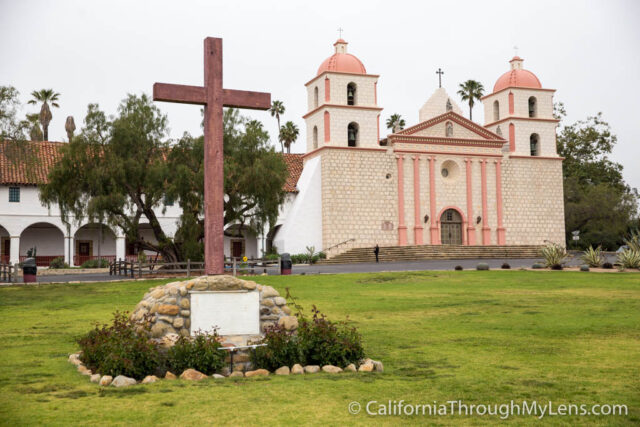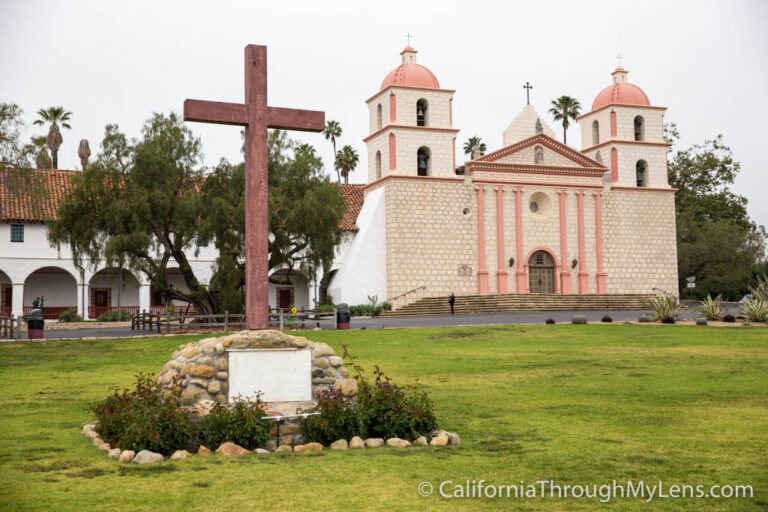 I would recommend getting there right when the mission opens. This is one of the busiest missions on the entire drive, and it is not strange to see a whole tour bus or two stopping with people getting out to see the mission. If you get there early, you will usually have the mission to yourself for at least 15 minutes, which gets you ahead of the crowds and lets you have some relaxing time walking the grounds or in the chapel. This is an incredible mission, so make sure to take your time. You can read more about it here.
Time needed: 1 Hour
Highlights: Large Bay Fig Tree, Chapel, Exterior views
To get to Santa Ines, I would recommend taking the mountain route instead of Highway 101. This route is a much more scenic way to travel, and if you are hungry, you can stop at one of my favorite little spots for breakfast or lunch called Cold Springs Tavern.
Mission Santa Ines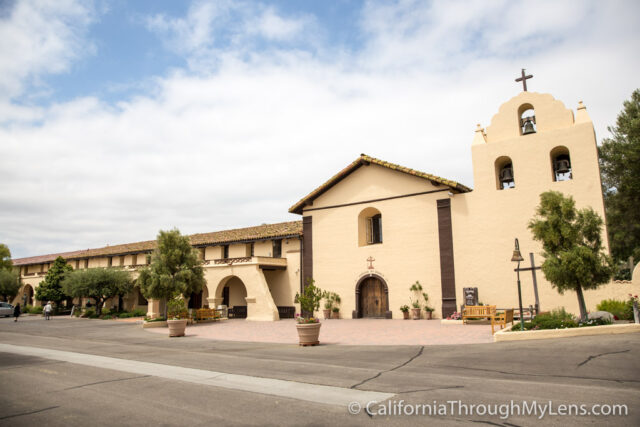 This mission is located right on the outskirts of the Danish town of Solvang. It is on a beautiful property, and it is another great mission to explore. I find this to be an excellent complement to Mission Santa Barbara as it is usually much less busy, so it gives you time to walk slowly without all of the crowds.
Time Needed: 45 minutes – 1 hour
Highlights: Cemetery, chapel, gardens, crucifixion walk outside
If you are ready for lunch, then the town of Solvang has you covered. It is full of great options and its a fun city to walk around. If you are not looking for a full lunch, then stop by Olsen's Bakery on Highway 246 and grab a Danish Waffle (filled with creme and raspberry), they are amazing.
Ostrich Land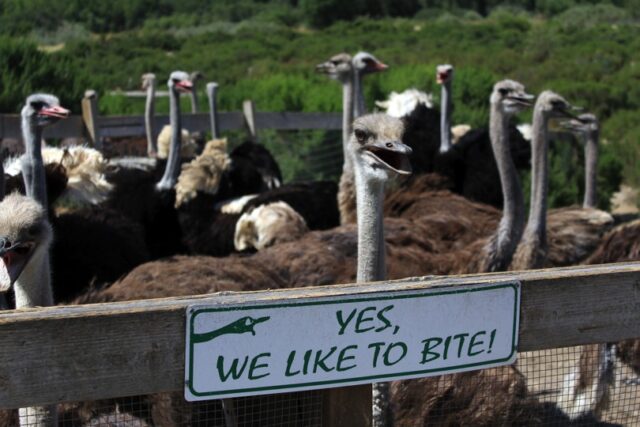 On the way over to Lompoc, and about 5 minutes out of the town of Solvang, I highly recommend you stop by Ostrich Land and pay to feed the ostriches. This is such a fun spot that I pretty much do it every time I am in the area. Sure it costs $5 for only 30 seconds of fun, but how often do you get to feed ostriches? I guarantee it will be more intense then you think. Read about it here.
La Purisima Mission State Historic Park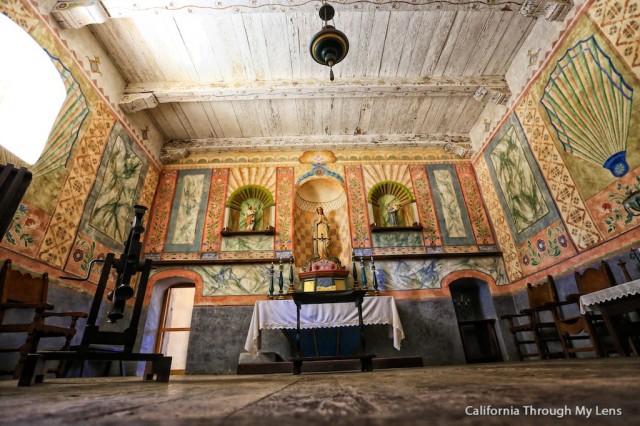 After a 20 minute drive, you will arrive at La Purisima Mission State Historic Park, which is the mission in Lompoc. This mission is a California State Park, and it is one of the best missions you will visit on this trail for understanding what life on a mission was like. La Purisima Mission State Historic Park is like living history. You can walk all around the grounds (recreated in the early 1900s) see animals in their pens, and visit the gardens, a blacksmith shop, and two chapels. It is one of those missions that you can easily spend 2-3 hours at and be prepared to walk as it is a lot more spread out then the others.
Time needed: 2 hours
Highlights: Chapels, animals, recreated officer rooms
Original Lompoc Mission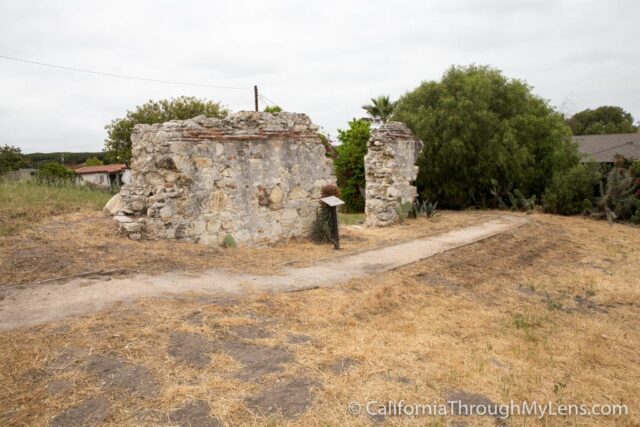 The original mission in Lompoc was actually built 4 miles south before it was destroyed and moved to the current location. While there is not much left, there is still a plaque and a few pieces of the old walls that you can see at the end of South F Street in Lompoc. I would recommend going over there as it is close by, but you can skip it if you don't have time.
From here you will drive for about an hour to reach San Luis Obispo. If it is late, you can grab dinner and see this mission in the morning, but if you have time (you don't need too much for this mission), then you can knock it out today.
Mission San Luis Obispo de Tolosa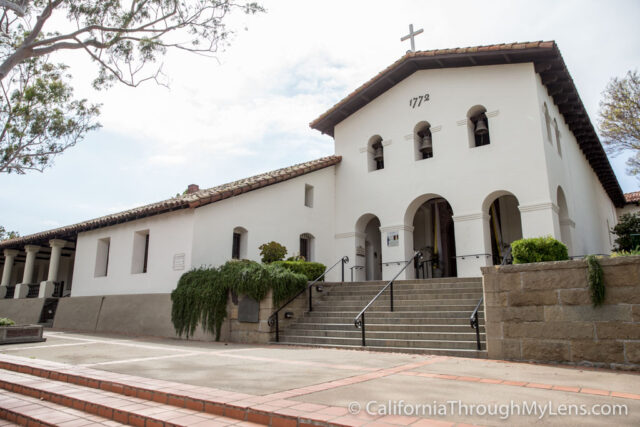 Mission San Luis Obispo de Tolosa is located in the heart of downtown San Luis Obispo, and popular restaurants and stores surround it. The mission is one of the early ones, but it is not as exciting as the other three you saw today. This mission is free to enter, and you can walk through a small museum, small courtyard, and a delightful L-shaped chapel.
Time Needed: 30 minutes
Highlights: L-shaped chapel, old bells, exterior, gun display
For tonight's hotel, I would recommend grabbing a spot in San Luis Obispo. This is a great town to be in for dinner as there are a bunch of options, the same goes for breakfast/coffee in the morning before setting out on the drive as well.
Some of the spots I recommend for dinner are:
Firestone: A big sports bar with lots of flavorful and well-priced options. I like the tri-tip sandwich and french fries.
Splash Cafe: My favorite spot for clam chowder in California
Eureka Burger: Great sit down burger spot
After dinner, get some much-needed rest from the long day of four missions and be sure to read on for day 4 of the missions drive here or all of the missions here.