Golden Trout Wilderness and Cottonwood Lakes
The Cottonwood Lakes and Golden Trout Wilderness in the Eastern Sierras are one of those places that helped to grow my love for adventure travel in California. The Eastern Sierras themselves are full of adventures to be had, with some only 30 minutes off the main Highway 395. This is one of those experiences as the drive takes you up to about 10,000 feet and allows you to explore some pristine wilderness. Here is all the information.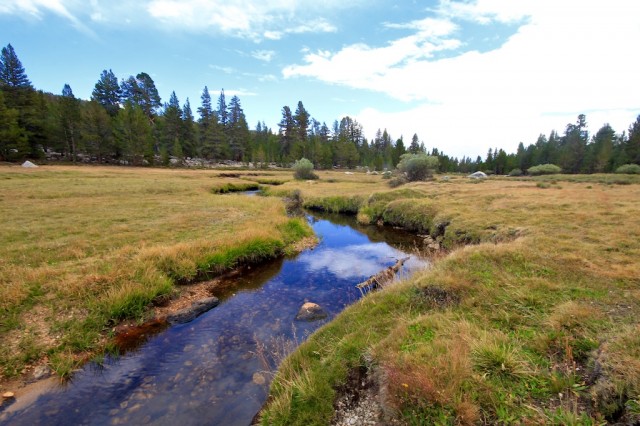 Horseshoe Meadows Campground
The entry point and home base for the Golden Trout Wilderness and Cottonwood Lakes is the campground, Horseshoe Meadows.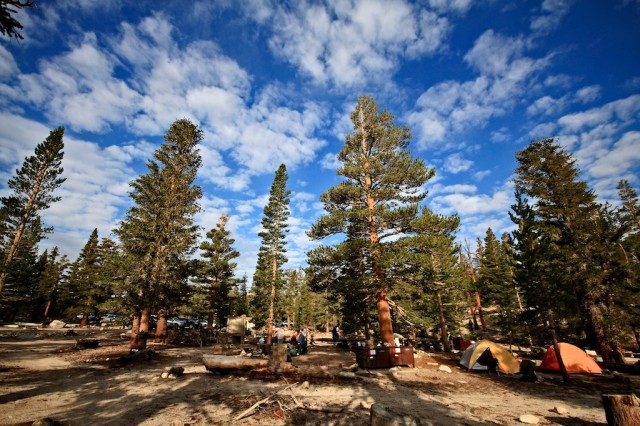 This campground is located 45 minutes up from Highway 395 at an elevation of just over 10,000 feet. It is beautiful and a hard to get to area that is first come first serve and has about 10-15 camping spots. The distance away from civilization provides wonderful seclusion that allows for incredible nighttime views. Below is a photo of the drive up, so you can see how far away from people you are. That is the Alabama Hills off in the distance.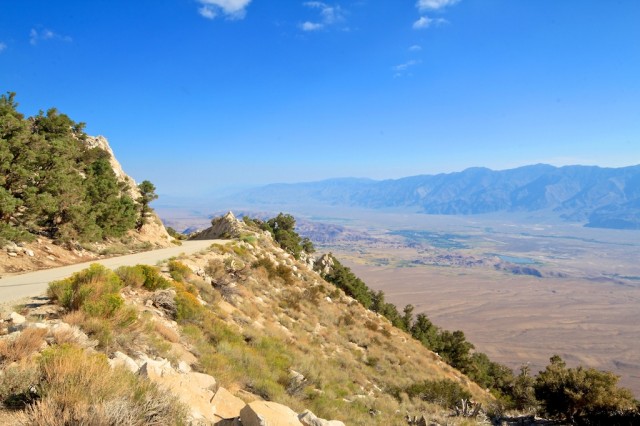 The campground has a couple of pit toilets and is self-registration for about six bucks a night (as of 2015). I have been twice on weekends and have not had trouble finding a spot, but I imagine there are some times of the year where it can be full, so it's always best to get there somewhat early.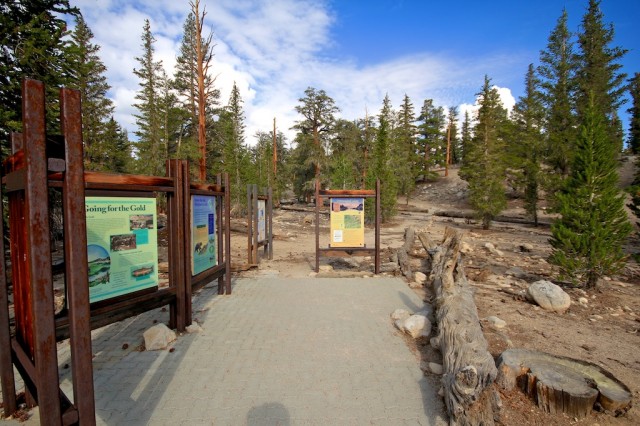 From the trailhead, you almost immediately enter the Golden Trout Wilderness.
Golden Trout Wilderness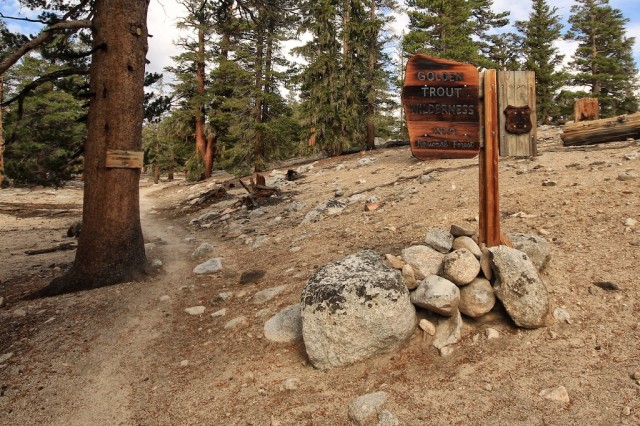 As the name implies, this area is home to the Golden Trout, a subspecies of the Rainbow Trout that is native to California. These fish are a prized catch for their golden skin and appearance and the fact that they are found only in such a small area. The fish do not grow too big, so they are a catch and release fish in the area.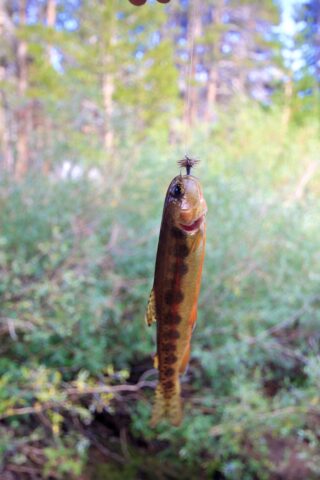 As soon as you leave the trailhead, you will see the sign that lets you know you are now entering the wilderness. Make sure to note the rules as there are only two of the six Cottonwood Lakes that you can keep the fish you catch out of; the rest are catch and release.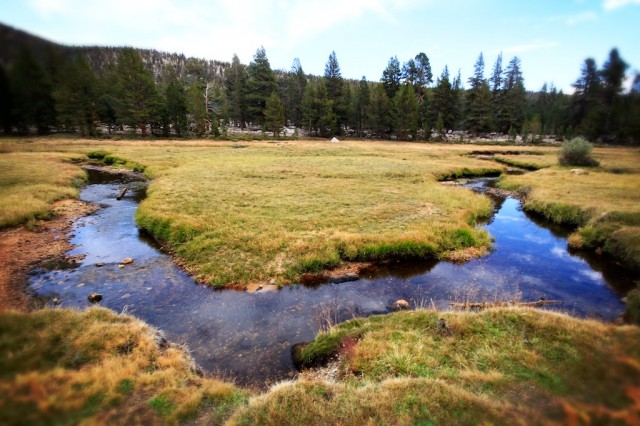 The trail winds through the forest and up over a small hill before descending into the valley and giving you a view of the beautiful meadows and stream. We didn't spend much time here on the way there, but on the way back, we checked out the stream and saw a lot of small golden trout swimming in the pools. Be careful to sneak up on the fish because they are extremely skittish and will be gone before you even see them if you are not quiet.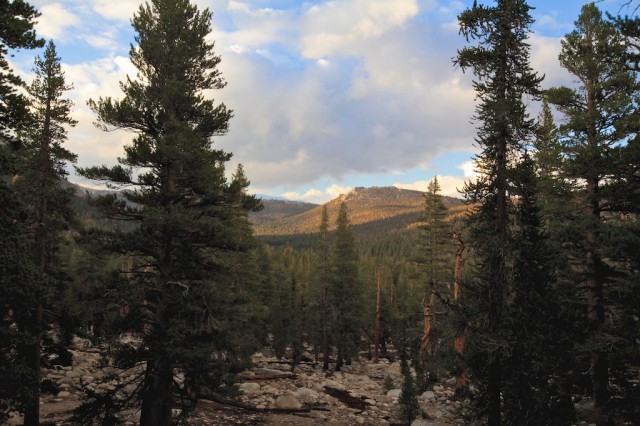 From there, the trail starts an uphill climb for about 900 feet of elevation gain before topping out at the first Cottonwood lake.
Cottonwood Lakes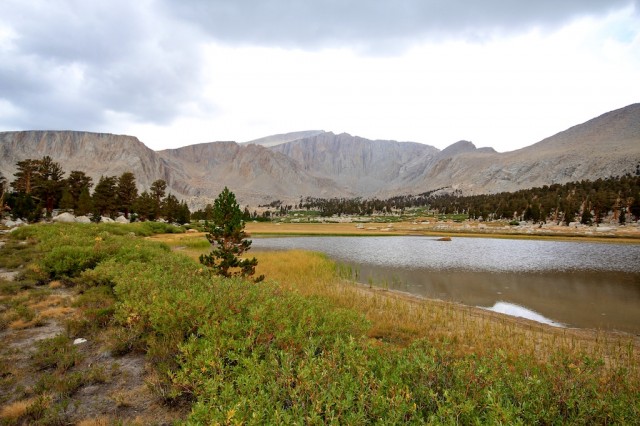 This series of six high altitude lakes butt up against the climb up New Army Pass and the trail to Mt Langley, a California 14er. They are as beautiful as you can imagine and so remote that you will often be all alone when fishing them. After inspecting the lakes, we decided to pull out the fly rods and test our luck at the long Cottonwood Lake number 4. Depending on the rain and time of year, some of the smaller lakes, like number 2, may not have water.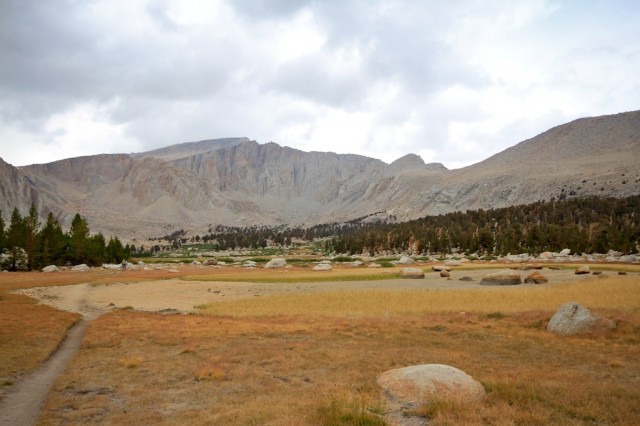 Now regardless of whether you even catch anything, you will be hard-pressed to find a better view than just casting in the shadow of the Sierras.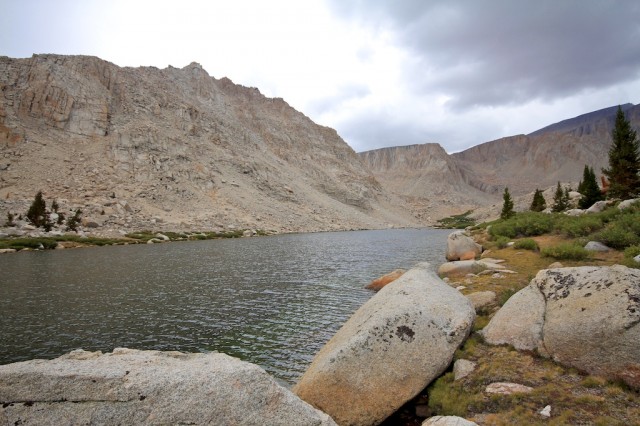 We spent hours fishing without much luck, and it seemed to pass like minutes. Finally, we were able to snag a couple of small goldens. We kept them long enough for a picture (above) then threw them back in the water as they were not much bigger than 6 inches. For us, though, the fishing and the relaxation that came from casting your fly in such a beautiful location was payment enough, but I was glad to be able to see a golden in real life as well.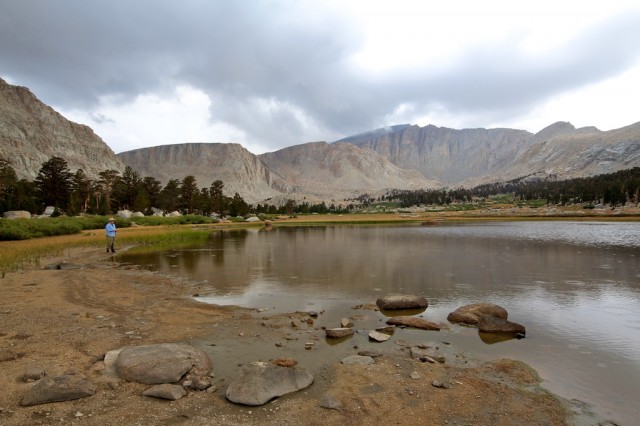 Right as we were packing up our stuff, the rain rolled in, and we got caught in a downpour. Make sure to be careful when up this high as the lakes are around 11,000 feet, so you are very susceptible to lighting at an elevation like this.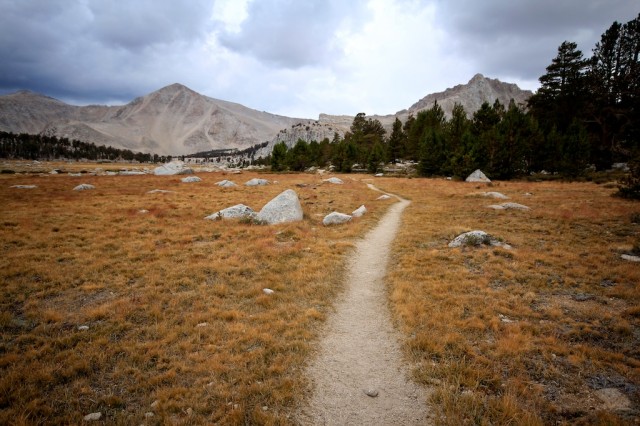 We high tailed it back to camp and heated up our freeze-dried meals before retiring for the night after an epic day fishing in the Golden Trout Wilderness.
Have you been up in this area? I would love to hear your thoughts on it in the comments, as well as any ideas you have for me on places to fly fish in the area.