Guisados Tacos in Los Angeles: Home of the Taco Sampler
Taco shops in Southern California are a dime a dozen, with most being average but a few being way above that. I would put places like City Tacos in North Park and Bear Flag Fish Company in Newport Beach into this list, with Guisados having a firm spot on the list as well. Guisados is a taco shop in LA with multiple locations that is converting more and more people every day to its fantastic taco sampler, featuring traditional tacos with a unique taste. Here is all the info so you can check it out yourself.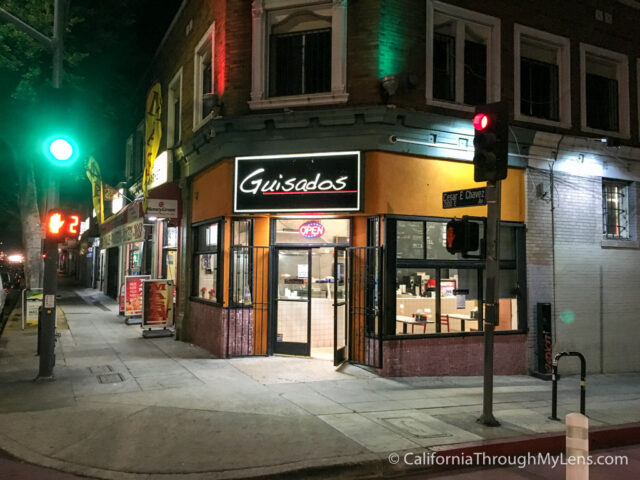 Details
Cost: $2 – $5 for tacos
Hours: Mon-Sat: 10:30AM – 8PM, Sun: 9AM-5PM
Location: 2100 East Cesar E Chavez Avenue, Los Angeles, CA 90033
Information from my visits in 2016, 2018, 2019, and 2020. I go a lot haha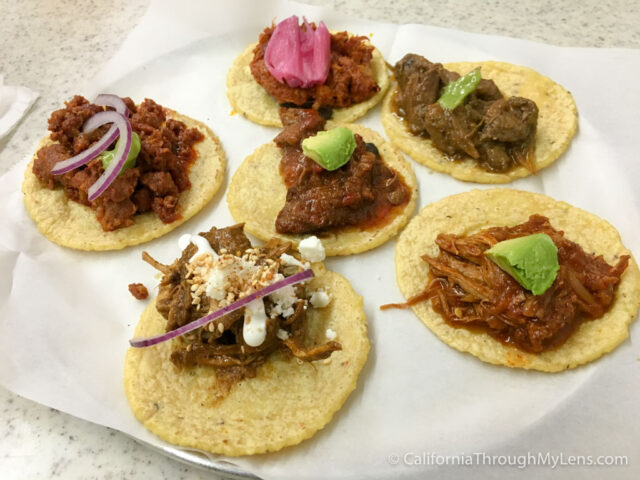 One of the highlights that made me initially want to visit was the fact that they have a taco sampler here. This is a magical experience as they make two-bite versions of six tacos for you to try. It allows you to sample a bunch of tacos without wasting food. Here are the ones I tried, and my favorites are in order from top to bottom below.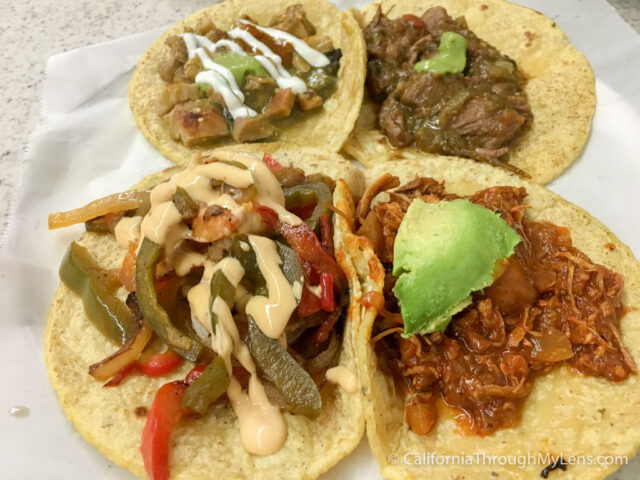 Mole Poblano – This taco has shredded chicken with a poblano mole. It is topped with queso fresco, onion, and dried chili, and it has a fantastic flavor, especially with the mix of cheese and meat.
Hongos con Cilantro – A vegetarian taco with mushrooms, cooked with cilantro, green chiles, and queso fresco. It is hard to believe how good this is since it is a vegetarian taco. Any vegetarians out there should be excited to have an option this good.
Chorizo – Has Mexican sausage with red onion, green chile, and chile arbol. I like chorizo to begin with, and this was just as good as you would expect. It practically melts in your mouth.
Cochinita Pibil – Shredded pork simmered in red achiote spice piled on black beans. This one is perfect because they put pickled red onions on top, which completes the flavor.
Steak Picado – Steak cooked in a mix of bacon and green bell peppers. It has a good flavor, but I found myself liking the others more.
Chicharron – This taco has pork rinds simmered in Chile Verde and green chiles. It was my least favorite of the bunch as it had good flavor, but I couldn't get over the mushy texture.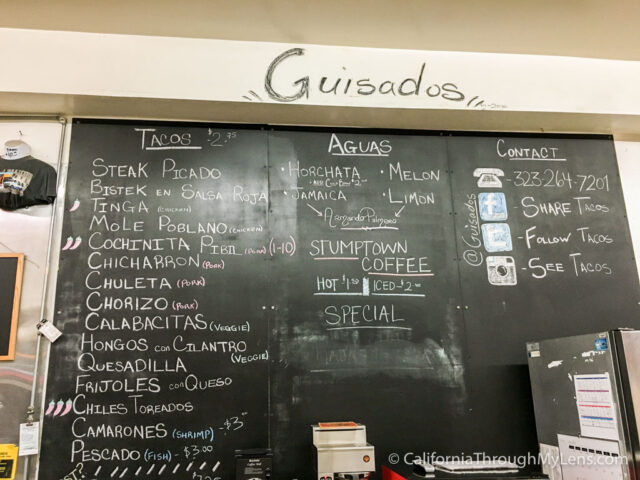 Add to this the fact that they have a Stumptown (good Seattle coffee company) cold brew mixed with Horchata as a drink, one that I have never seen before. It tastes like a cinnamon coffee, and I wouldn't go without ordering it.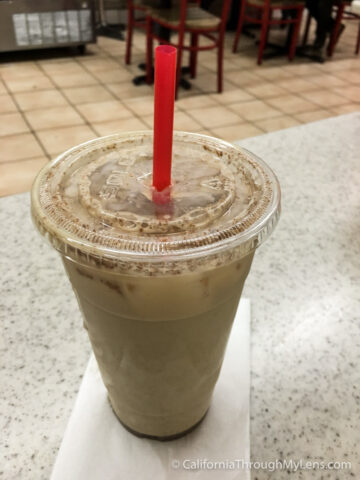 I have to admit that the tacos here were so good that I went up and ordered a second round to try more. I can easily say this is one of my favorite taco places in all of Southern California, and I would love to hear what you think in the comments.