While growing up in Southern California I must have been sick during the school trip that takes you to this mission, as everyone that I have talked to has been here other then me. Since that was case, I decided make a full day out of it and to see the Mission San Juan Capistrano after hitting Slaters 50/50 and 1000 Steps Beach. I really am glad that I made my way here as it has a lot of history and it is a beautiful area full of wildflowers, swallow nests and a sprawling, ornate cathedral, pretty much everything you would want out of a 10 dollar museum. So check it out for yourself if you haven't gone, but read along for my review.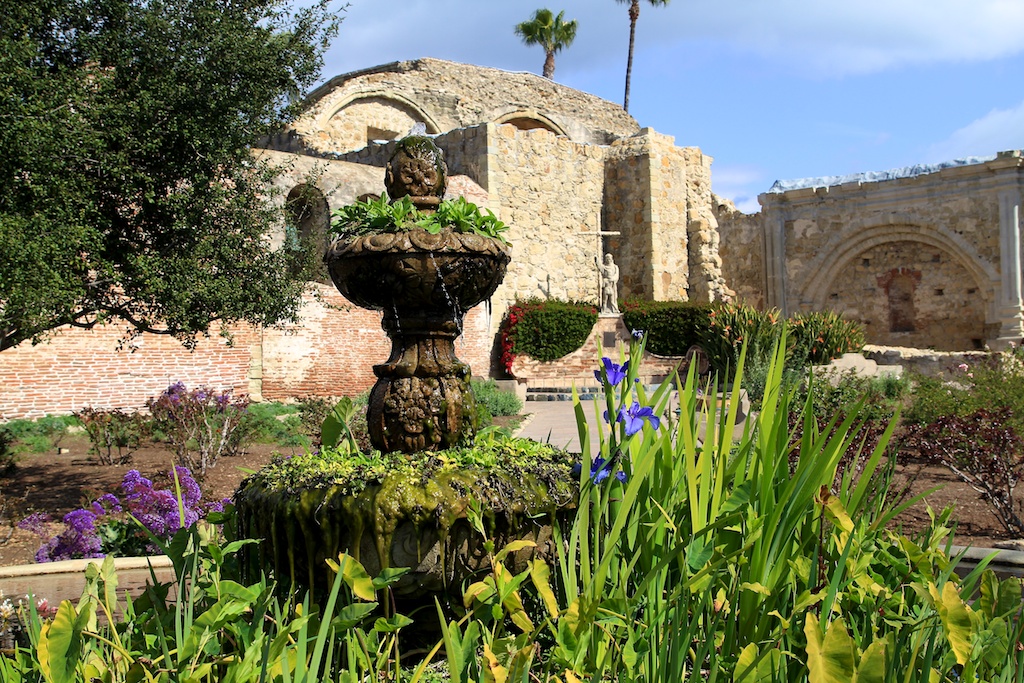 Getting There & Parking
Mission San Juan Capistrano is located off the 5 freeway about 25 minutes South of Irvine. It is right off the freeway which makes it easy to get to and a very accessible location for any traveler. Parking was a little more difficult though, when I went on Sunday afternoon pretty much all street parking and the overflow lots were completely full. I drove around for about 10 minutes before I saw someone leaving and was able to secure a spot in the lot next to the mission. Be prepared to hunt for parking if you come during the weekend or in the busy times when the swallows are back.
History
"Mission San Juan Capistrano was a Spanish mission in Southern California, located in present-day San Juan Capistrano. It was founded on All Saints Day November 1, 1776, by Spanish Catholics of the Franciscan Order. Named for Giovanni da Capistrano, a 15th century theologian and "warrior priest" who resided in the Abruzzo region of Italy, San Juan Capistrano has the distinction of being home to the oldest building in California still in use, a chapel built in 1782; known alternately as "Serra's Chapel" and "Father Serra's Church," it is the only extant structure where it has been documented that the padre Junipero Serra celebrated mass. One of the best known of the Alta California missions, the site was originally consecrated on October 30, 1775, by Father Fermín Lasuén, but was quickly abandoned due to unrest among the indigenous population in San Diego. The prestigious World Monuments Fund placed "The Great Stone Church" on its List of 100 Most Endangered Sites in 2002. The most recent series of seismic retrofits at the Mission were completed at a cost of $7.5 million in 2004. About half a million visitors, including 80,000 school children, come to the Mission each year."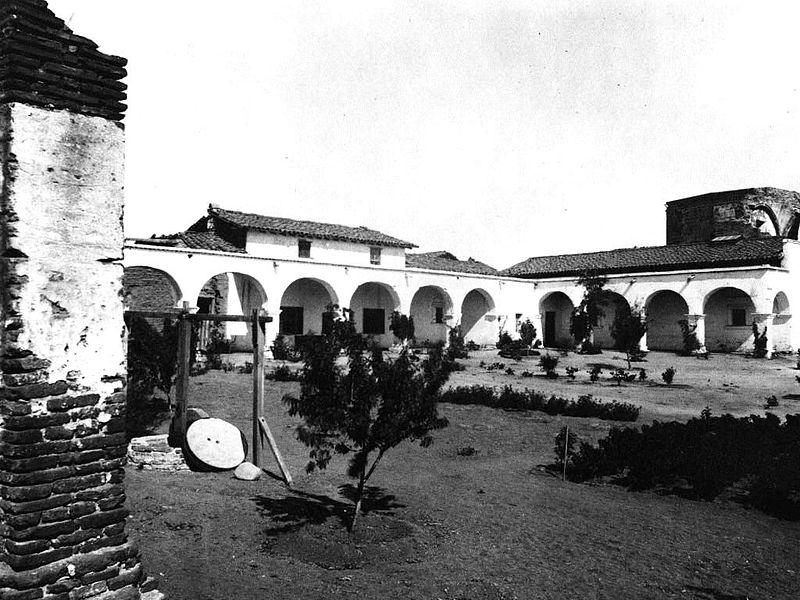 The Mission Now
For the last couple decades the mission has been welcoming visitors of all ages to wander its ground and relive pieces of history. When you enter the mission you are provided with a audio tour that you can take with you to listen to various parts of history as you walk through its large grounds. There really is a lot to see here and if you are a history buff I would consider blotting out at least a half day for your trip. For me I simply walked around to everything that I could see but was especially smitten with the wildflowers that were popping up all over the mission.
The Great Stone Church
Right when you enter you will immediately notice the most historic part of the mission, the remains of the great stone church. This area has been maintained for over two centuries and even in its crumbling condition is a beautiful view into a part of America's past. I spent a good amount of time just wandering around the area and envisioning what it would have been like when it was in its prime.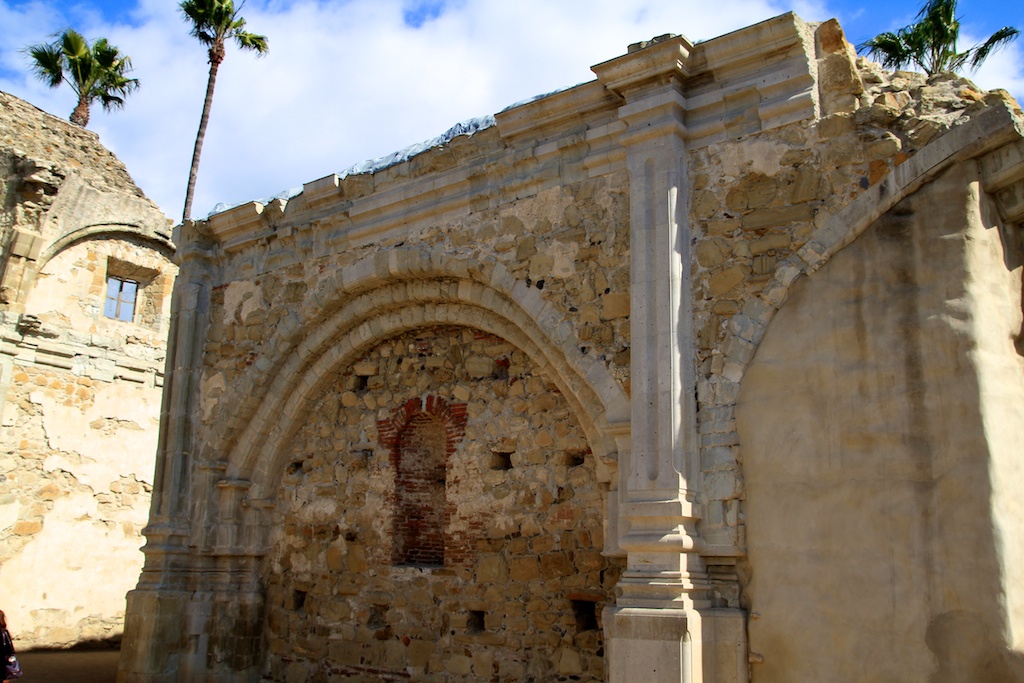 The Cemetery
From there the path takes you around the corner to the cemetery, which is another unique and interesting area. My favorite part to see here was the little monk statue that seemed to be guarding the entrance to this area and to see how old the graves were that had been maintained here.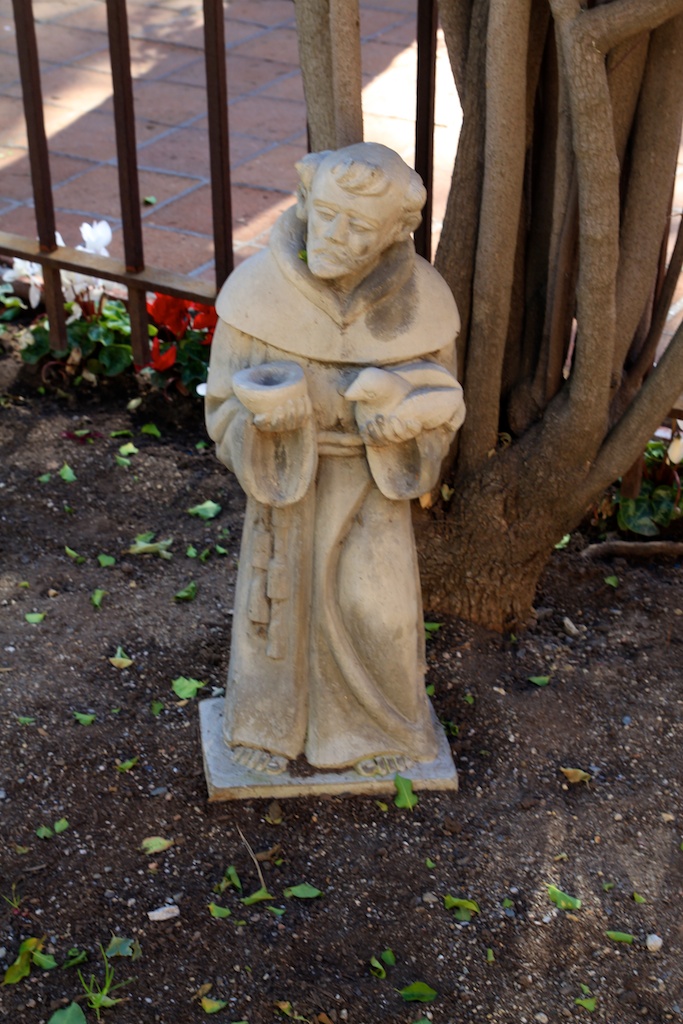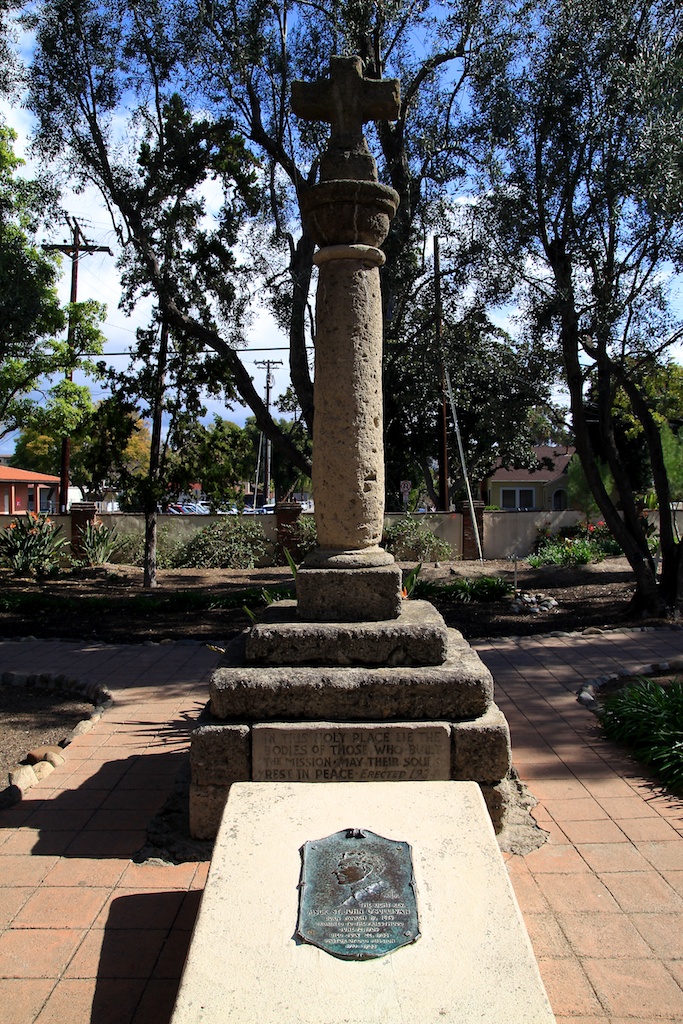 The Cathedral
Of all that I saw in my time at Mission San Juan Capistrano I was the least prepared for how lavish the Cathedral was. It seemed to be dripping in gold and had amazing craftsmanship that looked like it would have taken years to put together.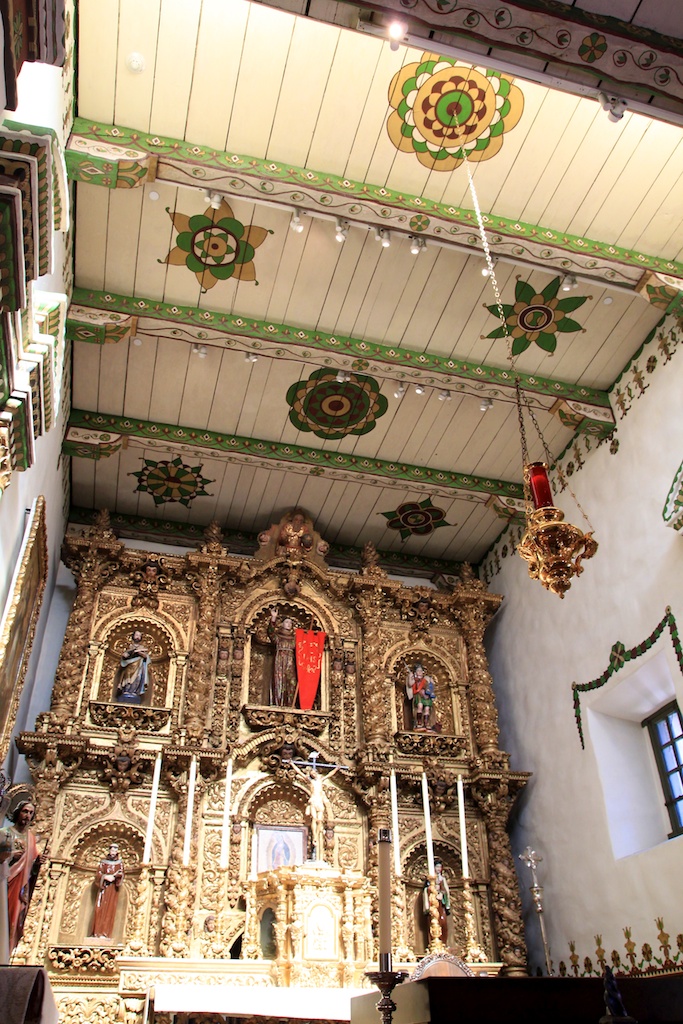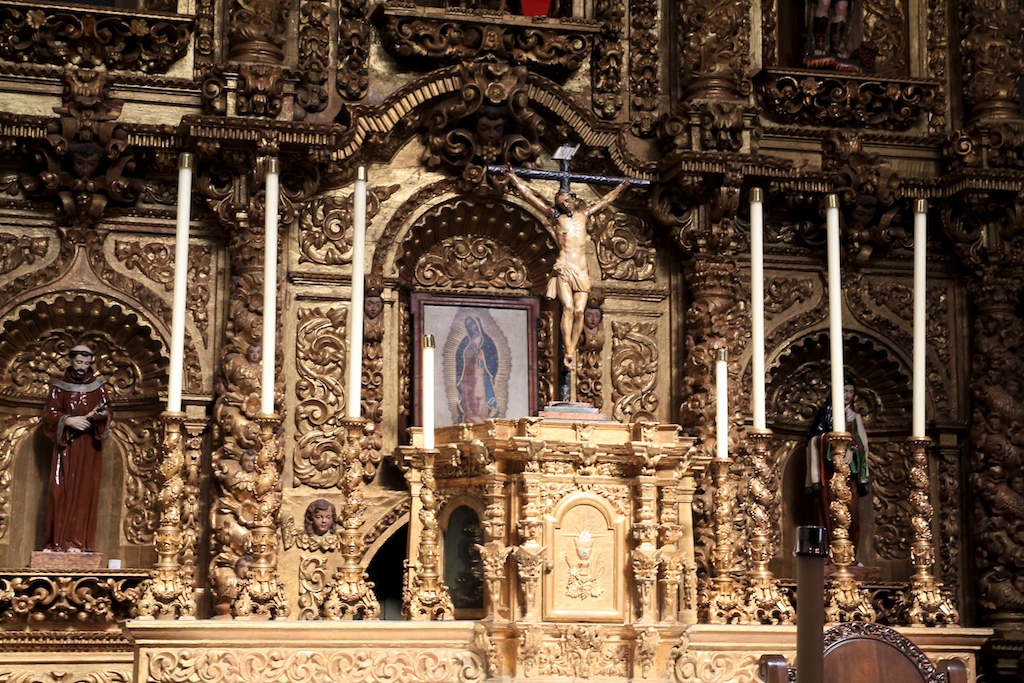 The cathedral itself looked as if it could hold around 200 people and was a lot bigger then I imagined. It is really a place you need to see as it is hard to capture everything in photographs. You can see the below photo is taken from the entrance and the cathedral extends a good ways before you get to the pulpit.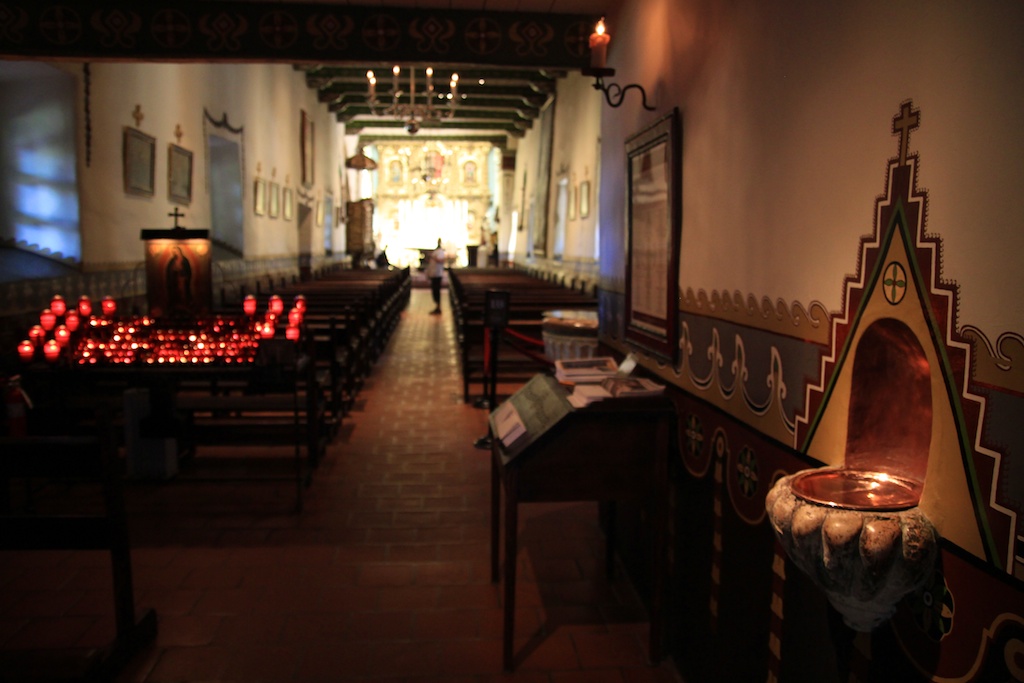 The Gardens
The last place I visited on my time at Mission San Juan Capistrano was the gardens. They are beautiful and have a wide collection of different plant life. From flowers to cacti and even some vegetables plants, the mission is seemingly over run with the beauty of the vegetation that climbs every old broken wall. I was especially a fan of the fountain right in the middle of the main area that had all sorts of plant life growing on it along with Koi swimming in the water.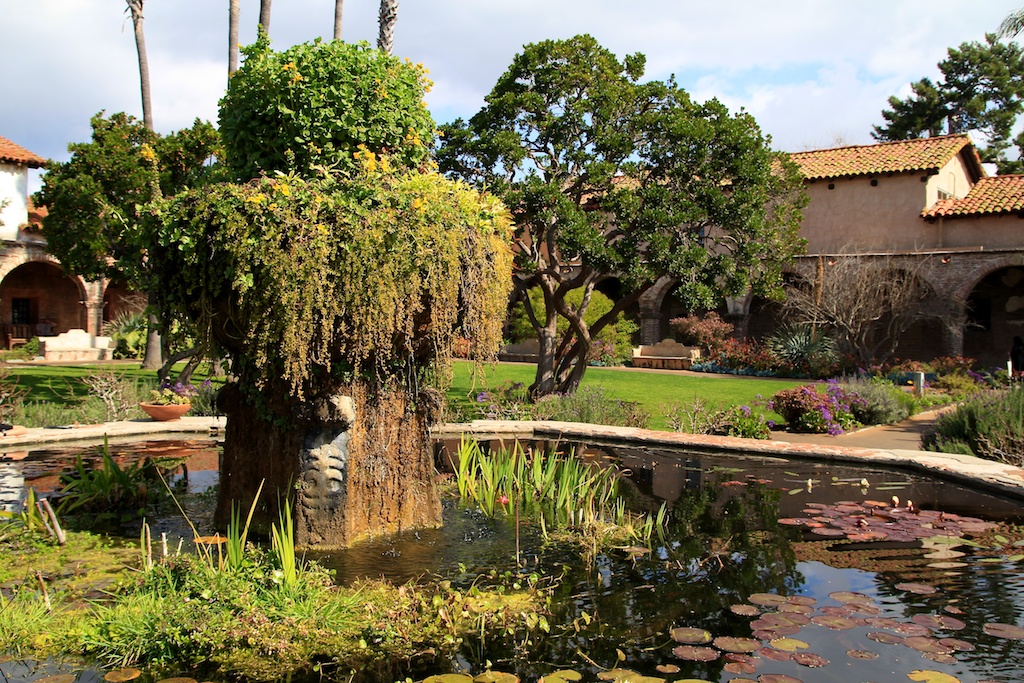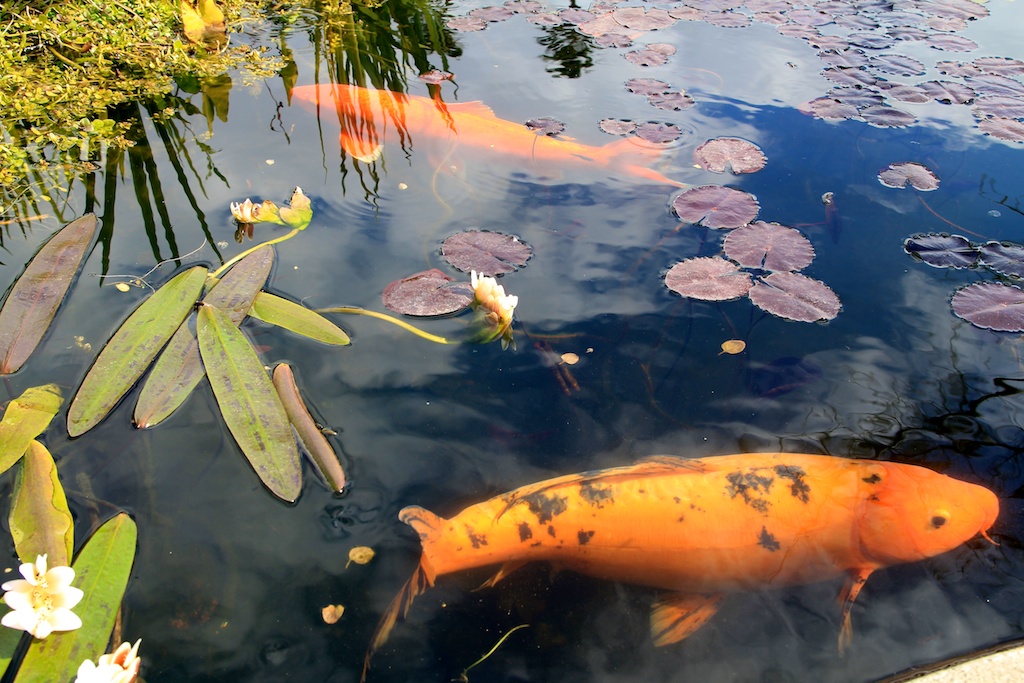 Its hard not to get artistic with all of the beautiful places to take photographs here.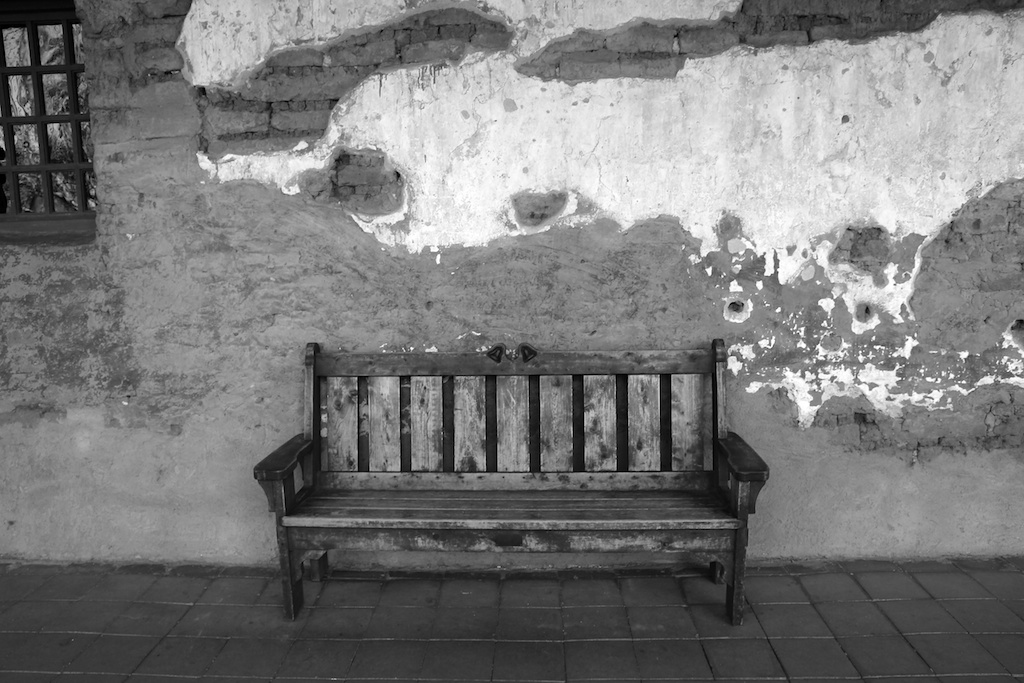 I saw the swallows nest as well but unfortunately it is not the time of year for the swallows to actually be here.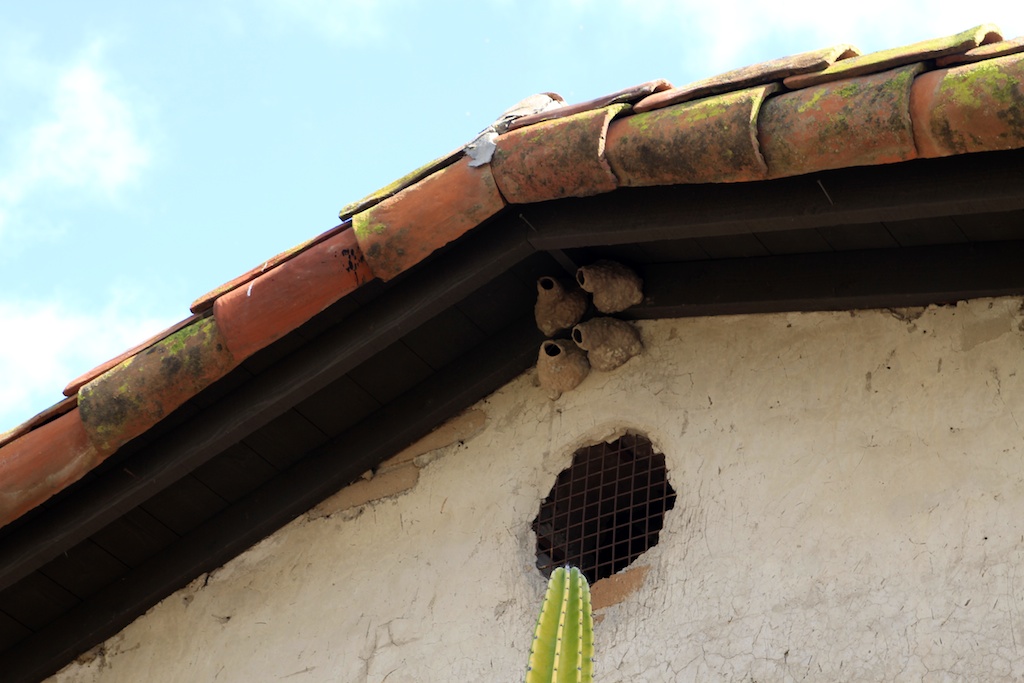 There is also a lot of really cool vintage bells at the mission, but really there is so many different things that I probably didn't even see, that I think this area probably warrants another trip sometime in the future.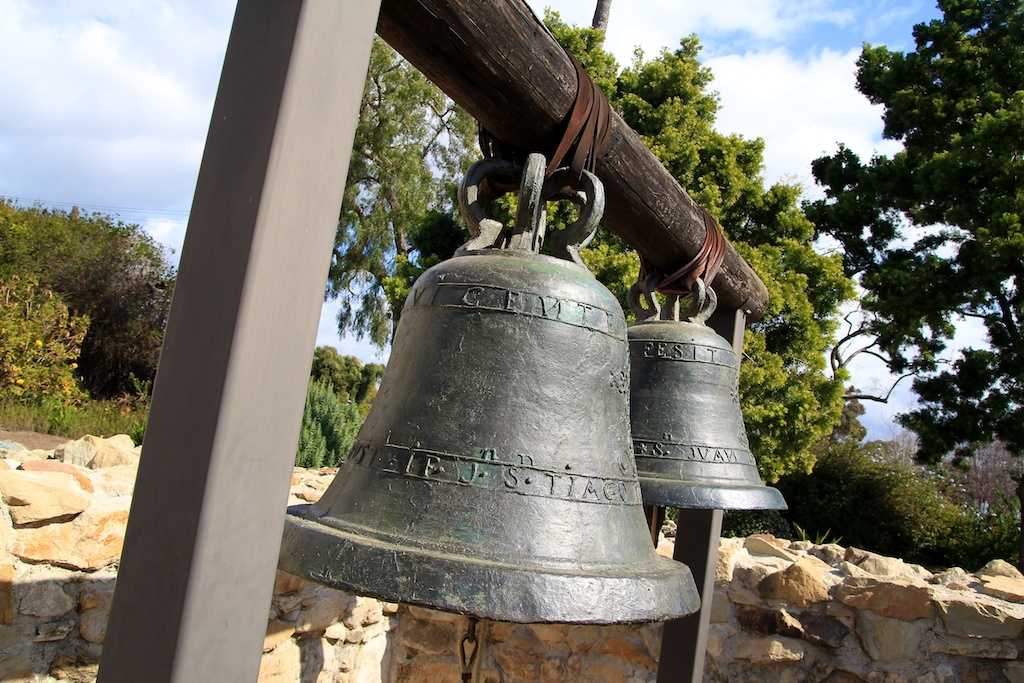 I loved my time at the Mission San Juan Capistrano and I highly recommend you add it to your list if you haven't been there. My friend Traci from Walk Simply has a lot of great posts on this area as well if you want to check out some other opinions. As always make sure to browse the rest of the photos and get directions below.
Video
Photo Gallery
Get Directions