Sensorio Field of Light Art Exhibit in Paso Robles
Sensorio, also known as the Field of Light in Paso Robles, is a fantastic art exhibit by Bruce Munro that covers over 15 acres with lights. The exhibit began in 2019, but I didn't get a chance to experience it until 2021. I am glad I made the time to go up there though, as this exhibit was incredible and indeed something I had never seen before. It is currently scheduled to be there until January 2, 2022 (it might get extended again, though), so be sure you go soon if you want to visit. Here is all the information.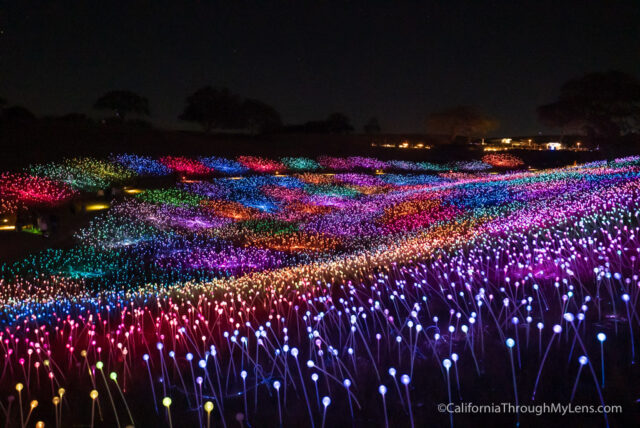 Details
Thursday through Sunday – Times change based on the season, so check their site

Be sure to buy tickets in advance as it often sells out

No tripods, drones, or outside food was allowed when I went

Location: Between Eberle Winery and Hunter Ranch Golf Course in Paso Robles
Video
Here is a video I made on my trip in September 2021.
Getting There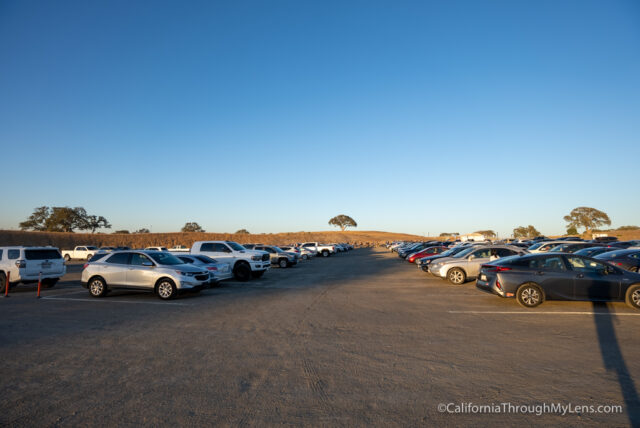 A fence surrounds the exhibit area, and there is no access to the area until it opens for the night. After it opens, you can enter from Highway 46 East and drive to the dirt parking lot.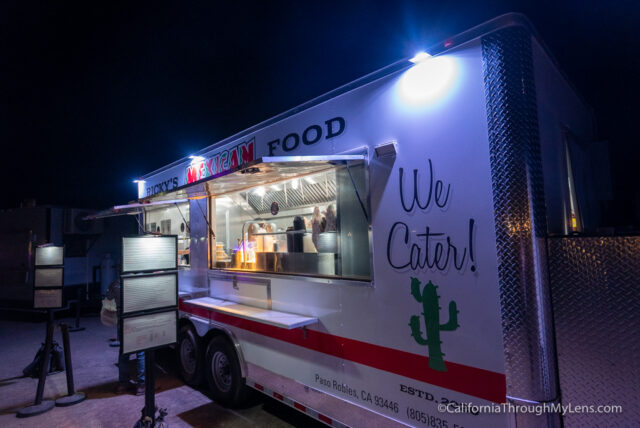 After parking, you will go through security, which checks for not allowed items like tripods and drones, before making your way into the venue. The venue has a few food trucks, some lawn games, and even an area for music, which you can check out before heading in to see the lights. I skipped over most of this and just made my way to the field of lights. 
The Field of Light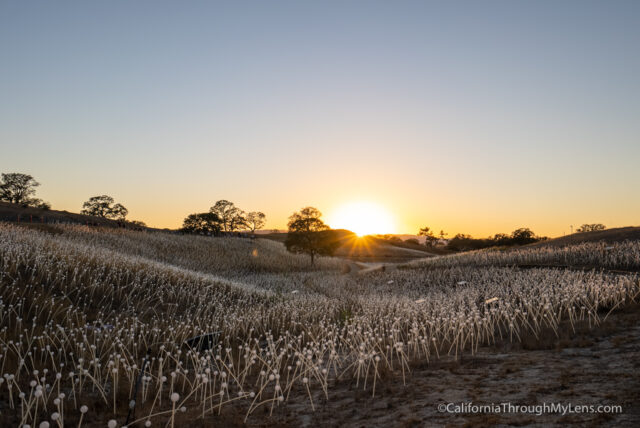 It was right around sunset when I saw the installation, and it was beautiful to watch the sun fade behind the hill.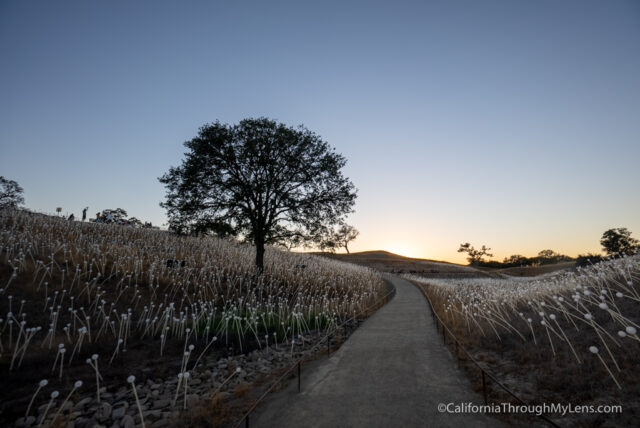 I would recommend getting there before sunset so you can experience this as well, and you can take the time to familiarize yourself with the area as it is much harder to see where you are going at night.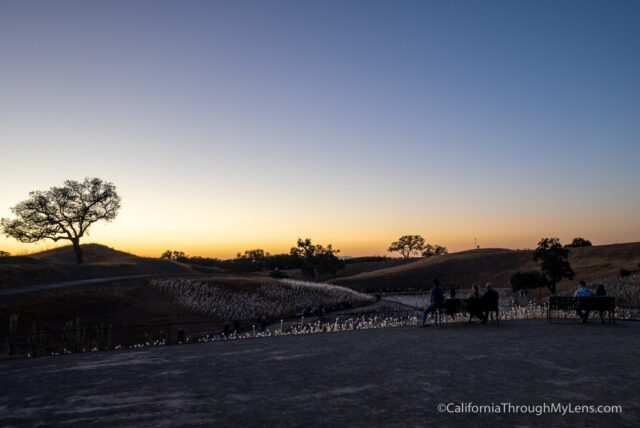 There are many benches around the property where you can sit and relax while waiting for the sun to go down. Also, according to their site, this property is wheelchair accessible as well.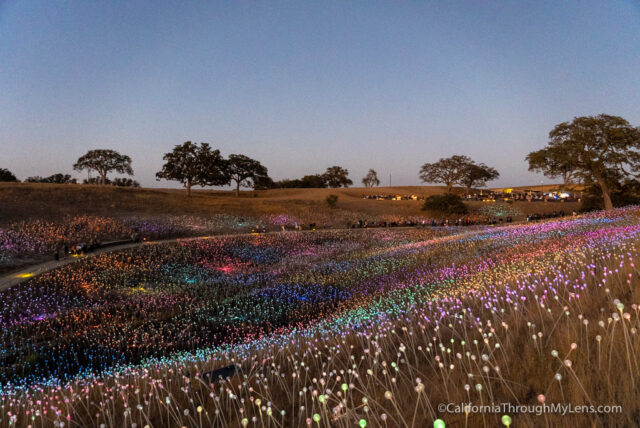 Once the sun goes down, the installation comes to life. The 15-acre field is like a sea of lights, and it is awe-inspiring.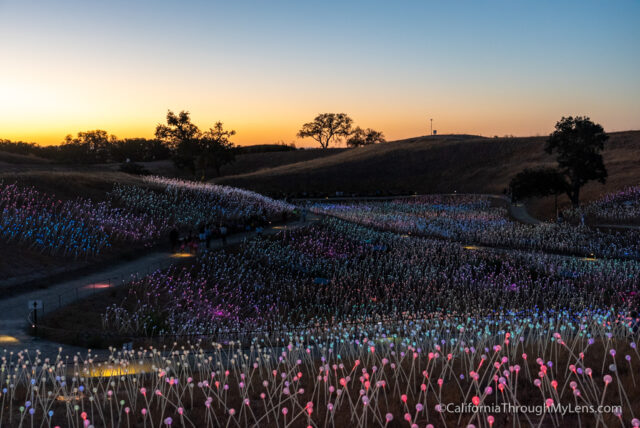 The lights shift in color slowly, so it feels new as you explore. I walked through the area multiple times as I was so excited to see it from many different angles. The Field of Light is just one of the three exhibits to explore, so give yourself a little time for the other two.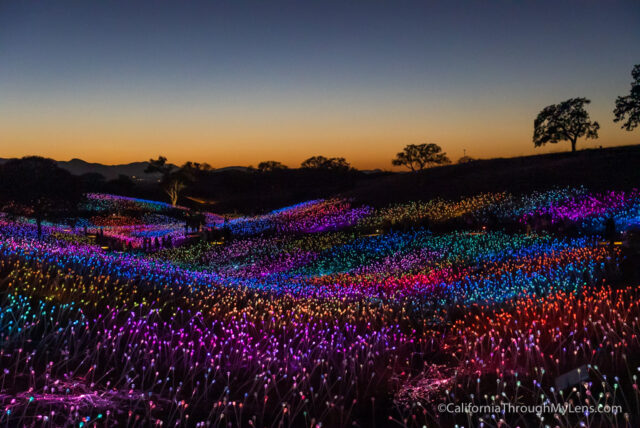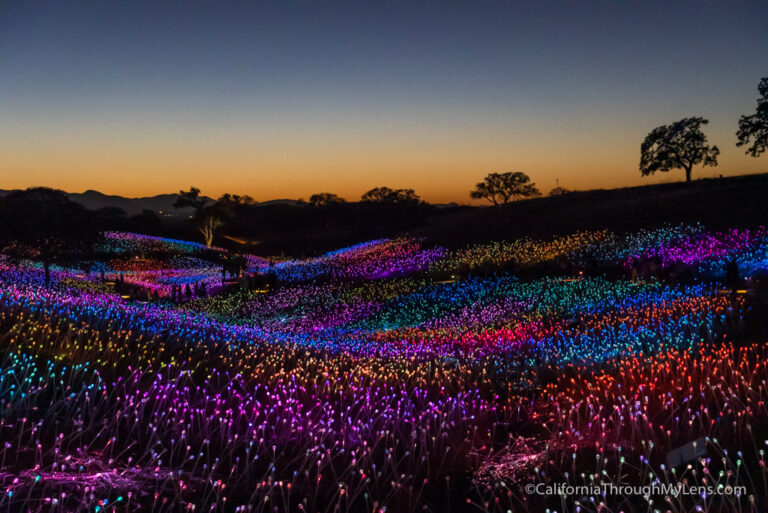 Light Towers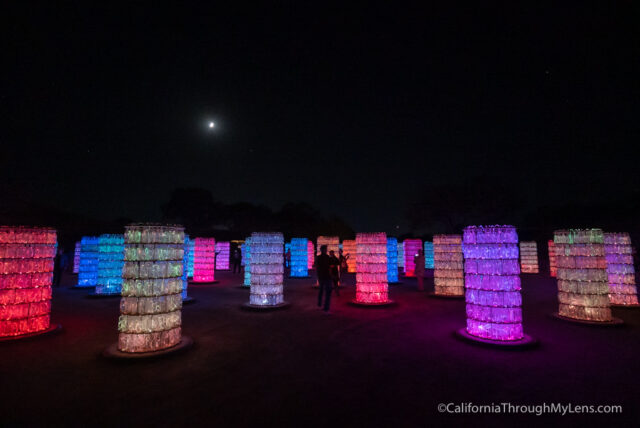 This is the new exhibit located at the end of the Field of Lights. This exhibit features thousands of wine bottles stacked to create towers that change colors to the music playing around them.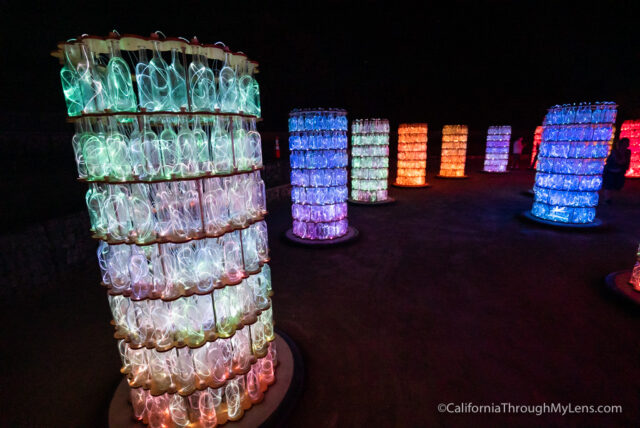 The light towers seemed to be a popular place for photos as there were dozens of people taking selfies and group photos all around the exhibit. 
Fireflies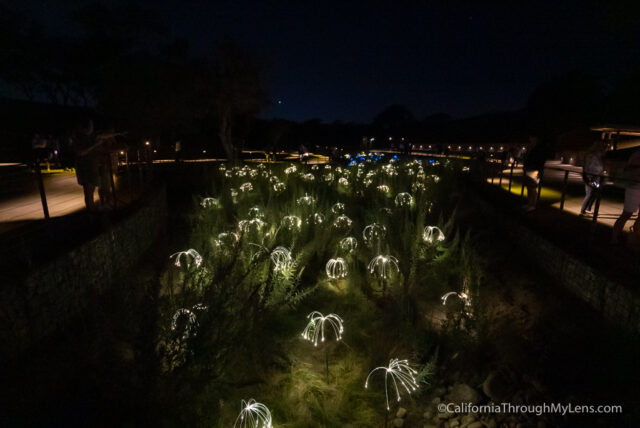 The last exhibit didn't have a name when I went, but people who worked there referred to it as the fireflies.  This exhibit looked like fireflies hovering around some plants, with both blue and white-colored lights. I heard some people refer to it as jellyfish as well, which is not a bad name also.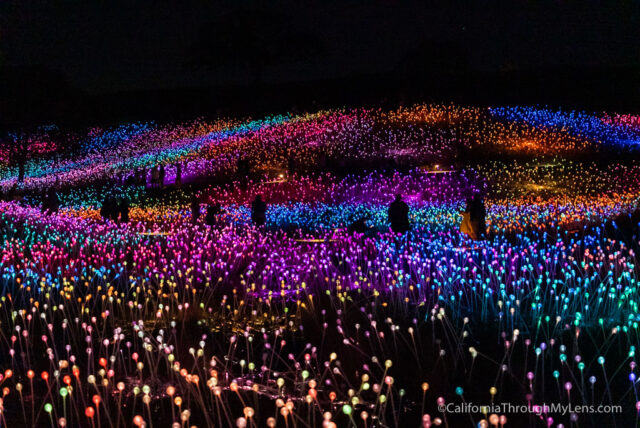 After seeing these exhibits, I headed towards the exit, which took me through the Field of Light one more time. Honestly, I didn't know what to expect when I visited this spot, but I can honestly say that it was a fantastic experience, and I am glad I had it. I have never seen anything like this before, and it is hard to explain other than just to say it is an "experience." If you get a chance to go, let me know if you like it as much as I did!