Solstice Canyon Trail: Exploring the Waterfall and Ruins
Solstice Canyon is an easy 2 mile hike in the Malibu hills that takes you to a small waterfall and a collection of ruins. It is an excellent way to get the blood moving, while also seeing some pretty unique sights at the same time. I got a chance to revisit this spot in 2017, and it was just as fun as I remembered; it is one of the better easy hikes in Los Angeles County. Get all the information on it below.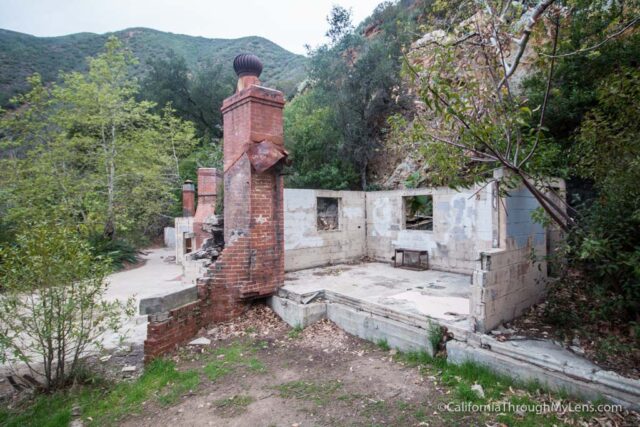 Details
2 miles round trip
200 feet of elevation gain
Parking can fill up early on the weekends
Location: 3998 Solstice Canyon Rd, Malibu, CA 90265
This information is from my visit in 2015, 2017 and 2019
Getting There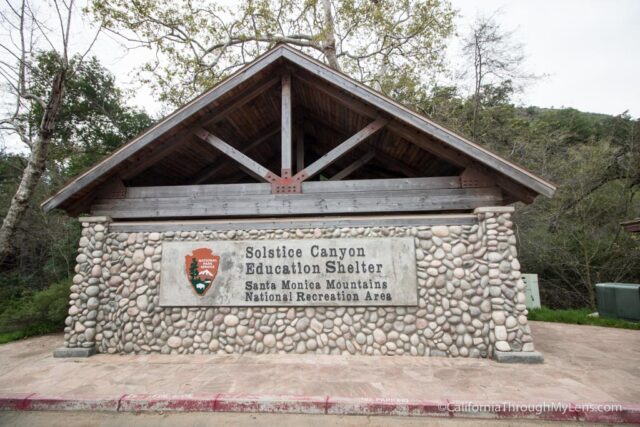 Heading out from Los Angeles on Highway 1, Solstice Canyon is about 30 minutes from Santa Monica. You will turn right on Corral Canyon Road and continue left into the Solstice Canyon Area. This is pretty much a one lane road for a half mile before ending in the parking lot. The lot can hold about 20 cars, and if it is full, you will need to park back out on Corral Canyon, which adds about a mile to the hike's length.
Solstice Canyon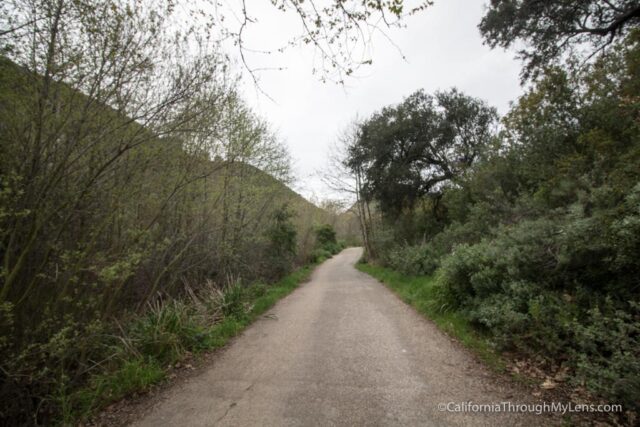 Solstice Canyon is one of the area's most popular hikes and has many different trails, making your time there as long or as short as you would like. The first time I went, we hiked the Solstice Canyon Trail to the ruins and waterfall then went back on the Rising Sun Trail. The Rising Sun Trail gains a lot of elevation to give you some excellent coastal views. If you are looking for a more comfortable hike, then just take the Solstice Canyon Trail there and back.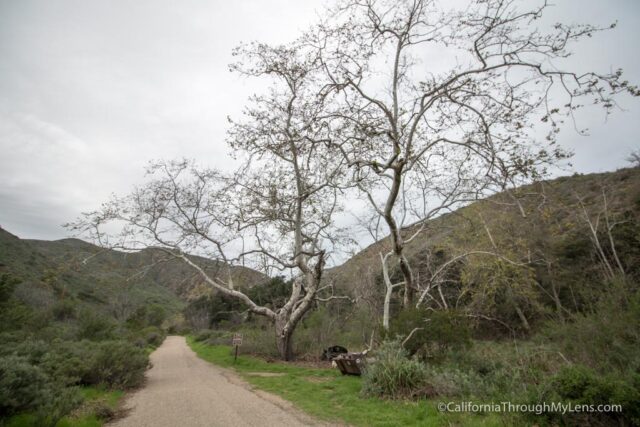 The hike starts from the parking lot, and it goes past a few bathrooms before heading out. The trail is paved and wide, making it easy to follow. The first 3/4th's of a mile is pretty dull to me as it just a paved road though.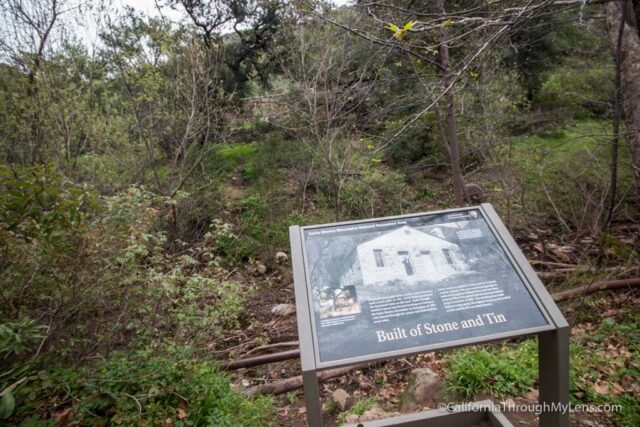 There are some lovely trees to see along the way, and there is a picnic area that is fun for the kids to explore. You will be following a stream most of the way and will cross a bridge to get over the water.
Keller Ruins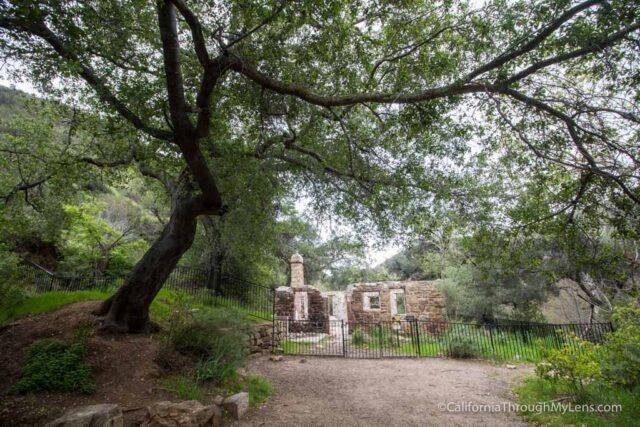 The first set of ruins you will get to is the Keller House. This house was built in the early 1900's, and you can just view it from across the stream or go up and over the bridge to see it up close.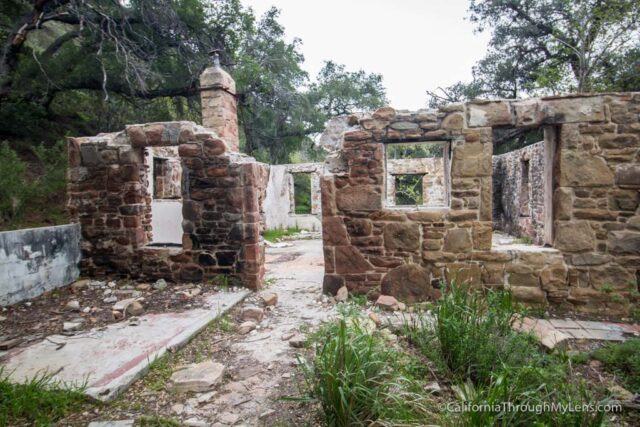 The house itself is off-limits so you can't walk around in it and a camera monitors it. You can still see it from outside though, and I recommend walking across the stream to view it.
Roberts Family House Ruins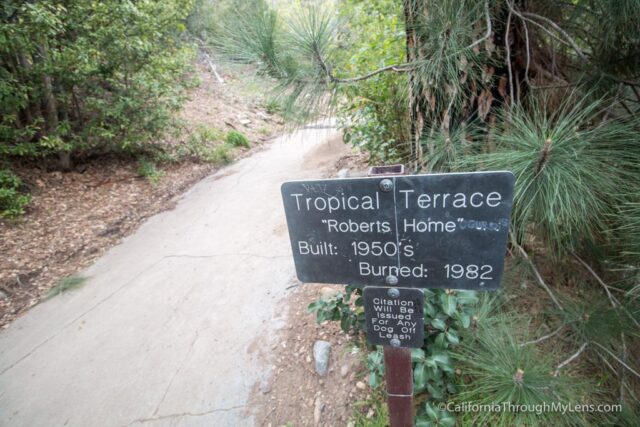 Another 1/4th of a mile, and you will be arriving at the ruins of the Robert's House, which is the main attraction on this hike.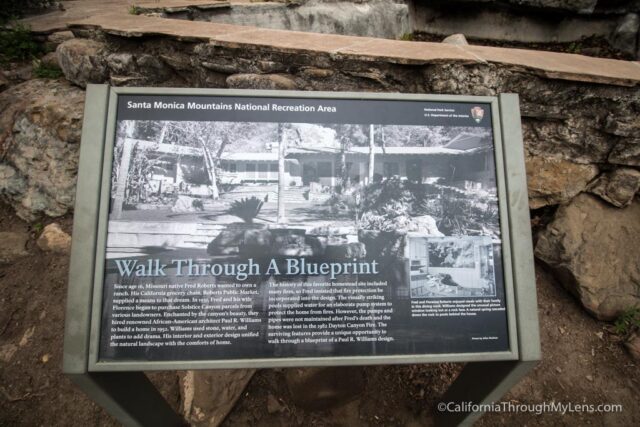 It must have been a real mansion when it was in its heyday as the grounds of the house seem enormous and provide a lot of places to walk around and explore.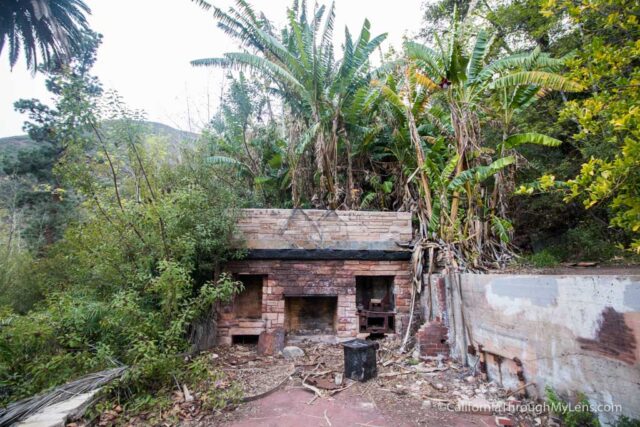 There are all sorts of things to see, ranging from fireplaces to a bathtub and even what resembles an old dam. It is a cool place to explore.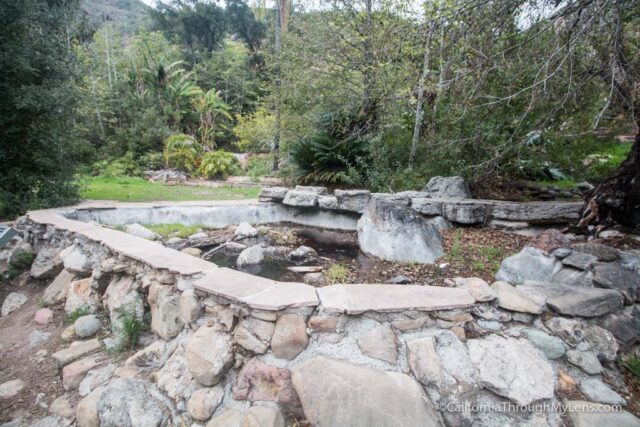 This house was built in the 1950s, and then it eventually burned in a fire in the 1980s.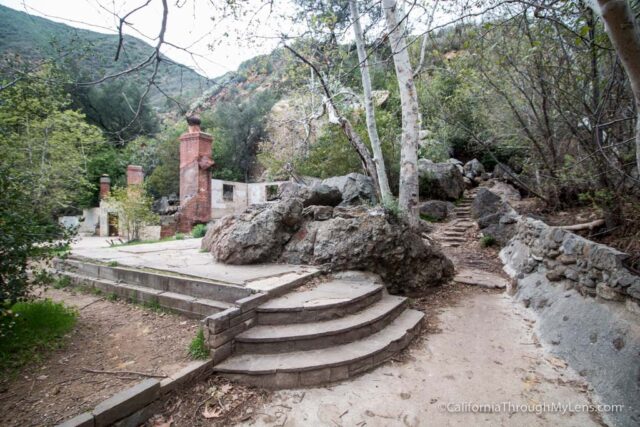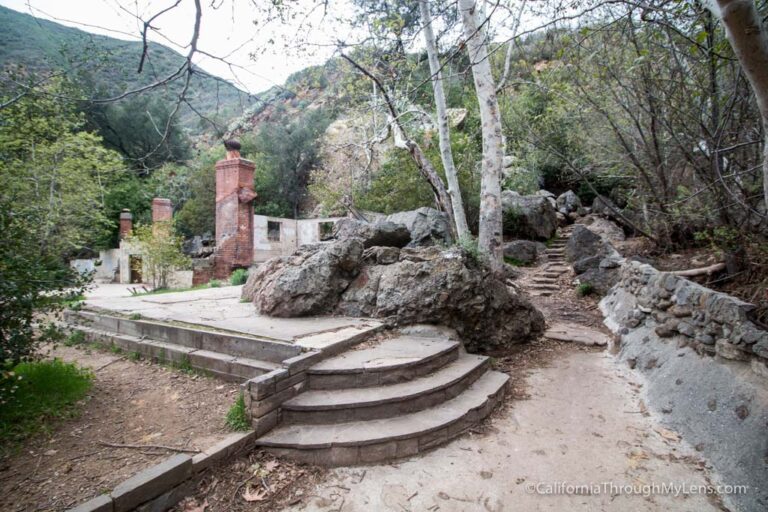 After exploring it and taking it all in, you can walk up to the waterfall.
Solstice Canyon Falls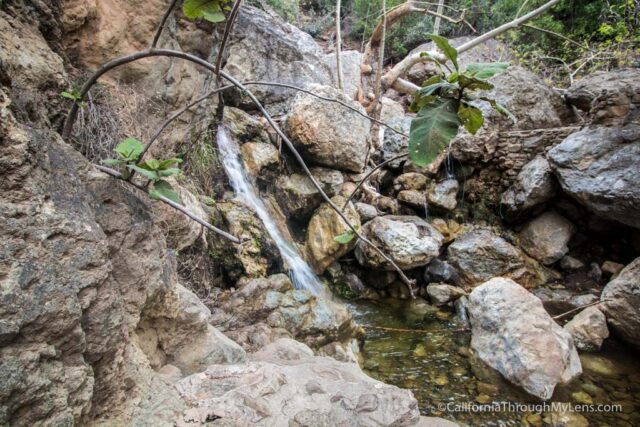 From the ruins, proceed up to the waterfall, which isn't more than 100 yards from the old house. It is a lovely waterfall at about 30 feet tall. If you have a chance to go after it rained, as I did, then it is a lot more pronounced. This is a great place to have lunch before heading back.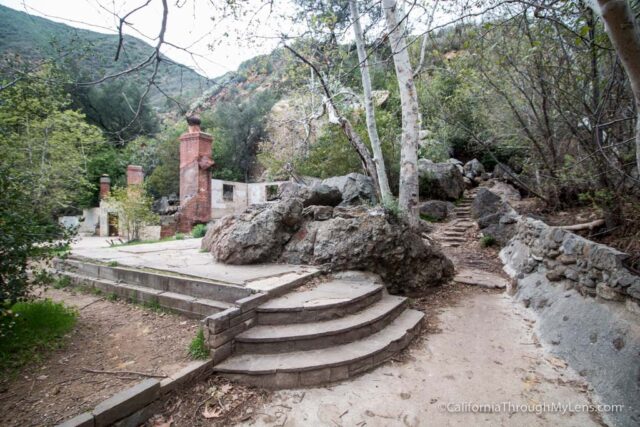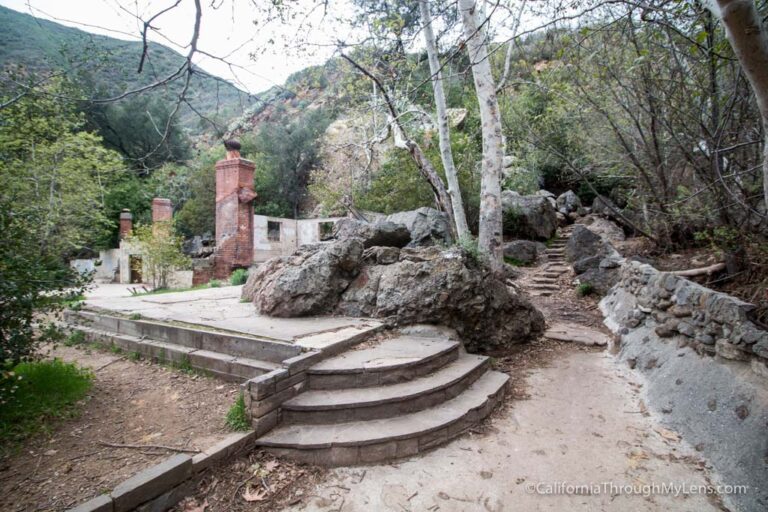 The trail down closer to the waterfall is no longer recommended as the NPS system is trying to rehab it. Here is a photo from the first time I went when it wasn't closed.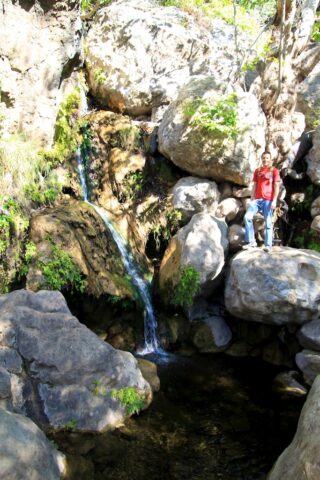 From here you can either head back the way you came or go up the Rising Sun Trail. This trail gains a lot of elevation during the first half mile as you wind up the mountainside.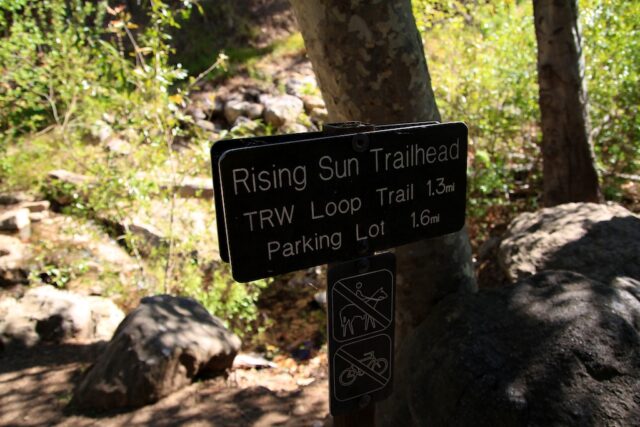 When you plateau, you will have a good view of the ocean and surrounding area. There are some extravagant houses to see here as well, before heading back to the parking lot. Be sure to note that this portion of the trail has no shade. If you go during the summer months, it can be sweltering and is not recommended in the heat of the day.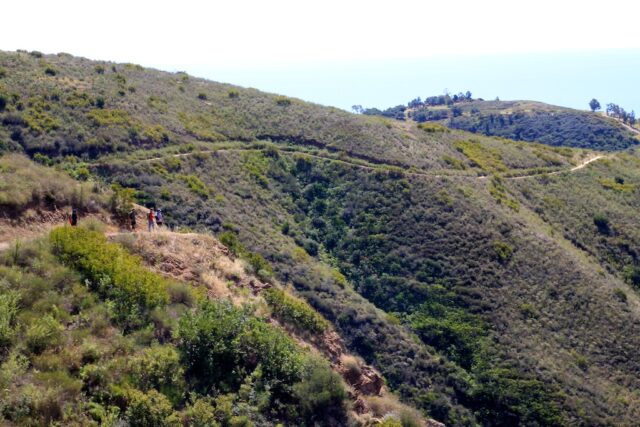 Video
Here is a video I made of the trail as well.
Overall, Solstice Canyon is a hike that should be on everyone's list. It has enough things to see that it is an excellent choice for families to take their kids as well. Let me know what you think if you have been in the comments.