Food Trucks of LA (Featuring the Lobsta Truck, Buttermilk Truck and Seth Rogan)
One of the more unique new trends that are starting to pop up in large urban areas is the introduction of food trucks. These food trucks are not the simple hot dog and hamburger trucks of the past, no they have been upgraded to fit an ever-expanding foodie culture. The LA food trucks themselves range from a lobster truck with lobster rolls to a grilled cheese truck (with bbq pork, macaroni, and onions) and an ice cream sandwich truck. All of these trucks line the streets of LA during specific times and attract customers with their exciting menus. The food trucks are also leveraging the power of social media to connect with their customers and let them know where they are going to be. Find Food Trucks in LA aggregates all of the food trucks Twitters and puts them in a convenient location so you can see where each one is at any given time. Even the celebrities come out for the food trucks ( I ran into Seth Rogan last time I was there, see picture at the end of the post). The food trucks of LA are worth finding, at least the ones that I have had, and at events like this one you can often see many different trucks lined up.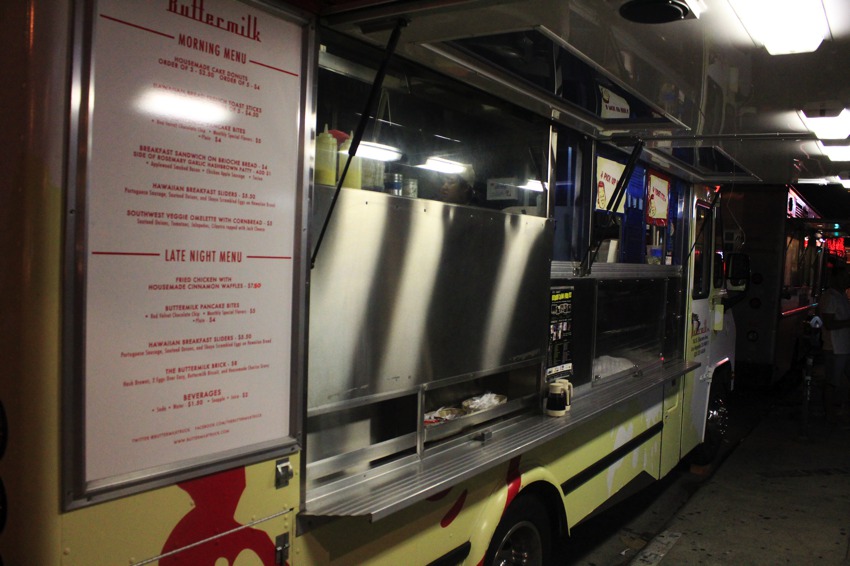 Having heard about these trucks and the fantastic food they offer, Amie and I set out to track down the Lobsta Truck one random Thursday and stumbled into the food truck paradise that is the monthly Melrose Night meet up (As of 2015, this no longer happens). On the first Thursday of the month on  Melrose Avenue between Ogden and Stanley, over ten food trucks lined the street. This is a monthly ritual, so there were many people there, with some trucks having lines that people claimed lasted for over an hour (The Grilled Cheese Truck).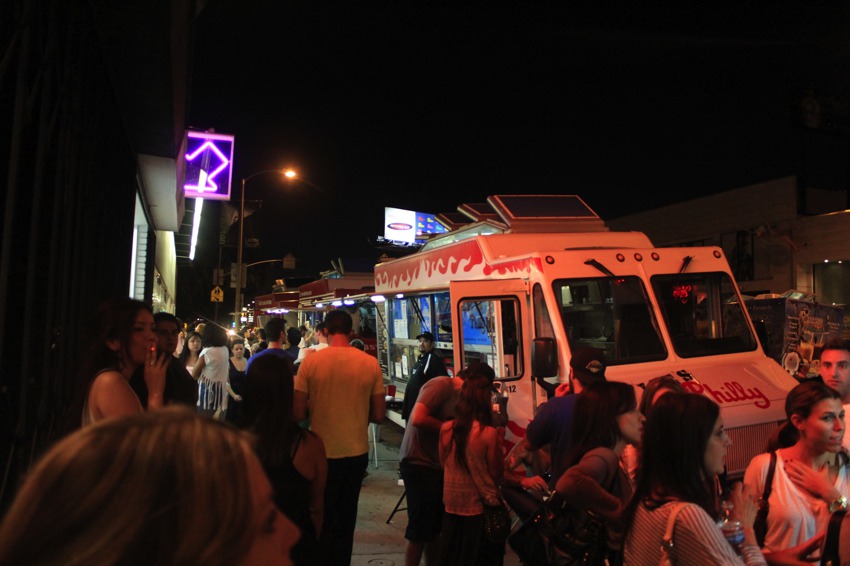 Having made the trek for the Lobsta Truck, we quickly got in line and paid our 12 dollars to have a roll filled with lobster and butter and nothing else. It is small, but it has a lot of lobster, which easily makes it worth the 12 dollars. They get the lobster flown in from Maine once a week, so it is incredibly fresh, and they even have chips and drinks flown in from Maine as well. I opted for blueberry soda.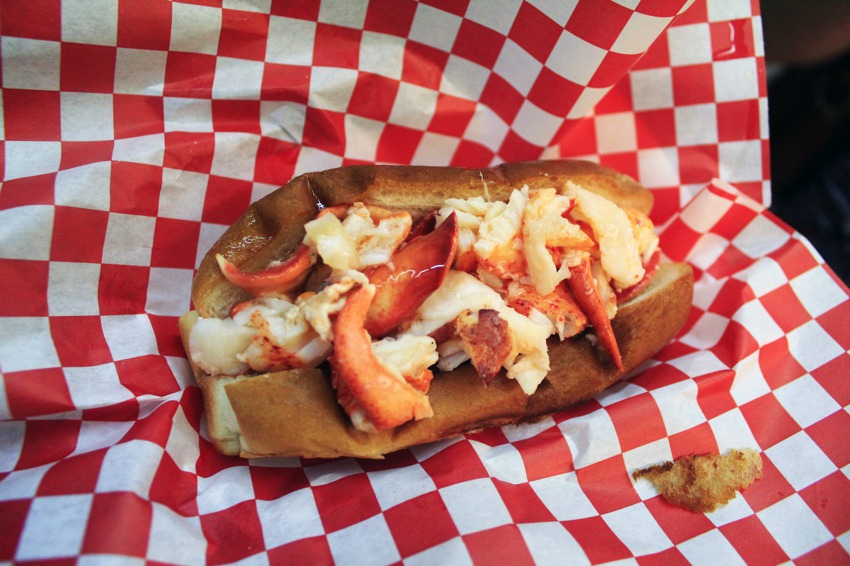 After partaking in this feast, we made our way around to the other trucks to see what type of dessert we could try. Initially, the ice cream sandwich truck caught our eye as you could pick which cookie you wanted for each side then pick the ice cream, but after waiting 20 minutes with little movement, we decided to move onto the Buttermilk truck (all breakfast food). The Buttermilk Trucks specialty is red velvet pancakes with cream cheese butter. Let me tell you, I am not a fan of red velvet, but these pancakes were pretty amazing. The butter itself was a unique treat. They also have chicken and waffles, which was a hit for a lot of people as well.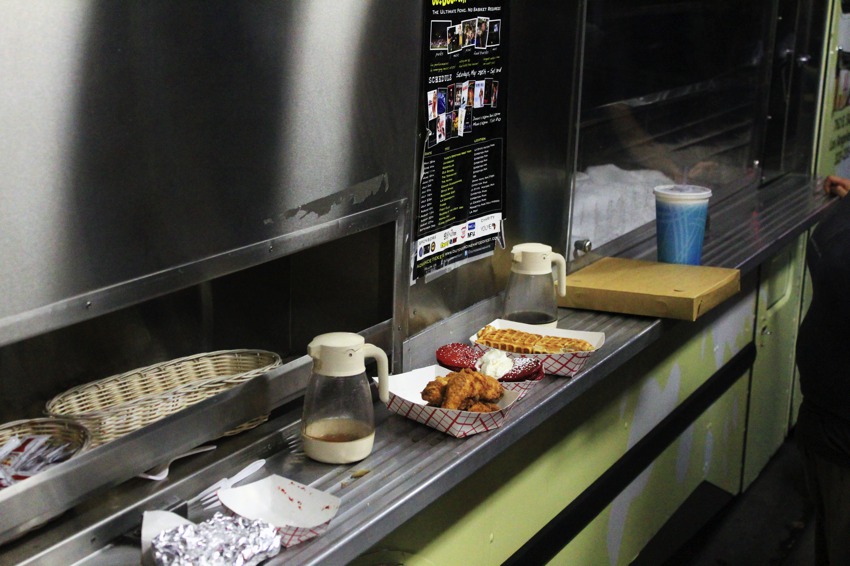 After that, we walked around to check out what the other trucks had to offer and ran into Seth Rogan by the Komodo truck (specializing in Burgerrito Tacos). He was a fan of the food trucks and was trying to figure out what to get, I think he settled on a Mongolian BBQ truck, but I'm not sure. Sorry the picture is low quality; it was with my iPhone.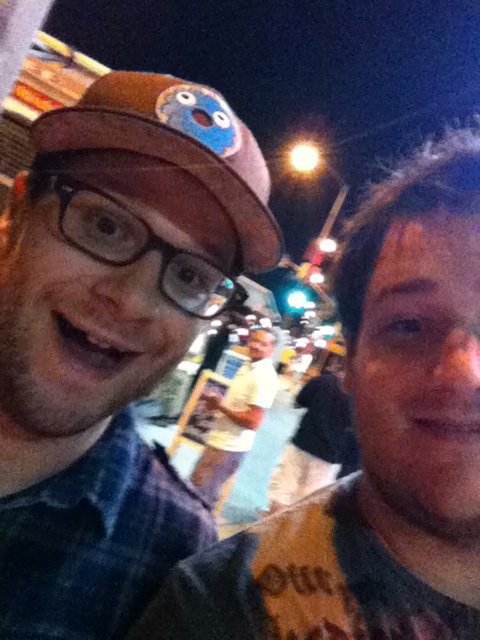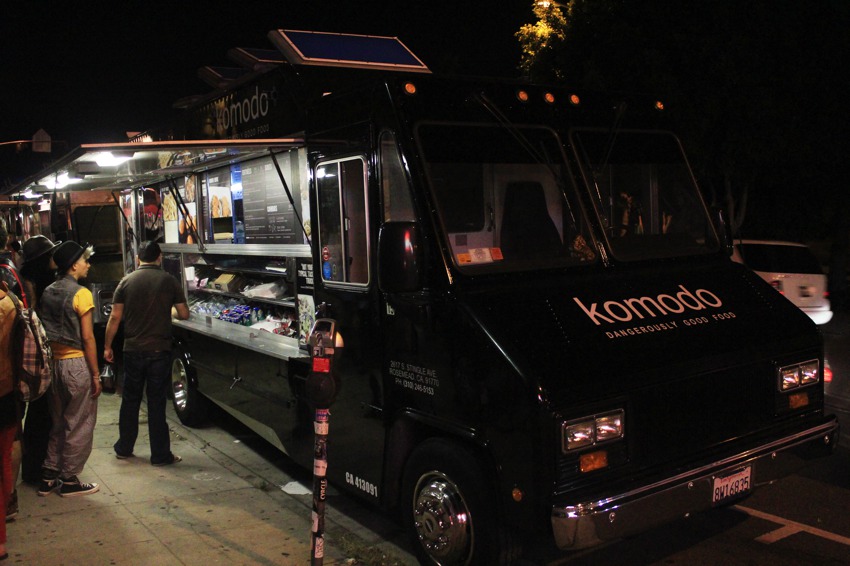 All an all, I would highly recommend you make the trip to Melrose Night to experience the food trucks. I know I will be back again to try some of the other ones, I would love to get my hands on the grilled cheese truck. Let me know if you have had any of these and/or recommend another truck for me to try. You can check out the rest of the photos below.