Offroading in Death Valley with Farabee's Jeep Rentals
Disclosure: This rental was provided free of charge, all opinions are my own.
Going to Death Valley and not seeing the backcountry is like going to a pool and not being able to swim. While it is still a fantastic trip, there is just so much more that Death Valley has to offer if you grab a 4×4 Jeep and set out on one of its hundreds of different trails. Death Valley National Park boasts the most off-roading trails of any national park in California at over 1,000 miles of individual trails. When I was planning my trip up there, I knew I had to find an off-road vehicle to go exploring with, as our Matrix wasn't going to cut it. This led me to the good folks at Farabee's Jeep Rentals right in Furnace Creek where I was staying (across from the Furnace Creek Inn), and I was able to rent a Jeep for an all-day adventure.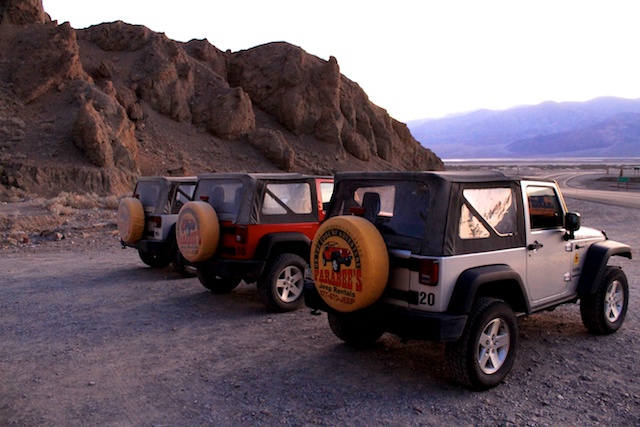 By far, one of the best things about Farabee's is the owner, Richard. He is knowledgable and spent 30 minutes going over the trail with me, helping me figure out the best spots to go and making sure the Jeep was running perfectly. He even gave me a card with a number that rang directly to his phone and showed me on the map where the places with reception would be. It was a relief for me as I was not very familiar with the area, so knowing ahead of time what to expect was a plus. It was also extremely evident that he wanted the people renting jeeps from him to have a great time, and that makes choosing Farabee's for the Jeep rental an easy choice. If you are nervous at all about heading into the backcountry this will help set you at ease.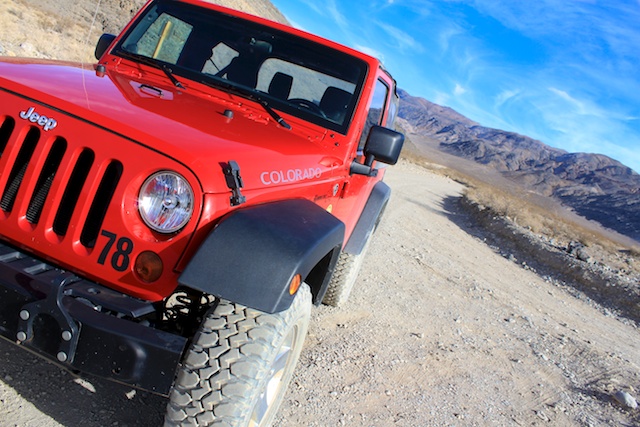 From there, we headed about an hour and a half to Ubehebe Canyon and to the start of the road to the racetrack. Now while this road wasn't too bad, I would not recommend driving it without four-wheel drive. It was washboard almost the entire way and had a lot of loose gravel that could make you skid around the turns. It is recommended to drive around 25 MPH here, and it takes about an hour and a half. When you reach Teakettle Junction, you will know you are almost there.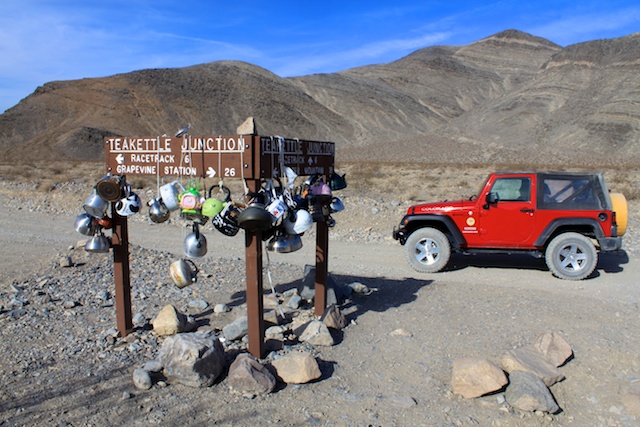 Nestled out in the wilderness, the Racetrack provided a beautiful area to see the trails of moving rocks, climb the Grandstand and hang out by the huge dry lake bed.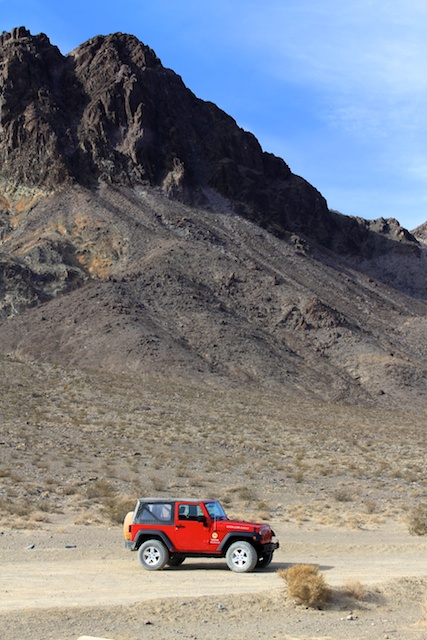 While this road was a lot of fun, it made me want to try a trail that was a little more difficult. This was where going to Farabee's Jeep Rentals and being told some other great spots to go to came in handy. Richard, the owner, informed me of a less-traveled area called the Lost Burrow Mine that provides a lot of exhilaration and a more difficult road to conquer with the Jeep, and I jumped at his suggestion.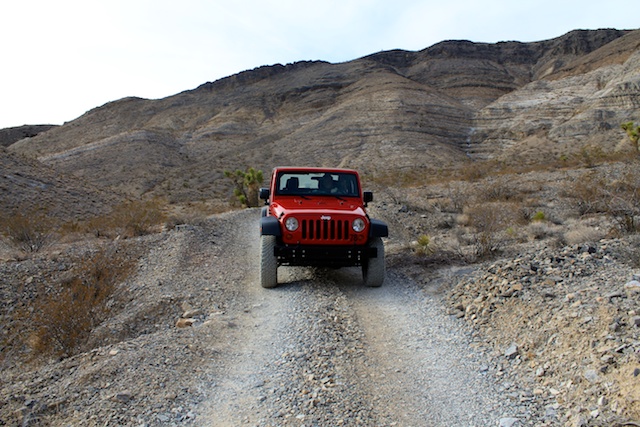 This road did not let me down. It was rough and had many parts where the road was washed out, or it was elevated on one side but not the other. It was a fantastic trail to tackle. I was gripping the steering wheel but enjoying every minute.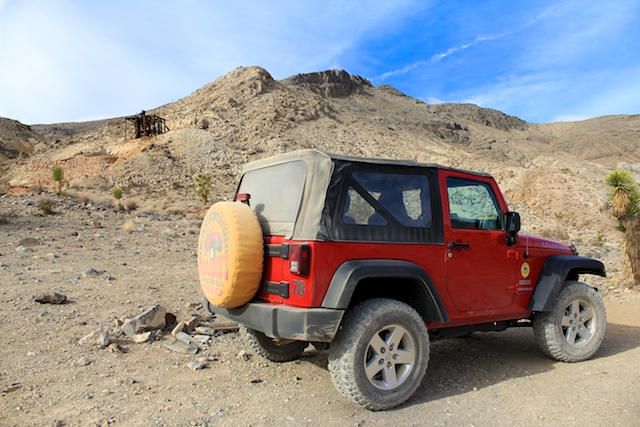 The pay off for completing the mile and a half of road is a well preserved abandoned mine that is worth the trip alone. This was the icing on the cake of our off-roading adventures as it was a rush to be able to not only tackle such an excellent trail but also have the payout of the great mine and cabin at the top. Below is a video of us leaving, it is not super exciting but if it gives you a look at the trail.
Richard also recommended some other trails to check out, like Titus Canyon, but unfortunately, when we made it back from the racetrack and the mine, we had little sun left in the day. One of my favorite things about Death Valley, and about off-roading there is that we saw less than ten people all day. While there are still enough people to make you feel safe, if you broke down, it is enjoyable to feel like you have the entire area to explore on your own. Check out this view of the Jeep below all by itself in the wilderness.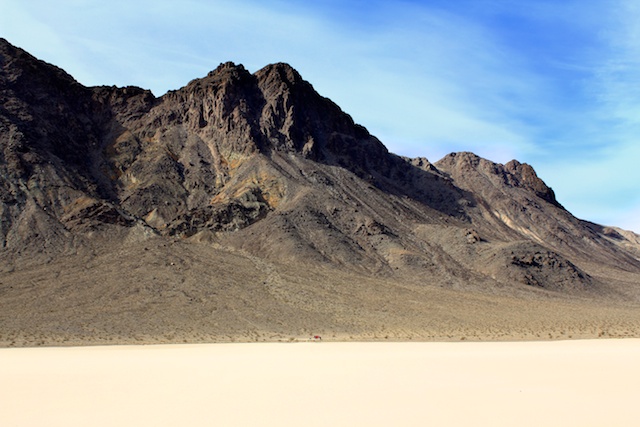 I'm pretty sure this is how you know you had a good day offroading if you can write in the dirt on your car when you get back.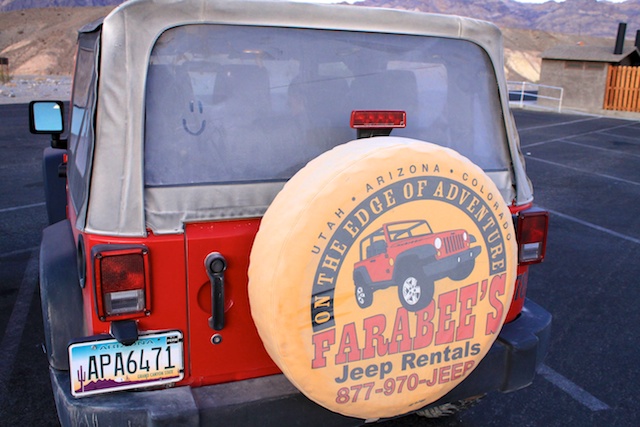 So if you are in Death Valley, I would highly recommend making some time to go offroading. If your family car can't handle it, I would recommend Farabee's Jeeps as they took care of me and made sure I had a great and safe time. Also to note the Jeep I rented from them performed well and I had no problems with it at all, always a plus to know you are renting a car that can take the rough backcountry roads and still perform well. Also, if you are in other national parks around the USA, Farabee's Jeep Rentals has a presence in Moab and a couple locations in Colorado. I highly recommend them as they did help me have a great time while in Death Valley!