Weekend Adventure: Arches, Canyonlands, Horseshoe Bend & Antelope Canyon
This post is the first in an eventual series of posts about weekend road trips you can take outside of California. Yes, this site is still dedicated to California, but that doesn't mean that those of us that live here don't want to leave every once in a while and see what else the USA has to offer. This post is my five-day road trip to some of Utah's and Arizona's best spots, and it has all of the details for you to do it as well. The drive was around 2,000 miles, but it is a five-day trip you will never forget, here is all the info. I did this trip in 2016, and all information is from that time, read more about my trips outside of California here.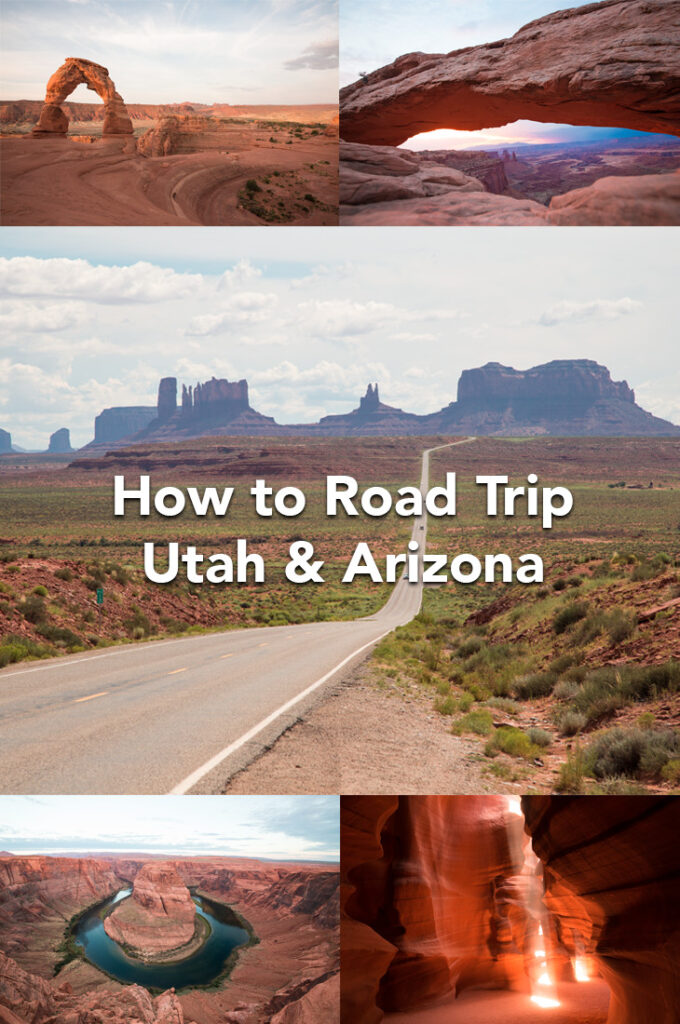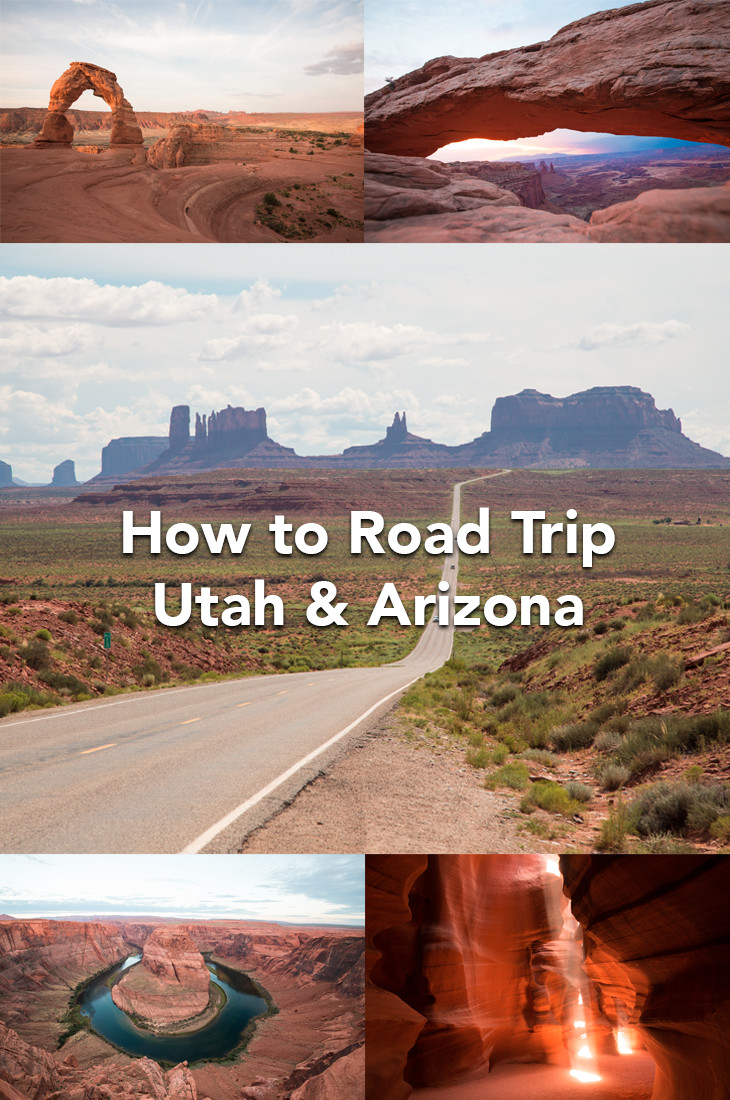 Details
Five days, four nights
2,000 miles
2 National Parks
Day 1 – Driving – Highway 15 to Highway 70 to Route 191
Start early because you will be driving for about 10 hours. This is by far the longest day of the entire trip, so just buckle down and get through it. I left at around 7:30 AM.
Barstow – Dunkin Donuts – Breakfast – $5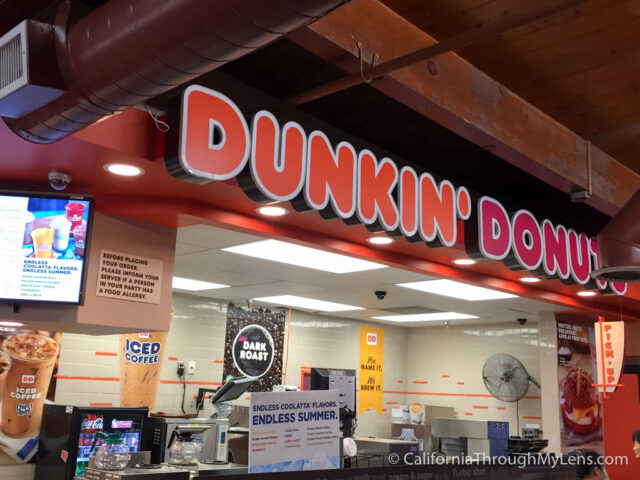 After leaving from Los Angeles, you will be driving on Highway 15 towards Vegas. If you started in the morning as I did, then I recommend stopping about an hour and a half in at the Dunken Donuts in Barstow. There are a lot of other options here too, like a McDonald's (I always stop there on road trips for $1 large drinks), Chinese food, and Subway, but I am still partial to a coffee and a donut. If you don't need any of these things, then just continue to Baker or Vegas.
Vegas – Earl of Sandwich – Lunch – $8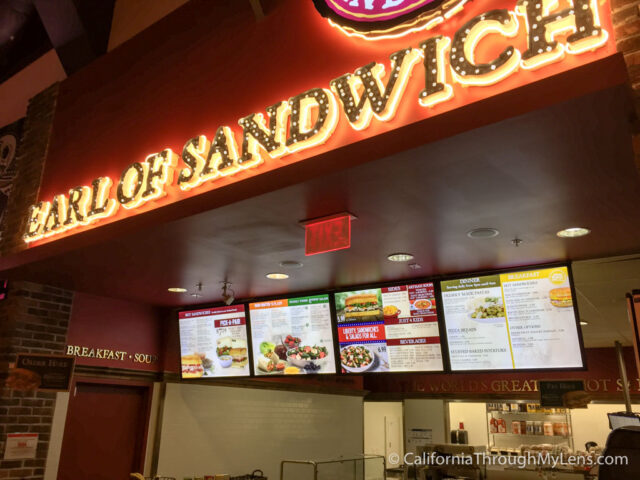 Since it is most likely lunchtime, I would recommend stopping at Earl of Sandwich. There are two in Vegas, one in Planet Hollywood and one in the Palms. The one in the Palms is much easier to get in and out of, so I would recommend stopping at that one. Also, Fremont St has a few accessible stops as well, such as Heart Attack Grill, which is over the top ridiculous, or pick-up a frozen banana and deep-fried Oreo for a dollar each at Mermaid's Casino.
St George – Culvers – $4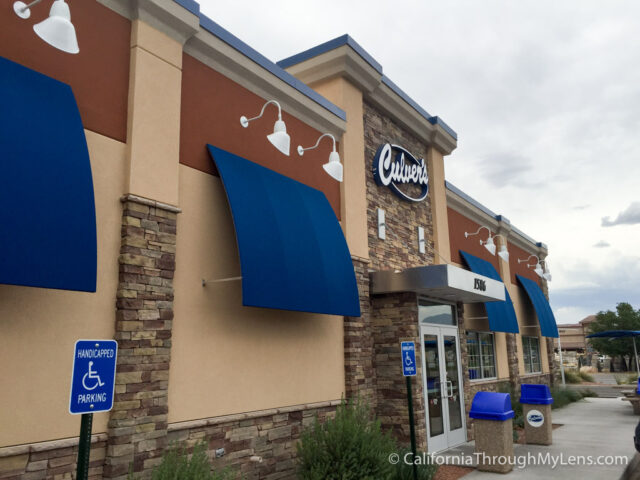 If you passed up the dessert and are looking for a pit stop, I would recommend some ice cream at the famous mid-west spot called Culvers. Technically it is frozen custard, not ice cream, but it is fantastic.
Cedar City Landlocked Lighthouse and Cafe Rio – Dinner – $10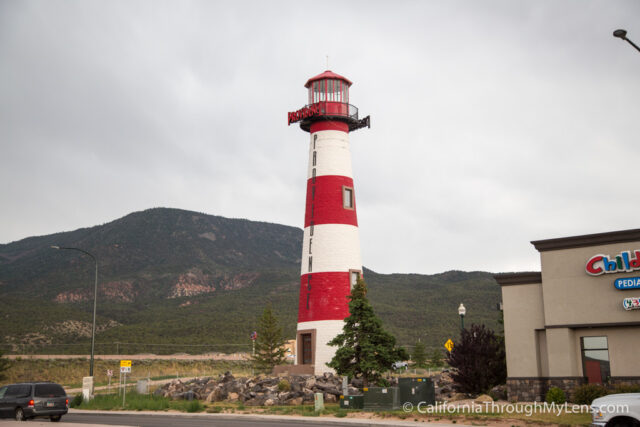 In the town of Cedar City, there is a landlocked lighthouse right off the road that was initially built to bring people to a church. Since then, the church has been demolished, but the lighthouse still stands tall, nowhere near water. It is a fun pit stop, but you can't get very close to it. Nearby is a restaurant called Cafe Rio that is in the same vein as Chipotle but equally as good. I always stop whenever I see it as it is fantastic. Also, note that you will soon be getting to a 60 mile stretch with no gas, so be sure to fill up.
Sand Bench View Area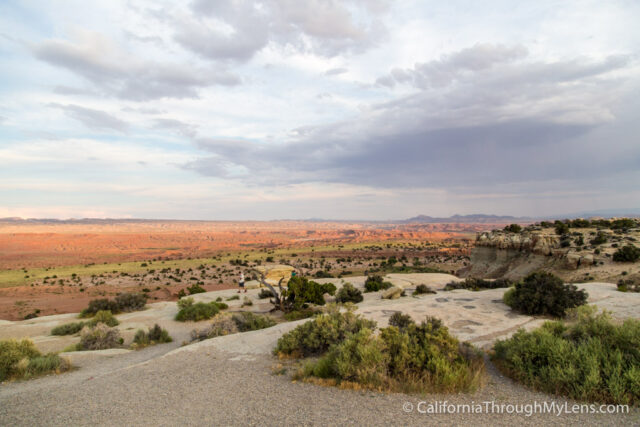 No doubt that by now, you have been in the car for a while now, so you are probably looking for a stopping point. There are many viewpoints on this stretch of the road, and they all have their charm. My favorite is Sand Bench. The vista from here is just overwhelming, and they have a few pit toilets as well. It's an excellent place to stretch your legs before the last push into Moab.
Motel 6 – Night 1
We were staying cheap on this trip and ended up at the Motel 6. I have nothing but positive things to say about this place. It was super close to Arches National Park, had just been redone with fake wood floors in the room, and had AC and a pool. We were here for two days, and it was great.
Day 2 – Arches National Park ($10) & Moab
Day 2 is all about Arches National Park. The whole day is spent in the park and in the town of Moab, which is right next to it. I, for one, plan to be in places at sunrise, which is why you will see every day starts with sunrise. But you don't have to do that.
Delicate Arch for Sunrise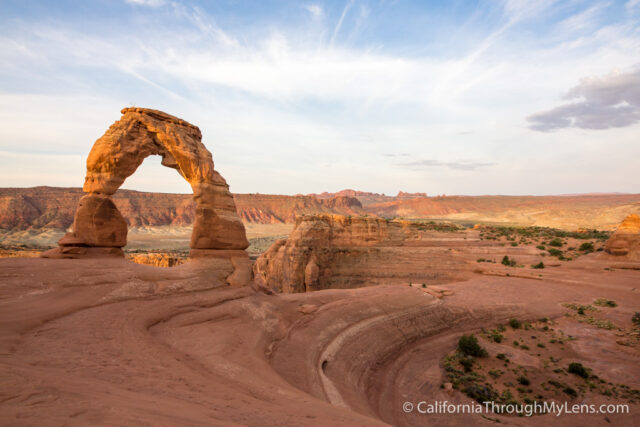 After getting in late, we still decided to set our alarm and head into Arches for sunrise at Delicate Arch. Delicate Arch needs no introduction, and I highly recommend visiting at dawn as it was much less busy. Read more about how to do that here.
Devils Garden – Landscape Arch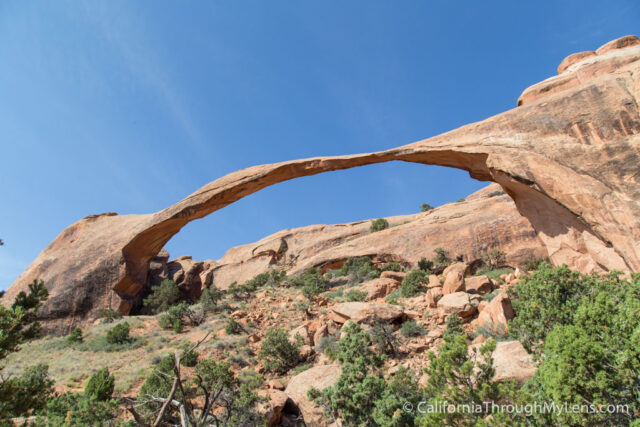 Next, we headed over to Devils Garden and made the one-mile hike to Landscape Arch, which is the longest arch in the entire world. It was beautiful, and you must see it while in the park. Read all about what you can see in Arches here. Since it was the summer, we headed back to the hotel to swim and relax after this, then went back out again for sunset.
Moab – Quesadilla Mobilla – Lunch – $10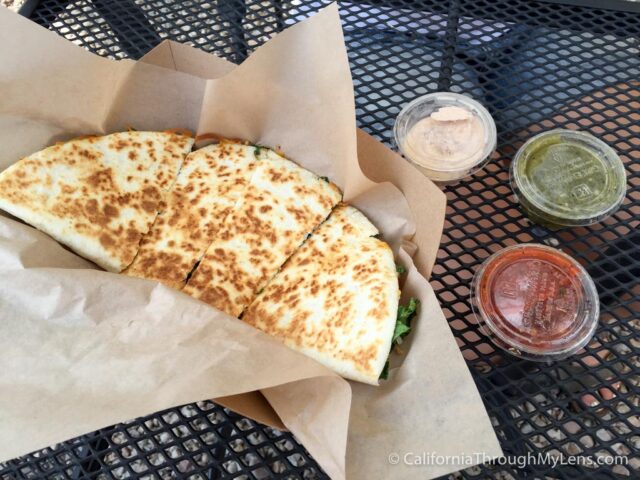 There is a permanent food truck that is probably my favorite spot in Moab for a meal. It is a fantastic spot with great food and unique charm. I recommend the option called "Fiery Fungus" but be warned that it is spicy.
Moab – Crystal's Ice Cream – $4
For dessert or a late afternoon snack, you should stop by Crystal's and get a scoop of ice cream in an amazing pretzel cone.
Windows for Sunset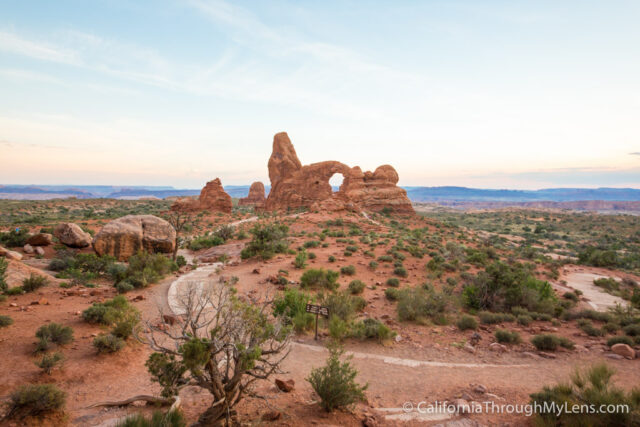 At sunset, we ended up at the "windows" area of the park, and I highly recommend it. The sunset painted colors over the landscape, and it was the perfect way to end the day. We saw five different arches while here, but my favorite was the double arch, I have never seen anything like that before. There is usually a lot of people here for sunset, so be warned. The area is big though, so you can get away on your own as well.
Read my full guide on Arches National Park here.
Motel 6 – Night 2
We happily stayed Motel 6 again.
More Moab Food Ideas
Eat
Milt's Burgers – A great local burger joint with a pleasant staff and grass-fed beef burgers. It is a good cheap lunch spot.

Crystal Ice Cream – You must go here when in Moab, they have a Caramel cashew ice cream and a home-made pretzel cone you can have it served in. I would eat here every day if I could.

Moab Diner- A fun diner that always seems to have locals in it. Great spot for a cheap breakfast and friendly service.

Moab Brewery – A popular dinner spot in the area with fresh beer (alcoholic and root beer) and good food. They also have a full gelato area.

Moab Coffee Roasters – A good coffee spot, I especially like the coffee ice cubes they have that keep your coffee from getting watered down as they melt. This is a must-have in the heat of Moab.
Day 3 – Canyonlands, Dead Horse Point & Driving – $10
This day, of course, begins with another park at sunrise, and then a drive onward to Page, AZ.
Sunrise at Mesa Arch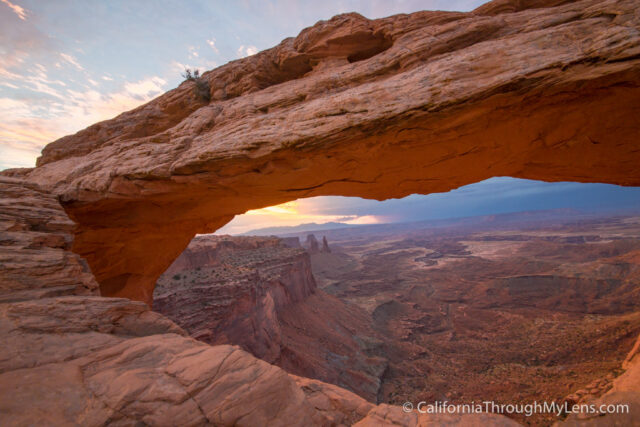 Mesa Arch is the best spot for sunrise in the area, and I highly recommend it as it is insanely beautiful. That being said, the arch is small, and it is crawling with photographers, so you need to get there early to get any chance of a good spot. Read about it here.
Grand View Point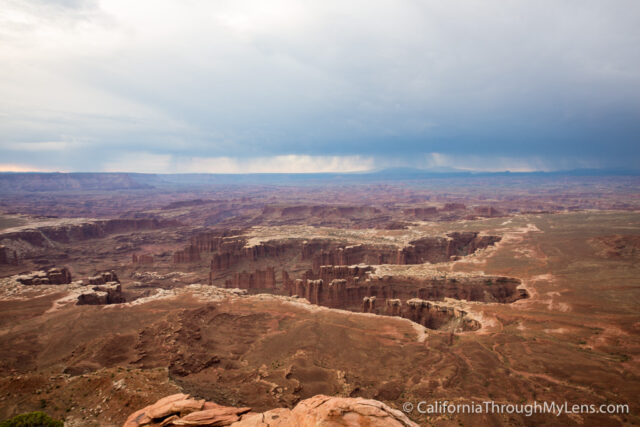 After fighting for a spot at Mesa Arch, make sure to head to the end of the park and see Grand View Point. This viewpoint is majestic, and the canyon you can see from here is not something you will soon forget.
Other Viewpoints
There are two other viewpoints out near the end of Canyonlands that I recommend you stop at as well, as they both provide a ton of beautiful photo ops.
Dead Horse Point State Park – $10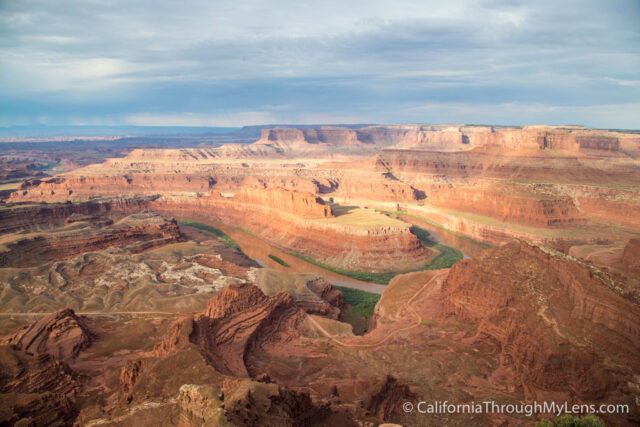 After leaving Canyonlands, take a quick right into Dead Horse State Park. This park is tiny with not much to see, but the view at the end of the park is worth the price of admission in and of itself. The vista here goes for miles and miles, and there is even a mini Horseshoe Bend that you can see from up here. This is another good sunrise spot as you will miss the crowds and get to see beautiful colors.
Moab – Milts's Burger – Lunch – $10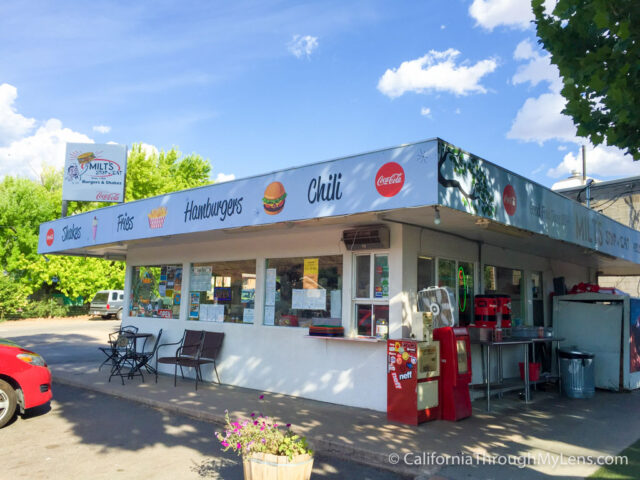 Since you will have to drive through the town again on your way to Page, I would recommend stopping at Milt's Burgers on the way out of town. It is a fun little hamburger joint with locally raised meat and good prices.
Moab to Page – 4 Hours of Driving (Route 191, Route 163, Route 160, Route 98)
After a nap and lunch, we hit the road to Page, AZ, which is about 4 hours away, but there are lots of places to stop along the way, including Monument Valley.
Hole in Rock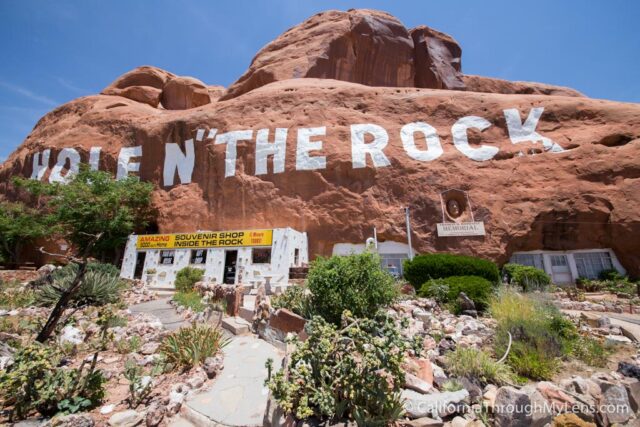 This first stop you will want to see is Hole in the Rock, which is an eclectic roadside attraction of a massive rock that someone built a 5,000 square foot house in. There are tons of other goofy things here too, like a cactus made of bowling balls and a Bigfoot sighting. It is about 45 minutes out of town, and it is hard to miss.
Wilson Arch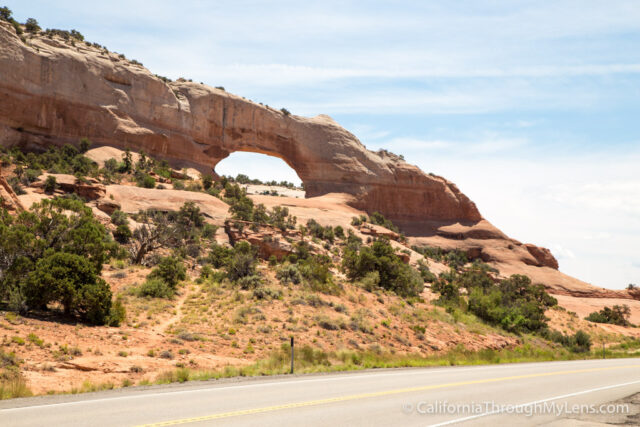 This is a beautiful, massive, side of the road arch you can photograph or hike to if you have time. It is about 10 minutes past Hole in the Rock. We didn't have time to do anything other than take a photo here.
Blanding, UT – Dinosaur Museum -$3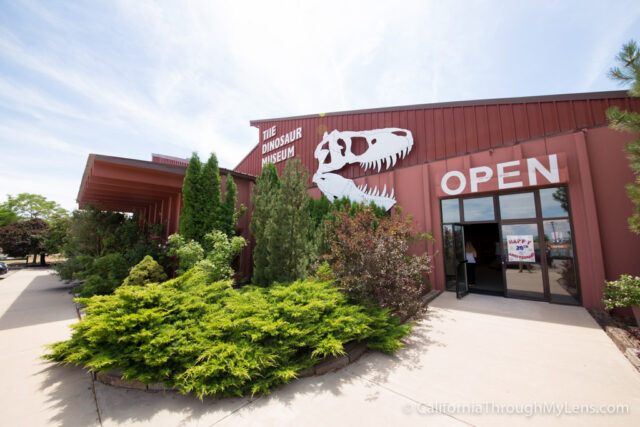 This museum is one of the best things I found on my trip, it only costs a few bucks to get in, and it has an insane amount of cool stuff. Some of the things you can see are full dinosaur bone recreations, plaster mold dinosaurs to scale, old meteors, and petrified wood. It a great stop, and I love supporting places like this.
I even got to meet my new favorite dinosaur as well, which you can see a photo of above.
Goosenecks State Park -$5
Depending on how you are doing on time, you can take the short excursion up to Goosenecks State Park. While there is not much here other than a viewpoint, the area is utterly incredible, and it provides a fantastic vista of multiple Horseshoe Bend like spots.
Mexican Hat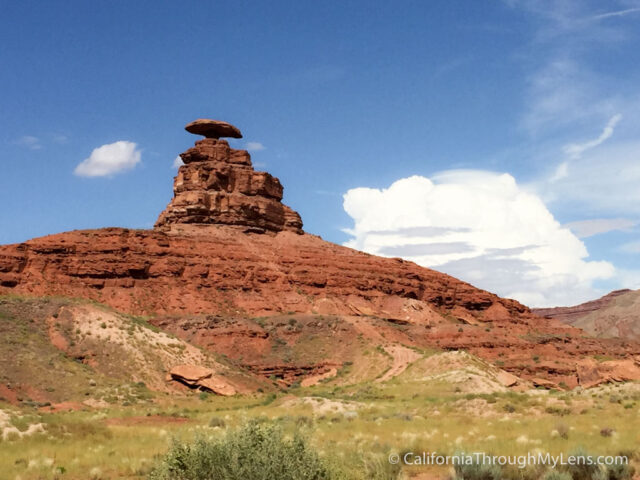 This small town, right on the outskirts of Monument Valley, is named after the Mexican Hat rock that is outside of the town. You can drive on a short dirt road to see it or just take a photo from the road.
Monument Valley – Forest Gump Spot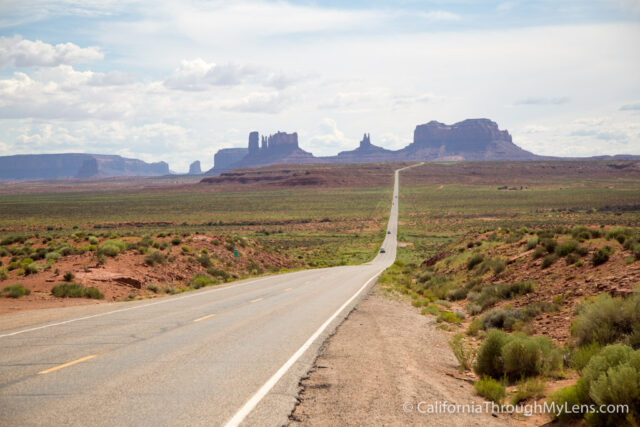 As you get close to Monument Valley, make sure to stop at mile marker 13 on Highway 163. This spot provides a fantastic view of Monument Valley, as well as being the spot that Forrest Gump stopped running at in the movie of the same name. It is a popular area, and there are a lot of Native American roadside jewelry spots set up around there as well.
Monument Valley – $20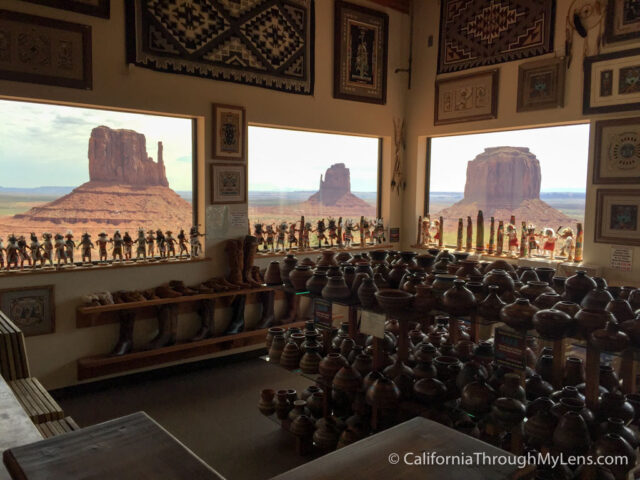 If you have time, then you should pay the 20 dollar entrance fee and drive the 17-mile dirt road that takes you to all the spots. We didn't have the time, but we drove around the area to take a few pictures before continuing on. You can read more about the drive here.
Goulding's Lodge – John Wayne's Cabin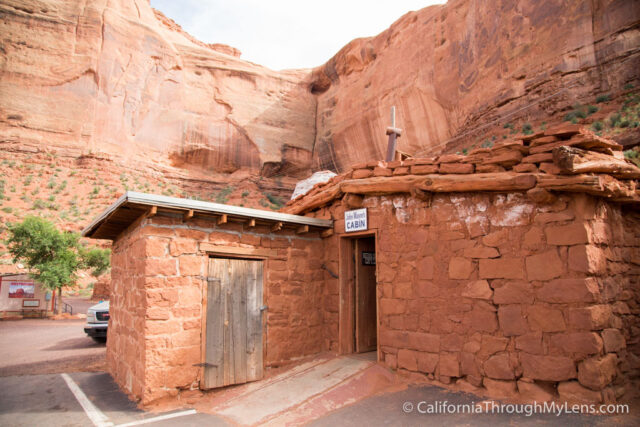 When in Monument Valley, consider stopping at Goulding's Lodge, which is the spot where many old westerns were filmed, including a cabin used in an old John Wayne movie. They even have a free museum you can go to and see the area's history as well as a lot of the films that were made here.
Canyon King Pizza – Page – Dinner -$15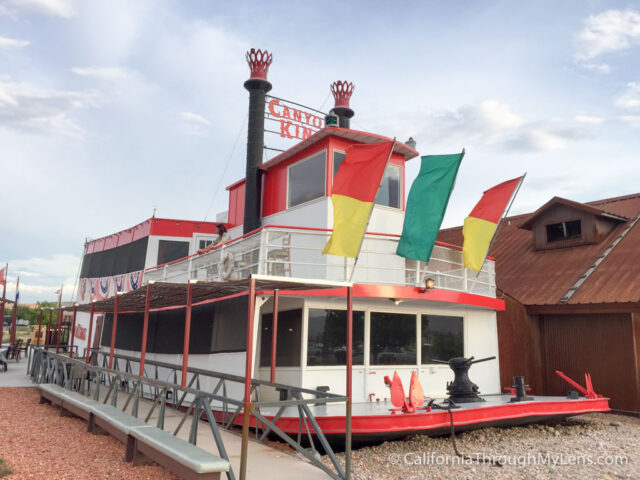 From here, we just drove the rest of the way to Page, AZ. For dinner, we ate at the Canyon King in Page, which is an old steamboat that was landlocked and turned into a pizza place. It was a good meal in a fun location.
Motel 6 Page, AZ – Night 3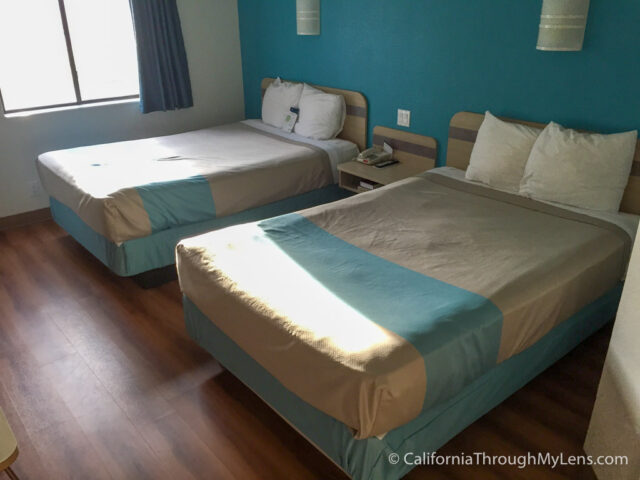 While in Page, we stayed at Motel 6. Again, this one was new as well, so it was another nice place with a good location in town.
Day 4 – Page, AZ
Day 4 is all about Page, we saw Horseshoe Bend at sunrise and went on a tour of Antelope Canyon. From there, we headed to Vegas for our last night.
Horseshoe Bend – Sunrise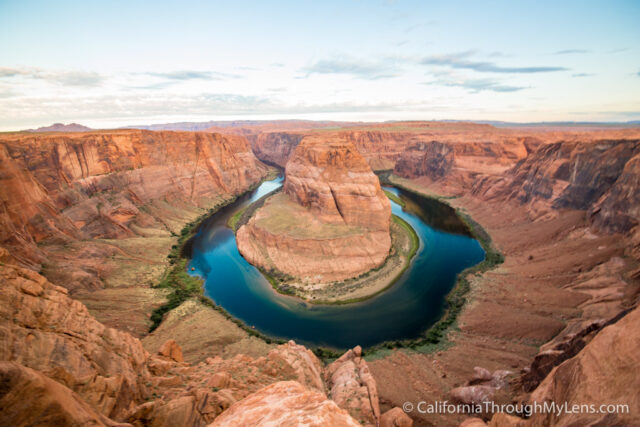 At only 10 minutes drive and 15 minutes walk, Horseshoe Bend is a fantastic sunrise spot in the area. I couldn't recommend going at this time of day more, as there was almost no one there. The way the sun shines pre-dawn is a great way to see the bend without any shadows, as when the sun comes up, it casts lots of shadows. Read more about it here.
Upper Antelope Canyon -$50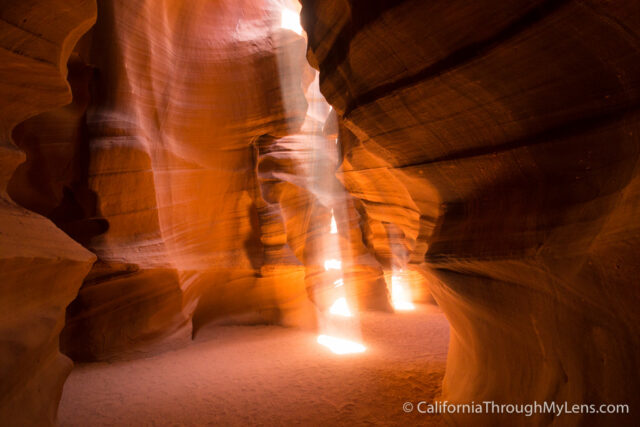 If you can, book the Upper Antelope Canyon tour in advance from 10:45 AM – 12:45 PM as this is the only tour where light beams shine into the canyon. Do make sure you check the weather though, as this is not seen when it is overcast. I didn't go with a photo tour as it was double the price. I would say that if you are a professional, then you should do that, but if you aren't, you should get good enough photos from the regular tour. The tour guides work hard for tips and are always showing you spots to take good pictures from. Read more about it here.
Page, AZ Food
River Bend Cafe – Connected to a tour company, but still a strong place for breakfast and coffee. It can get busy and can be slow though, so if you are in a rush note that.

Canyon King Pizza – Fun pizza spot that is actually in an old boat that used to be used on the lake. It's a little pricey, but it is a super fun location, and they even have photos of the boat on the walls.

Big Johns Texas BBQ – Great little BBQ spot right in the downtown.
Glen Canyon Dam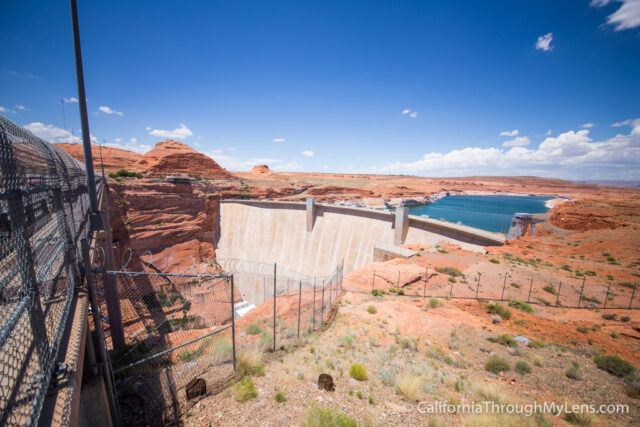 On your way out of town, I would stop to check out the Glen Canyon Dam. It has an awesome overlook from the bridge that allows you to see the dam wall. You can take a tour of you would like, but I didn't do that.
From here, you can either start the long slog back home (at least 8 hours) or book a cheap hotel in Vegas. We decided to book a hotel in Vegas as it was very cheap on a Sunday night.
Las Vegas – Stratosphere – Night 4
The Stratosphere was less than $50 to stay at, so we opted to just stay here instead of driving all the way home. The benefit of staying at the Stratosphere is that you get a free pass to go up to the top if you stay there. That makes for a great way to end a road trip as you can get a drink looking down on the city.
Day 5 – Driving Home
We grabbed breakfast on the way out of town at a Starbucks and made our way back to the real world. Hopefully, this guide was helpful for you and provided a few ideas on how to have a good long weekend adventure outside of CA. I did this on the Fourth of July weekend, so I only had to take two days off of work, and I got to have such a fantastic adventure. Let me know what spots I left off in the comments, and be sure to ask any questions you have about this trip as well.