Bishop / Mammoth Creek Hot Springs List Off Benton Creek Crossing Road
If you are looking for a fun adventure in the area between Bishop and Mammoth, then consider the vast array of hot springs that can be accessed within a short drive from the road. Sure there are more hot springs around the area than just these, but these are some of the most popular and ones that offer some of the best views for the weary traveler that wants to soak. Here is all the information about the five main hot springs you can visit on your next trip up Highway 395.
Details
Most of these are within a mile from the main road.
The roads to them are all dirt and can be difficult to traverse, so be sure to think about what your car can actually do.
People often bathe nude, know this before heading out to the hot springs.
All of them are off of the Benton Creek Crossing Road.
You can find a great map of them here
This information is from my visits in 2016 and 2018, so some of the information may have changed.
Wild Willy's AKA Crowley Hot Springs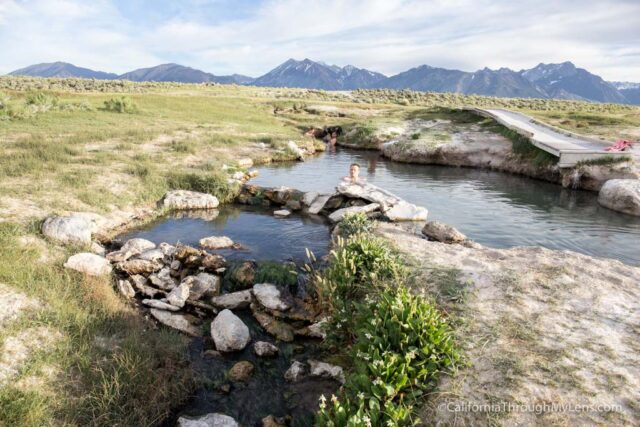 This is the most popular of the hot springs as it has a man made tub and a natural creek that you can wade in. Because of that, I would not recommend this area during busy weekends as it will be crowded. During the week though it can be an excellent spot to relax, and the views are incredibly beautiful both on the hike there and while in the hot springs itself. Read more here.
Accessed via a 1-mile dirt road
Fits 15-20 people in the two pools
Hilltop Hot Spring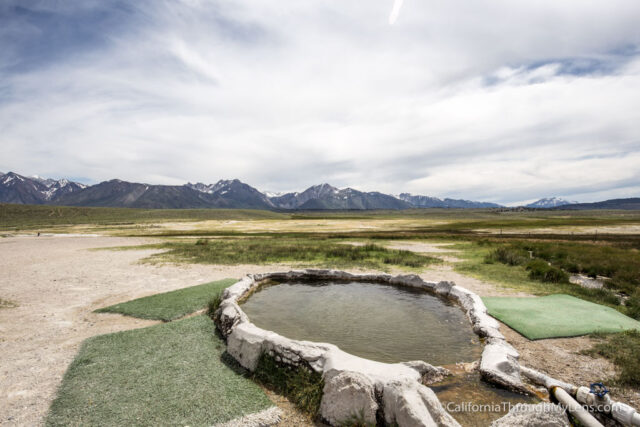 This is one of the easiest hot springs to access via car as it is a mere .2 miles from the main road, and you can see it from the road. The hike to this hot spring is beautiful as well, with an excellent elevated platform to walk on. The hot spring is one of the best for views since it has 360-degree views of the area around it. It can be popular, and there is less room, so I recommend enjoying it for a little while then leaving when the next person gets there so they can have their turn.
Accessed via a .2 mile dirt road
Fits four people
Hot Tub Hot Spring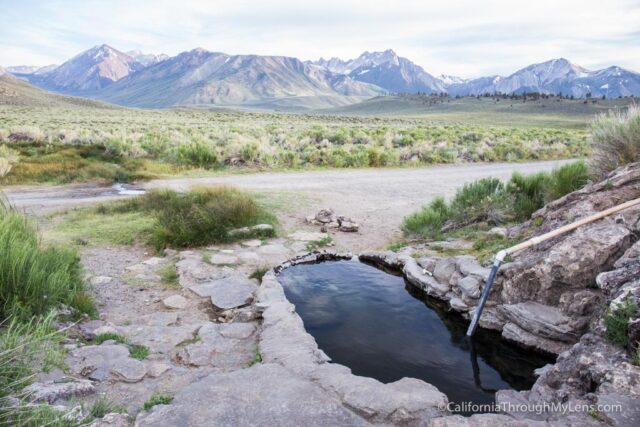 The next three are located off Whitemore Tubs Road, which is a dirt road, and each of these can vary in access to 2WD cars during different times of the year. The general note is if the road looks worse then you feel comfortable with then do not drive on it. Hot Tub is right on the road, and it is a small tub that you can park right next to. It provides views of the Eastern Sierra range as well.
Fits two people max but one is best.
Crab Cooker Hot Spring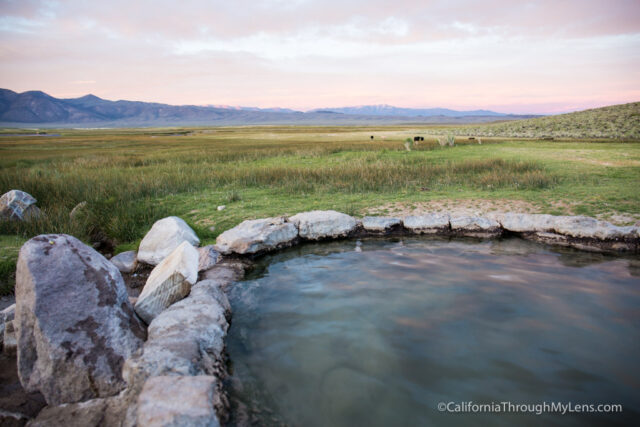 This is my personal favorite hot spring, as it has one of the best views of any of the springs in this area. It is accessed via a dirt road that I would not recommend without high clearance 4WD though. When you get to the dirt parking lot, you will walk down the short path and see the hot springs in the little canyon below. It is known as the Crab Cooker because of the heat of the water, which can be incredibly hot, so be warned.
Shepard Hot Spring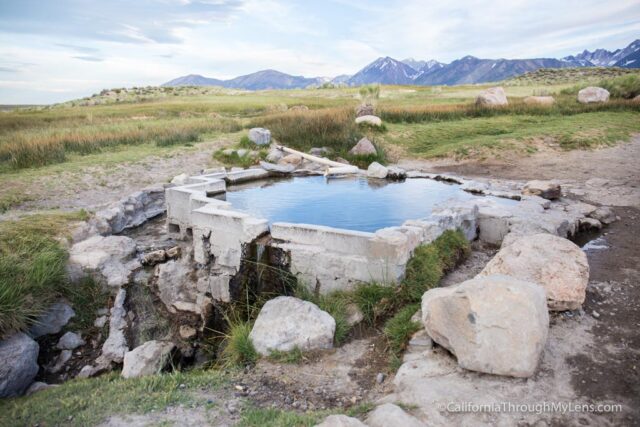 This is the last of the hot springs on this list. It is a man-made hot spring with a small soaking tub that can often be packed since it is small. It has an excellent view to the east and a parking lot that lets you stop right next to the hot springs itself. It is not one of my favorites, but a lot of people like it.
So there you have it, my guide to the popular hot springs in this area. Be sure to let me know what your favorite is if you visit them and if you have any other recommendations in the area.