On my trip to Old Sacramento, I was looking for a fun place to eat and happened upon Fanny Ann's Saloon, so I figured I would give it a try. My friends and I were about to have Mexican food when we saw the sign for the saloon and thought it would provide us with a more unique experience in Old Sacramento. Boy, were we rewarded for our selection. What we entered was a unique burger joint and bar that had five stories of eclectic art and antiques and a menu with really odd burgers, just my kind of place.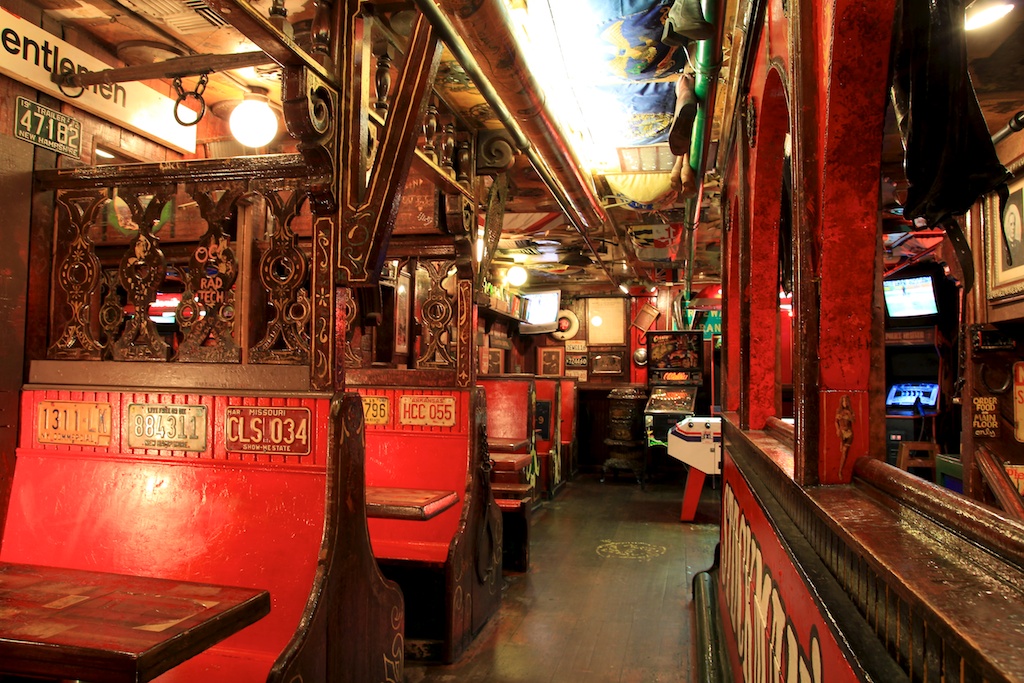 History
The World Famous Fanny Ann's steamboat has had several notable adventures throughout history. The boat was first built-in 1842 to transport supplies to Sutter's Fort and the greater Sacramento area. It was also one of Sacramento's primary means of transportation during the Gold Rush. Fanny was even called to duty on March 10, 1862 to help the North during the Civil War. She was used to supply 30,000 union troops with rations up and down the Red River in Louisiana, where the confederate army had them surrounded.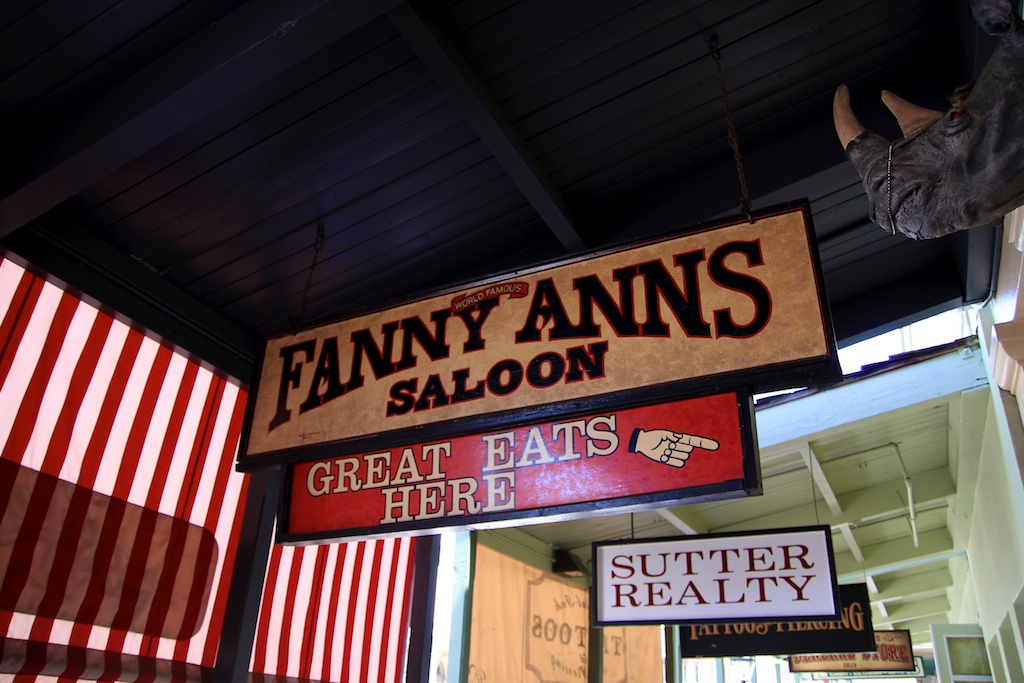 After the war, Fanny Ann came back to its home in Sacramento, where it was purchased by local madam and saloon proprietor Big Annie Fanny. She immediately converted the ship to more recreational uses and docked it adjacent to her saloon near the Sacramento River. The boat and Ms. Fanny became so popular that Ms. Fanny Changed her name to Fanny Ann. Then tragedy struck on the fateful night of July 4, 1869 when an unexplained fire broke out during a particularly rowdy party on the boat. Fanny salvaged everything she could from the vessel, including the cannon that now sits above the entrance to the legendary Fanny Ann's Saloon. Those possessions live on adorning the walls of her historic watering hole.
The Atmosphere and Floors
The history behind the odd art and possessions in the bar makes your time eating here all the more enjoyable. There are five stories full of pieces of history to peruse with the bottom floor having so much to see that it is hard even to focus when looking at the below picture.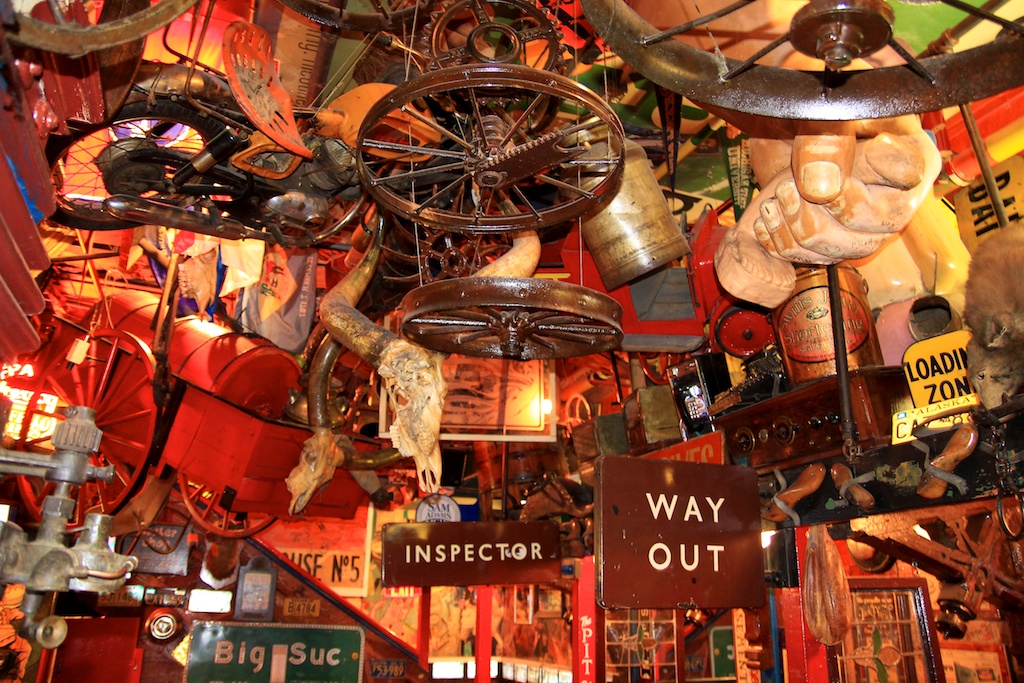 The second floor has traditional tables and lots of old signs.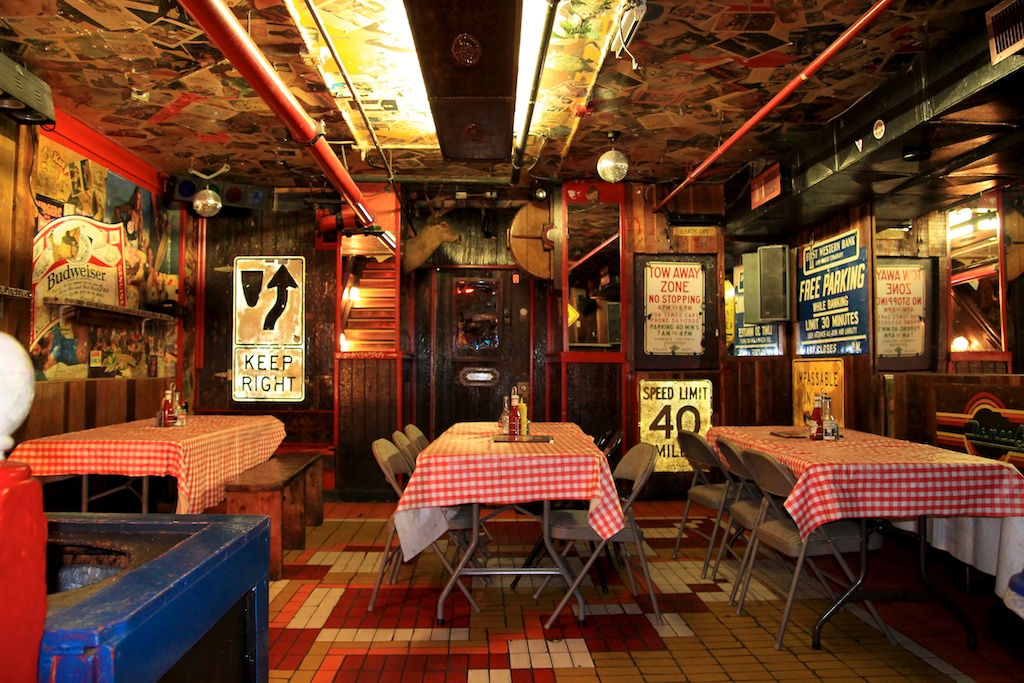 From there you are on the main floor which has the bar where you order and pick up your food and the old car hanging above it.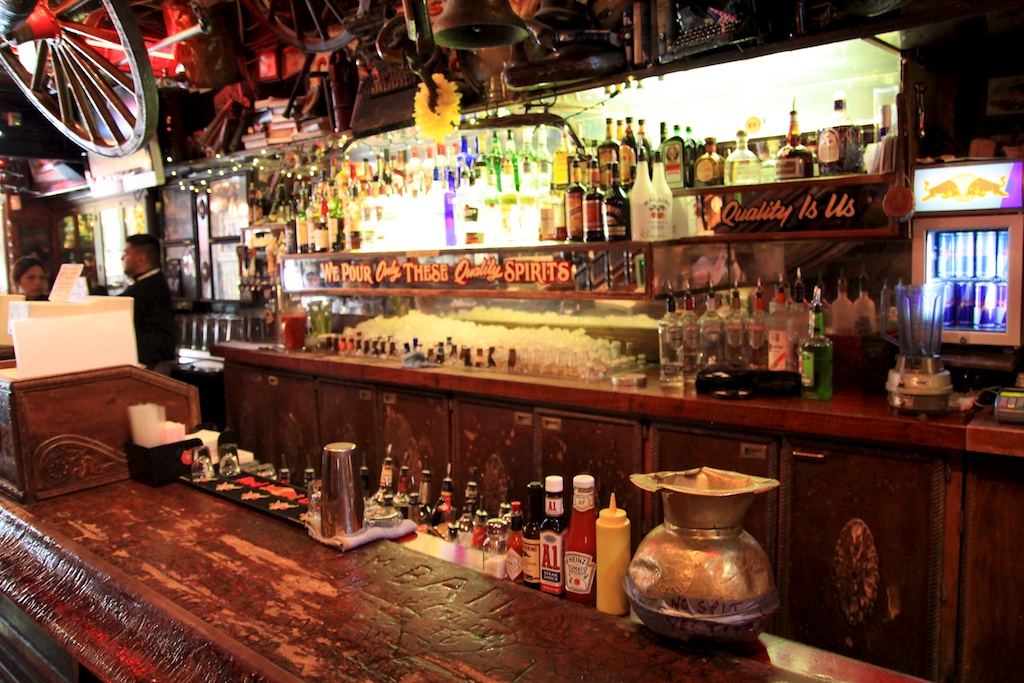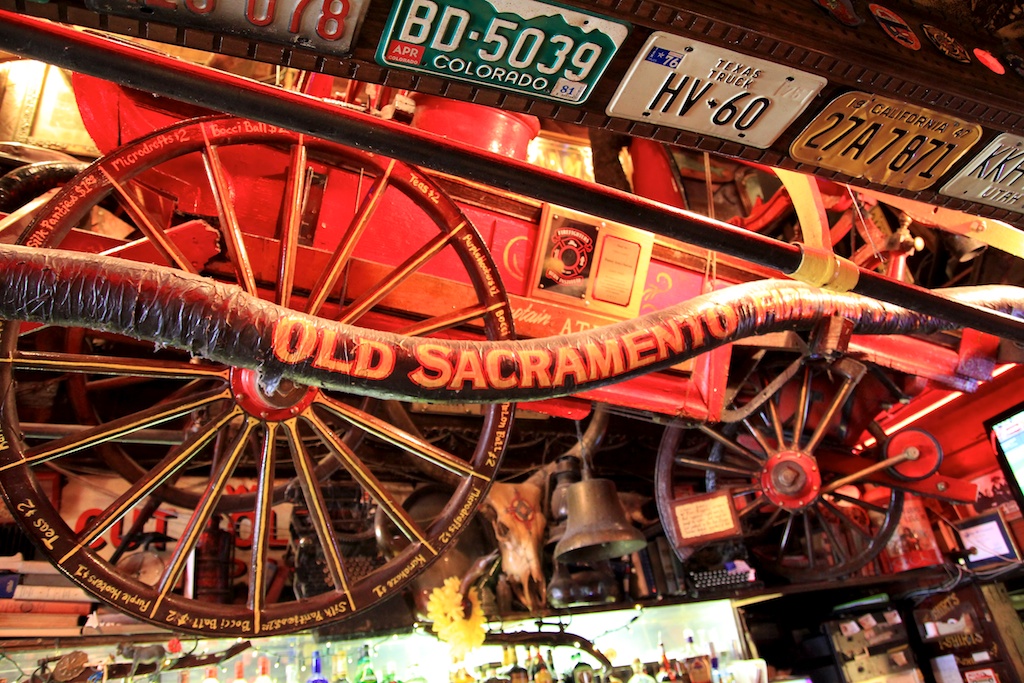 The floor above that has a lot of booths and the unique bathrooms, which are labeled with a man and women pointing to the other door. I was confused as first but luckily walked into the right one.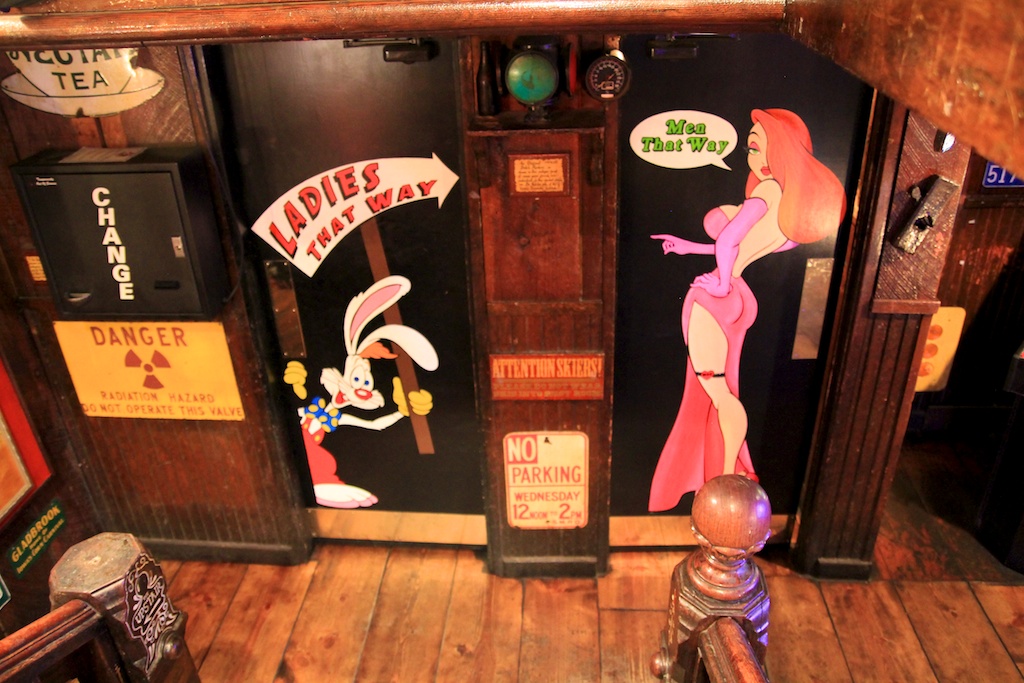 The stairs from the fourth to the fifth floors are my favorite as they had plenty of weird things to look at as well as a car hanging from the wall and lots of other eclectic pieces.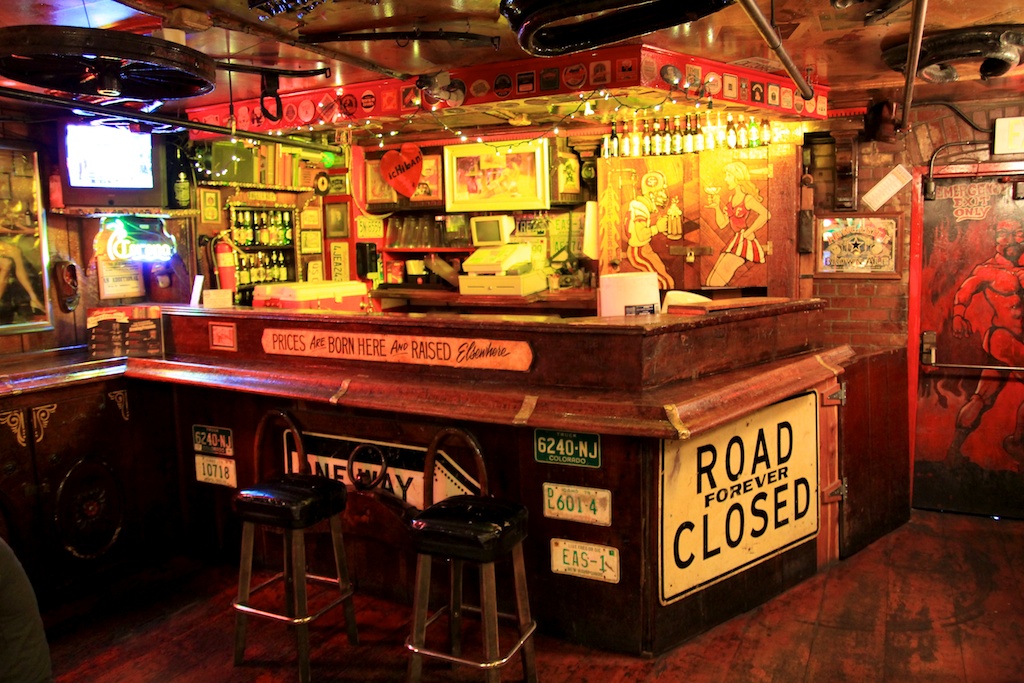 The top floor is where we took residence while waiting for our food, and it has a full arcade, as well as another bar that I am guessing is used on busy nights.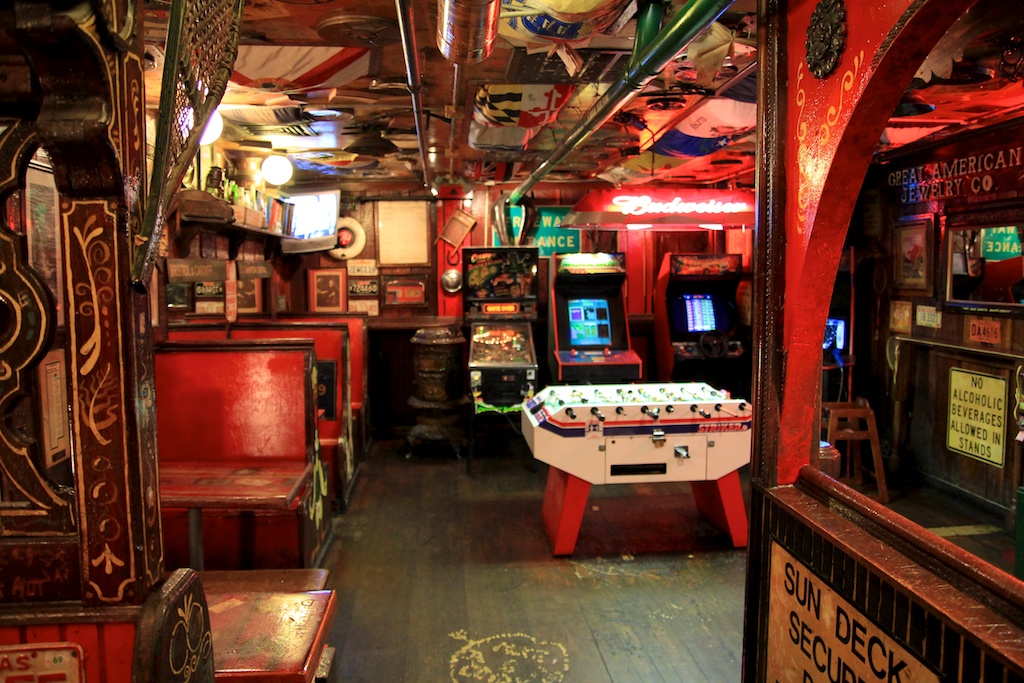 The Food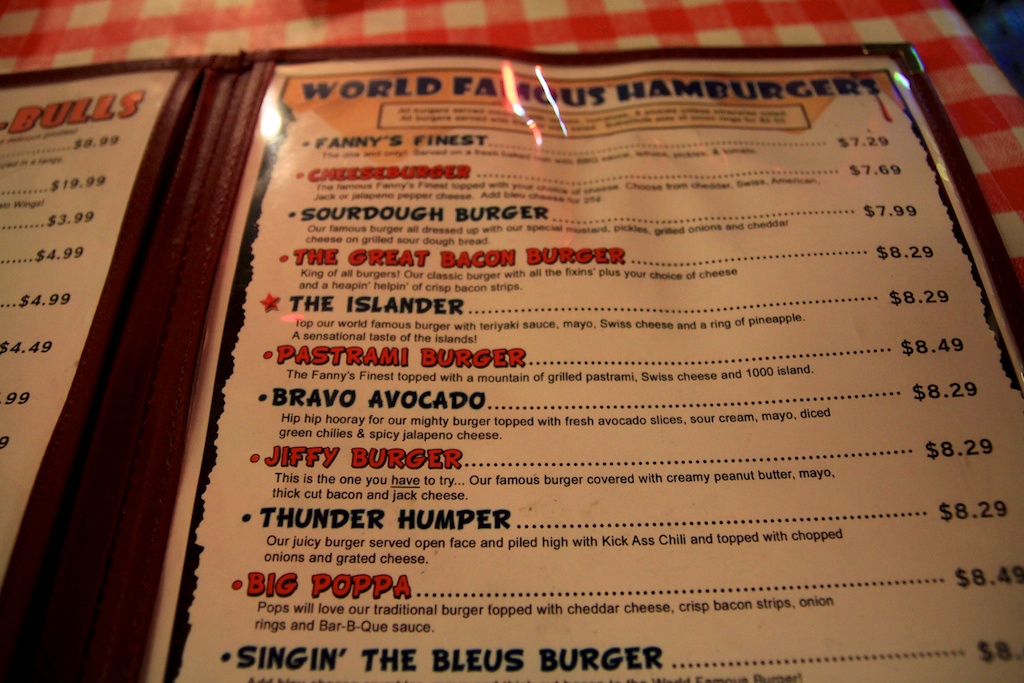 The food is just as unique as the decorations with standouts being a hamburger that had bacon, peanut butter, and mayonnaise. They also had a lot of veggie burgers and chicken sandwiches. All burgers were served with curly fries and ranged from 7 to 10 dollars (as of 2014). I opted to try both the aforementioned peanut butter and bacon burger and a burger with cheese, sour cream, avocado, and green chilies.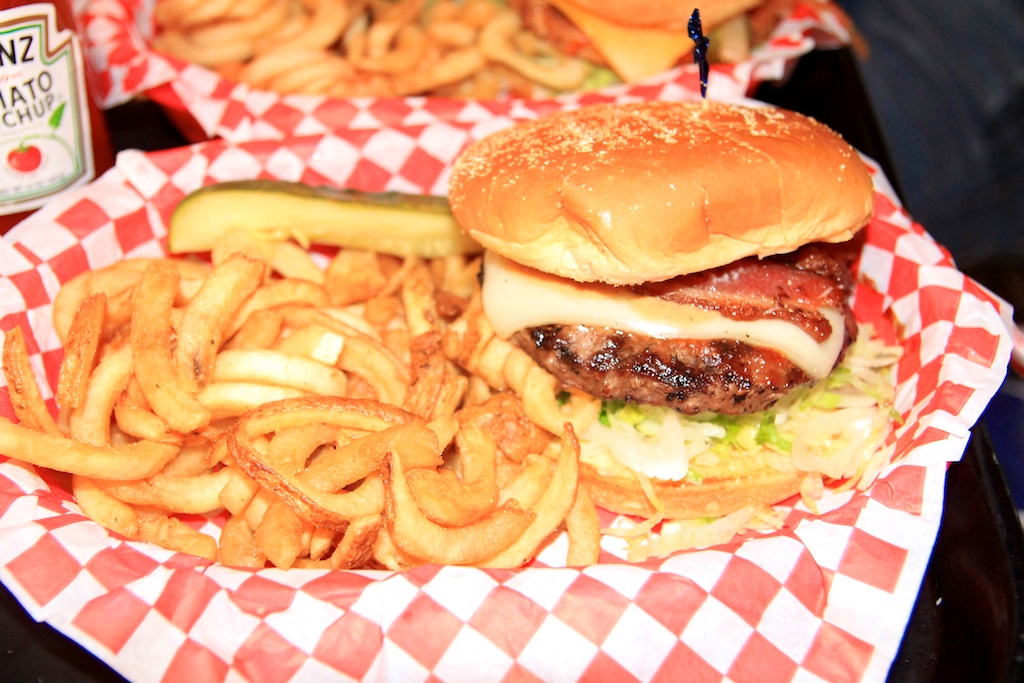 The peanut butter burger had a subtle taste that was not too overpowering, and everyone that tried it admitted that it was a lot better than they had expected. However, the stand out for me was the sour cream and chilis burger. I couldn't believe how good it was. It had a great flavor that I could not stop eating. I highly recommend this burger if you go there.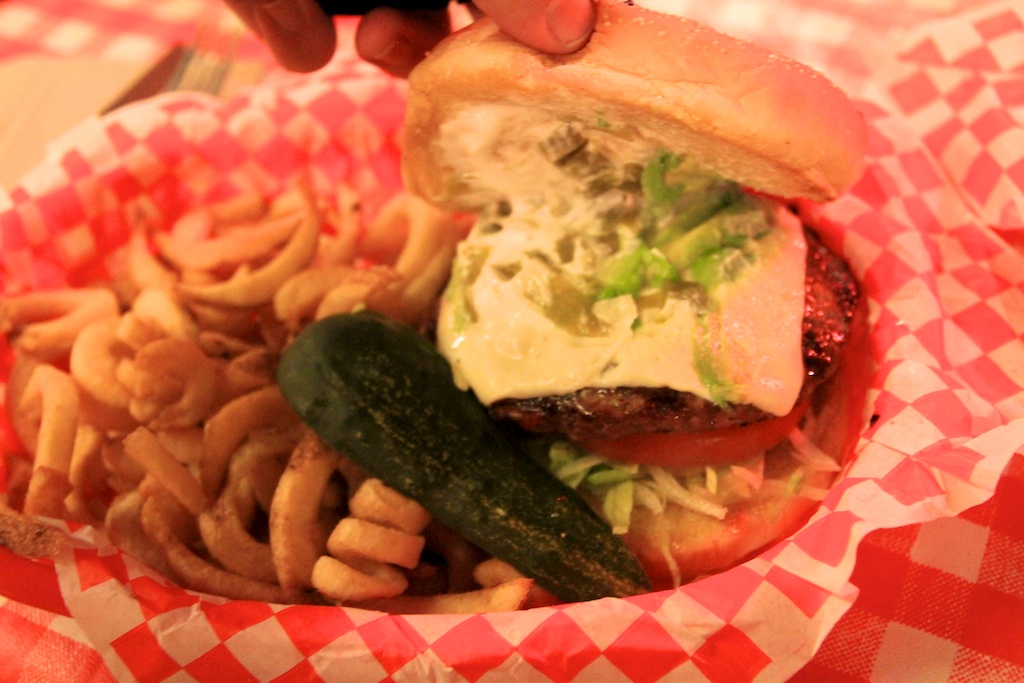 Fanny Anns Saloon was a huge hit in my books. It had great food, a great atmosphere, and a unique collection of history that you could look at while waiting for your meal. I am sure Old Sacramento has a lot of great options I have not tried, but you should at least walk in and look around old Fanny Ann's Saloon when in Old Sacramento, it is excellent.