Dottie's True Blue Cafe: Great Breakfast in San Francisco
When researching breakfast spots in San Francisco, you will see Dottie's True Blue Cafe pop up time and time again. Located in a sketchy area of the Tenderloin (a not great part of San Francisco), Dottie's True Blue Cafe always has a line, and it is always worth the wait. I have been a couple of times, and I will still wait for the famous whiskey fennel sausage and the grilled cornbread with jalapeño jelly. If you are visiting on a weekday, I highly recommend heading over as the wait won't be as long as the weekend, here is all the information.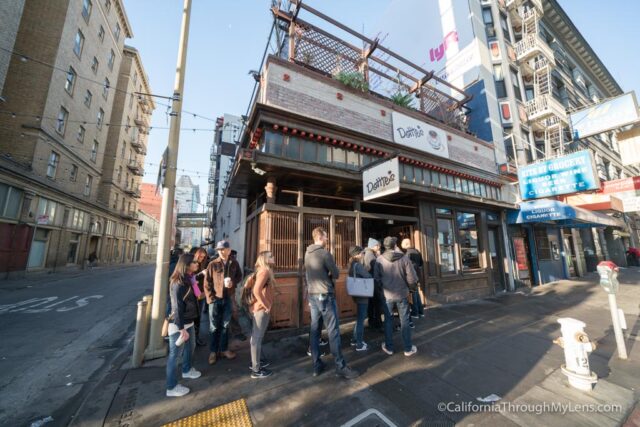 Details
Cost: $15
Hours: 7:30 AM – 3 PM, Closed Tuesday and Wednesday
Location: 28 6th St, San Francisco, CA 94103
This information is from my visit in 2017 and 2019
Read more of my favorite San Francisco spots here
Getting There
I would recommend taking public transportation or an Uber / Lyft to get here as there is not much parking around, and it is not a great area to park in anyway. Luckily it is only an 8-10 minute walk from Union Square, so if you are staying at one of the hotels there, then you can easily walk.
The Restaurant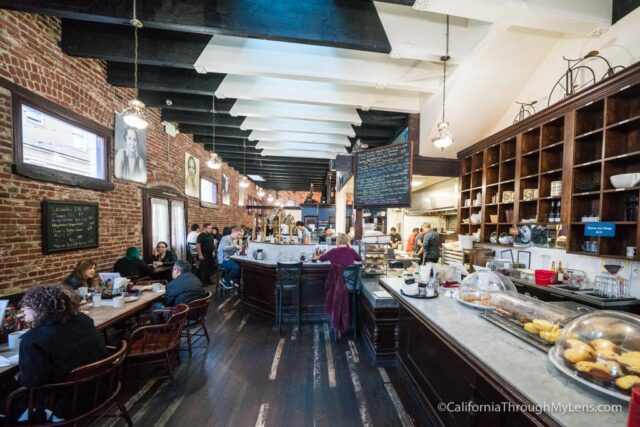 There isn't any spot to wait inside, so you will see the line wrap around the outside of the building. Luckily it is bigger than it looks, with a room in the back you can't see. That being said, it is usually a long wait for parties larger than two.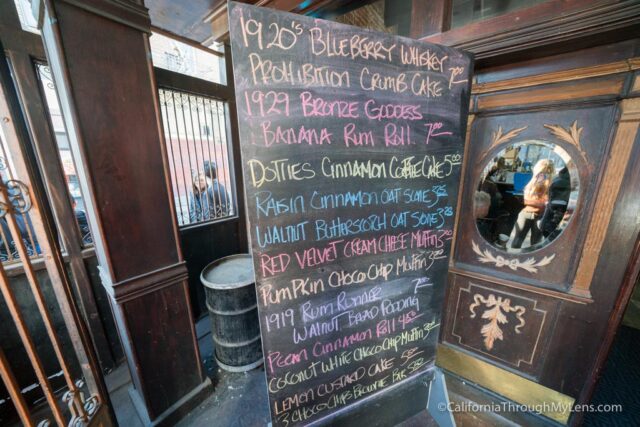 On weekdays, I usually wait around 30 minutes (unless I get there right when it opens), but on the weekends, it can be an hour to an hour and a half. You can review a menu while you wait, so you know what to order by the time you sit down.
The Food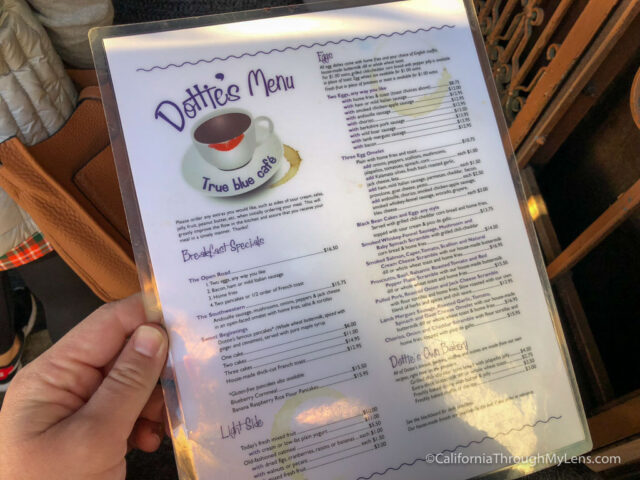 Here is what we got: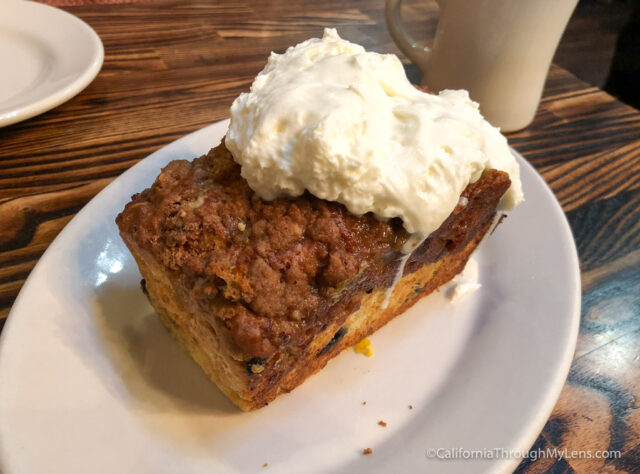 Blueberry bourbon crumb cake (daily special) – The cake had tons of flavor with a creamy but light whip cream. You get a good bourbon taste with each bite, and it pairs well with the sweet blueberries.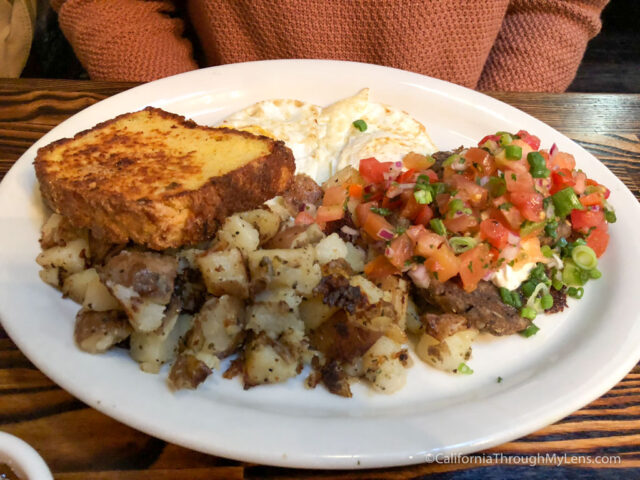 Black bean cakes – Served with two eggs any style and potatoes, these cakes are great with over easy eggs so you can mix the cakes, eggs, pico de gallo, and sour cream. It's an excellent non-meat option since it comes with potatoes and cornbread. The cornbread is especially impressive as it has a sweet flavor from the grill, and the add-on jalapeño jelly takes it to the next level. The jalapeño jelly is homemade, and it has a strong pepper taste but without the kick. I liked it a lot.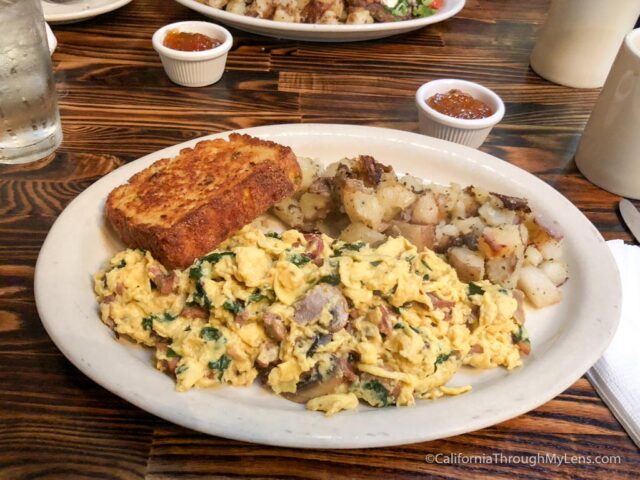 Whiskey fennel scramble – The whiskey fennel sausage is one of the most popular items here. The sausage is baked in whiskey, which gives it a pleasant earthy taste that works well with the spinach and mushrooms. Also, the eggs are super fluffy as well. Lastly, the side of potatoes has a rosemary, thyme spice to them. It's above average for breakfast potatoes.
Update 2018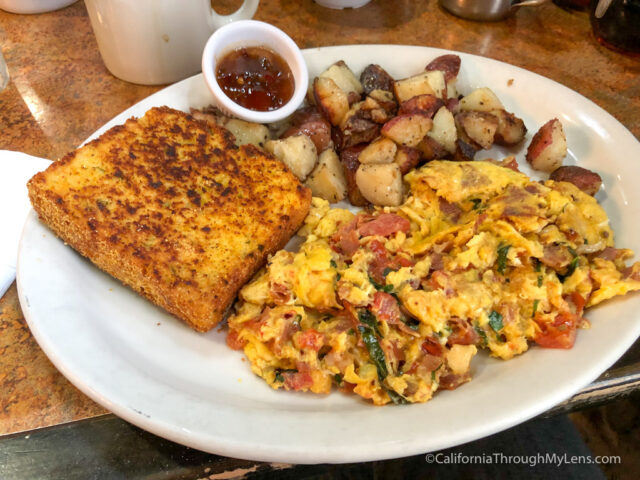 When I came back in late 2018, I got the prosciutto, basil, balsamic roasted tomatoes, and red pepper flake scramble. I enjoyed this dish as it had such a unique flavor combination. The thin cut pieces of prosciutto worked well as they were easy to eat without the traditional prosciutto stringiness. The flavor profile was terrific with salty prosciutto, sweet balsamic tomatoes and a gentle heat from the chili flakes. It may be a little too salty for some, but it was an incredible dish for me and my new favorite thing here.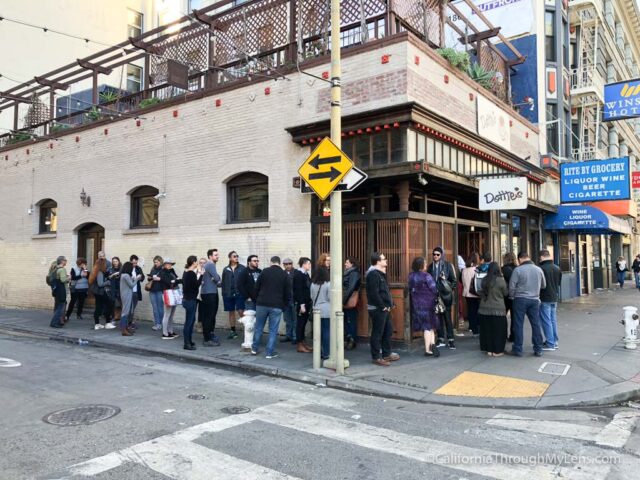 Dottie's is one of those places I go back to time and time again in San Francisco, like my other favorite place in the city Brenda's. If you are looking for a good breakfast spot, then look no further. Let me know what you think when you go in the comments.