Philippes: Home of the Original French Dipped Sandwich
Located right near Union Station and Olvera St, Philippes has been serving the French Dip sandwich since they created it over 100 years ago. This corner restaurant has solidified its place in LA history with a constant flow of customers, great word of mouth, and its fun menu and prices. Philippe's knows what it is doing, and what it is doing is creating killer sandwiches, read on for my review.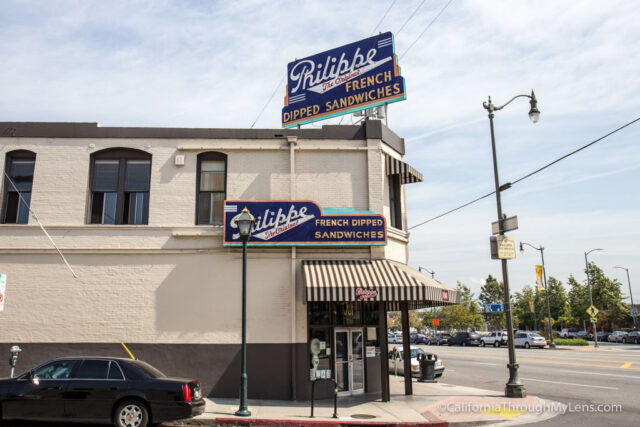 Details
Hours: 6 a.m.-10 p.m. daily
Most crowded between the hours of 11:30 am and 1:30 pm Monday through Friday and on weekends
Here is the menu
History
Philippe The Original is one of the oldest and best-known restaurants in Southern California. Philippe's was established in 1908 by Philippe Mathieu, who claimed the distinction of having created the "French Dipped Sandwich." One day in 1918, while making a sandwich, Mathieu inadvertently dropped the sliced french roll into the roasting pan filled with juice still hot from the oven. The patron, a policeman, said he would take the sandwich anyway and returned the next day with some friends asking for more dipped sandwiches. And so was born the "French Dipped Sandwich," so-called either because of Mathieu's French heritage, the French roll the sandwich is made on or because the officer's name was French. The answer is lost to history.
The Restaurant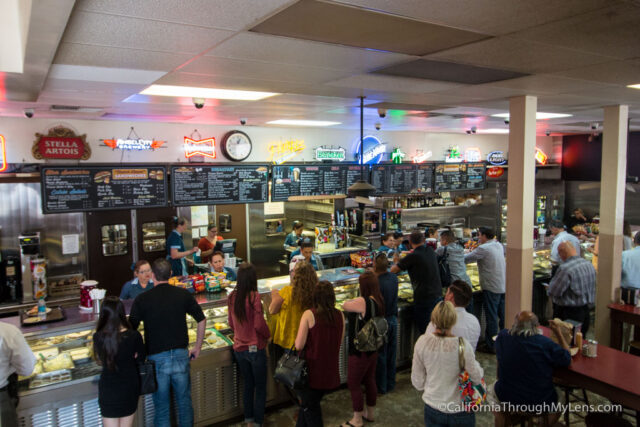 This unassuming restaurant seems like it would be small from the outside, but when you enter, you realize how big it is. That doesn't mean there is always space though, when I arrived, there were eight lines of about ten people each, all waiting to order, and almost no empty tables. Of course, this is always a good sign. I was happy to get in line and wait my turn as I looked at the menu.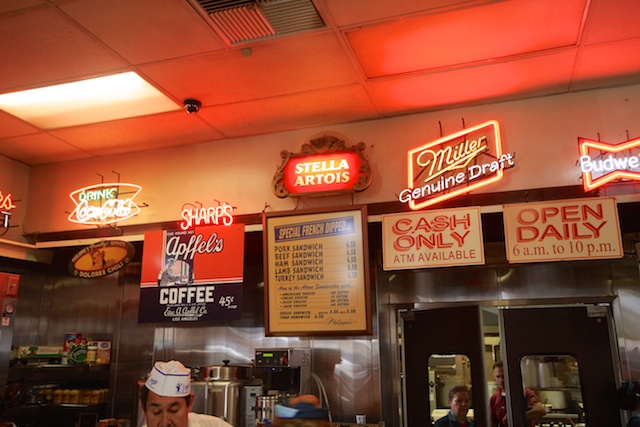 One of the first things you notice is that the menu has a lot of well-priced items on it. The tea is only 75 cents, and the sandwiches are around 7-8 dollars (as of 2017). They have tried to maintain the old feel with their low prices and extensive menu.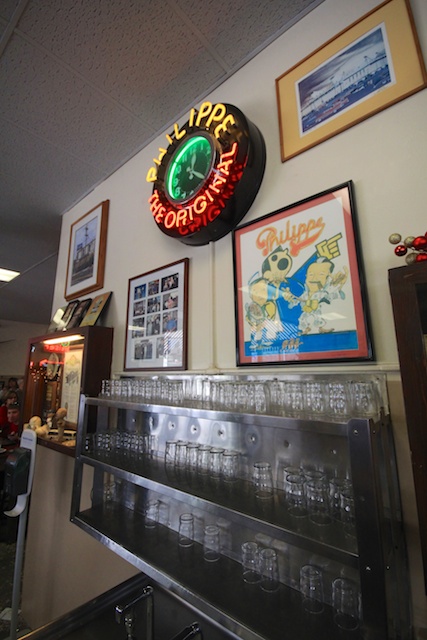 The restaurant also has sawdust on the floor, which was a staple of the original restaurant, and which helps to soak up spills on the cement floor. Along with that, they have a small store that sells everything from clothing to candy and is a great way to buy a souvenir if you are interested in one.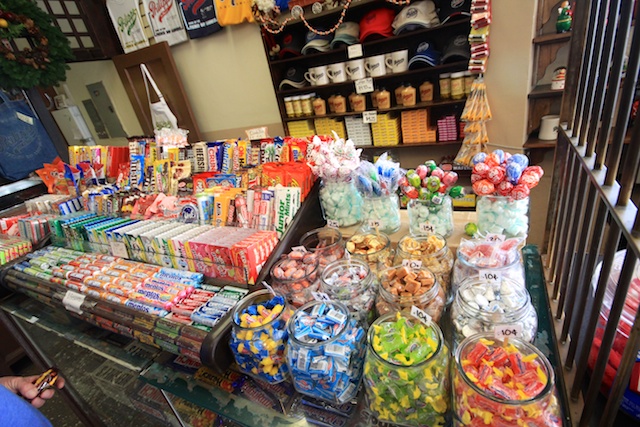 The Food
What makes Philippes stand out is the sauce they use for their french dips. It is created over 30 hours, taking a traditional stock with beef and veggies, combining it with the juice from the meat they are roasting and creating a mouth-watering flavor that pushes their sandwiches to the next level.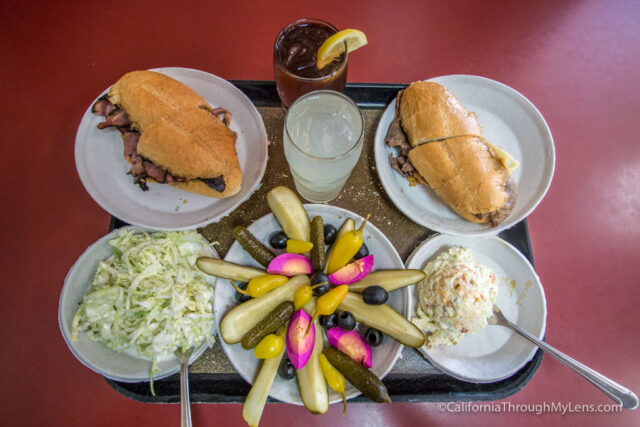 Really, it should come as no surprise that the food here is fantastic. The recipes have been around for over 100 years, and if they didn't know what they were doing, it would not have lasted that long.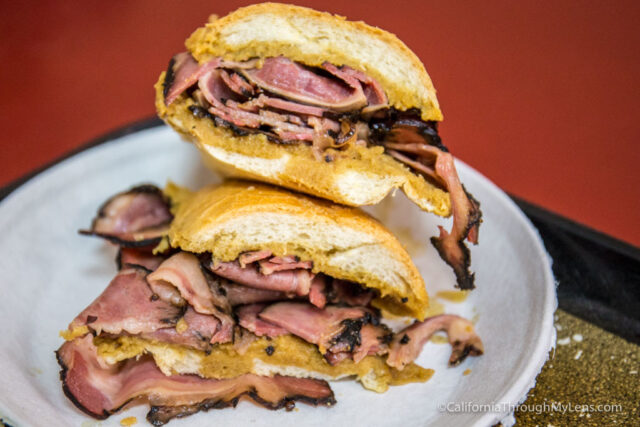 I had the beef dip with potato salad, and it was an amazing sandwich. It's unique to see the person that you order from making the sandwich right there in behind the counter and hand it to you without missing a beat or stepping away from the counter.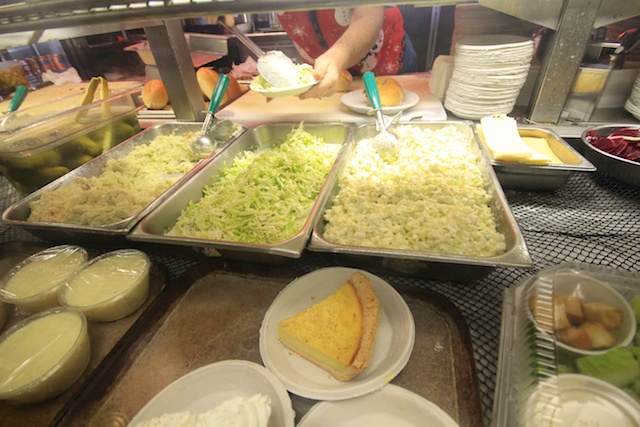 I would have to say for me though the highlight was the mustard. They make it fresh every week, and man is it spicy, just the way I like it. It was a great addition to the sandwich, and they have been making it the same since the 1920s.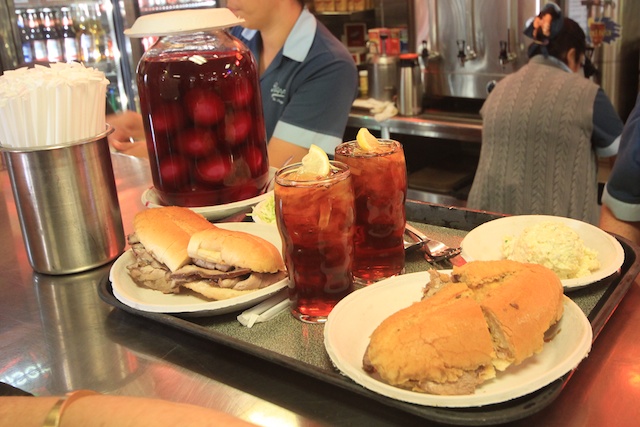 They also had a jar of pickled eggs that the man next to me seemed to be enjoying, and I found them to be a unique side dish that wasn't bad.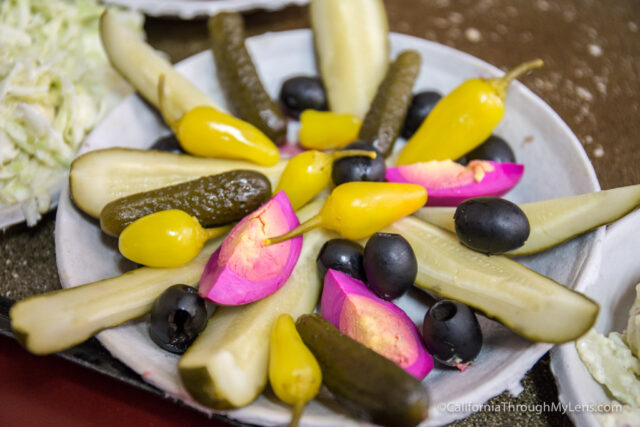 Don't forget to grab dessert as well; I recommend the apple pie.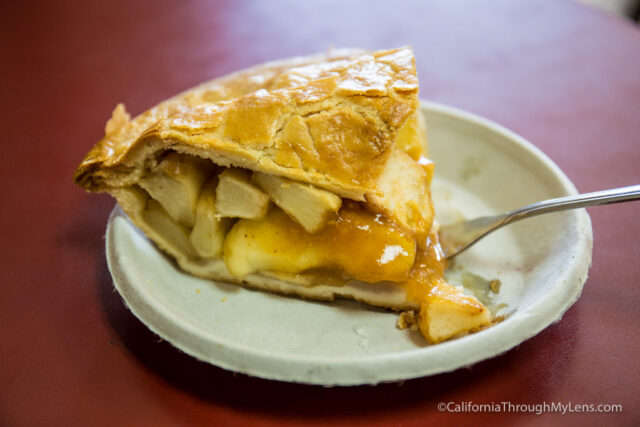 Video
Here is a video I made during my last trip to Philippes.
All in all, I think Philippe The Original is a great place to have a meal. It is fun to dine in the history that this place has created, while still having a sandwich that you will want to tell your family about. Check it out for yourself and leave a comment below.