Hampton Inn & Suites Paso Robles Hotel Review
Located right off Highway 101, just minutes from the Firestone Brewery and many local wineries, Hampton Suites Paso Robles is an excellent jumping-off point for exploring the beautiful central coast and Paso Robles. They have amenities that include a free breakfast, cookies at night, and Wifi, all of which will make you feel at home while staying there. Here is the full review from my time at Hampton Suites.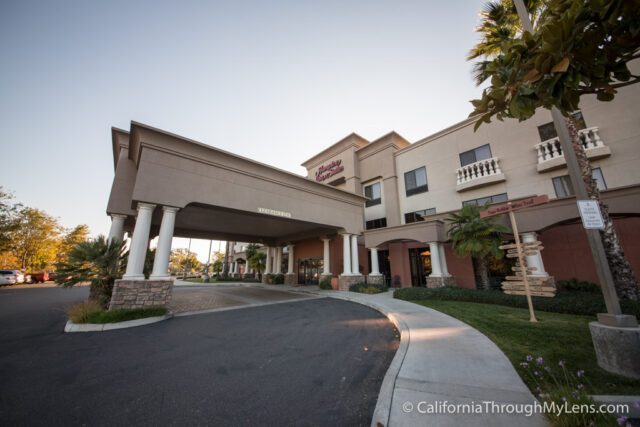 Details
Location: 212 Alexa Ct, Paso Robles, CA 93446
Amenities: Pool / Spa, Fitness center, wine tasting at night, cookies, snack packs, free breakfast, Wifi
Information from my visit in 2016
Getting There
The Hampton Suites is a Hilton property, and it is located right off the freeway on the Highway 46 East exit. You will see it right when you get off as it is visible from the highway and close to another hotel called the La Bellasera.
The Hotel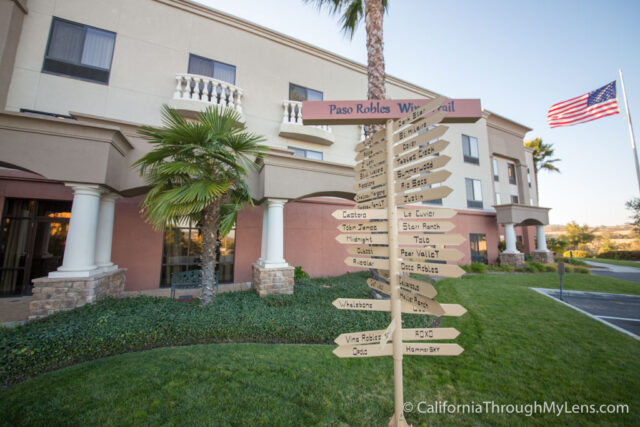 There is ample parking in the large lot outside the hotel and even a fun sign that points to all of the wineries that are close by, letting you know you are have made it to wine country central CA. The lobby is welcoming as well, especially when it has cookies waiting for you at night.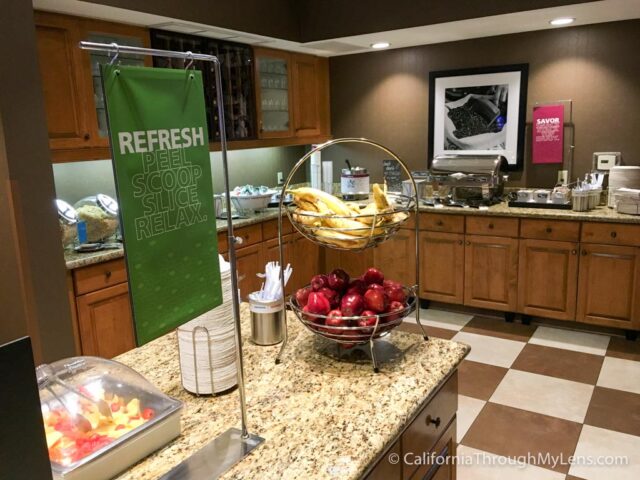 The main area has a lot of tables and overstuffed chairs. This is where the breakfast is in the morning and wine tasting at night. Each night they bring in a different local winery to showcase their wines, and they have cheese and crackers for you to have while tasting. The morning breakfast was great for a continental breakfast, featuring coffee, eggs, bacon, oatmeal, and fruit, among other things.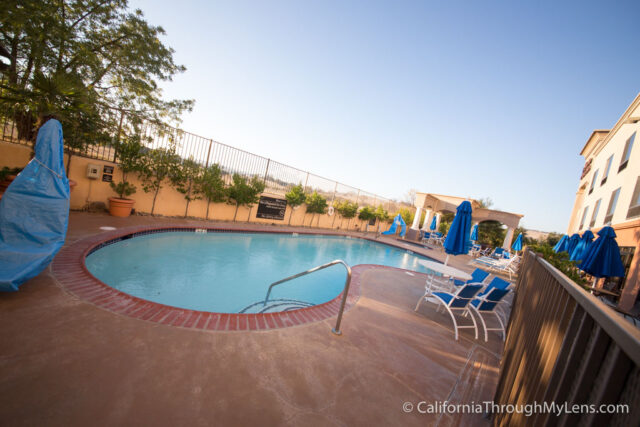 The pool is in the back and is a good size with a small spa next to it. I didn't go in, but I saw others enjoying it.
The Rooms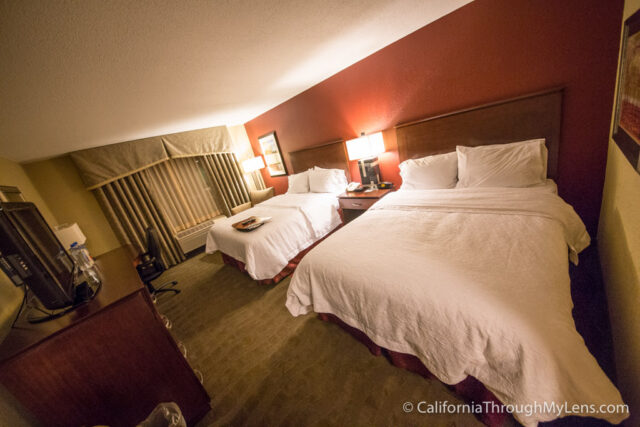 The rooms are big and inviting. I stayed in a room with two queens beds and had a lot of room. It also had a flat-screen TV, desk, lounge chair, and a small lap desk that I could use to work while sitting in bed.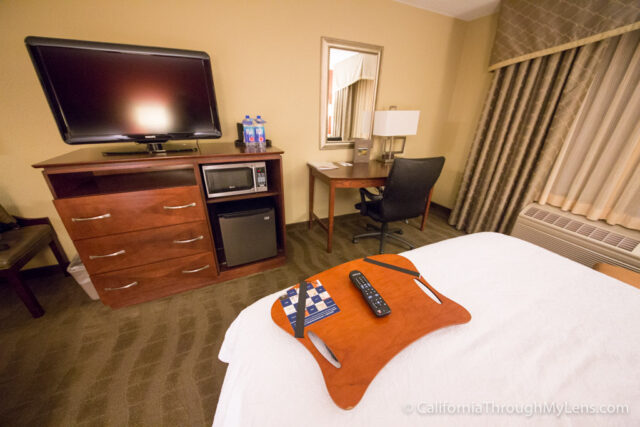 The bathroom was also nice with lots of towels, a full shower and a large sink with space to put your toiletries.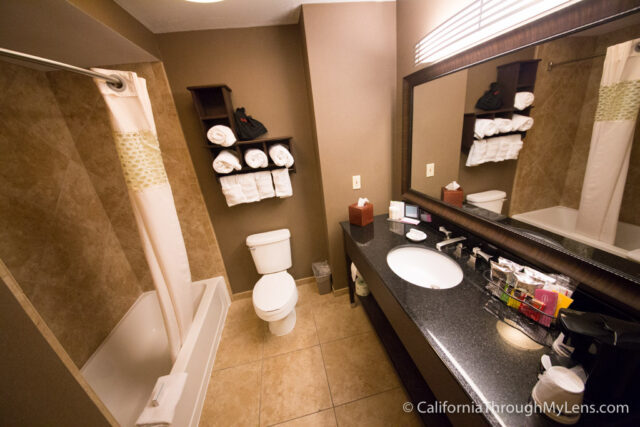 I didn't spend a lot of time at the hotel because there are so many great places to explore in Paso Robles, here are a few of my favorites.
Firestone Brewery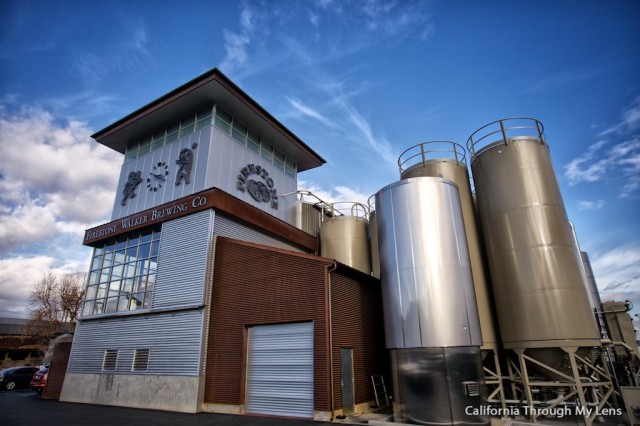 Right across the freeway, this is an excellent spot for a brewery tour and dinner.
Downtown Paso Robles
Less than 10 minutes away, this is a fantastic spot to walk around, shop, and eat. I recommend The General Store for shopping and The Hatch for dinner.
Wineries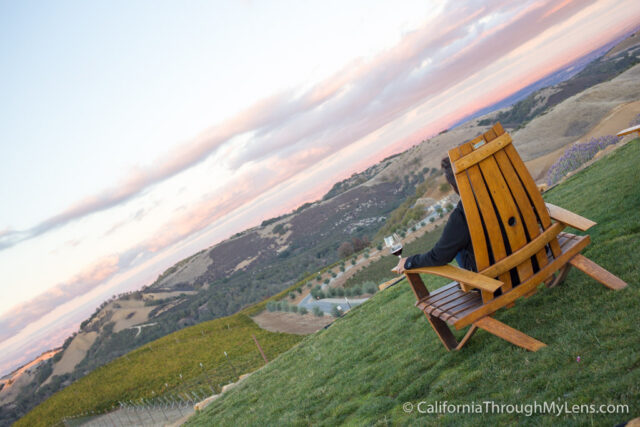 Most are within 15 minutes, and I couldn't begin to tell you where to go as there are so many. Here are my favorite ones that offer unique attractions in addition to the wine.
All in all, I have no complaints about Hampton Inn, it was a great spot with pleasant staff, nice rooms, and a good location. If you are looking for a place to stay while exploring Paso Robles, check it out.