Kayaking to the Fannette Island Tea House in Emerald Bay
Ever since visiting Emerald Bay for the first time a little over a year ago (2016), I have always wanted to come back and kayak to the small island right in the middle called Fannette Island. When I toured Vikingsholm, the guide told me about the little tea house that sits at the top of the island. This tea house was built when the bay was privately owned, for the owner to bring her guests for high tea. Today it is only four walls with no roof, but it is still a beautiful destination in a bay that is already one of my favorite places in all of California. Plus, how often do you get to kayak to an island then hike to an old tea house?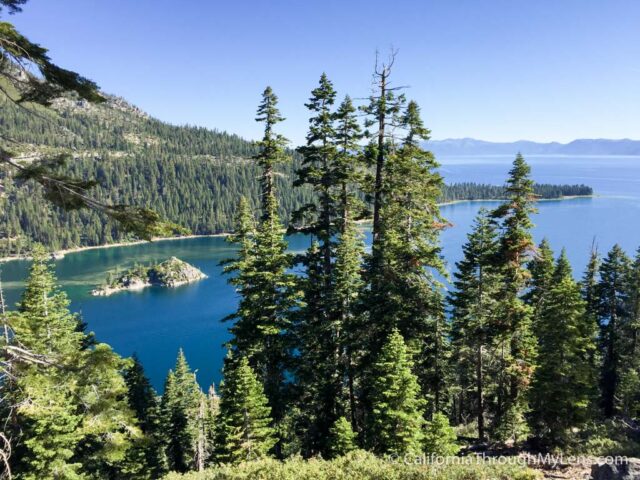 Details
Kayak rental is 25 dollars and usually opens at around 10 AM

Parking is incredibly difficult at Emerald Bay so arrive early

1 mile walk down from Emerald Bay, a tenth of a mile walk on the island

Consider grabbing a cheap waterproof case for your phone like this one
If you want to read about Emerald Bay State Park itself check out this post
Information from 2017
If you're going to kayak here, just arrive early for parking. I would recommend coming between 8 AM and 9:30 AM at the latest. After that, you will walk the one mile down to the bay. If you are there before the kayak rental company sets up, then just explore or find a spot on the beach to relax. We got down there at around 9:30 AM and just hung out on the beach till the rentals opened at 10 AM.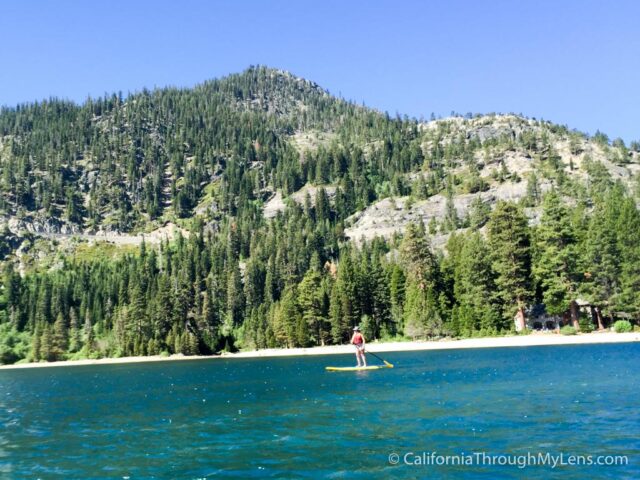 Renting a kayak is easy; you just need to bring cash and a photo ID to leave as collateral then sign a release. My wife opted to take a stand-up paddleboard, and I chose a single kayak. The rental people will tell you the best place to land on the island with you kayak, so be sure to pay attention.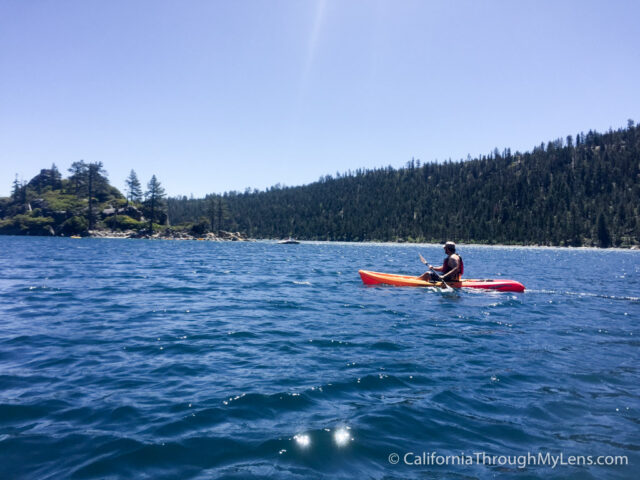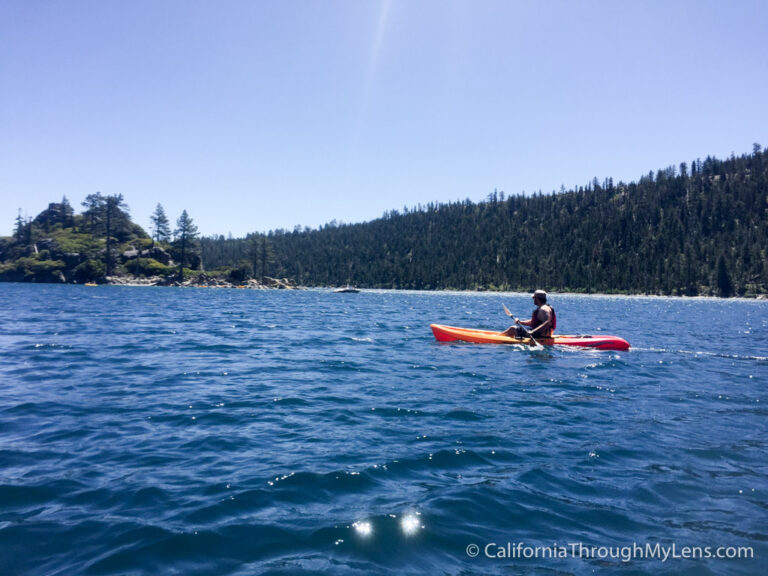 After setting off, it only takes about 10 minutes to get over to the island, which surprised me. I paddled over, then pulled up on shore and dragged my kayak up so that it wouldn't float away while I was on the island.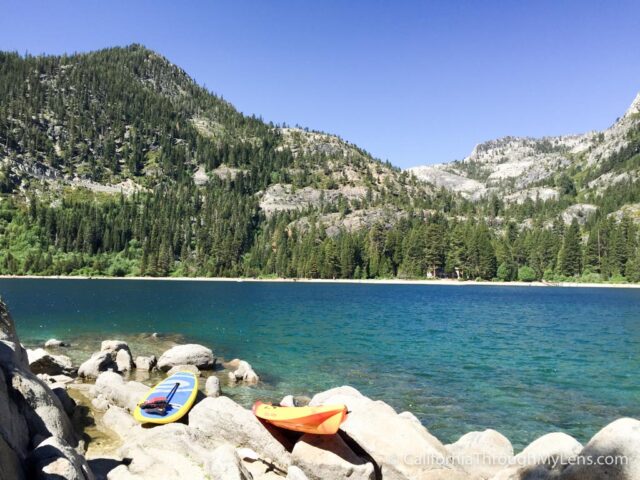 We ended up landing next to this impressive downed tree that you could see well in the clear water.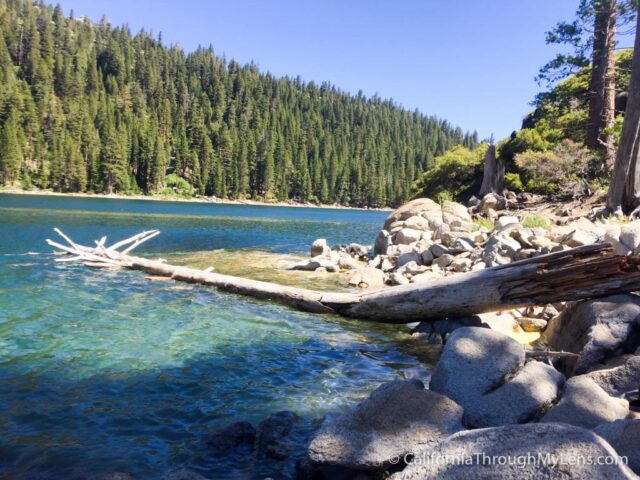 The Hike to the Tea House
From here, it is about 5 to 10 minutes of walking up the rough rocks to get to the tea house. It is not too hard, but the stones can be slippery, so take your time.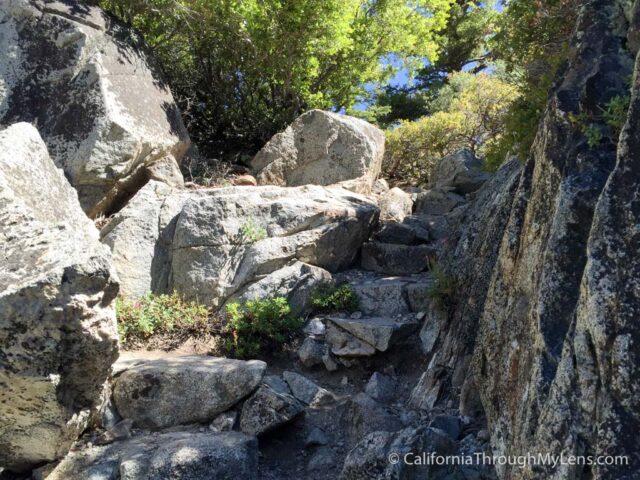 As you proceed up, you will start to see beautiful views of the bay and mountains behind you.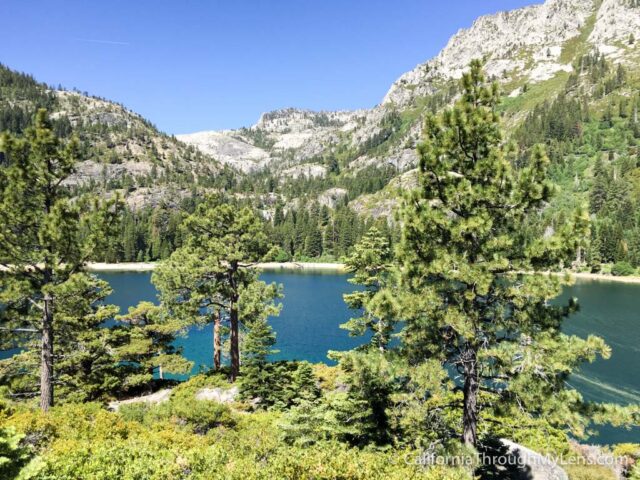 After passing the last small hill, the tea house will come into view. When we were there, there were at least ten other people. Everyone from jet skiers to boaters makes the trek out to this island to climb to the tea house.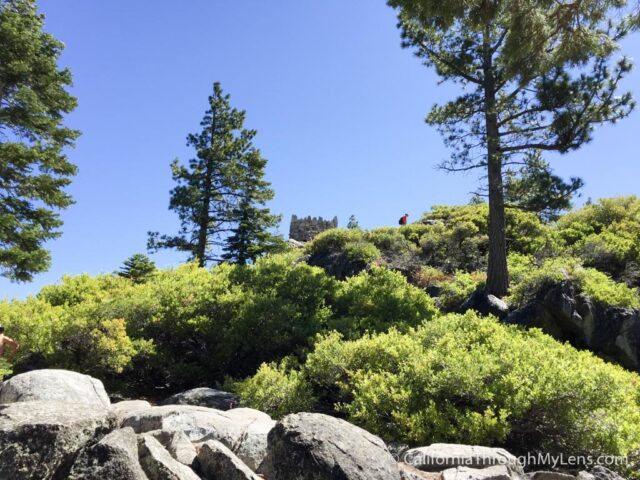 I walked around the base of it before proceeding up the rough stone stairs to the house itself.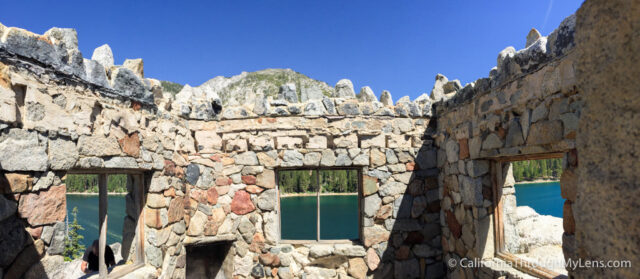 While the house is not how it once was, it is still four strong rock walls with three windows and a fireplace. The roof is no longer there, but that adds to the charm of this historic structure.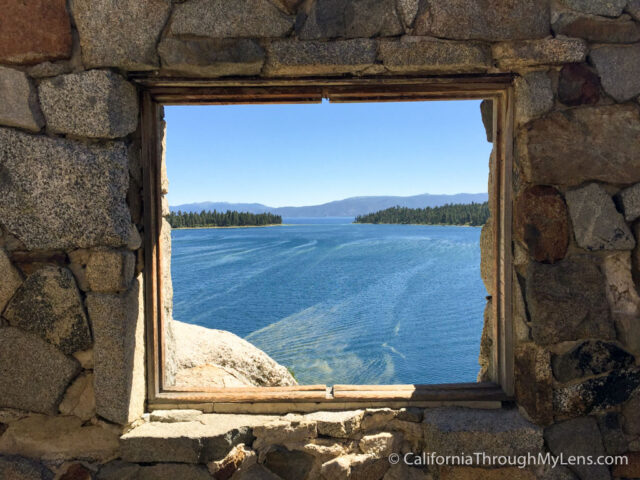 The best views for photos is from the east window looking out over Lake Tahoe itself. I can't imagine having this as a place to entertain guests; it would be amazing.

After taking a few more pictures, I headed back to my kayak with about 35 minutes before my hour was up. Since I still had time to kill, I decided to explore some more of the bay and proceeded to make a loop around the island.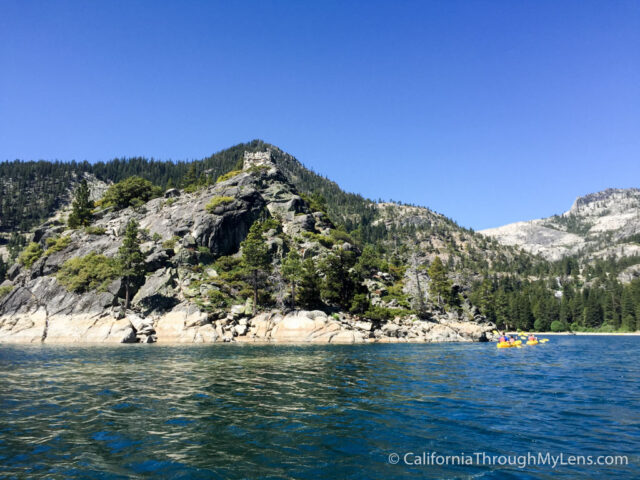 Here is a view of the island from the backside, and you can see on the stones how high the water level has been. I hear the entire lake is down around 7 feet due to the drought (this was in 2016).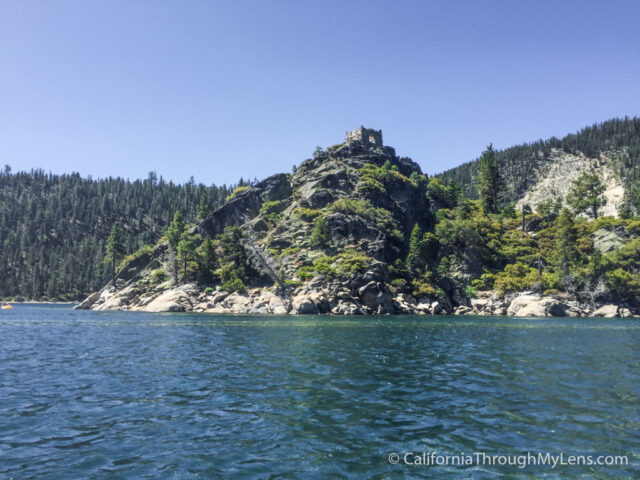 From there, I headed around the other side and over to the sunken forest.
The Sunken Forest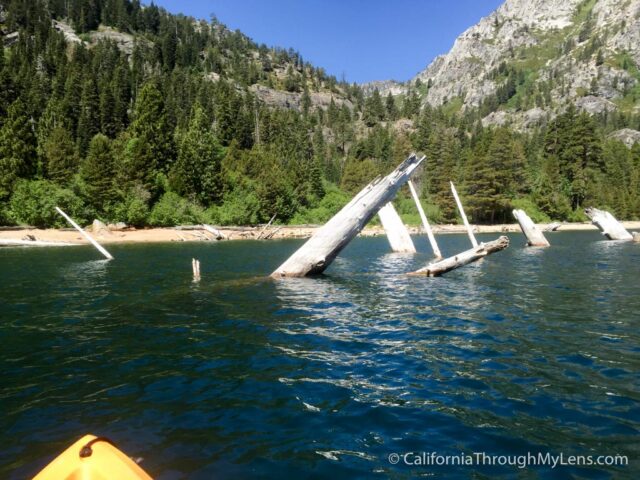 The sunken forest is the name for the area of the bay where a lot of trees have fallen into the lake and gotten stuck there. You can see them jutting out above the water in this section, and so I decided to investigate with the kayak.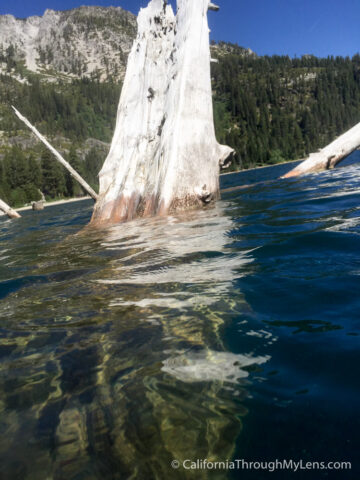 When you get close, you will realize how big these trees are. I tried to take a picture underwater, but it was hard to see how far they went down.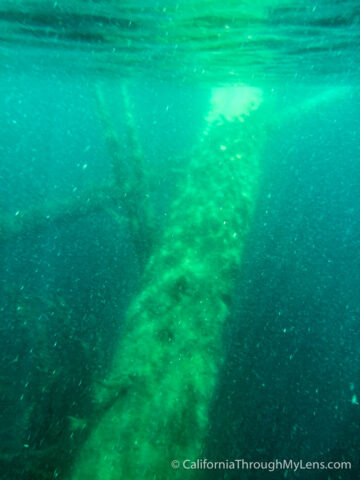 This is a fun area to navigate with your kayak though, and I enjoyed testing out my newly learned skills.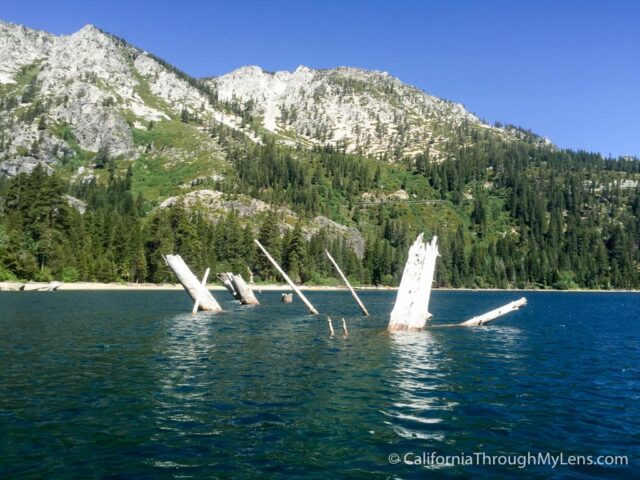 From here, I headed back over to the starting point to turn in my kayak right at the one-hour mark. This was an enjoyable experience, one that I highly recommend. Do make sure you save up some energy for the one mile walk back up to the parking lot as well. Let me know if you have been in the comments.