LA Marathon 2014 Review: Race & Expo from a First Time Runner
About 5 months ago I bit off a challenge to run the LA Marathon for charity. I am by no means a runner, my first training run a short 5 months ago was 2 miles at 16 minute miles, after which I proceeded to lay in the grass and recover. I have moved to about 11:30 minute miles and have run over 295 miles during my training time so if I can do it then anyone can (info on training here). I was also running for charity and the one I ran for was World Vision, focusing on bringing clean water to Africa, you can still donate for the next two weeks if you would like. Here is a review of my time running the LA Marathon and the expo before hand. This post will be pretty long and yea I did take pictures while I was running, I mean I am a blogger by the way…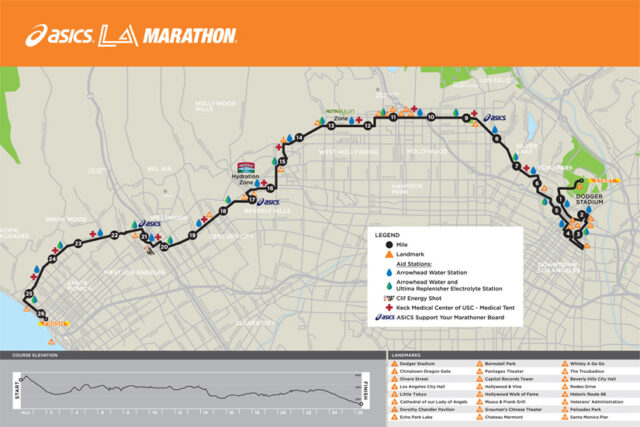 Details
26.2 miles
150 dollars (more for all of the gear you need)
Once a year in March in LA
Relatively flat course with a couple of hills but more downhill the uphill. Map here
The Expo
The first part of the marathon weekend was visiting the expo to pick up our packets and shop the marathon exclusive deals. We hit the convention center when it opened on Saturday morning and got a nice shirt and a goodie bag with water, the shirt and some other samples. The bummer about this expo was that it cost $15 to park, this just adds to how expensive this run is.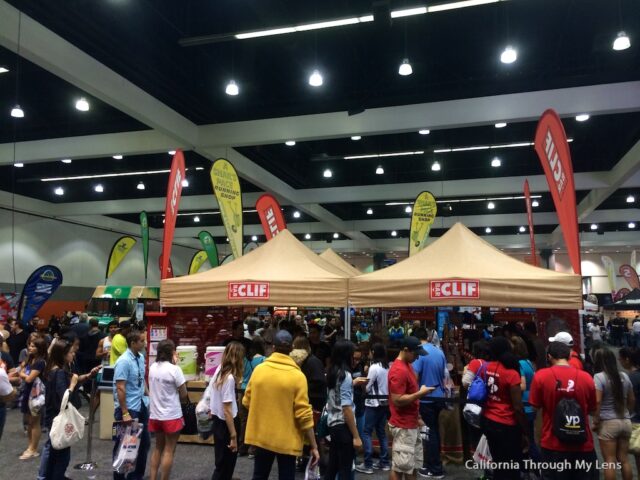 There was a lot of stuff to see at the expo ranging from Clif Bars you can try to sports injury specialists that will tape up your ankle or knee before the race.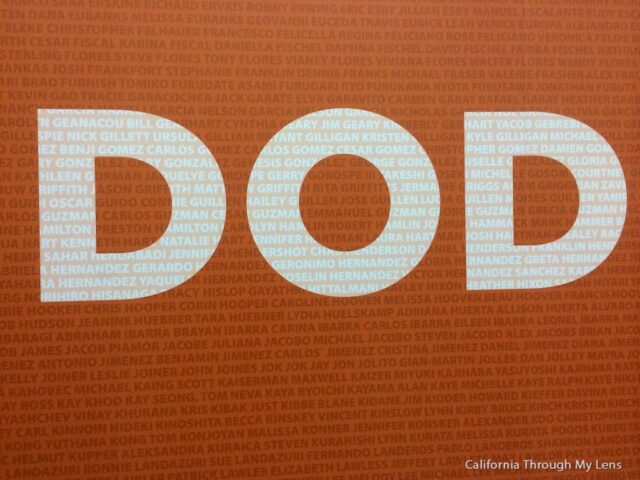 The best part though was the wall of names that featured everyone who was running the marathon. It was fun to take a picture with after you looked all over the wall to try to find yourself. Someone decided to put the marathon on the weekend that clocks move ahead so there were a lot of signs telling you not to sleep forget.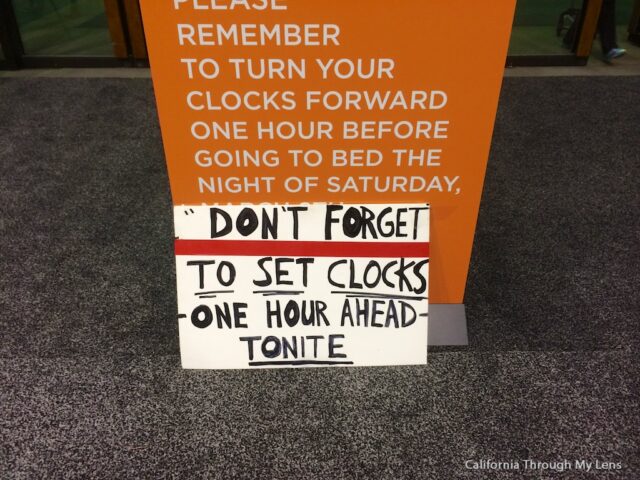 After the expo we headed to the hotel and checked in to get our shuttle information, since we would be taking early in the morning, then to head to Lemonade for a early dinner (super good place to eat by the way).
The LA Marathon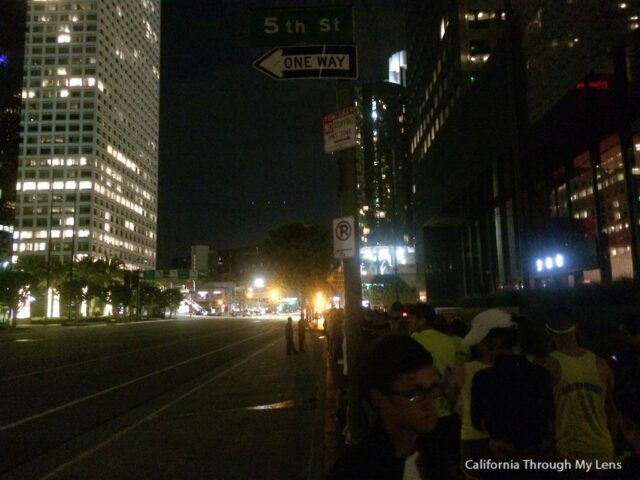 Since we booked a hotel along the marathon shuttle pick up, getting to Dodger Stadium was easy. We got up at 4:30 AM, ate (bagel and cream cheese), then headed down to the pickup area at 5:45AM only to be greeted with a 2 block line. It went pretty fast but I am glad we got there early as it could have taken forever.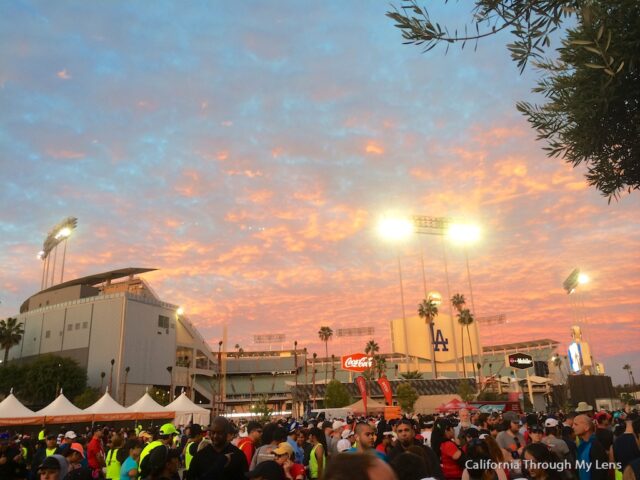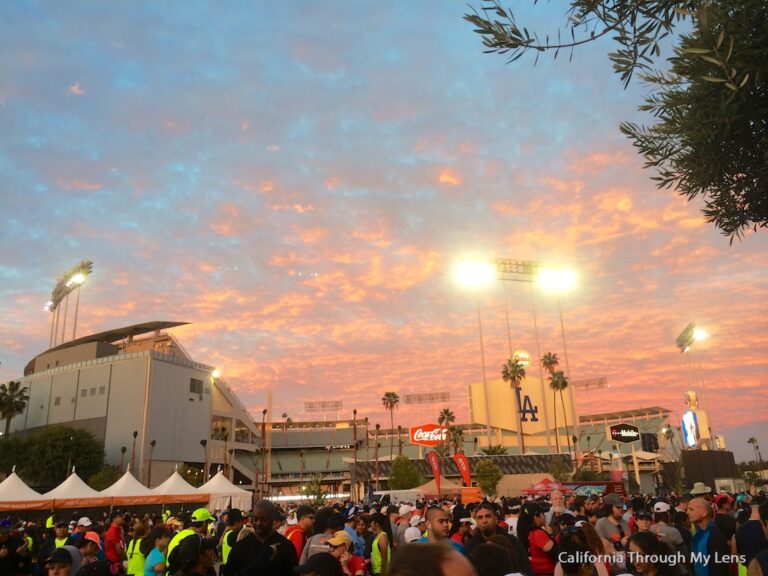 After we arrived around 6:30AM we took a lay of the land and proceeded to the bathrooms, another bad idea. The men's bathroom line itself was about 30 minutes, so if you run this in the future make sure to go before you arrive.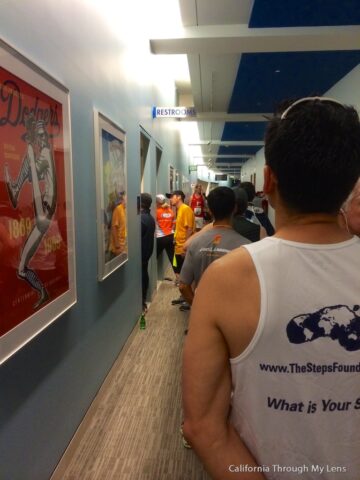 There is a buzz of anticipation in the air and it is fun to see people excited, nervous and just resting waiting for this big moment in many peoples lives. We took the time to walk around the stadium and warm up.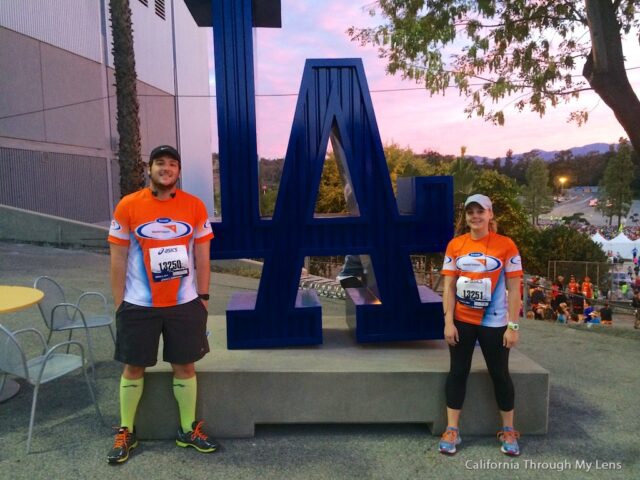 From here we headed into the corrals to stretch and to hear the mayor speak. It was a beautiful sunrise that we got to witness as well. Then the race began.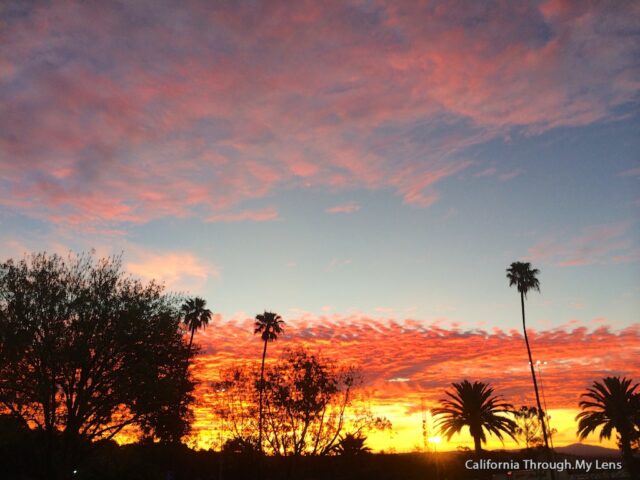 Well began is a relative term, some people near the front began but the rest of the 25,000 of us were just slowly walking for ten minutes till we got up to the start line.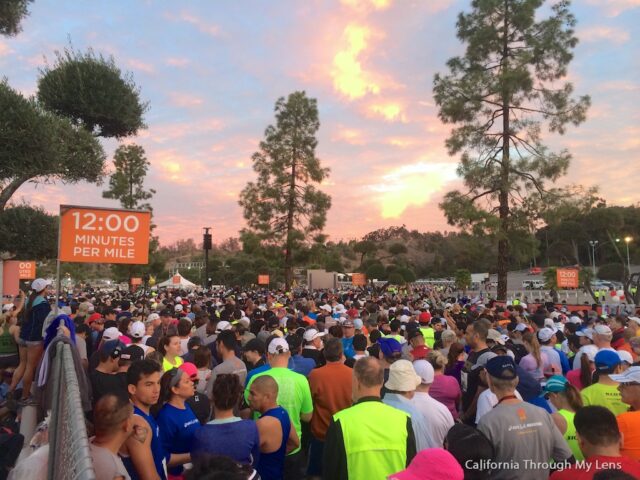 The excitement as you cross the line and start your run was very exhilarating, there were tons of people cheering you on, music and thousands of other runners starting this journey with you.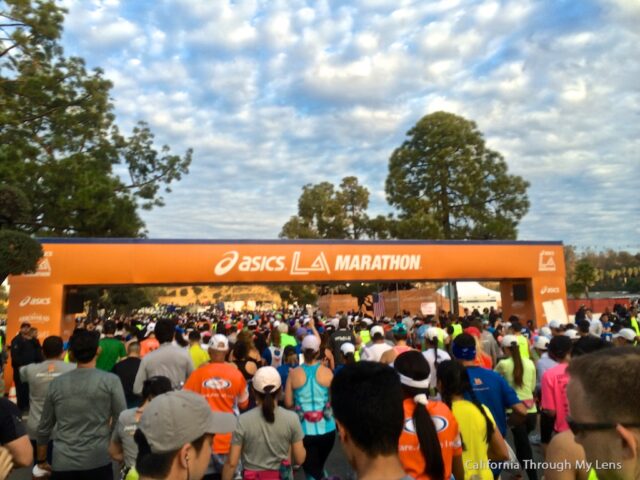 The funniest part of the race though was right at the first hill when at least 30 guys peeled of to use the bushes of Dodger Stadium as a urinal. Apparently they did not want to wait in the line so they just stopped their race almost as fast as it started for a quick break. This was probably a good idea as the porta potties they had set up had massive lines for at least the first ten miles.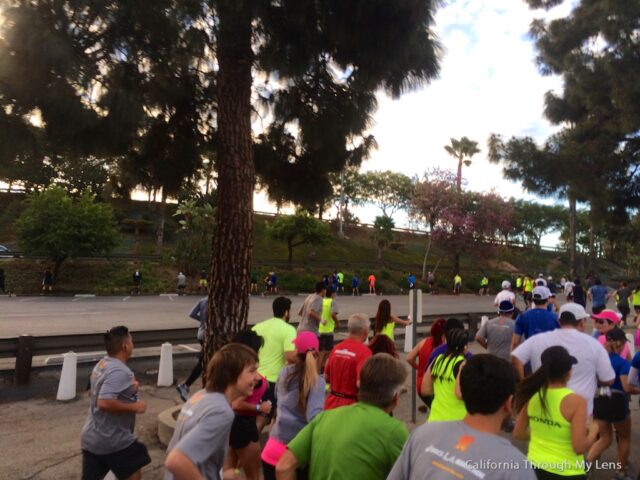 As soon as we started down the hill, away from Dodger Stadium it felt like the race begun. We weaved in and out of runners and down the closed streets as the run rose over the houses and buildings we were passing.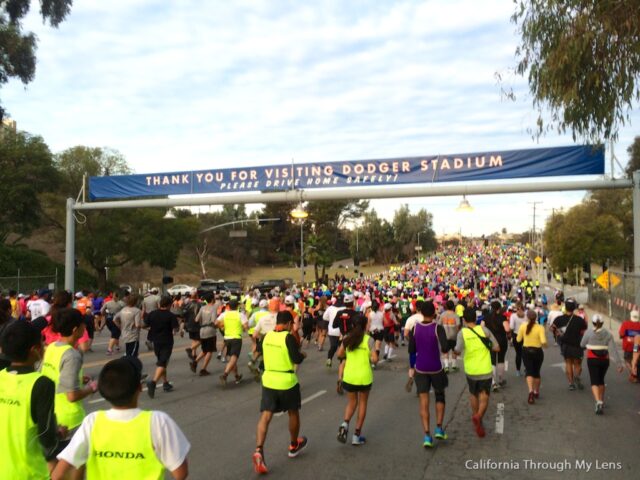 The first couple miles seemed to blow past and before we knew it we were in Chinatown, met with dragons and dancing as we jogged through the streets.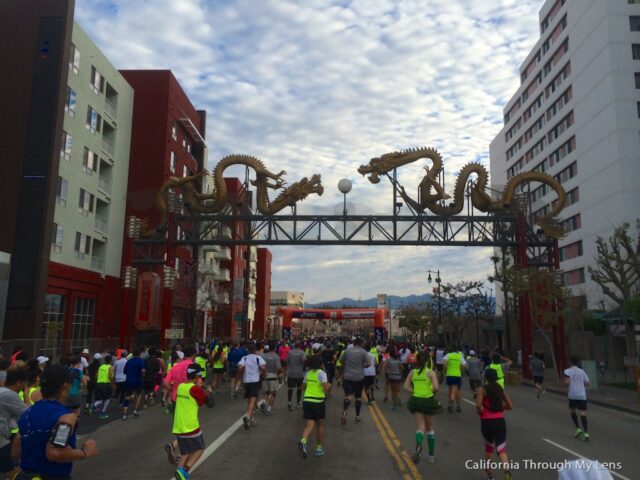 There were still thousands of runners around us at this point in and it continued to be a series of weaving in and out to get around people or let others pass. At the first hill in downtown it started to thin out a little bit.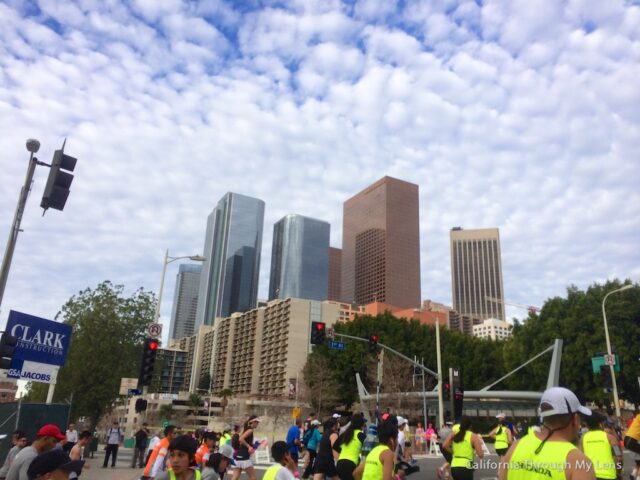 Coming up this hill was awesome though, as you get closer to the top you can see the crowds cheering and hear the banging of drums from one of the many bands that lined the course.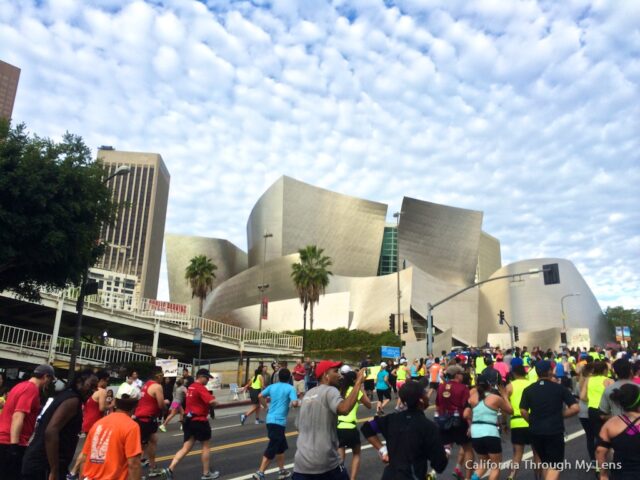 After that you passed the famous Walt Disney Concert Hall and another band that beckoned you on.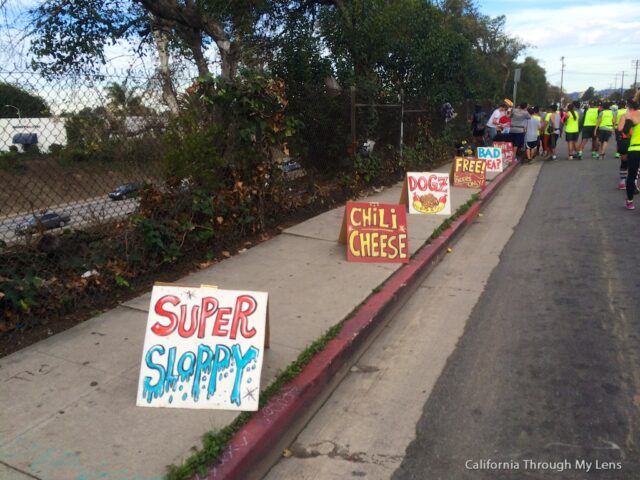 Around mile 5 is when I saw my favorite food experience of the course, the chili cheese dog people. Check out there signs above as you ran up. No, I did not partake, but I saw many others doing so and at mile 5 I cannot imagine that was a good idea.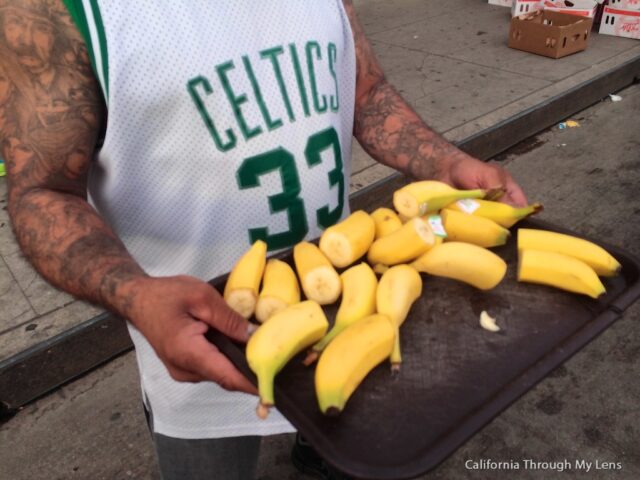 I do have to note, there were a ton of people cheering and handing out food all of the time on the course. It was awesome to see and helped me to get through the course. Some of the more popular items are oranges, bananas, pretzels and water. I want to thank anyone who provided those as it was much appreciated.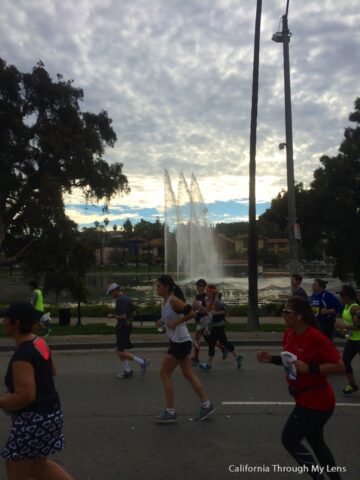 From here the course wrapped around Echo Lake, which seemed to be quite low in the California drought.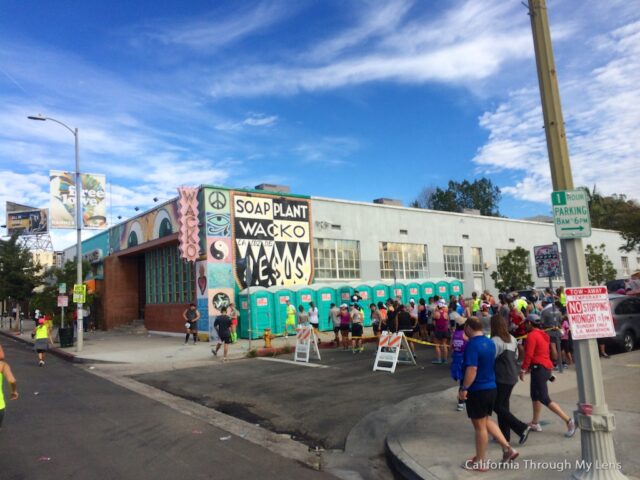 As we weaved through the hipster neighborhood and hip eateries that I wanted to stop at in Silverlake, I passed one of my favorite shops in LA, Wacko Soap Plant. This is also where we got our first glimpse of the Hollywood sign right at mile 8. This really was motivating as it was such an iconic symbol to be running with.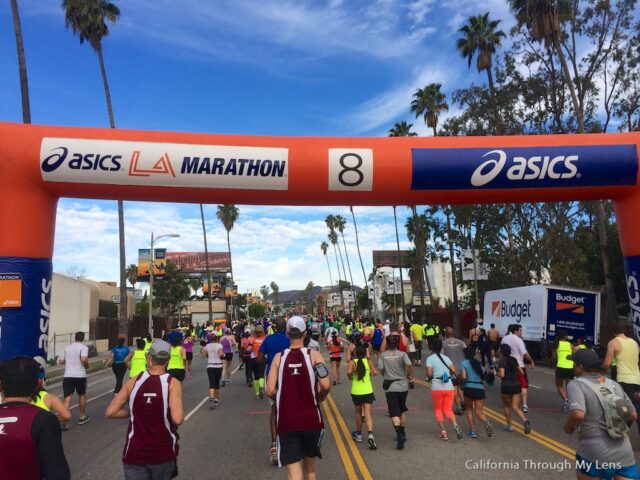 By mile ten we were crossing the 101 freeway and heading towards all of the main tourist attractions on Hollywood Blvd.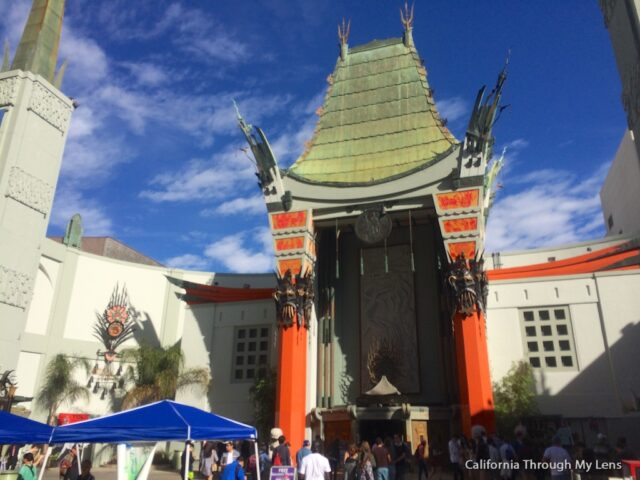 Since the LA Marathon ran out of Gatorade, even though they said it would be at every odd mile, we ran into a gas station to buy one as we went down Hollywood Blvd.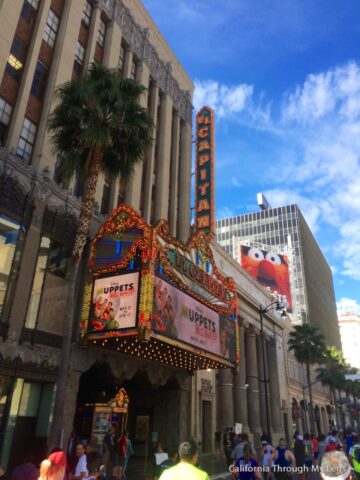 Next up was El Capitan and Grauman's Chinese Theatre where I had Amie veer off with me to take a feet picture.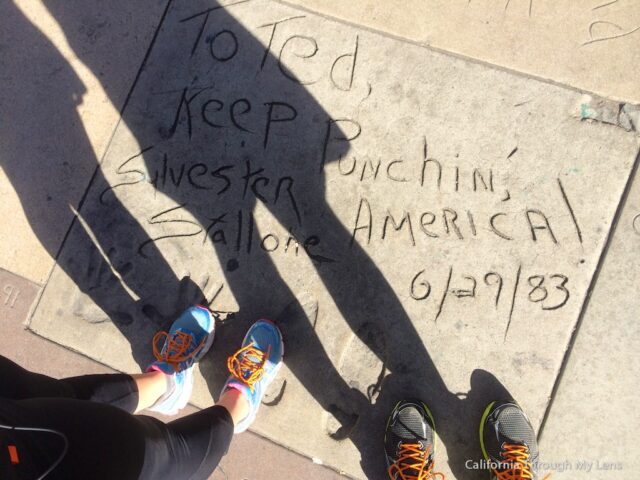 There were a lot of funny characters like Spiderman and Transformers cheering us on through this part.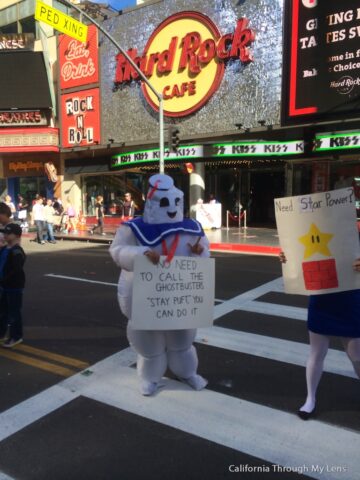 On the way down to Sunset we took the chance to stop in a In and Out for a bathroom break. This proved to be a good idea as we got to skip the massive crowds that congregated on the course bathrooms. I wished I could have stayed for a burger but I did get one after the race was over.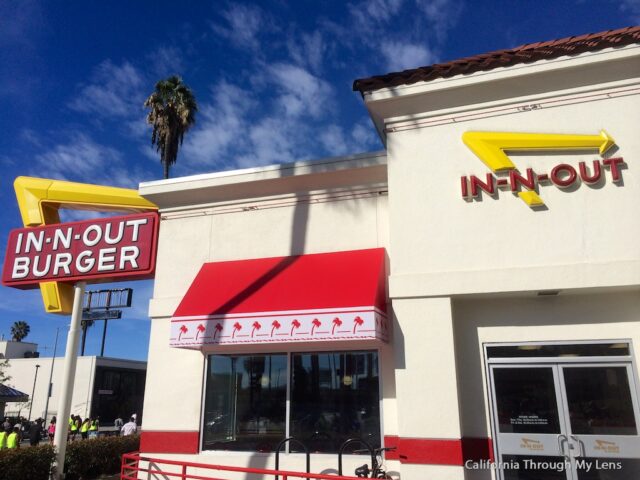 On Sunset, the course continued to weave over rolling hills as it passed some of the famous concert venues and comedy clubs. This is also where my foot started to give me problems and the heat started to be a annoying as well (many people had to stop from the heat this year).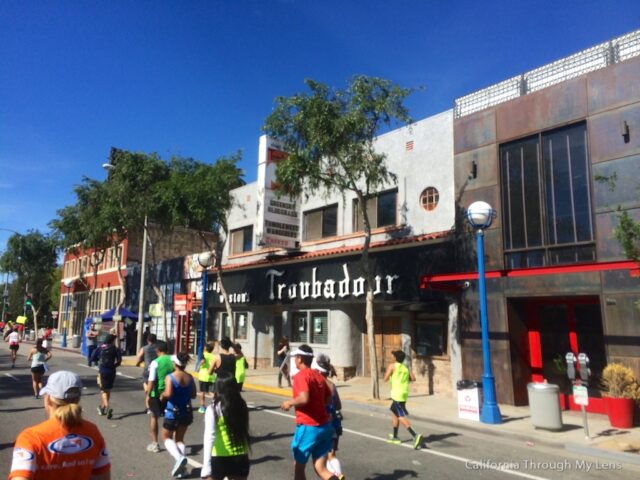 West Hollywood was next and it was a fun site for sure, there were a ton of people dressed up. Everything from a priest that was blessing people to a concert and cheering section. It was fun mental break on the course.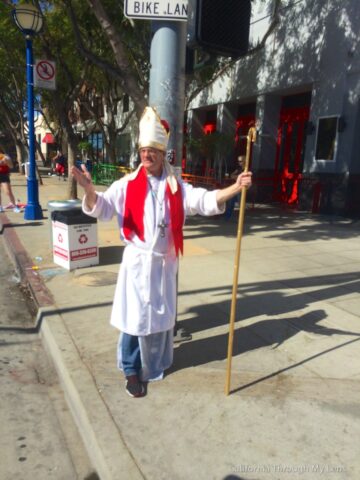 Around mile 16 and 17 we crossed Rodeo Drive and got to see all of the famous stores and streets that are iconic to the shoppers that frequent it with foot traffic. I have never spent much time there but it was interesting to see.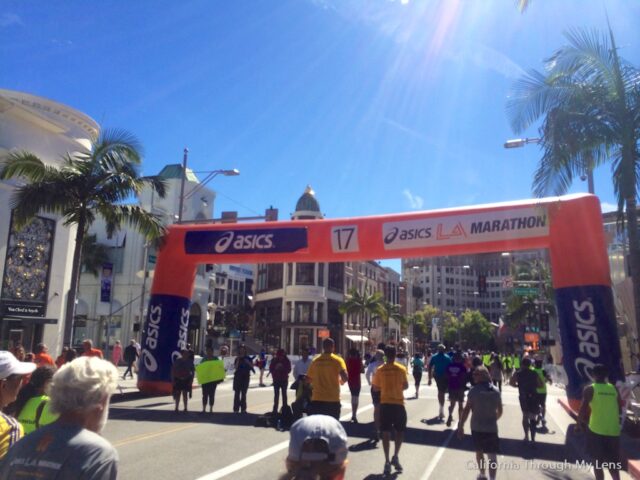 Mile 18 and 19 run along Santa Monica Blvd and the sites start being few and far between as they are traded for long stretches of road. By this time the crowd had thinned and there were only a couple hundred people instead of thousands.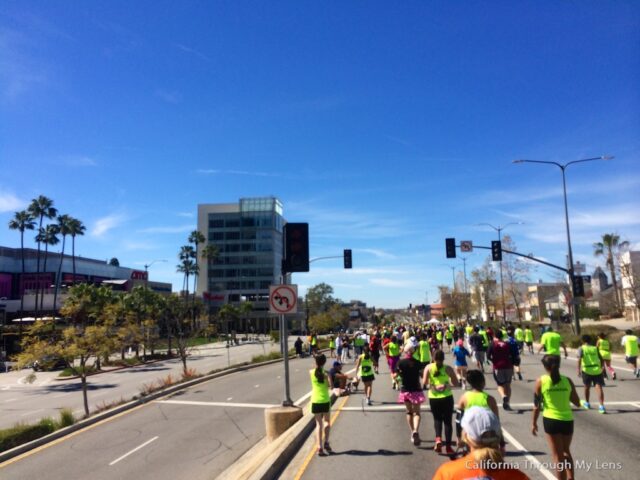 Mile 20 brought a visit from our family who provided Gatorade and water to throw on ourselves (did I mention it was hot) which provided a much-needed second wind.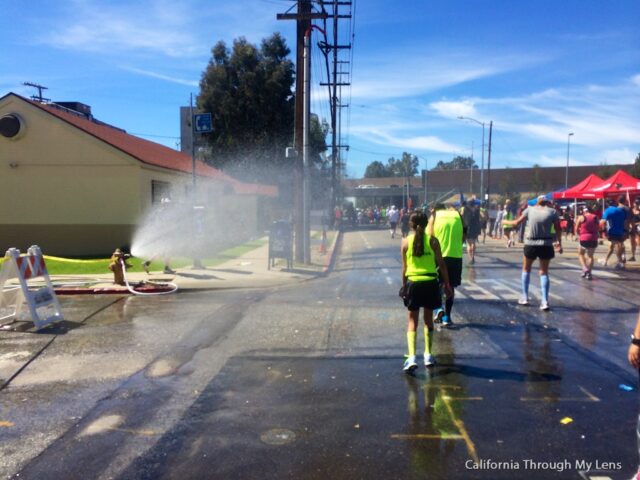 It was also the mile that a fire truck had set up a water sprayer, people handed out beer (not a good idea), and a race angel with Peanut Butter M&M's was walking along the line.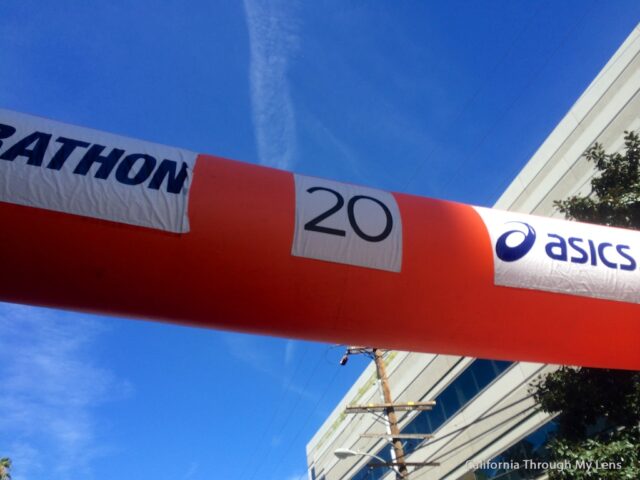 Mile 21 through 23 were the hardest miles for me. My feet were super sore, it was really hot, and you are not close enough to the end to be excited. Everyone seemed to be feeling the same as most people appeared like zombies just trying to take another step.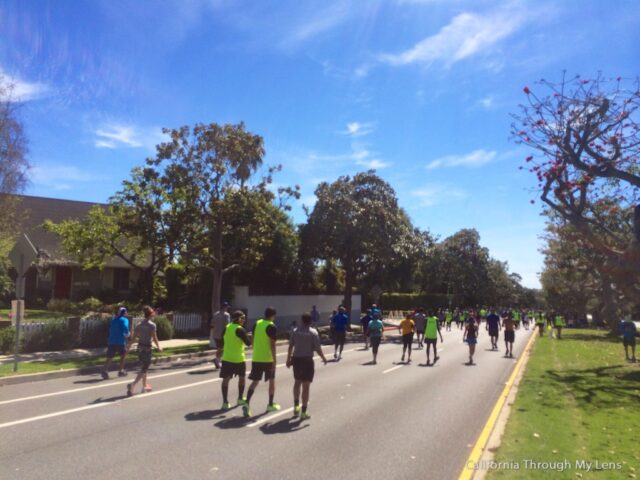 Mile 24 started to lift the spirits again, it was downhill and through a neighborhood with people providing food, water and hoses to shower under. Even with my foot in crazy pain I was able to motivate myself to keep going and to start getting excited about mile 25 and the beach that meant I was almost at the finish.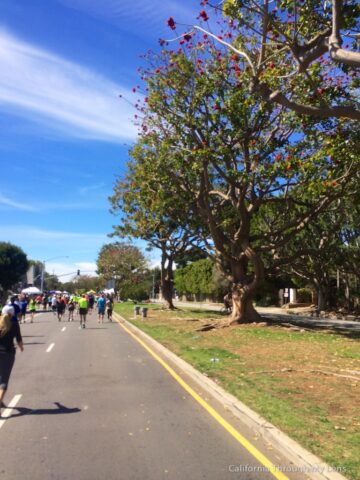 After crossing under mile 25 I could finally see the ocean and the palm trees that lined the road beckoned us onward. There were tons of people along this stretch cheering like crazy, and even in pain it is enough to motivate you forward.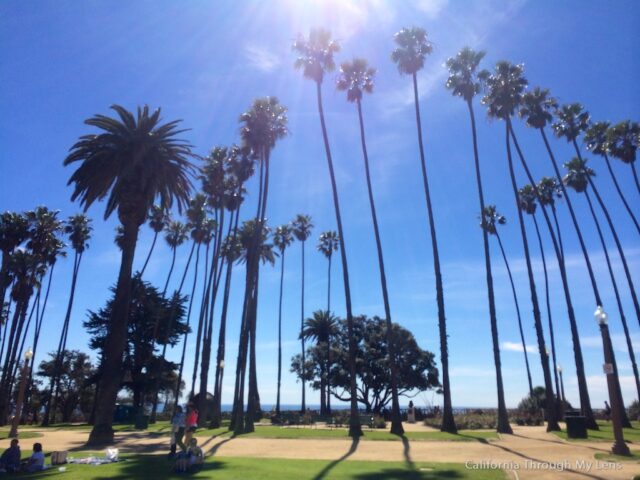 As we neared the finish the crowds got bigger and the music got louder. We pushed ahead and walked right under the sign at a little under 6 and half hours (30 minutes slower than I anticipated but the heat killed the speed).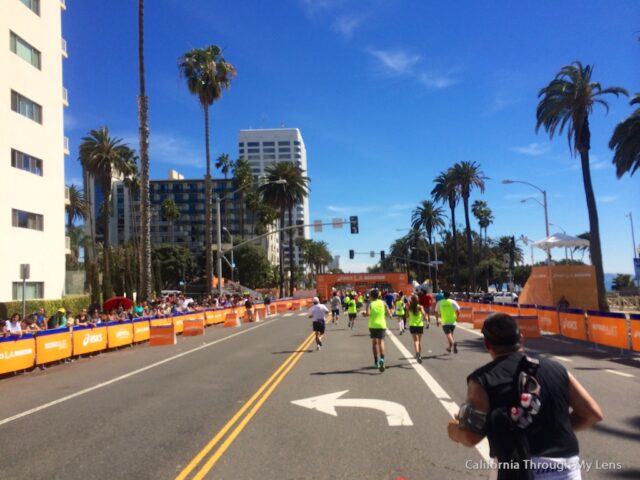 We got our medals, food and pictures then proceed into the family section where people were waiting to celebrate with us. It was an amazing experience and I am so happy to have finished it. I was most excited by the fact that this race was not just for me, Amie and I were able to raise over $2,300 from generous friends and family which is enough for about 50 kids to have clean water for life. This makes the pain I feel in my feet and body 100% worth it.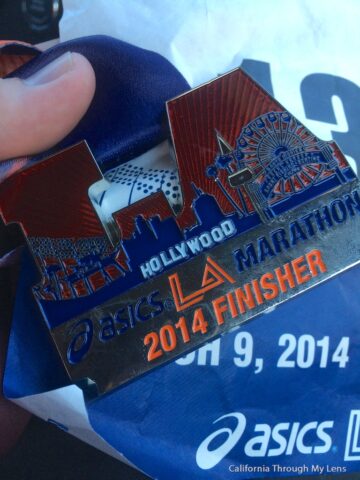 Would I do it again? Heck no, but at least no one can ever take away the fact that I can now add to my bio "Marathon Runner."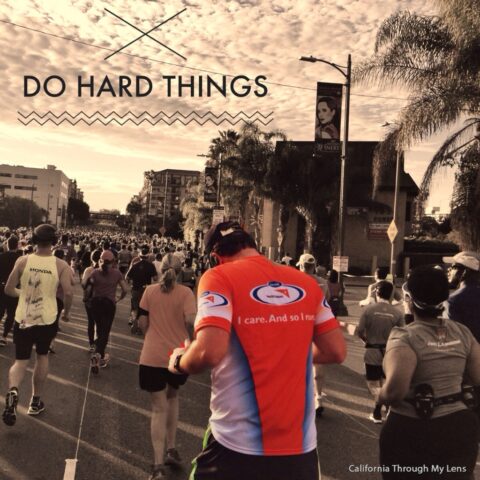 Please leave a comment below, also let me know if you were able to complete it as well. Thanks for reading this massive post.