Ladder Canyon & Big Painted Canyon in Mecca
I am always searching for unique new hikes to do in Southern California, especially those with something different than you would expect to see. So when I heard about Ladder Canyon (yes, I was very late to the game on this one), I quickly set a time to hike it with Chris from the Last Adventurer. This hike has a little bit of everything, ladders you have to climb to get to the next section, slot canyons, and beautiful desert scenery that reminds you of something you would see in Death Valley. Here is all the info so you can check it out yourself.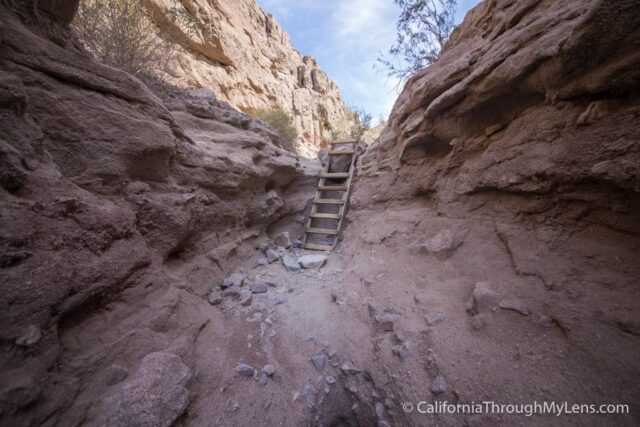 Details
6.5 miles
100 feet of elevation gain
Bring lots of water!
Do not do it in the summer as it will be incredibly hot!
People do report break-ins at the trailhead sometimes, so be sure you remove anything valuable from your car. It is like any remote trailhead, there is always the possibility of break-ins, so it is better not to leave valuables.
Update 2018: People have mentioned that some ladders are missing from the recent storms and that the road the trailhead is in terrible condition. For more information, check the comments on this post or the AllTrails site here and be very careful if you choose to go out here. All of the information in this post is from 2016, so it is subject to change.
Video
Before jumping in, check out this video to see highlights from the trip.
Getting There
Ladder Canyon / Big Painted Canyon is located outside of the desert city of Mecca. The trailhead is at the end of a 4-mile long dirt road called Painted Canyon Road. You will want to take Highway 111 towards the Salton Sea, then head through the city of Mecca on 66th Avenue. 66th Avenue becomes Box Canyon Road, then shortly after the canal, you will turn left on the dirt road called Painted Canyon Road.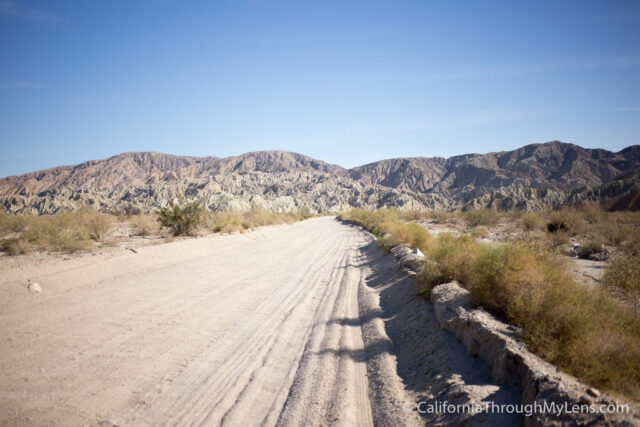 When we went, the road was technically passable with a two-wheel drive car but make sure to take your time if you do this as there were some big holes and loose sand. A car with higher clearance would be a lot better to take. People have said that it is a lot harder to do with a 2WD in 2018 then it was before because of loose sand, so make sure you are aware and prepared for those conditions if you choose to go out here.
The Hike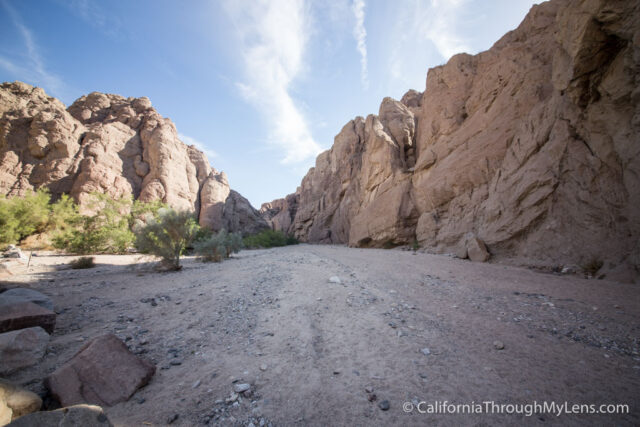 The dirt road dead ends at the trailhead, and when I was there on a Tuesday, there were a couple of cars in the parking lot, so it was easy to find. The trail begins from the parking lot and heads into the canyon directly in front of you. I found the map from this site to be helpful. I saved it on my phone when I went so I would suggest you do the same. Also, the site has a lot of up to date information about the trail.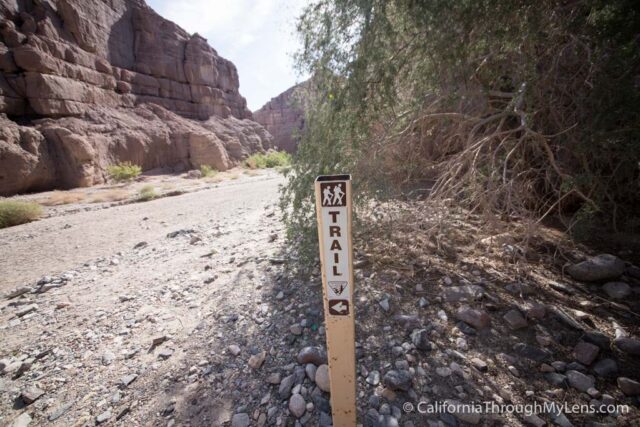 The path goes for about .25 miles before there is a small trail sign on the right that points to a canyon on the left with a lot of rockfall. This is the entrance to Ladder Canyon.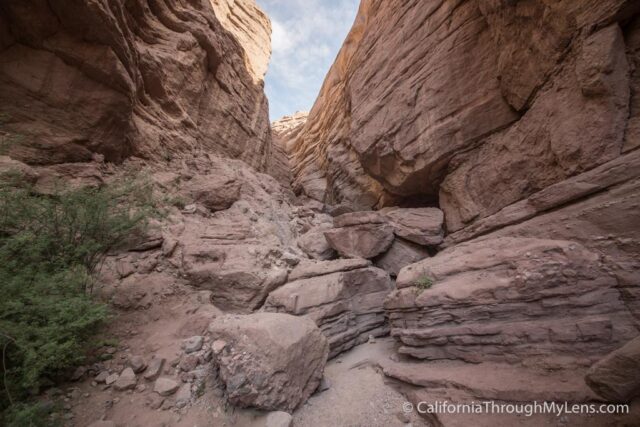 From here, you will want to start making your way around the rockfall. Since this is a popular trail though it should be pretty easy to get around. After the rockfall is when you will meet your first ladder.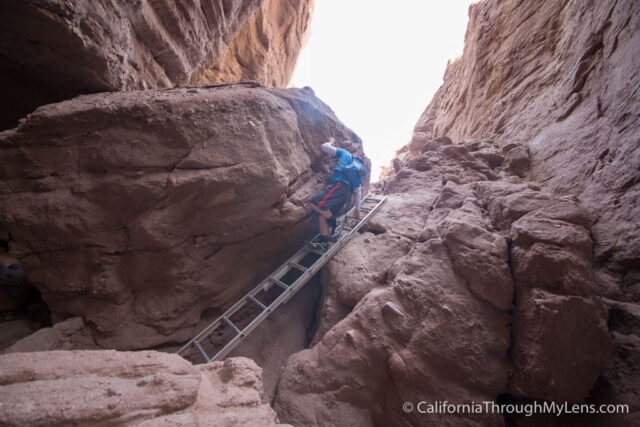 Most of the ladders felt secure when I was there, but of course, be careful and test the stability so that you do not get yourself into a bad situation. There are only a few ladders that you actually need to use to progress forward, many of the others you "could" scramble up the rocks, but the ladders do make passage easier, of course.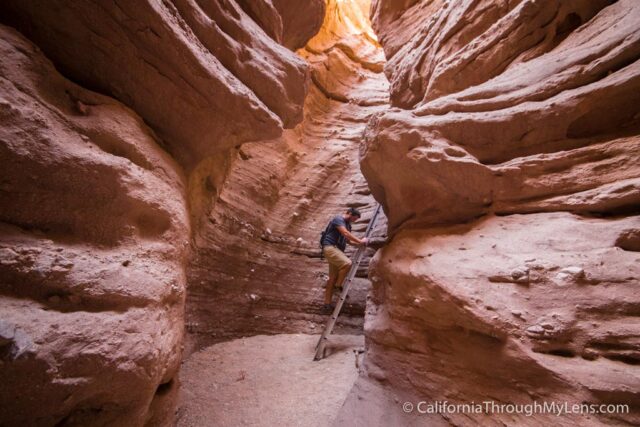 The trail then bends into the canyon itself, and you reach the most picturesque of the ladders. This is an area that you really need the ladder to get up, and it is a fun way to start the trail.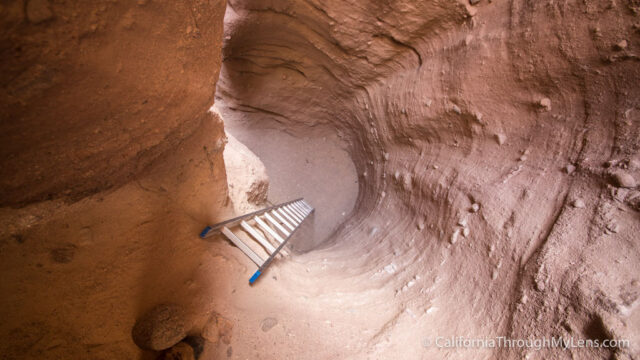 From here, you will climb a few more, but most of these are relatively small at only 5-7 feet or so.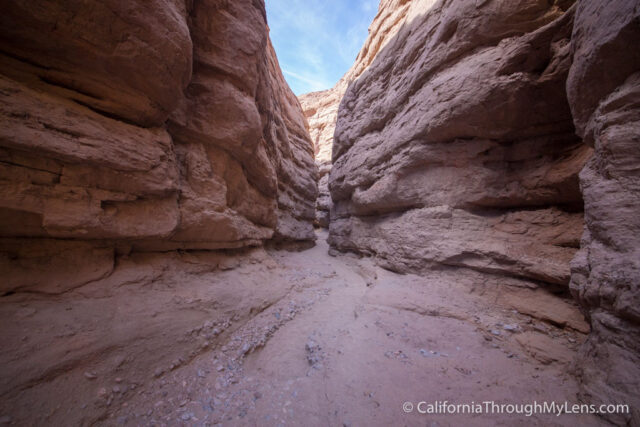 The trail continues into a slot canyon, which you will be walking through for about a third of a mile. It is an awesome slot canyon and one of the best parts of this hike. I would compare it to the other popular slot canyon in Anza Borrego.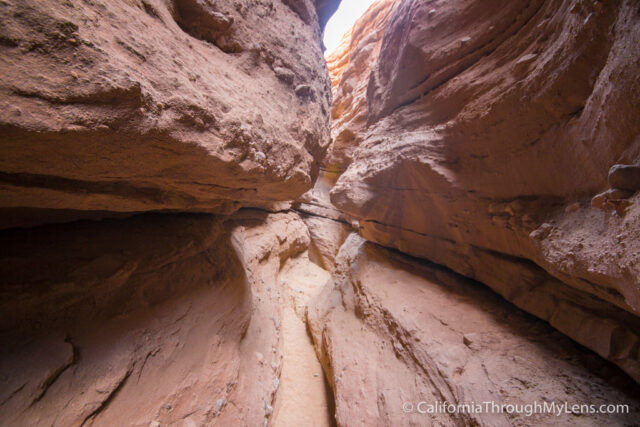 Once you exit the slot canyon, you can walk back on a small ledge and get a view of the canyon you just walked through from above.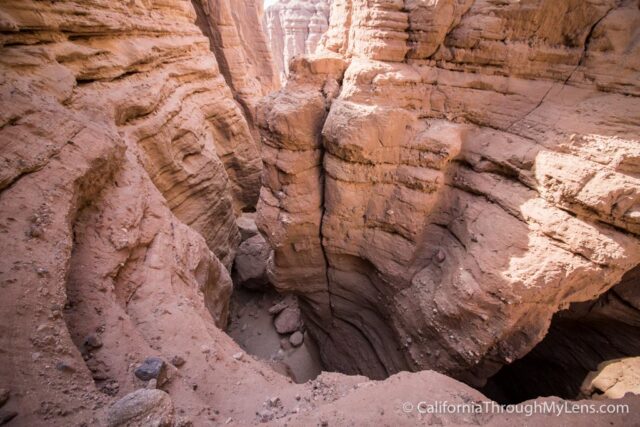 The canyon continues to get wider as you make your way out. This is also where you will start to feel the heat as you are less shaded, and it is the desert.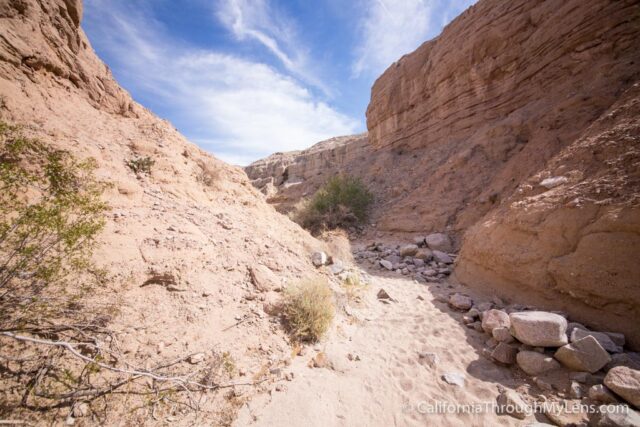 You will be walking through this section for a while before you finally see the trail that brings you out of the canyon and to the big pile of rocks that lets you know you are heading the right way.
From the rocks (which are not always there so bring a map), there is a path that heads back towards the Salton Sea, and it is great for photos, but you will be heading out on the other path.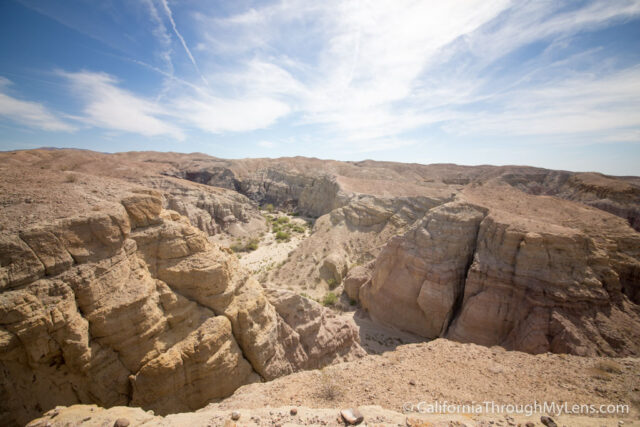 This trail goes along the ridge of the canyon for another third of a mile, giving you vistas down into Big Painted Canyon, which you will be walking back out to complete the loop.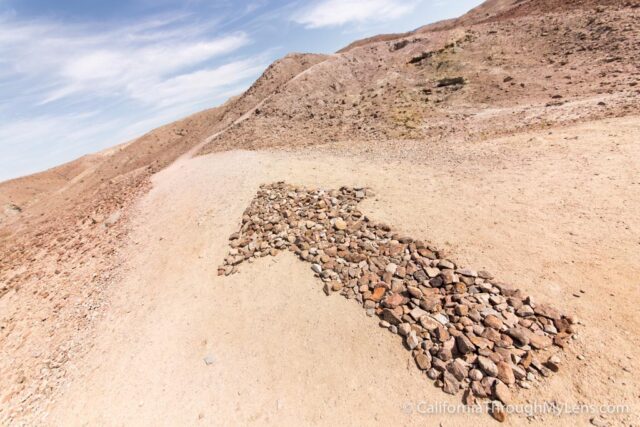 There were big rock arrows arranged to show the way when we were there but still make sure to download the map I told you about above in case the arrows are not there.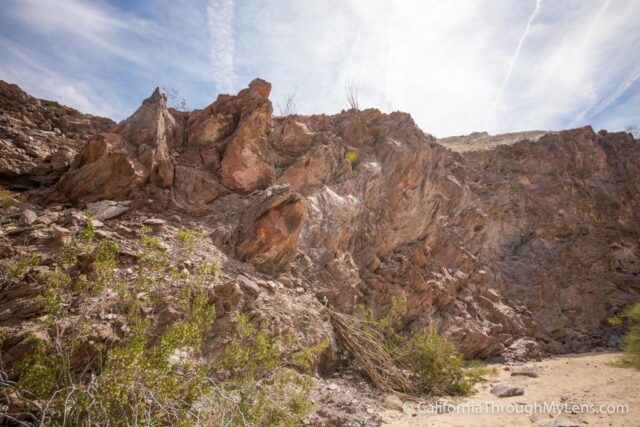 The trail eventually heads back into the canyon to your right, which is called Big Painted Canyon, and you will be following this back out.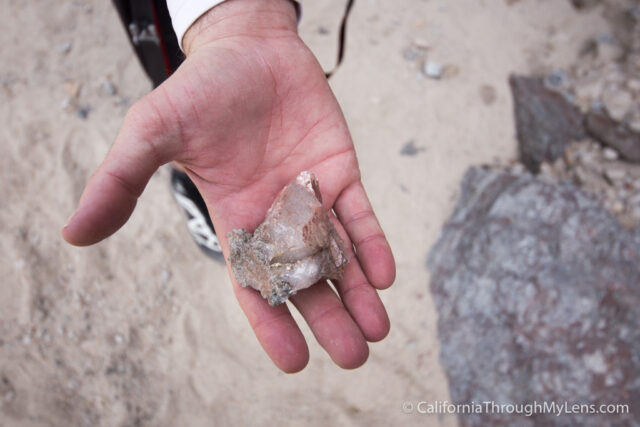 This canyon is beautiful, and it reminded me of Golden Canyon in Death Valley. There are all sorts of unique rock formations along the path, including some quartz that we saw on the ground.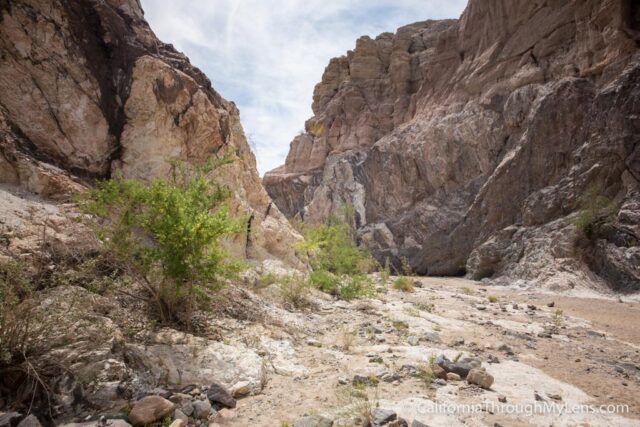 This section of the canyon is very wide and not shaded either, so be warned of that as it can get hot.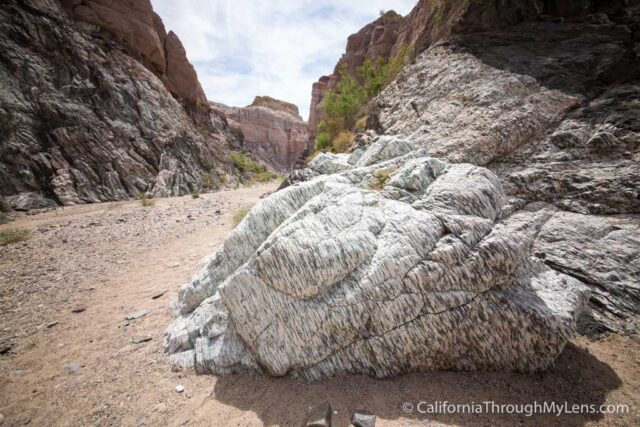 About a mile or so into the walk back, we saw an offshoot to the left and another ladder. We headed this way and found the tallest ladder we had seen the entire day; it was about 25-30 feet. We decided to climb it and ended up finding two more ladders behind it, including one that was wooden, which was cool.
After climbing up the third ladder, the trail continued to head up, most likely to another viewpoint, but since we had spent so much time exploring, we headed back down.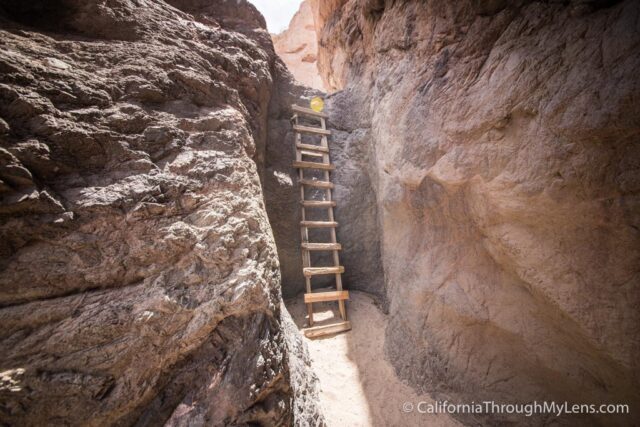 The way back from here is more of the same, heading through the truly unique Big Painted Canyon. There are two more small ladders that you will have to traverse, but these were nothing crazy.
Eventually, the trail crosses where you made the original left hand turn to go into Ladder Canyon, and from here it is only about .3 miles back to your car.
I expected the ladders to be a little crazier when I went, but overall this hike with the ladders, slot canyon, and Big Painted Canyon is one of the best in Southern California. I enjoyed myself and highly recommend it, but not during the heat of summer. Let me know if you have been and what you thought in the comments.