Marshall's Beach: An Epic San Francisco's Sunset Spot
San Francisco is a city that is full of amazing places for photography. However, when I am asked what my favorite spot is in the city, it is hard for me to not default to Marshall's Beach. This small stretch of sand on the southwest side of the Golden Gate Bridge is one of the most beautiful places in California with the massive rocks, waves crashing on the sand, and the staggering Golden Gate Bridge providing a backdrop to it all. If you want to check it out, here is all the information.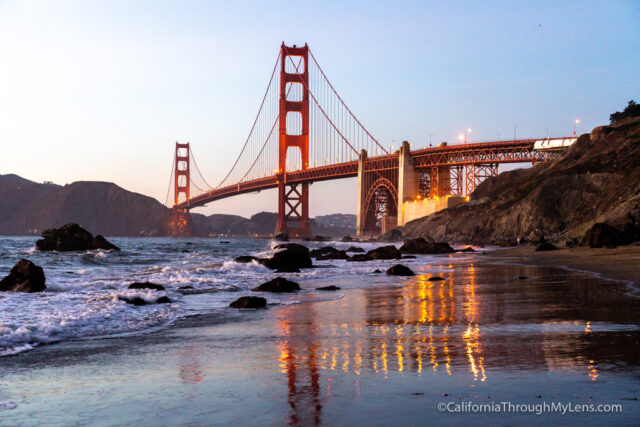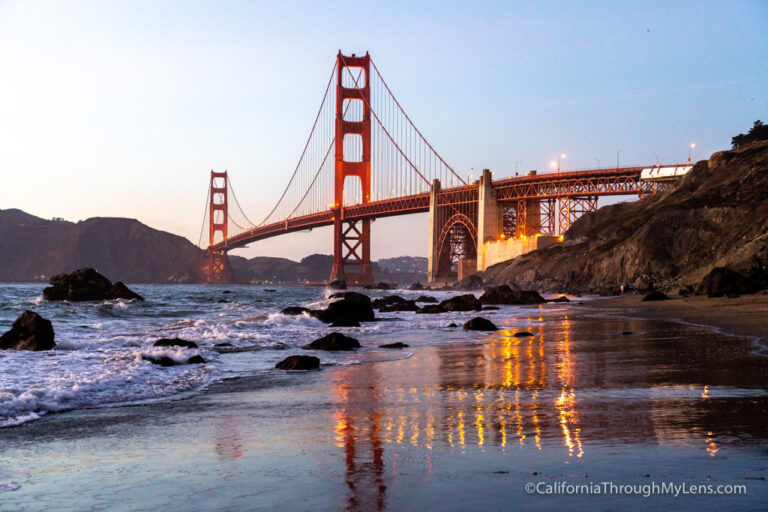 Details
1 mile walk
250 feet of elevation gain
Do not leave anything valuable in your car as there are often break ins
Parking at Golden Gate Bridge Overlook
This information is from my visit in 2018
Read about all of my favorite San Francisco spots here
Getting There
Marshall's Beach can be a difficult spot to reach during the summer due mainly to the parking situation. You can access it via walking along the Bluffs and Batteries Trail though, or by walking over from the main Golden Gate Bridge Welcome Center.
Walking Down to Marshall's Beach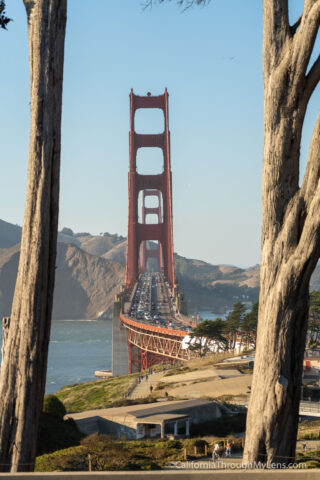 This post is from the Golden Gate Bridge Overlook, where you get the above view from. There is parking in the dirt lot here for about 30 cars, and if you go on a weekday, it is not often filled near sunset. Again, this area is famous for break ins, so do not leave valuables in the car.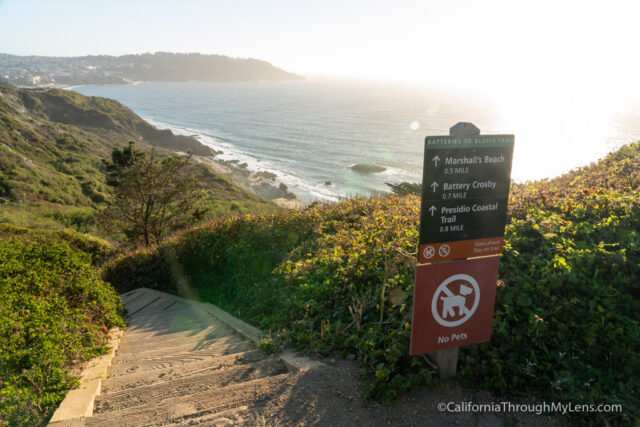 After parking, you will head out on the trail in the back (southwest) section of the parking lot. This trail goes for about a tenth of a mile before a small spur on the right breaks off and takes you down to Marshall's Beach (there is a sign here at the top of the stairs).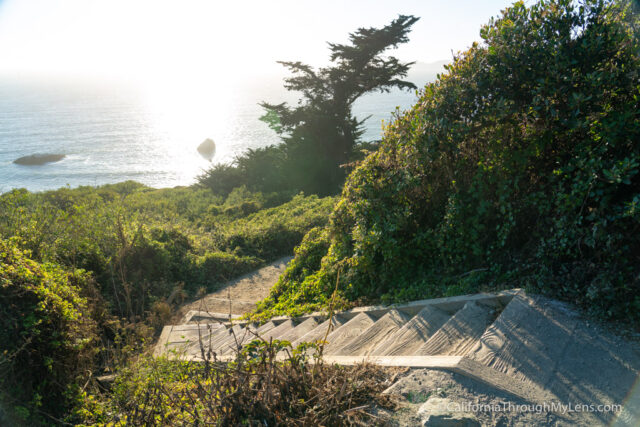 This trail is beautiful as you head down many sets of stairs with epic coastal views out in front of you. Do remember that on the way back up, the trail is all uphill on those same stairs and not as enjoyable.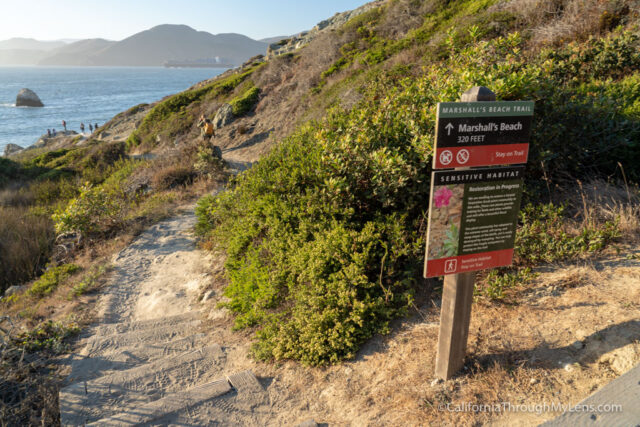 When you reach the sand, you will have a fantastic view of the Golden Gate Bridge to the right, and you will want to continue to head this direction to get to Marshall's Beach.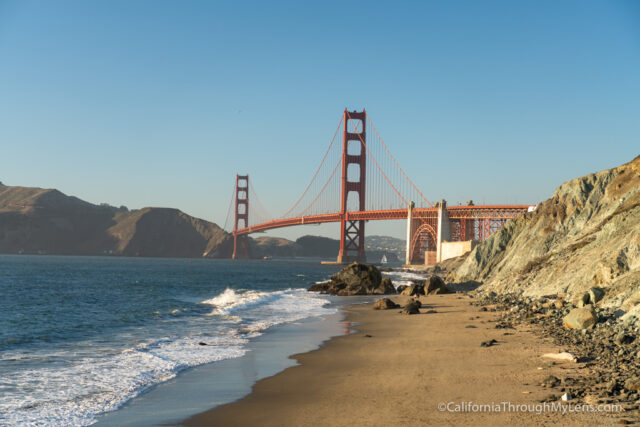 Whenever I come here, I usually just walk around and set up photos wherever I feel most inspired, as the entire area is beautiful.
One of the best spots though is to head past the rocks, and you can get a clear view of the bridge, which makes for great photos.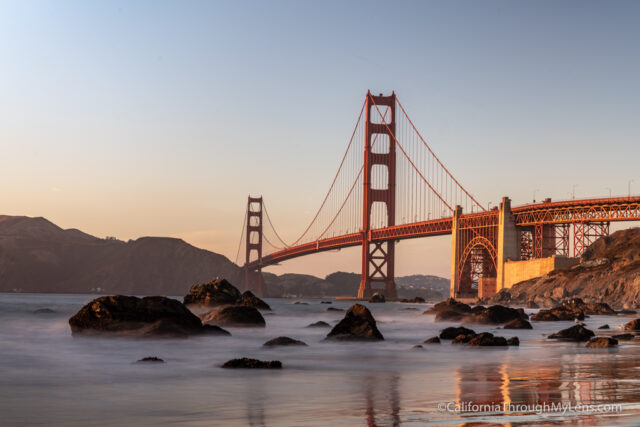 You can hang out here for as long as you would like, but do note that you have to walk back up those stairs to get back to your car. Most of the time, when I am here, there are at least a couple of other photographers here as well.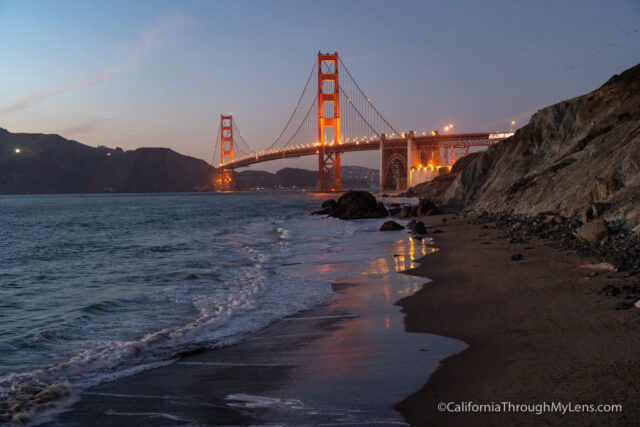 Let me know what you think of this spot in the comments and if you agree that it is one of the best sunset spots in the city or not.