Millard Falls: A Family Friendly SoCal Waterfall
Millard Falls is one of those rare hikes where the payoff is incredible, and the hike is easy. It is a unique Southern California waterfall with a large boulder lodged at the top, which creates two streams that cascade into the pool below. The waterfall is accessed by a short half mile each way hike through a beautiful canyon that is accessible for the whole family. Here is all the information.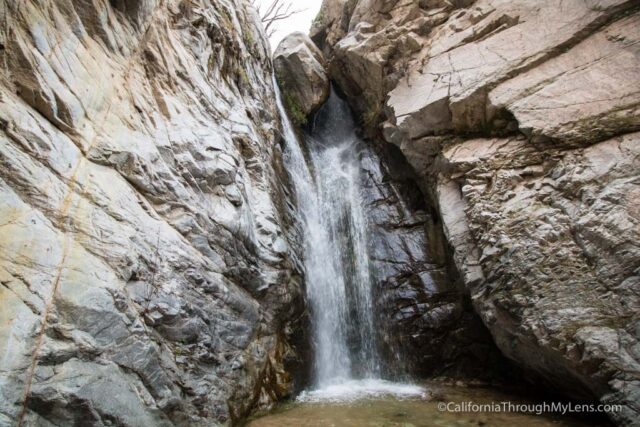 Details:
Family Friendly
Requires water crossings
Flat trail
1.25 miles round trip
Display an Adventure Pass for parking
Location: 4041 Chaney Trail, Altadena, CA 91001
This information was from my visit in 2017
Read all about my favorite California waterfalls here
Getting There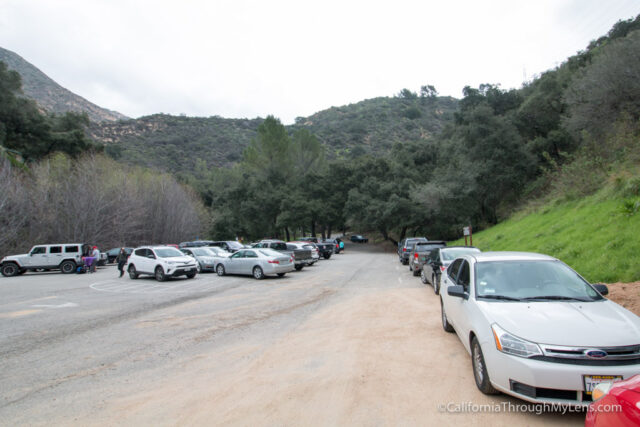 From the 210 West, you will get off on Lincoln Ave and turn right to stay on Lincoln Ave. Head 2 miles and then turn right on W Loma Alta Dr then left on Chaney Trail. From here, you will wind around the mountain until the road eventually ends right next to the Millard Canyon Campground. You can just put the campground into your GPS as well to get there. There is a small parking lot here that can fill up on the weekends, display your adventure pass and head out on the hike.
The Trail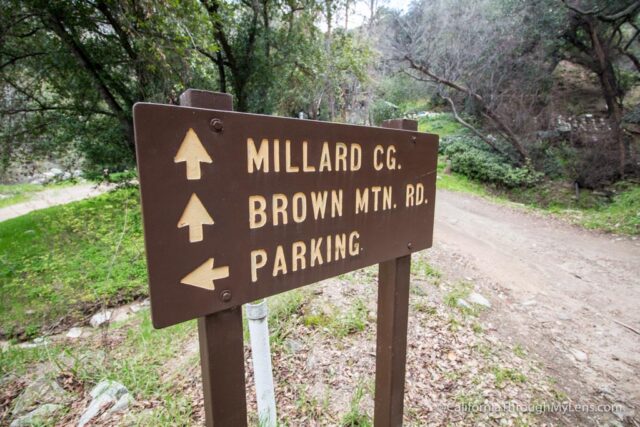 From the parking lot, the trail leaves and heads towards the campground.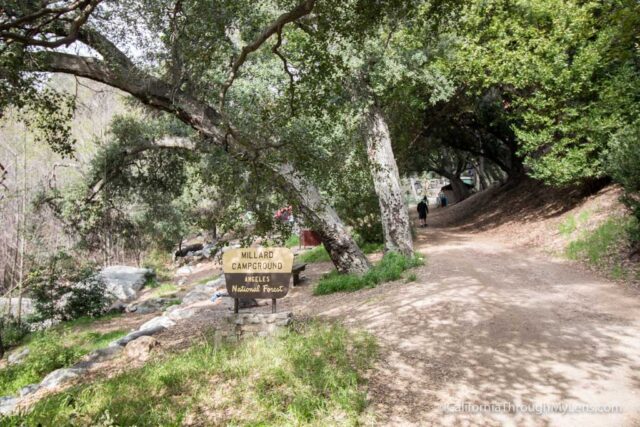 In about a tenth of a mile, you will reach the campground and bathrooms. Passing through the campground, you will see a trail sign near the creek, which is where the half mile trail starts.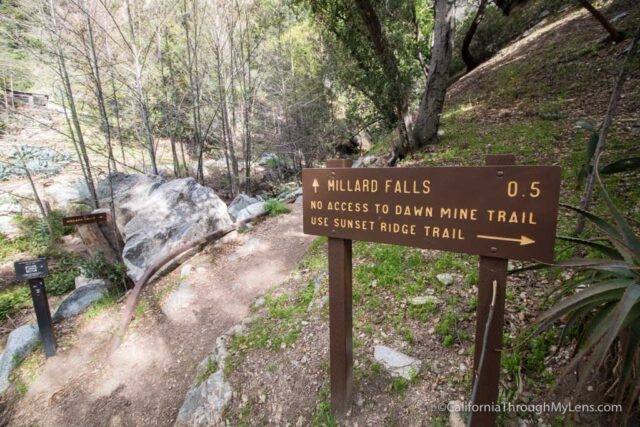 From here, the trail follows the stream, crossing over it multiple times.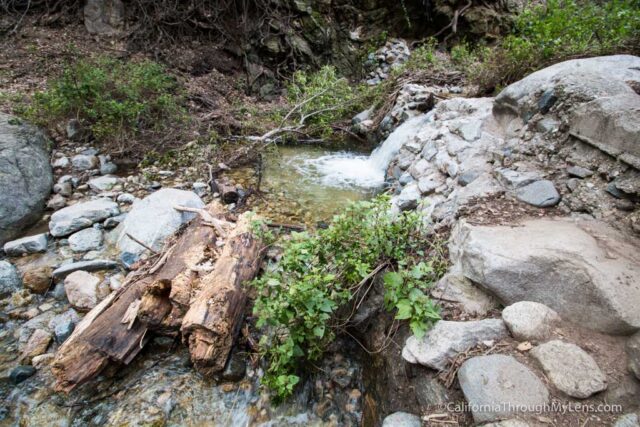 The canyon you are in is beautiful and relatively narrow, making it a nice shaded hike.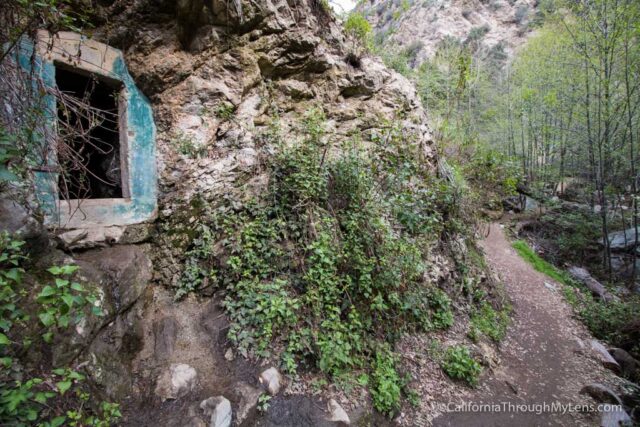 The trail is easy to follow, and there is a good possibility that you will not be the only one on it. It is pretty popular due to how easy it is to get to the amazing waterfall.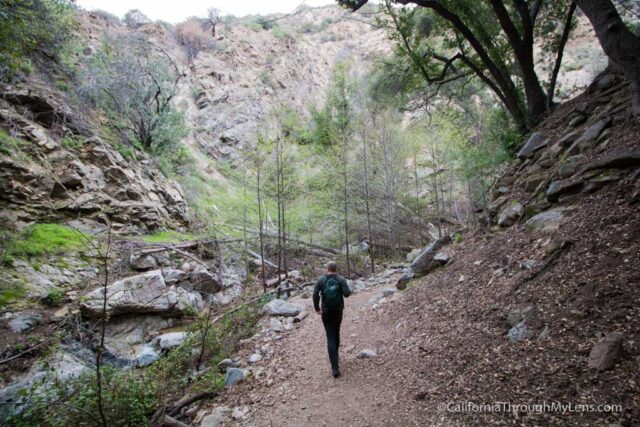 After a short half mile, you will reach the waterfall.
Millard Falls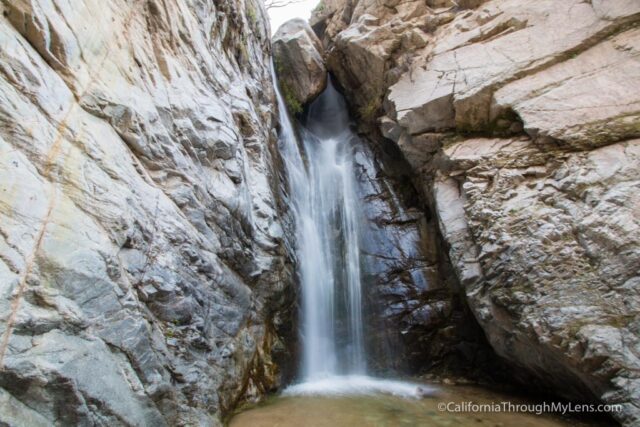 Millard Falls is incredibly impressive, especially after a good rain. The water cascades gently down the rock face, and the large rock in the middle makes the view that much more impressive.
The pool at the base was shallow, and the area near the falls was relatively small. We stayed for about 15 minutes just walking around and taking it all in before heading back.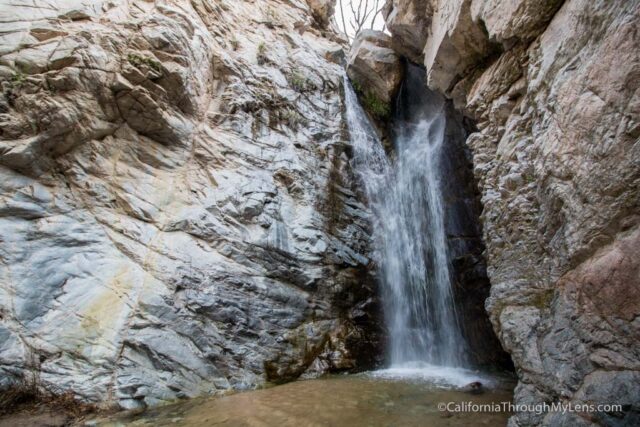 If you are looking to extend this hike, consider checking out this post by Hikespeak, which helps you get to the mine that is located 3 miles past the waterfall.
This is a great family-friendly hike in Southern California and one that I highly recommend after a good rain. Check it out and let me know what you think in the comments.