Sierra Nevada Brewery in Chico
With only 30+ years in existence, Sierra Nevada Brewery, in the heart of Chico, has transformed into an empire. This transformation is evident from the moment you pull into the parking lot and notice that it takes up every bit of an entire city block just to house all its components. But when you enter, it is immediately evident that they don't let their fame define them, as they present a great experience to everyone who walks through their doors. Sierra Nevada Brewery is a ton of fun and a great place to visit in California. Here is all the information.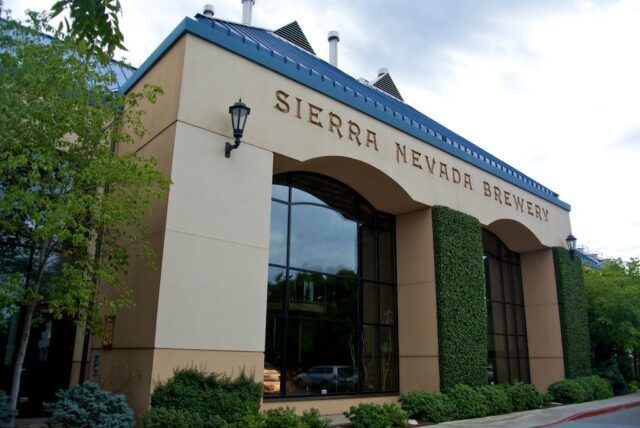 Details
Open every day
Hours: Sunday – Thursday: 11:00am – 9:00pm, Friday & Saturday: 11:00am – 10:00pm
Book tours in advance online
I worte this in 2016
History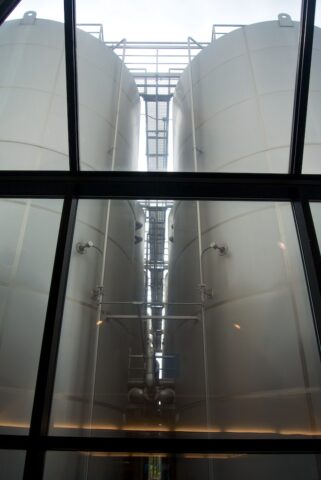 They have an impressive interactive history on their site that you can check out here, but it boils down to the below information.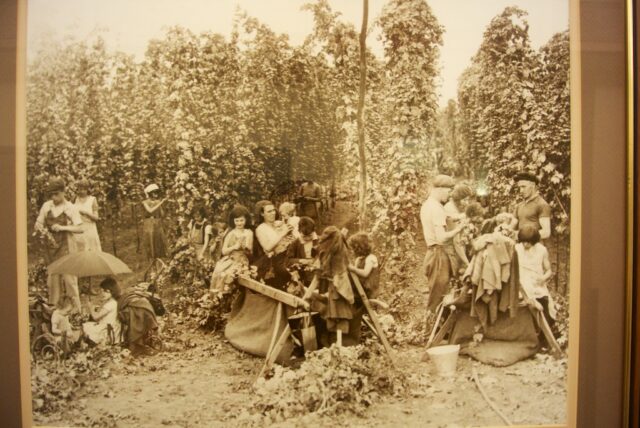 Sierra Nevada Brewing Co. was founded in 1979, with founders Ken Grossman and Paul Camusi expanding their homebrewing hobby into a brewery in Chico, California. Along with the brewery's location, Grossman claims the company's name comes from his love of hiking in the mountains of the Sierra Nevada. With $50,000 in loans from friends and family, Grossman & Camusi rented a 3,000-square-foot warehouse and pieced together discarded dairy equipment and scrapyard metal to create their brewing equipment. They later were able to acquire second-hand copper brewing kettles from Germany before moving to their larger, current brewing facility in 1989. The first batch brewed on premises was its Pale Ale, in November 1980. The following year the brewery introduced Celebration, an IPA, which it continues to release as a winter seasonal. The company sold 950 barrels of beer in its first year and is now one of the top three largest craft beer producers in the USA.
The Tour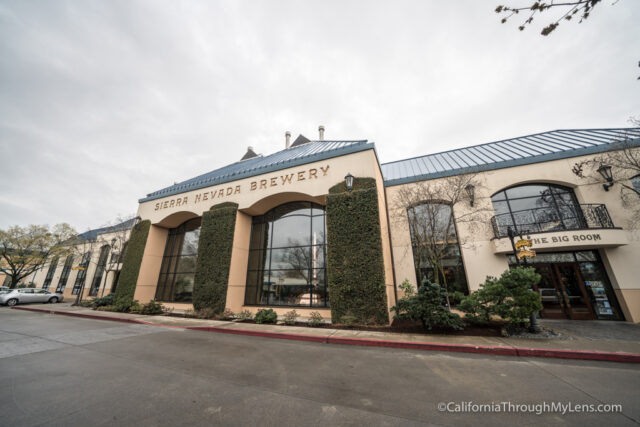 The first time I went, I did not get to take the tour, but I went back in 2018, and it was awesome. Be sure to book your tour in advance as it sells out, and you can read what you can do if you don't take the tour below.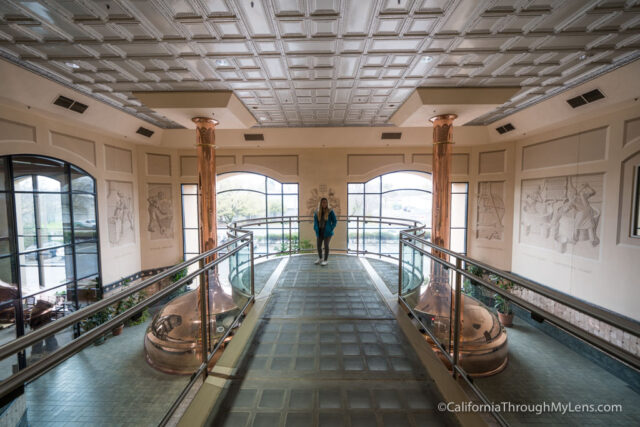 The tour was about an hour and a half, and it took started with an introduction and a video on the brewery.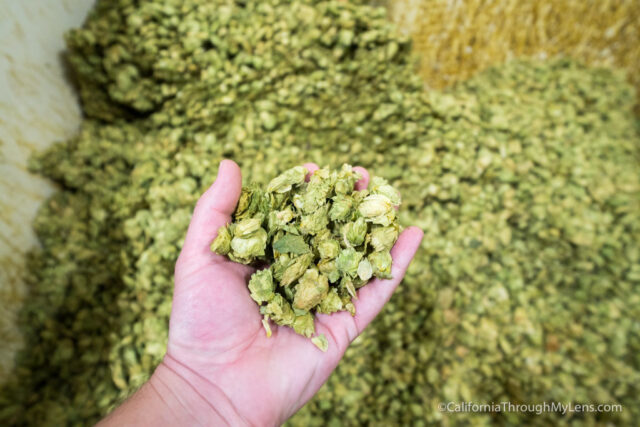 From there, we headed back to where the hops are located, and we were even able to pick them up and smell them.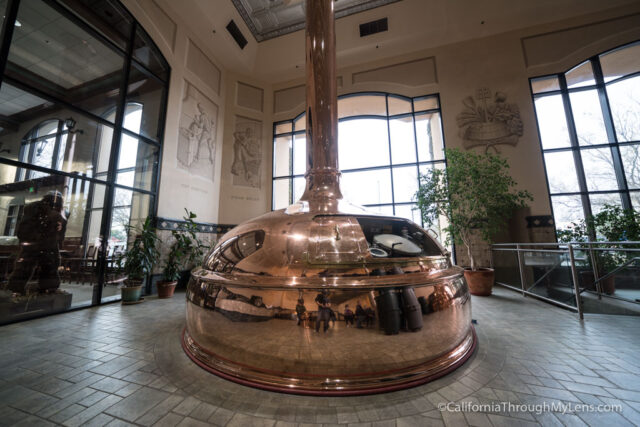 The tour then went into the bottom floor of the main room, and we learned all about the brewing process.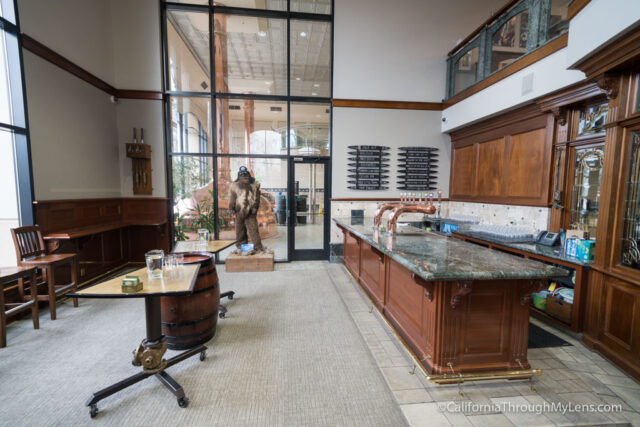 Lastly, it ended with a visit to the small bar where we got to sample four different beers. This was all free, so make sure to book a tour in advance and check it out yourself.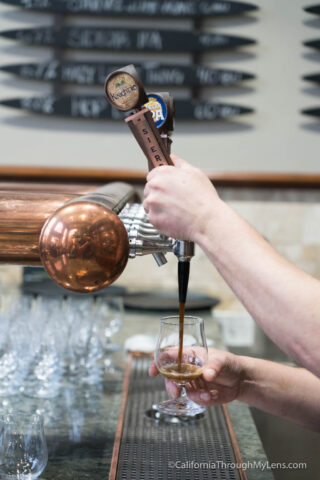 What you can see without a tour
When I went on Labor Day weekend (2013), the tours had already been booked out weeks in advance. I didn't realize this was even possible, so I did not get to take the official tour. That being said, they have a self-guided tour that anyone can take, and it is pretty great!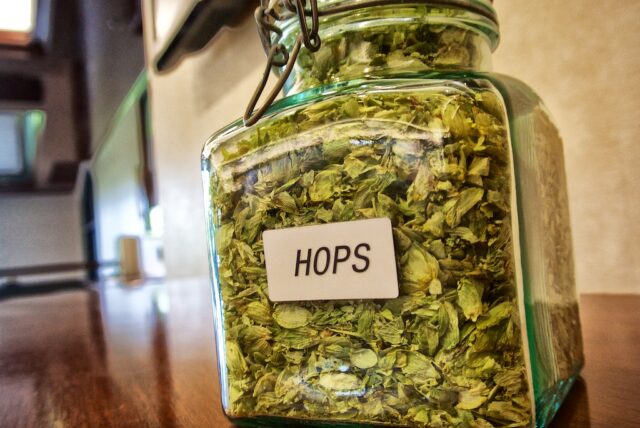 After going upstairs to start the tour, you see a lot of old antiques from the brewery's past. These include old bottles and old temperature gauges.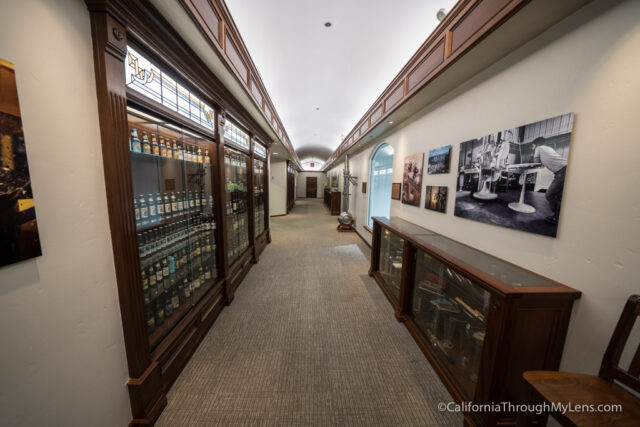 From there, the tour has walls of beer bottles all representing different times in the company's past. As a design person, it is fun to see the progression.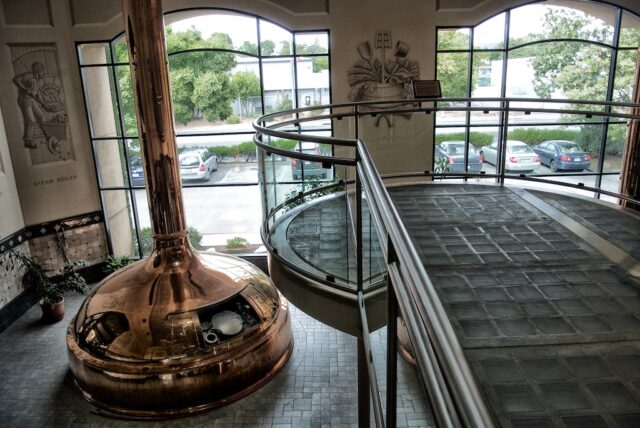 The best part of the tour is walking out on the observation deck and seeing the massive copper vats. These things are beautiful and add a lot of character to the brewery.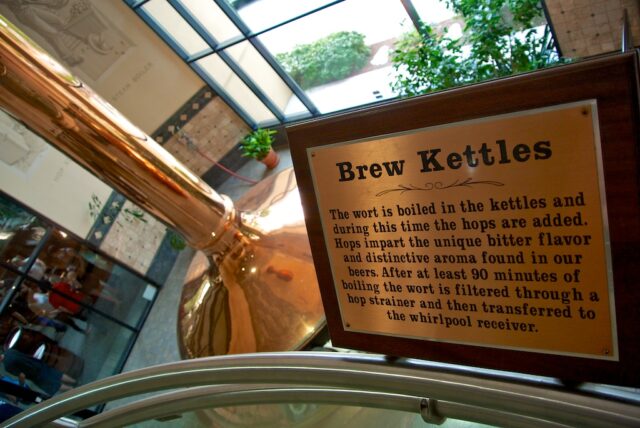 This area is also interesting because it has wall art all around that shows images of the brewing process.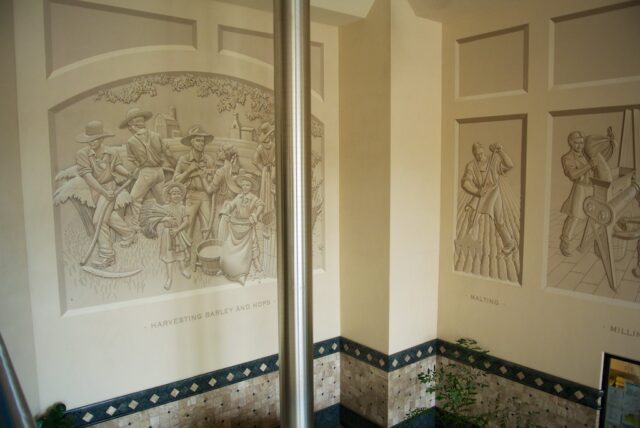 After finishing walking around, we headed to the gift shop. The gift shop has all the standard stuff you would expect as well as different mustards and even beer monopoly. Next, we headed over to the restaurant, which was a 5-minute walk from the brewery.
The Restaurant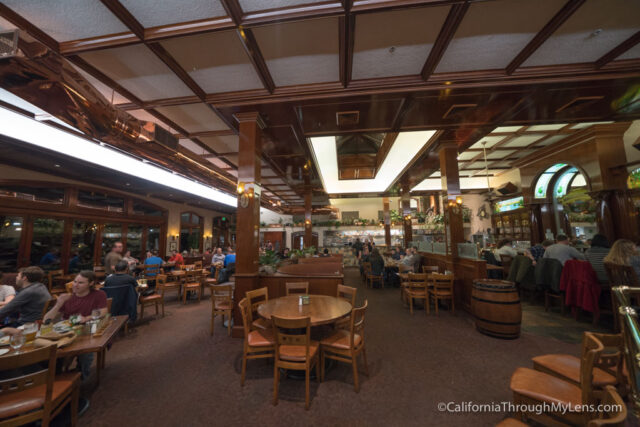 The restaurant is very nice and has a big area, both indoor and outdoor, for seating. Here is the food we ordered for dinner.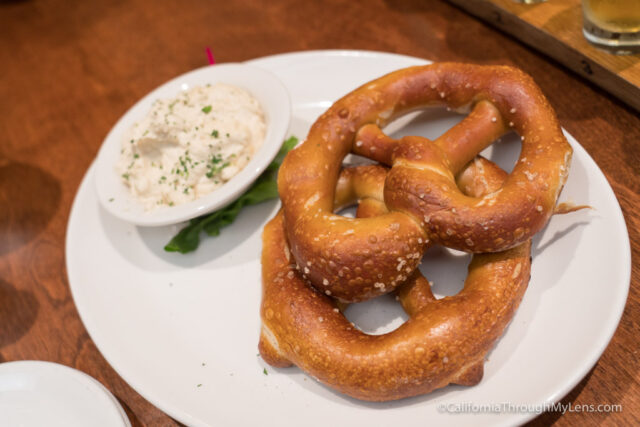 Pretzel and Beer Cheese – This dish has decadent beer cheese that's so heavy but so incredibly good. The pretzel is a regular soft pretzel, but with the mustard they make in-house and the beer cheese, it is an exceptional appetizer. The cheese has that IPA bite and is a little bitter, which helps to mellow how heavy it is. Both my wife and I loved this dish.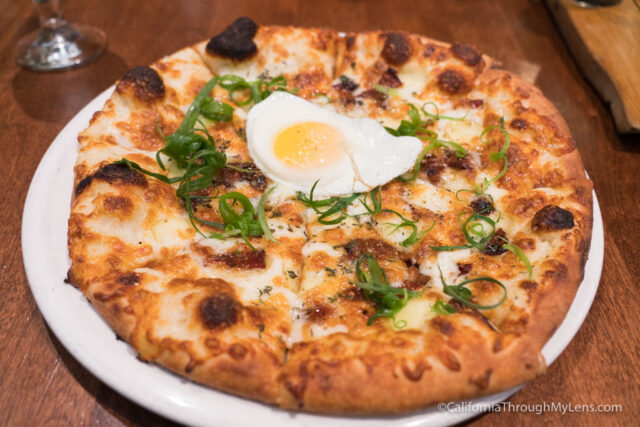 Breakfast Pizza – Served with bacon, cheese, and potatoes on a white sauce pizza with a sunny side up egg on top. It's fantastic to have breakfast for dinner like this, and the pizza is rich and full of flavor. I especially like the way the yoke pairs with the salty bacon and savory cheese. It's a great pizza that you could easily share.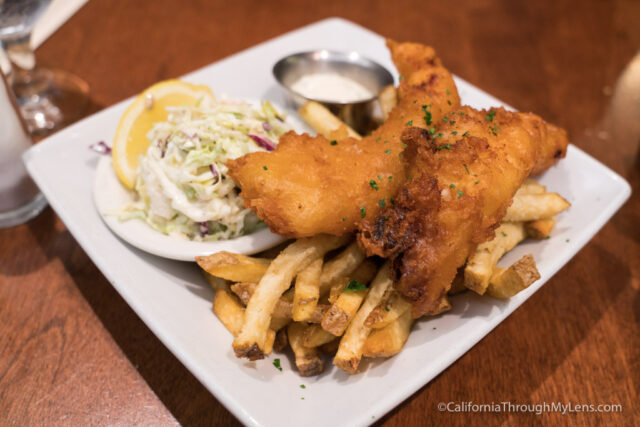 Fish and Chips – The fish and chips is the flagship dish here. Battered, then fried well and served with homemade barrel-aged vinegar. Barrel aging the vinegar gives it a whiskey taste, and it is fantastic. The tartar sauce is creamy and tangy but not too intense, so it's a great addition to the fish. The fries are above average, but nothing too exciting. Even the coleslaw is pretty good, and that is high praise since I don't usually like it.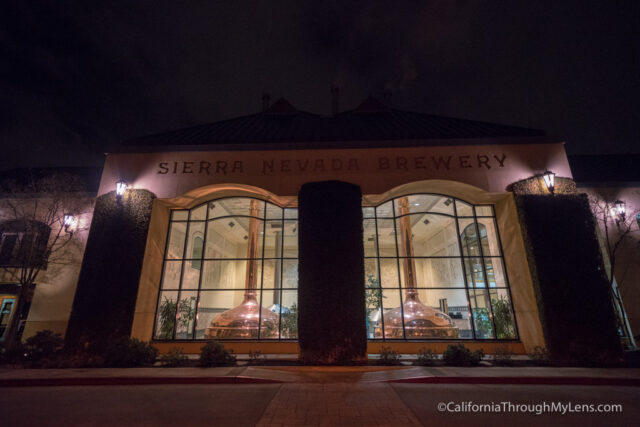 One of the things I noticed from the food to the tour is that there is tremendous attention to detail here with great ingredients and everything being compostable or reused. It seems like the owner really loves what he does, and it comes through in everything about the place. Way better food then you would anticipate, and the proficiency they use to make the beer will make you a fan even if you were not before.
If you are in Chico, you need to go here; it doesn't even matter if you like beer or not, it is just an interesting place to see the history of the industry and have some food. Let me know if you have been in the comments and what you thought.