The Slaw Dogs in Pasadena Review (Closed as of 2018)
The Slaw Dogs is another one of those gems I stumbled upon when browsing restaurants from television shows, and let me say I was happy to have found it. With only a couple years in business, The Slaw Dogs in Pasadena has been able to create an experience that caught the interest of food critiques all around the area by taking a traditional hot dog and allowing you to create an experience from it.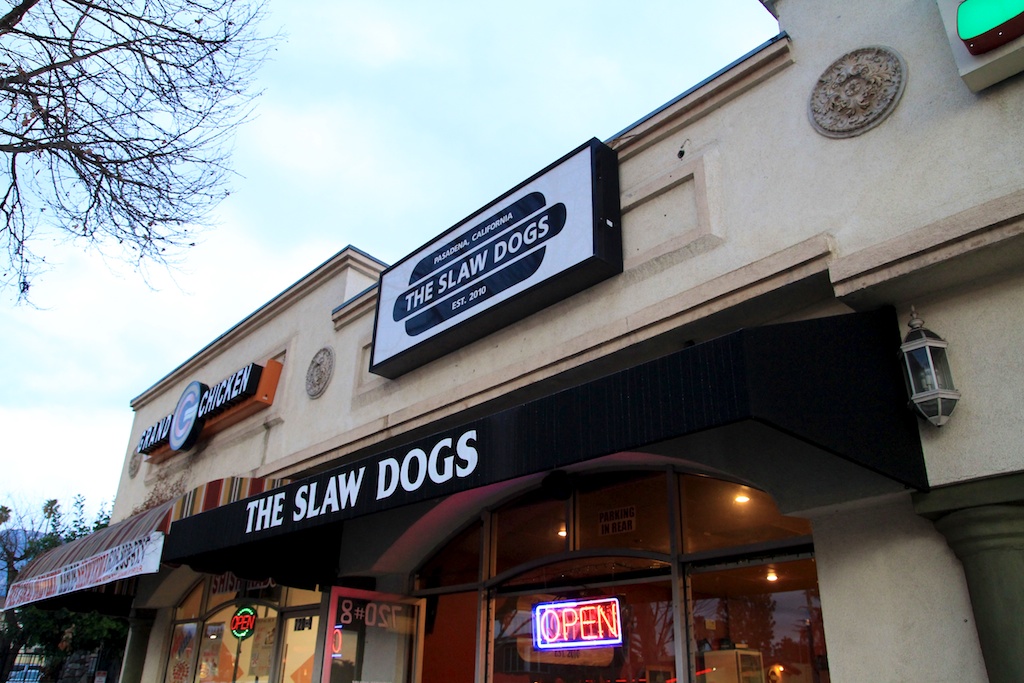 Check out the video below then dive into my review.
https://youtube.com/watch?v=ZliZn54568I
What this small restaurant in Pasadena does is it takes a selection of 11 different hot dogs, provides 60 different toppings, and then tells you to make magic. However, if your brain is exploding from the possibilities, you can always go with one of their pre-created specialties, which is what I did. The main dog that was featured on the show and is known as their specialty is the TNT Superdog, which has to be seen to be believed, but I would describe it as Pink's Three Dog Night on steroids.
TNT Superdog – 12″ ripped dog, chili, cheese, bacon pastrami, fries, grilled onion, wrapped in giant tortilla *fried egg upon request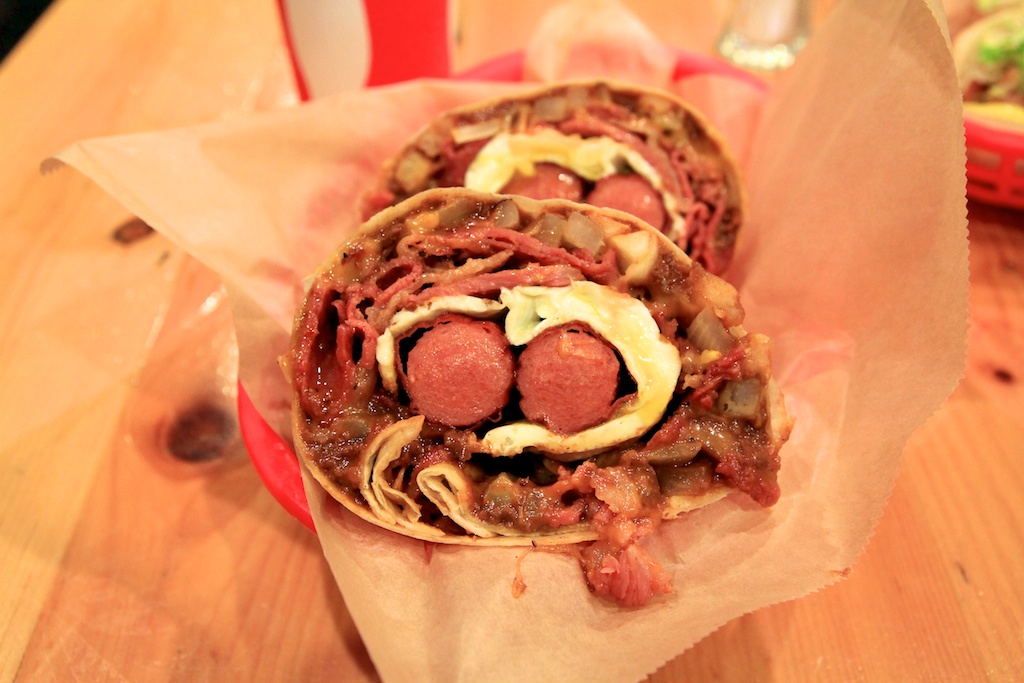 Some of the other standouts were:
Thai Slaw Dog -Chicken Sausage, Spicy peanut-coconut satay dressing, cilantro-carrot slaw, crushed peanuts, sriracha aioli
The Soy Bomb – veggie dog, tofu, shiso ginger-ponzu slaw sesame
Picnic Dog -Grilled, BBQ Sauce, Onion Rings, Potato Salad, Pickle
Caesar Dog – Chicken Sausage, chopped romaine, roast garlic, Parmesan, garlic crouton, Caesar dressing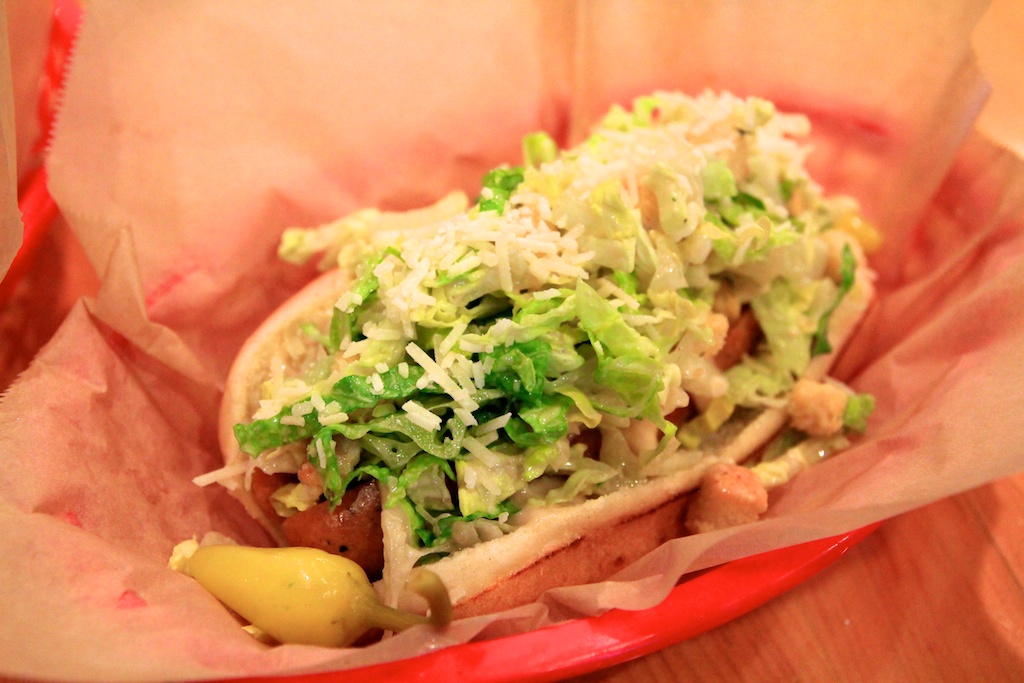 I tried the Caeser Dog as well, and I have to say it was a pretty decent combination of Caesar salad and a hot dog.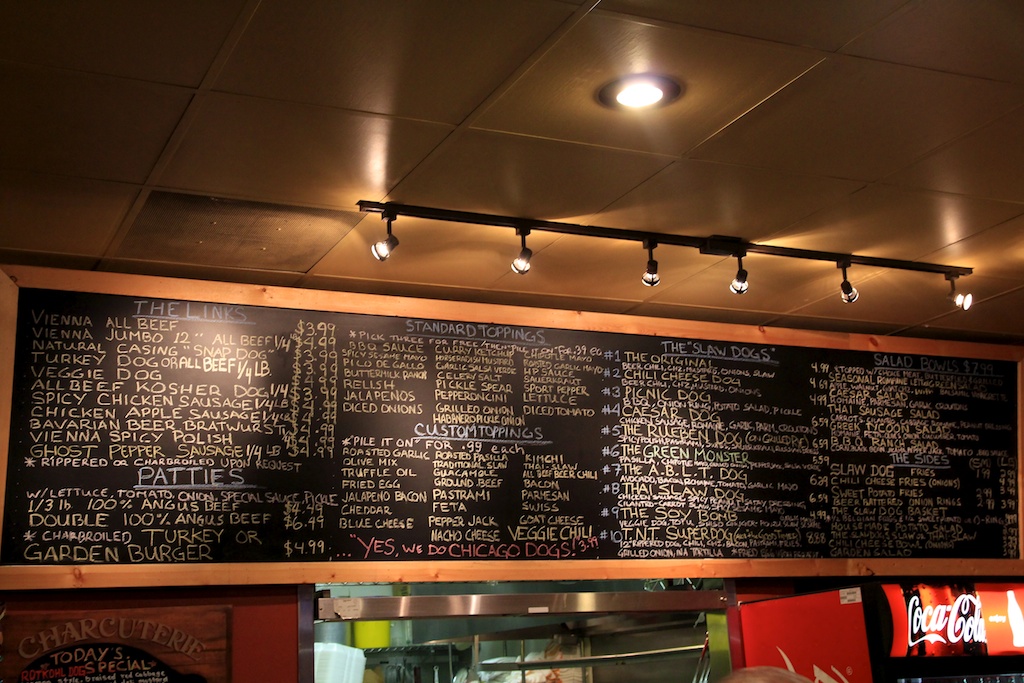 Here is a full listing of the toppings.
Standard Toppings
Sauerkraut, relish, pickle chips, dill pickle spear, sport peppers, jalapenos, pepperoncini, diced tomato, diced onions, grilled onions, bbq sauce, curry ketchup, chipotle mayo, celery salt, spicy sesame mayo, lettuce, horseradish mustard, roast garlic mayo, pico de gallo, garlic salsa verde, habanero pickled onion, hp sauce, ranch dressing
Extra Toppings
guacamole, bacon, jalapeno bacon, pastrami, beer chili, parmesan, cheddar, feta, swiss, bleu, pepper jack, nacho cheese, goat cheese, roasted garlic, kimchi, olive mix, truffle oil, ground beef, roasted pasilla peppers, cole-slaw, Thai-slaw, fried egg
I have to say I will not be getting the TNT superdog again. It was a little too much for me, but I knew that going into it. The Caeser dog was great, though, and I cannot wait to see what they have next time I go there. The special of the day was a mac and cheese dog, and I imagine that is pretty epic as well.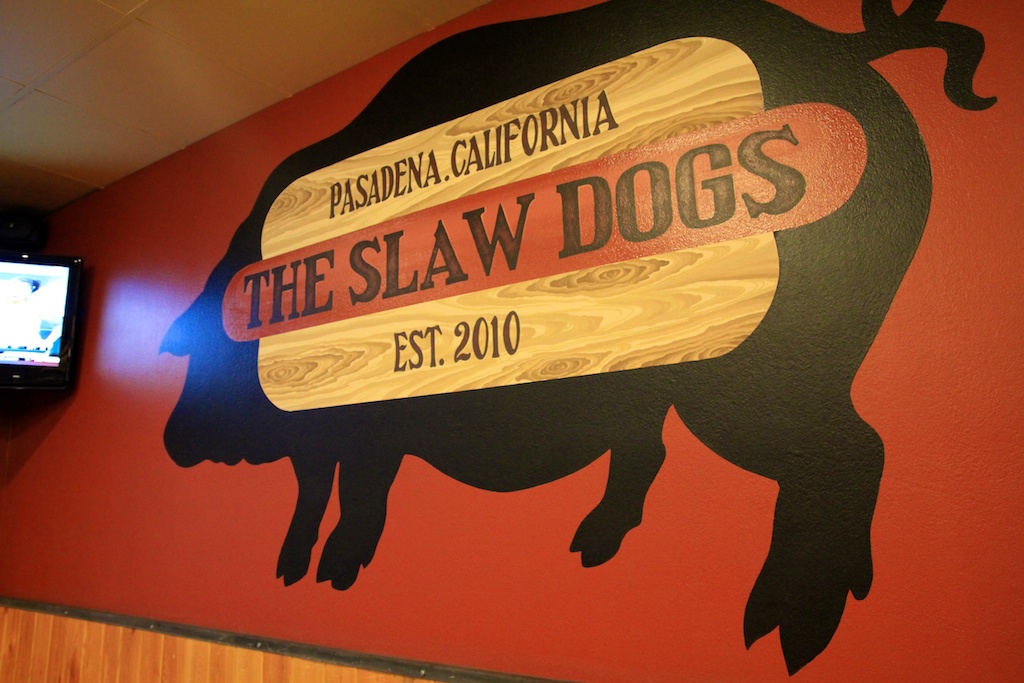 If this sounds like fun to you, I would recommend giving Slaw Dogs a try, the craziness of selection is second to none. Who knows, goat cheese, kimchi, and truffle oil may just be your new favorite hot dog toppings! Make sure to tell me what you got if you make the trek out there.