Tenaja Falls: 150 Foot Tiered Waterfall in Cleveland National Forest
On my quest to document the waterfalls of Southern California, I came across this gem that is pretty hidden from the standard trails and roads that hikers take. Just getting to the trailhead is half the battle, as it includes 5 miles down a one-lane road that is not maintained. If you make it though, you will be greeted with a majestic 150-foot waterfall that cascades over three different tiers before reaching a small pool at the base. Sure it is not Yosemite, but for Southern California, it is a pretty beautiful waterfall. Here is all the information.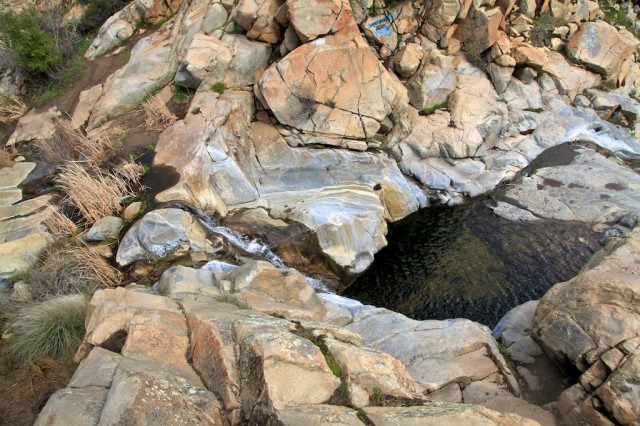 Details
Display adventure pass

5 miles down a poorly maintained one-lane road, would recommend a car with decent clearance but most cars should be able to make it
Only 2 miles round trip with 400 feet of elevation
Need an Adventure Pass for parking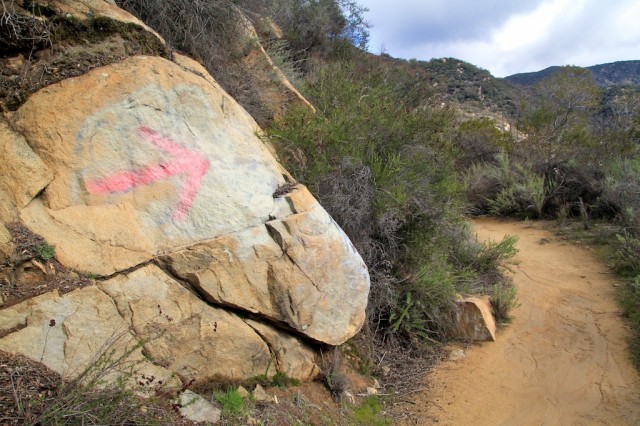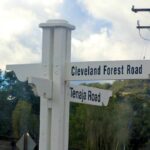 How to get there
If you are heading down the 15 South from Orange County, then you will want to get off on Clinton Keith Road and turn right. After you pass the visitor center for the Santa Rosa Plateau, then you will shortly see Tenaja Road, which you will turn right on. After 9 miles, you will see a turn for Cleveland National Forrest Road. This is the start of your 5 miles on the one-lane road. Right when you get on it, you will see a Tenaja Trailhead, this is not the start unless you want the hike to be over 7 miles each way.
Continue on the one lane road, but be careful as there are a lot of blind curves that you need to go around. After about 4 miles, you will see the trailhead for Fishcamp. From here, you only have a mile left on the road before you see a dirt lot on your left and the start of the trailhead.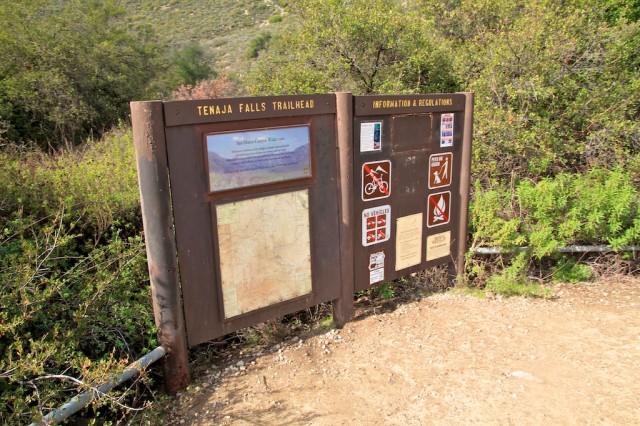 The Hike
When I was here on a spring Saturday morning, there was no one else here. I enjoyed the solitude, but if you do not, then bring a friend cause this hike really is off the beaten path. I saw signs for both poison oak and mountain lions. Luckily I only saw poison oak, but there was a decent amount if you got off the path.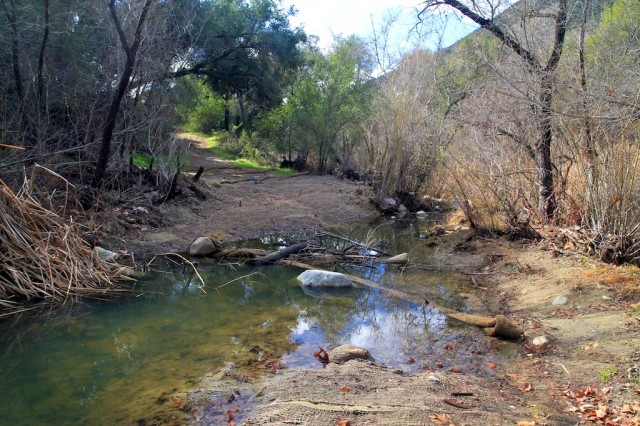 The hike winds through a shaded area before you reach a water crossing. There was an ample amount of rocks, and the water was pretty stagnant, so this was no big deal.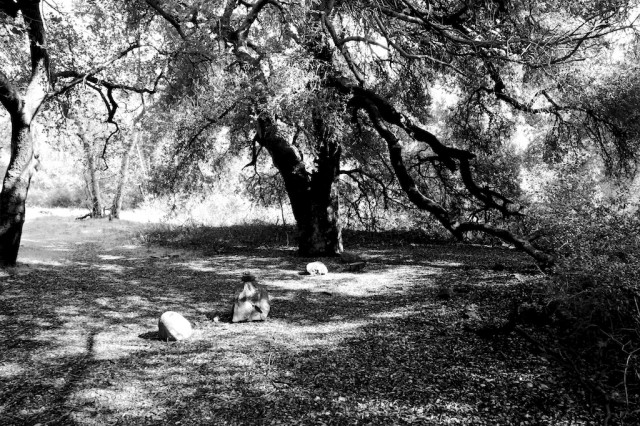 After you cross the water, there is a beautiful shaded grove that you can relax in or continue up to the left to start the elevation gain.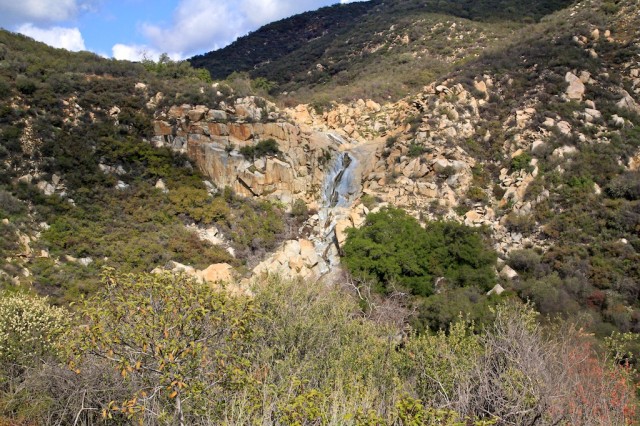 From here, the trail continues to climb up until you reach a turn out about halfway and can see the falls to your right. They are hard to miss as there are a lot cut outs where you can see others have gone off the path to get a good view.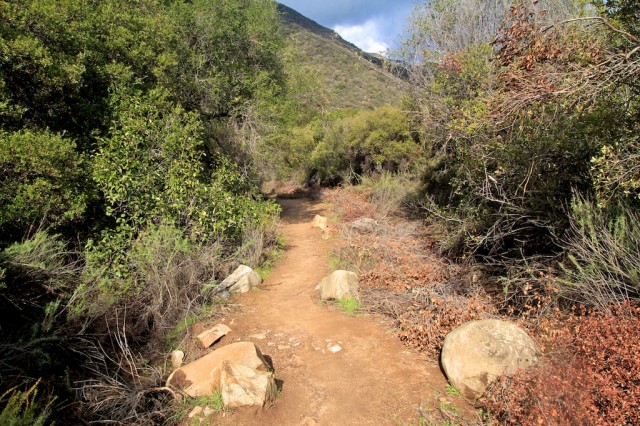 You will continue along this path until you reach where it ends at the top of the falls.
Tenaja Falls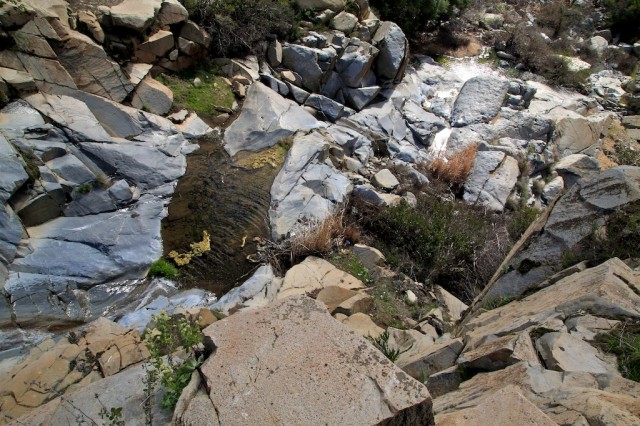 While they don't look huge in the picture, they are decent size when you get to the top, and there is a lot of room to fall far, so be careful if you start to climb down the tiers. I climbed down to the first tier, but there were not an easy way to keep going.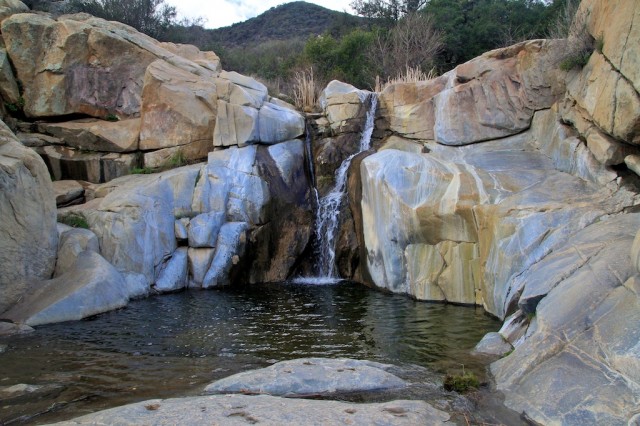 From here, you can pretty much relax and soak in the falls before returning the mile to your car.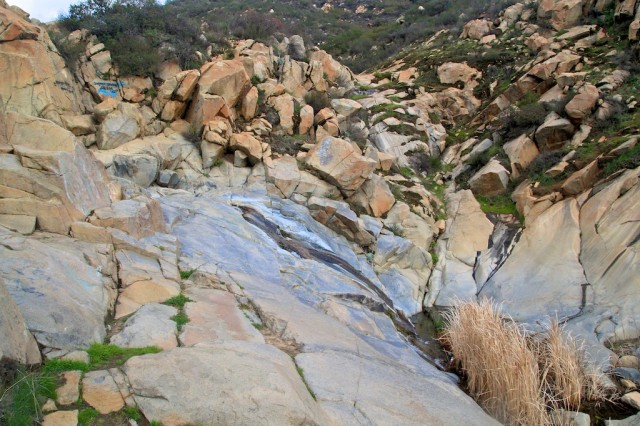 I really did like this waterfall; it was beautiful, and the solitude of being there alone was amazing. Do not underestimate this hike and drive though. I anticipated it taking a lot less time for me to get to the trailhead then it did. I would plan for at least 30 minutes from when you exit the freeway to when you get to the trailhead, so plan your day accordingly. If you are looking for something else to do in the area, I highly recommend Santa Rosa Plateau; it is a beautiful place to relax and explore. Get directions below to the road that takes you to the falls, and feel free to leave me a comment.