Disclosure: This meal was provided free of charge; all opinions are my own.
The Girl and the Fig in Sonoma is one of the most popular eateries in the city, and after going, it is easy to see why. The restaurant has some of the best food I have had in a long time, plus the atmosphere and service make it a fantastic place to have a fancy dinner in Sonoma. Here is all the information so you can check it out yourself, but make sure to get reservations before you come if it's a weekend.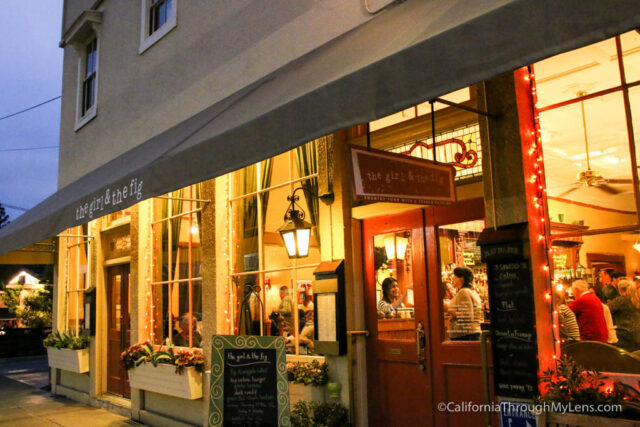 Details
Cost: $15 – $30
Location: Sonoma Hotel, 110 W Spain St, Sonoma, CA 95476
This information is from my visit in 2016
Getting There
The Girl and the Fig is located in the northwest corner of the city, right across the street from El Dorado Cafe. There is street parking all over, so if you drive around, you should find something.
The Restaurant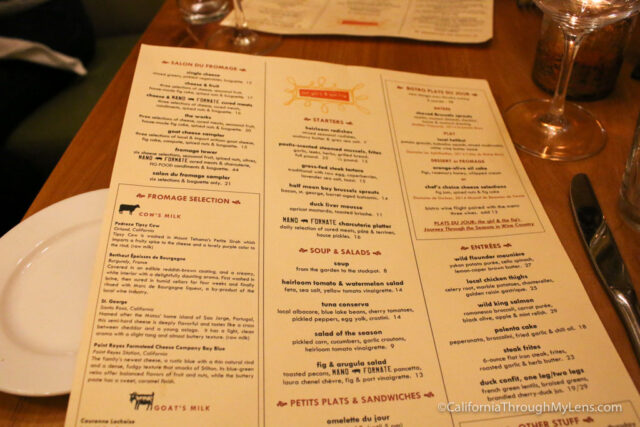 The Girl and the Fig is a French-style restaurant with a small two-room dining area and a large bar in the main room. The tables are close together, but it makes for a fun atmosphere. We got a chance to interact with the couple next to us, and it was a nice dining experience.
The front area with the bar also has lots of fig related things to sample, everything from fig salt and lotions to green olives. After sitting down, my wife and I looked over the extensive menu with lots of appetizers, entrees, and drinks. Our waiter Mauricio was fantastic, he came over and gave us a tour of the menu, which was helpful as he suggested lots of different things I wouldn't have thought to try before. Here is what we ordered.
The Food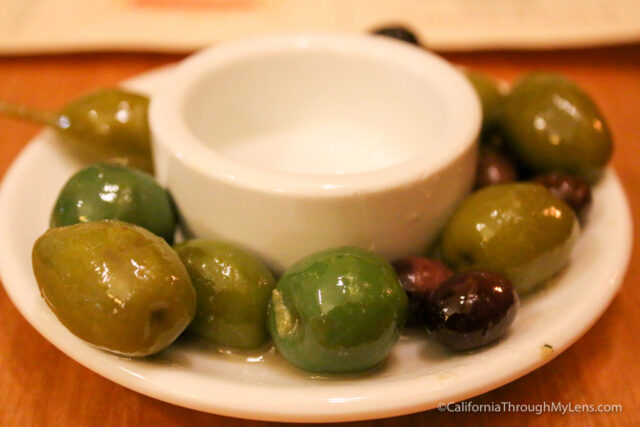 Olives and bread come out with each meal. I am not usually a fan of green olives, but I found a few of the varieties here to be pretty good.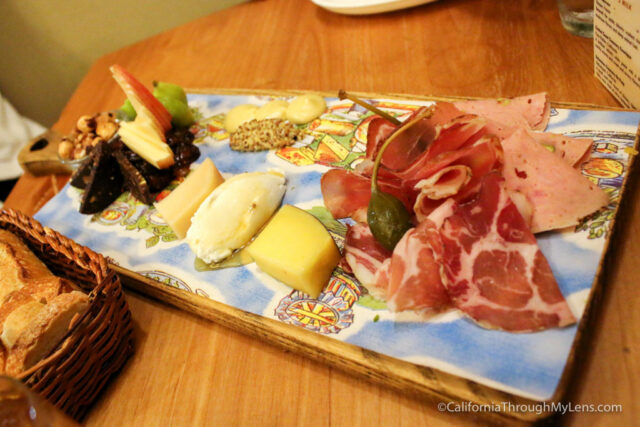 The Works – For an appetizer, we got The Works, which was an excellent way to start the meal with two people. It comes with three types of meat, three kinds of cheese, bread, fruit, and nuts. It doesn't seem like a lot of food, but it is, and it was fantastic. There are so many unique combinations you can put together that it makes it an easy recommendation, and I was told it is the flagship dish for the restaurant.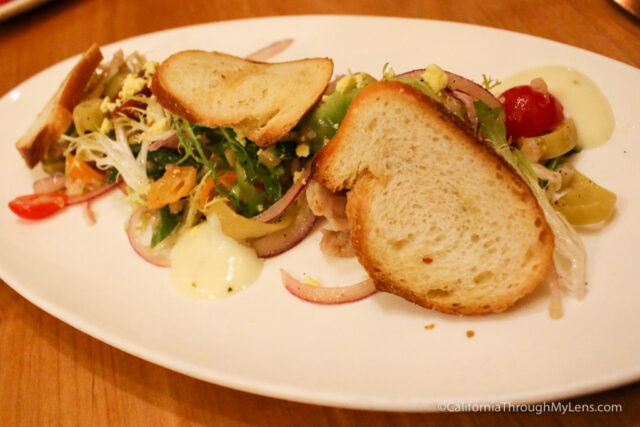 Tuna Conserva – It's hard to describe this dish, but it's excellent. The flavors of the tuna, the sauce, and the tomatoes all go together so well. The tuna was lightly cooked, and it melted in your mouth. It was one of the best things I had in my entire meal.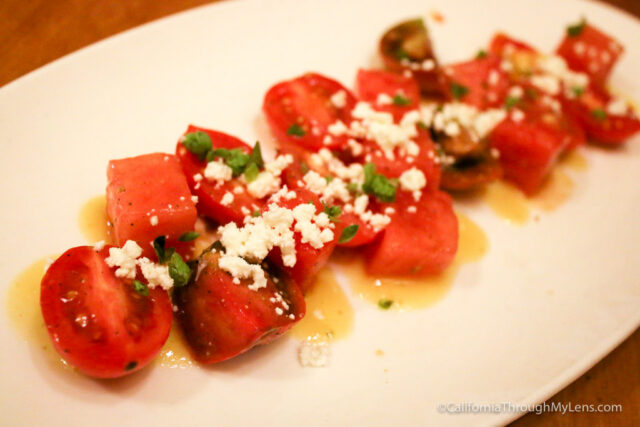 Heirloom Tomato & Watermelon Salad – This dish is a fresh summer appetizer that is flavorful and easy to eat. The dish was well portioned and is just enough to leave you wanting more without making you feel full.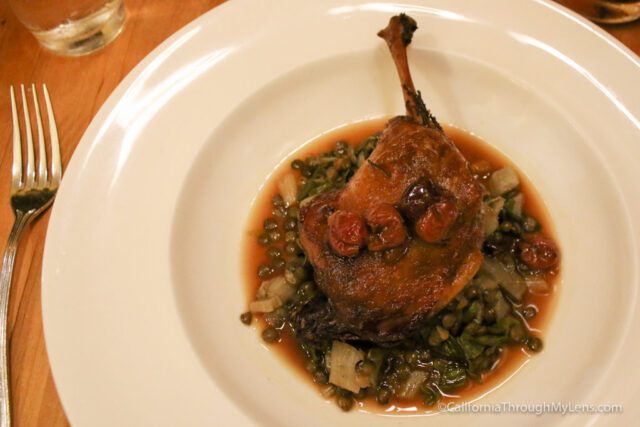 Duck Confit – I wasn't sure about this, but the waiter suggested it, so I gave it a go. It was mind-blowing. The duck is served with a sweet sauce, and it falls off the bone. It is a must-order, and I wish I would have gotten two legs instead of one. It was served with a braised collard greens type side that was an excellent addition to the dish.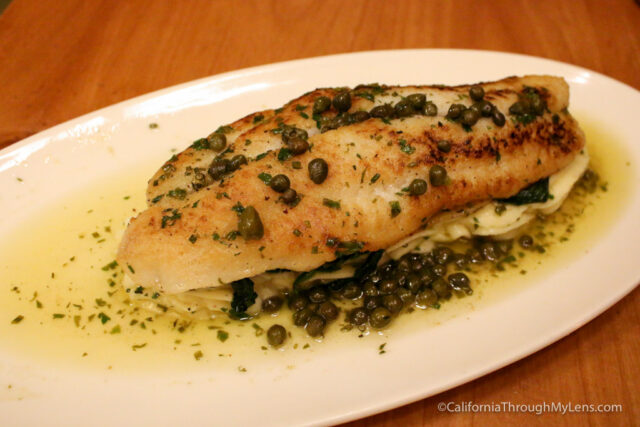 Wild Flounder Meunière – Light and buttery, this fish is the most popular entree at the restaurant, and it is easy to see why. It was served with a buttery sauce, and the fish was fresh and cooked perfectly. The lemon added a nice touch to the fish, and salty capers took it over the edge. Served on a bed of spinach and mashed potatoes, it was decadent goodness. It's a ton of food too with the mashed potatoes and especially if you got the cheese plate as we did.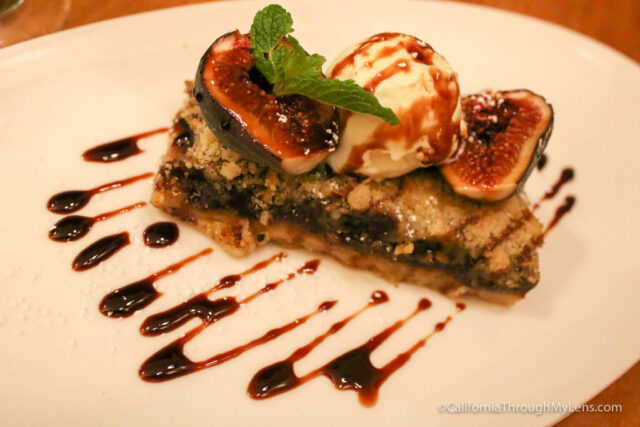 Warm Fig Bar – If it's fig season when you go, then this is what you must order. It's like a fancy fig newton times 100. The crumbly top and the cream cheese ice cream go perfectly with the warm filling. I wish I could have eaten it twice.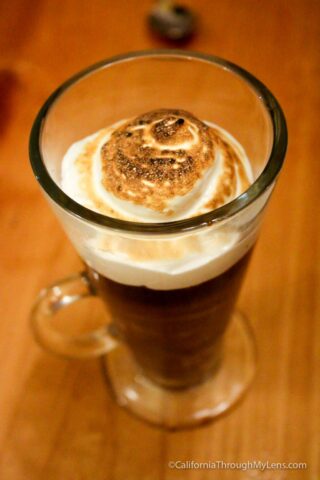 Chocolate & Salted Fig Caramel Trifle – A delicious dessert with decadent chocolate and caramel. If you are in the mood for a rich dessert, then get this. If you want something lighter, then go with the fig bar, which is my personal choice.
After over 2 hours, we found ourselves leaving this fantastic restaurant. Our night out at The Girl and the Fig was one of the best nights my wife and I had in Sonoma. If you are visiting the area and like good food, you must give The Girl and the Fig a try.