Update Dec 2014 – The thermometer is now working and there is a full gift shop below it. You can still read my original post on this spot at the end of this post.
When I made my way to Baker a few months ago I was surprised to see that the thermometer is now working again, here is all the information on it and the gift shop below it.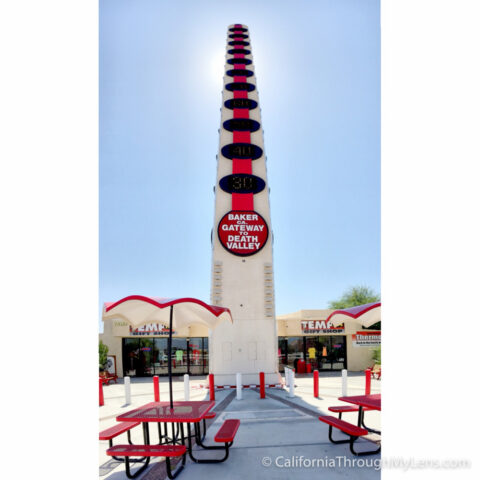 When you arrive at the thermometer you will notice there is now a small parking lot where you can park to see this massive site. As you walk up to the thermometer the first thing you will notice is the exhibit on how it needs to be to fry an egg. I thought this was fantastic as you always hear the saying "it is hot enough to fry an egg on the sidewalk," only now I know how hot it needs to be to do that.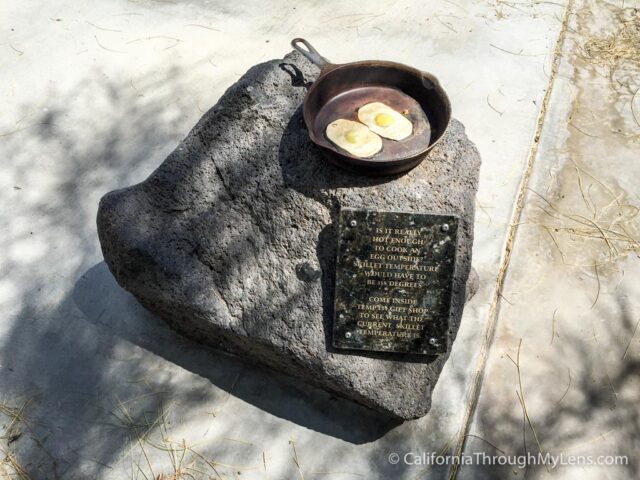 Inside there is more information the egg frying, as well as how hot it actually is in the pan.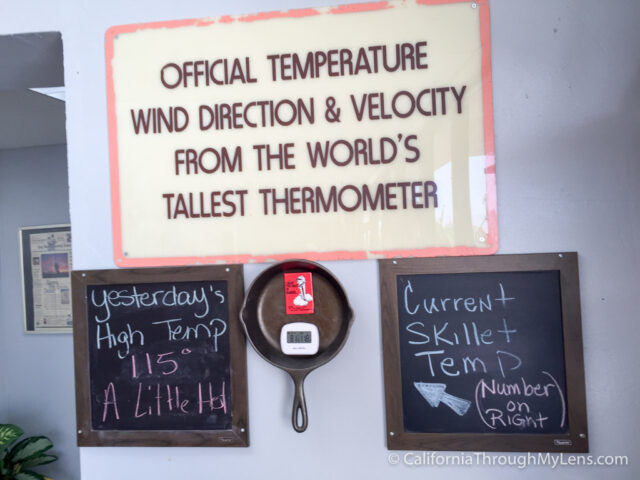 The interior it pretty much what you would expect for a gift shop next to a massive thermometer. There are a lot of novelty trinkets and clothes you can purchase at prices you would expect to find. I did think it was cool that they sold actual lights from the first thermometer here as it is fun to own pieces of history like that.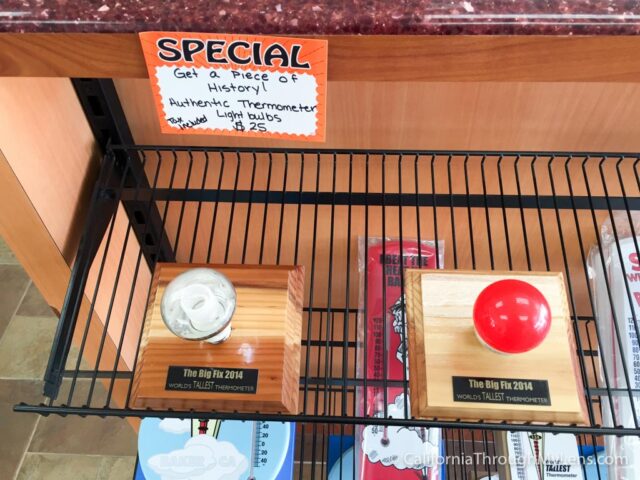 Also, there is a lot of history on both how the thermometer came to be and of course how it came to be reopened again.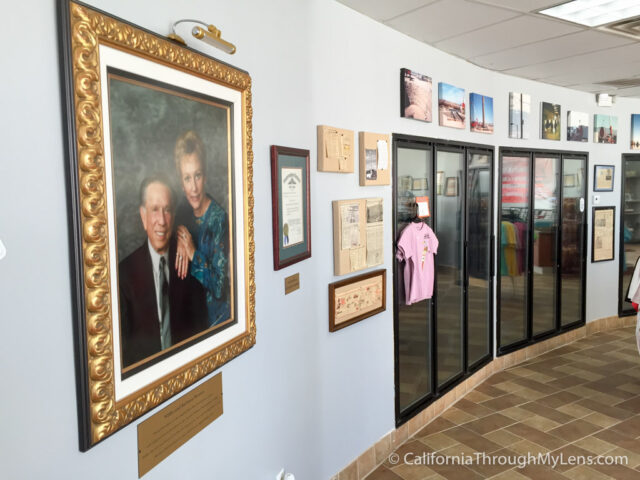 I for one am appreciative of the work that went into fixing this fun piece of history. I have always liked seeing it when driving through the desert to Vegas and it is great to see it actually working now. This is a fun stop for the whole family as it has a few unique exhibits as well as a few benches and tables that you can sit and relax at. You can read about more fun stops in the small town of Baker here.
Original Post from 2013
Created over 20 years ago by the Young Electric Sign Company, the World's Largest Thermometer is proudly located in the great state of California, in the small town of Baker. This town, known mainly as one of the few stops on the way to Vegas, has created this relic as a tribute to the record 134 degrees that was recorded in Death Valley in 1913. Since this is the highest temperature ever recorded in North America, it seems fitting that it would be in a town that prides itself as the gateway to Death Valley.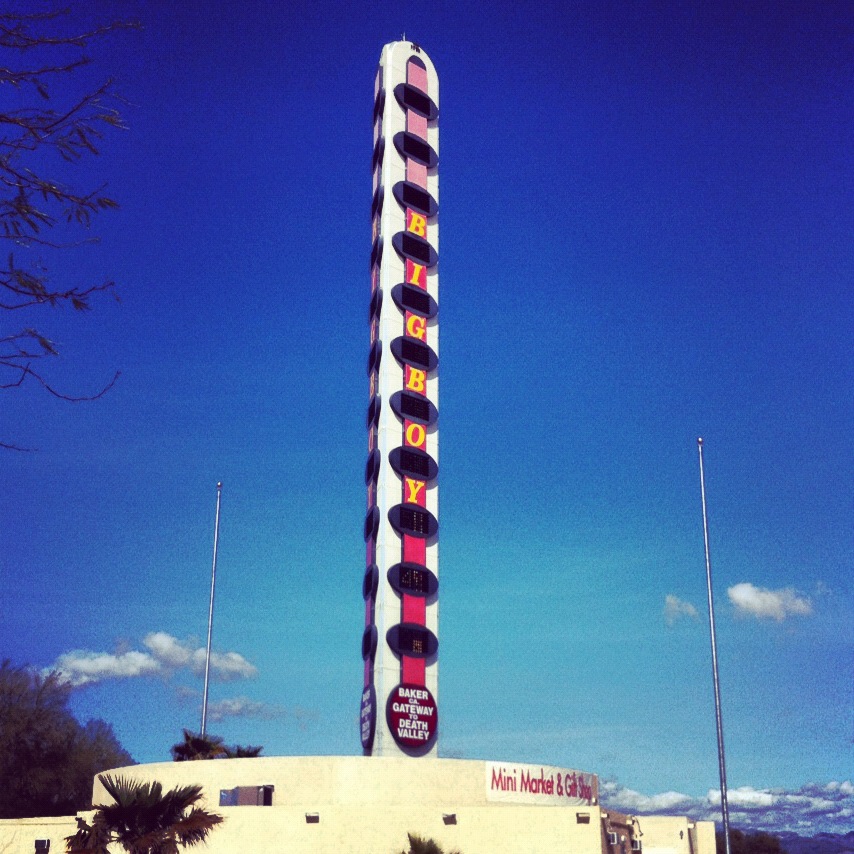 The temperature itself tops out at 134 as you would expect and it is more an electric sign then it is an actual thermometer. Some interesting stats on the sign are that it is 78,612 pounds, 134 feet tall and costs around 40,000 a year in maintenance fees.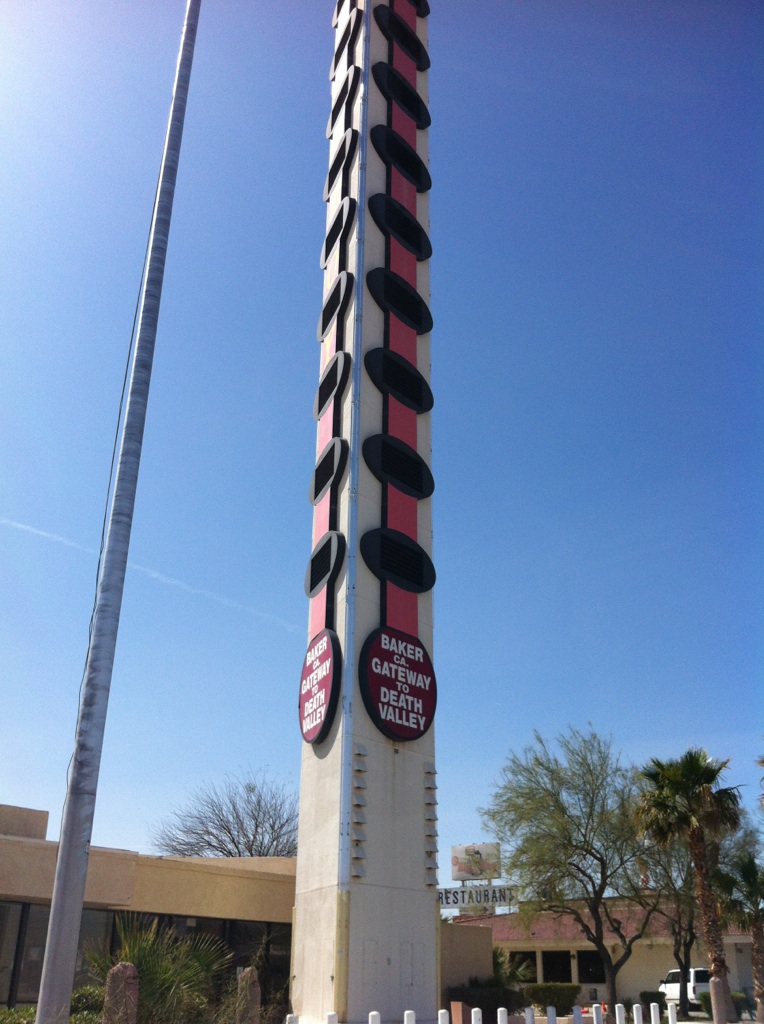 With all of this being said, the thermometer is not actually working anymore. It was once a popular destination housed next to the Bob's Big Boy, but ever since that went out of business the thermometer stopped working as well. It actually feels like a ghost town around the Bob's Big Boy and the only people there with me was another bus of tourists stopping to look as well.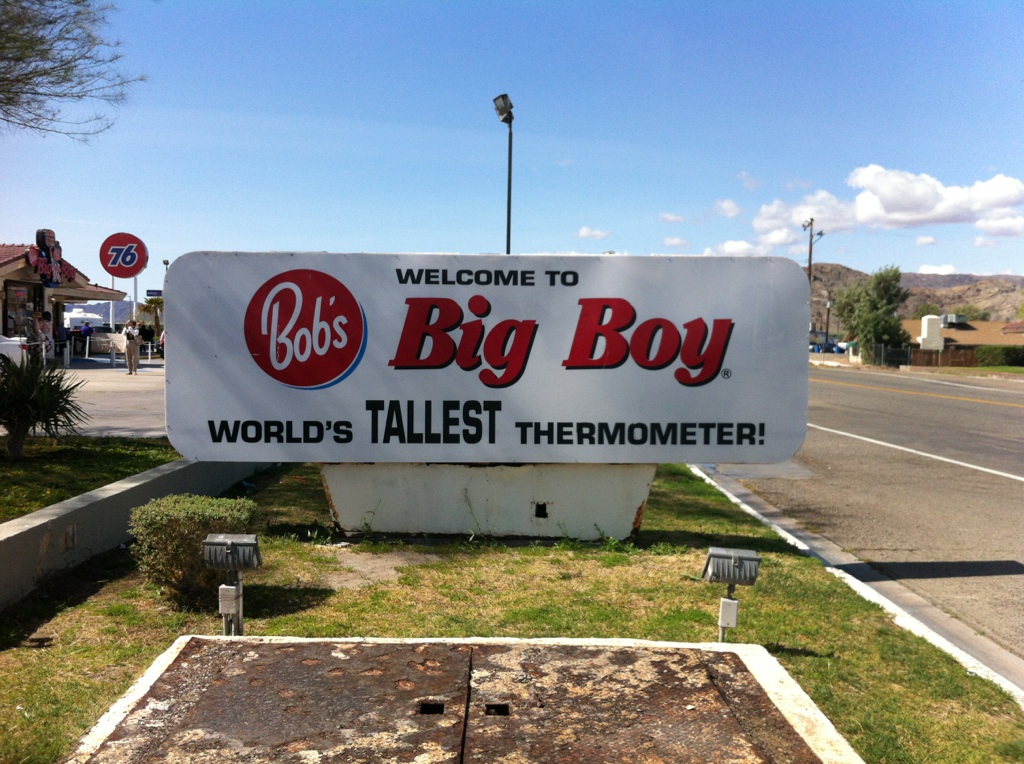 Even so, you can still check it out if you are driving through to Vegas, it makes for a good picture. Who knows, it my even be turned back on in the near future.
Get Directions