Ziplines at Pacific Crest: Southern California's Premier Zipline Tour
This is a sponsored post written by me on behalf of Ziplines at Pacific Crest. All opinions are 100% mine.
When you think of ziplining over the trees, you often think of tropical locations and not Southern California; however, only 70 miles east of Los Angeles, in the town of Wrightwood, Ziplines at Pacific Crest is changing that. Part zipline tour, part adventure course, Ziplines at Pacific Crest is an excellent escape from the city with two different tours that are sure to get your blood pumping. We set out the Canopy Tour and had a blast flying through the trees on the nine zips, two rappels and a few sky bridges. Here is all the information if you want to check it out yourself.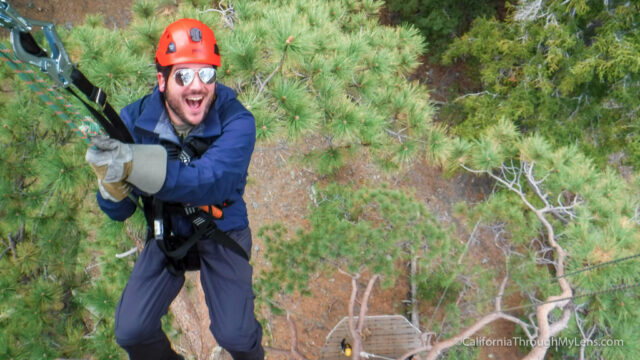 Details
Getting There
From Los Angeles, you will head out like you are going to Las Vegas, connecting with the 15 Freeway up through the Cajon Pass. Instead of continuing to the high desert though, you will get off on Highway 138 and make your way to Highway 2. From here you can head into the town of Wrightwood and over to the office for Ziplines at Pacific Crest.
Video
Here is a video I made about the adventure.
The Tour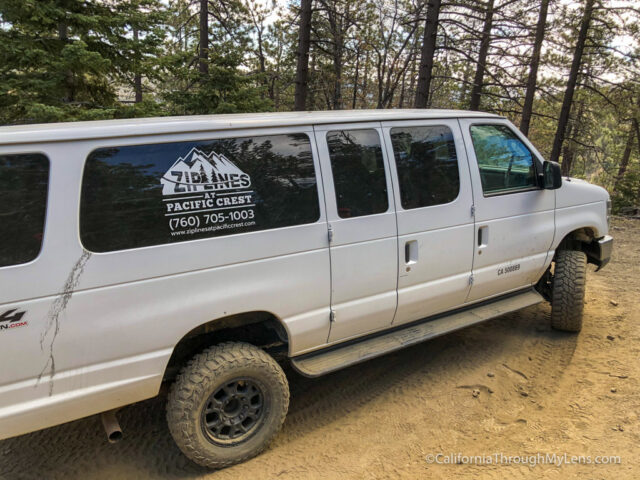 We got there 20 minutes before our 9 AM tour, got checked in, signed the waivers, used the restroom (you can't use the bathroom once the tour starts), and got into our gear.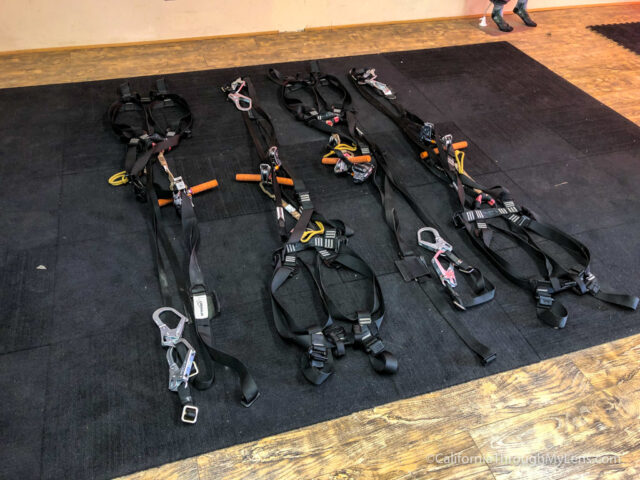 Our guides walked us through the gear and all of the safety precautions before getting into the van for the 15-minute ride to the start of the trail. It was a bumpy ride, and it was a fun way to start our adventure.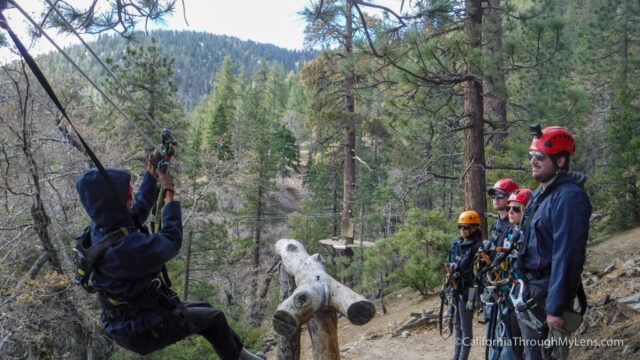 The tour begins with training school, which was three zips and a short rappel. This area is designed to get you situated with what the course will require of you, including braking, since you do that yourself (it is straightforward though).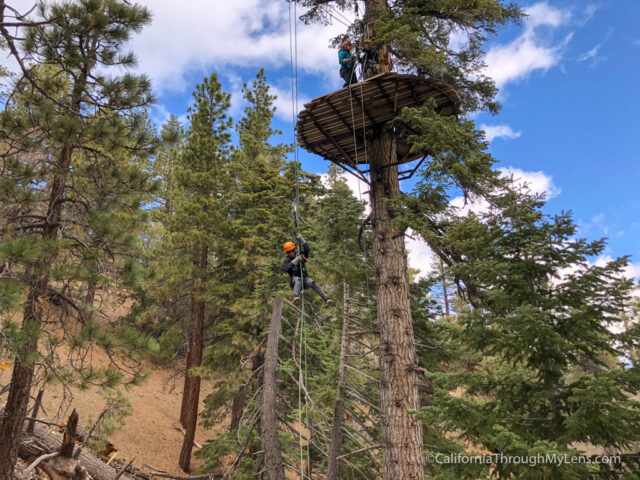 After the three short intro zips, you will rappel from the last platform down to the ground below you. I found this to be a little nerve racking but ended up enjoying it as soon as I started rappelling down.
This rappel is the end of the training area and a natural place to leave the tour if you find it to be too stressful (push on if you can though as it is a blast).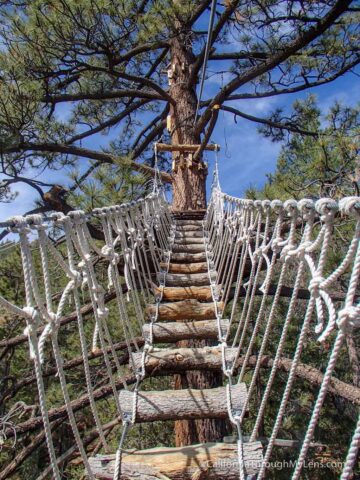 From there we got to take a sky bridge up to the next platform which was a fun adventure, made more fun by our excellent guides (Timber and Emily) who took photos of us, made jokes and told us all about the area during any downtime. They were both fantastic, so if you get on a tour with them, you will have a great time.
The zips were much more fun in the middle of the course as they start getting longer and you start going faster as well. It is crazy to be so high up soaring above the trees at heights over 300 feet, and it is a total rush.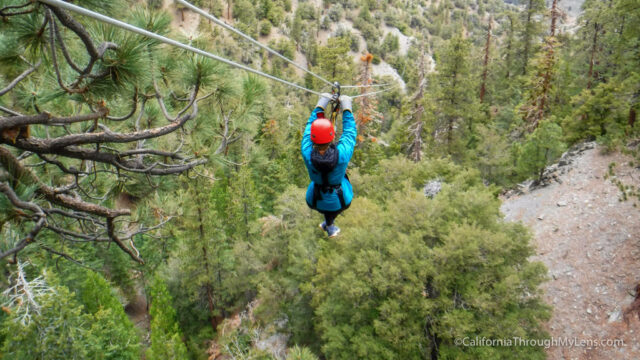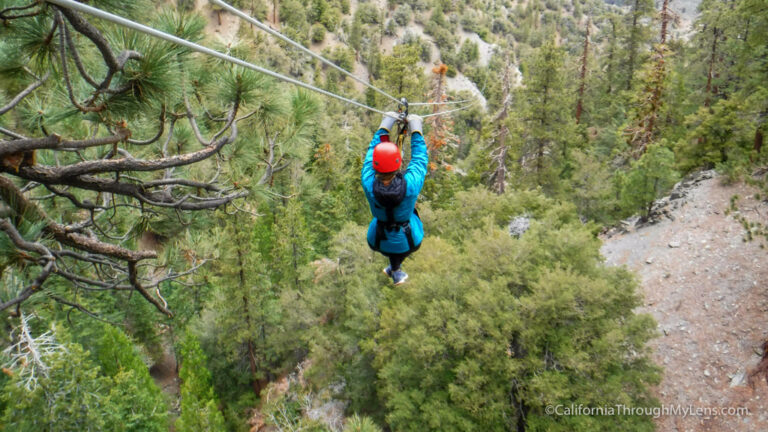 We then had another rappel (90 feet from one platform to the next) and a few sky bridges (which were scary for a couple of group members, but which I enjoyed) before we got to the most fun zipline on the course.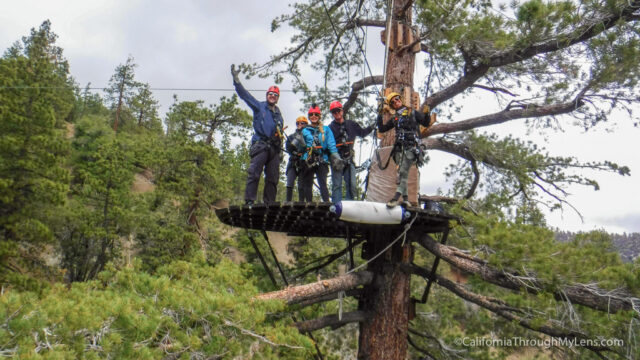 This second to last zipline is over 1500 feet long, and you reach speeds of up to 55 mph while doing it. I can't exaggerate how awesome it is to be going that fast and to have the time to look around and see the area. Just this zip alone made the course worth it.
To top it all off though, on the last zip of the day you get a chance to race your friend. This was a blast, and it was a great way to finish the course as you didn't have to break on this zipline and could go as fast as you wanted.
After it was all over, we got shuttled back down to the office and ended our zipline tour. All four of us had a total blast and couldn't stop talking about it on the way home. If you are looking for a fun ziplining adventure in Southern California, check it out.