The Racetrack: The Sliding Rocks of Death Valley
One of the most unusual places to visit in all of Death Valley is located 27 miles down a dirt road, only accessible via an all-day adventure in a four wheel drive car. This place is known as The Racetrack, but most people will know it by its photos of rocks that seemingly move all by themselves across this dry, desolate lake bed. It was a must visit for us on our recent trip and is worth seeing for anyone that finds themselves in Death Valley. It is truly unique and is a relatively undisturbed natural attraction due to the difficulty and planning it takes to get yourself out there. Read on for history and photos of this unique place.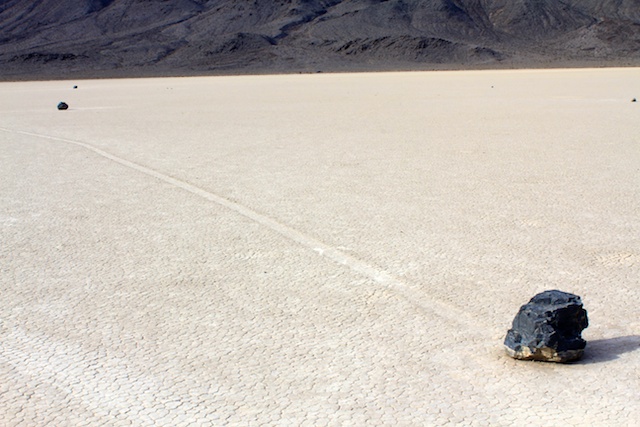 History and Possible Explanation
"The sailing stones are a geological phenomenon found in the Racetrack. The stones slowly move across the surface of the playa, leaving a track as they go, without human or animal intervention. They have never been seen or filmed in motion. Racetrack stones only move once every two or three years, and most tracks last for three or four years. Stones with rough bottoms leave straight striated tracks while those with smooth bottoms wander. Stones sometimes turn over, exposing another edge to the ground and leaving a different-sized track in the stone's wake."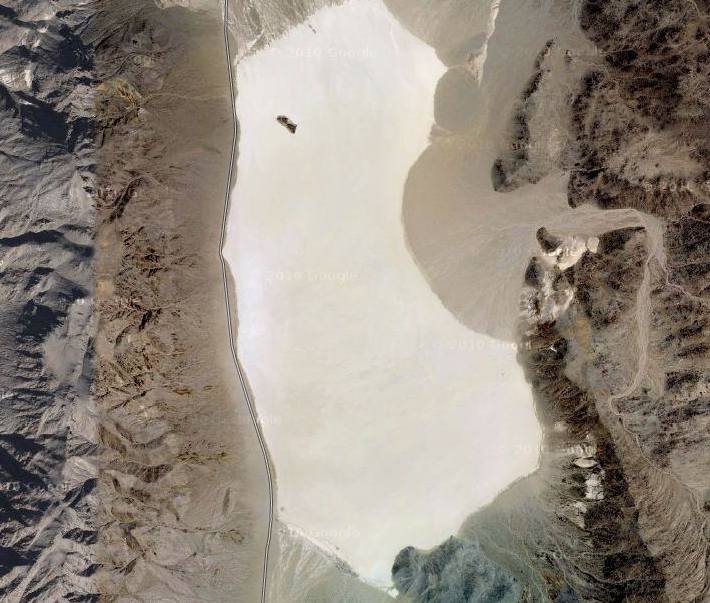 Getting There
Getting to the Racetrack is an all-day adventure during the winter months when it gets dark early. The Racetrack road is located about 50 miles north of Furnace Creek, and then from there, it is about 27 miles down a dirt road where your speed will rarely ever reach more than 25 MPH. The road is not overly bad; however it is washboard almost the entire time and jumbles you around as you drive on it. Most people say to plan on an hour and a half drive on this dirt road, but we did it in a little over an hour. Make sure you have a car that is four-wheel drive or at least elevated. If you don't, you can always rent one from Farabee's Jeep Rentals, which is what we did.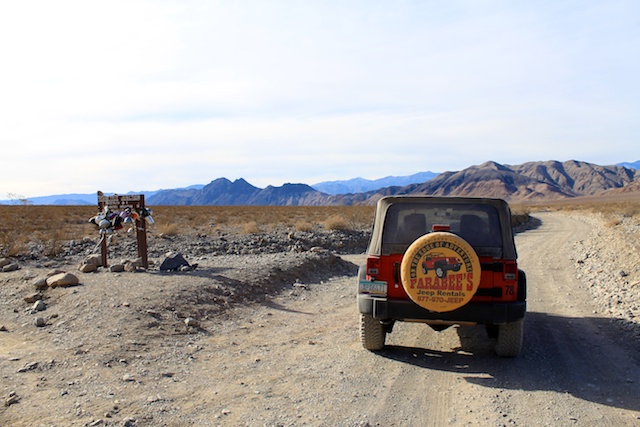 After about 20 miles, you will reach Teakettle Junction, which means you are about 6 miles from the Racetrack, and this is also the place you turn off to get to Lost Burrow Mine. About a mile later, you should start to see the playa in the distance as it stands out from the other terrain like a sore thumb. You also will immediately notice the Grandstand, which is the black rocks jutting out of the dry lake bed.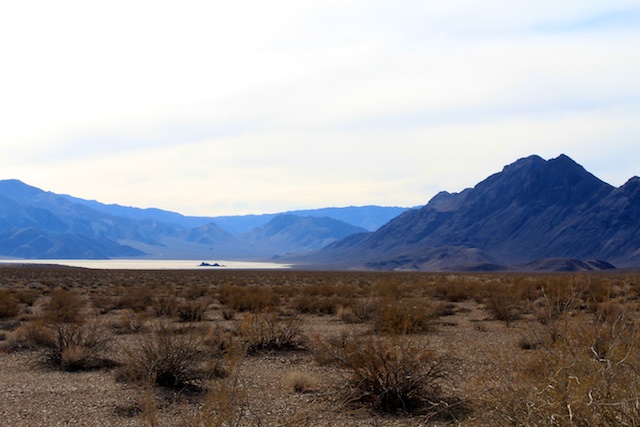 The Grandstand
The other unique attraction here is the Grandstand. This small outcropping of rocks blatantly sticks out in the landscape of the dry lake bed. It is in the north part and is about a quarter of a mile walk from where you park. This area is unique as well and is about 65 feet high. You can see the Grandstand from very far away as it is so different than all of the surrounding landscape. Climbing up on it is a great way to get 360-degree pictures of the Playa and the Racetrack.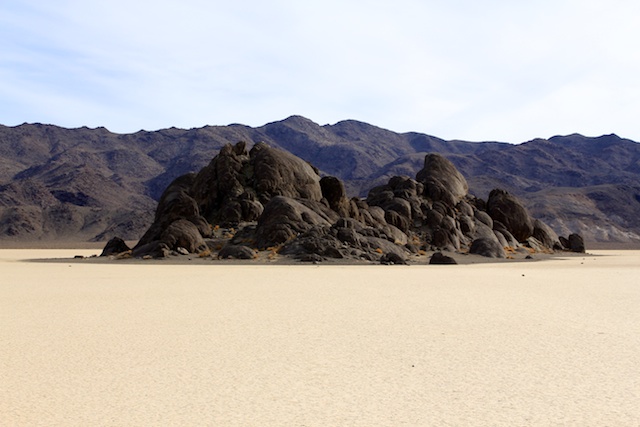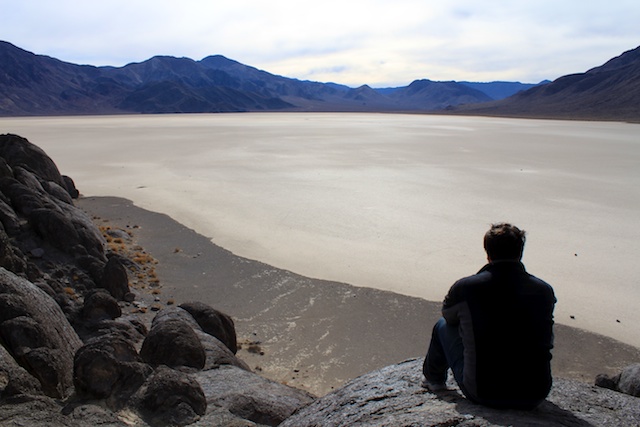 Here is a video of the Grandstand
The Racetrack Playa
After that, we went immediately to the Racetrack as we didn't want any other people in our shots, and we were utterly alone. In retrospect, we only saw like three other cars all day, so I don't think you have to worry about other people as it is so off the beaten path. To see the rocks with the tracks you need to head to the southeast end of the playa. There is a little place to park with a sign about the rocks, and this is where you will start your walk.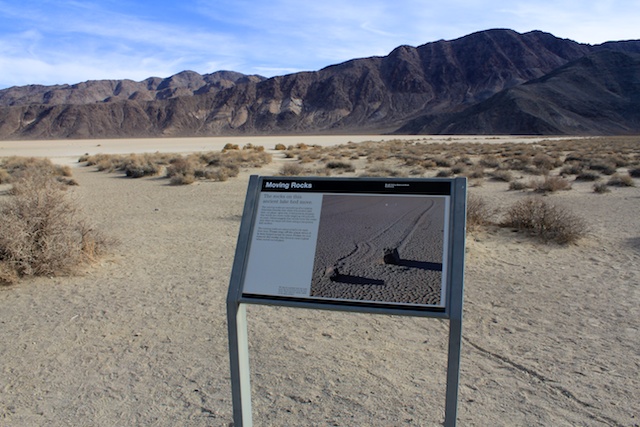 It is about a half-mile from where you park to where the rocks are, and as you start to get closer, you will see them. Plan to spend at least an hour here as there are many different rocks to all shapes and sizes, as well as many different shaped paths. You will want to keep looking around. Also, if the ground is at all wet, which is rarely is in Death Vally, you want to make sure you do not walk on the Playa as it can leave you footprints for years to come. Check out my pictures below.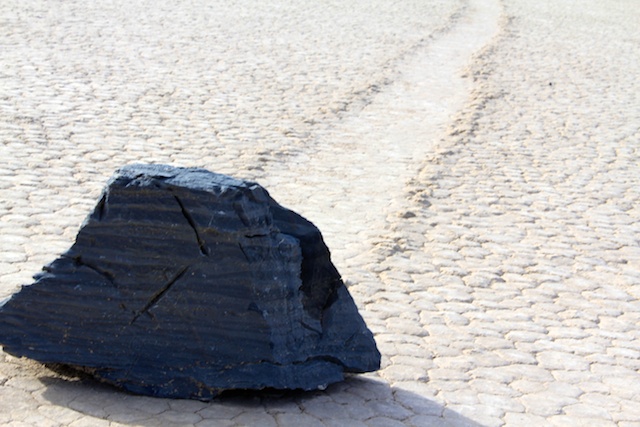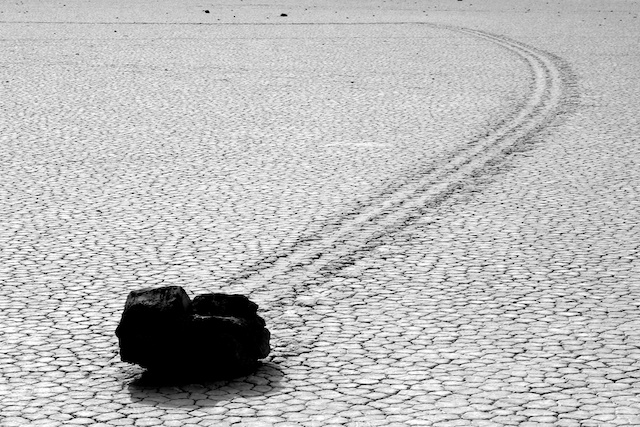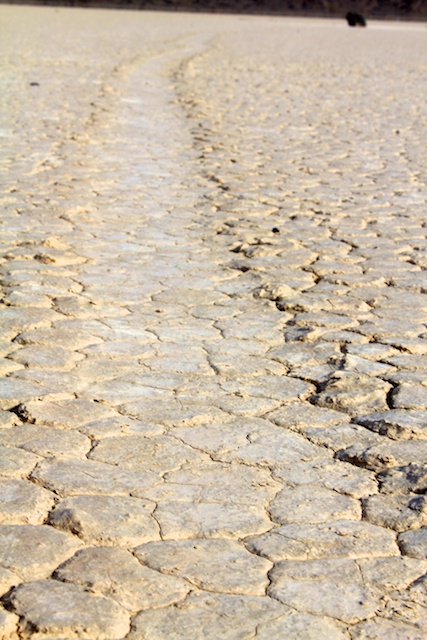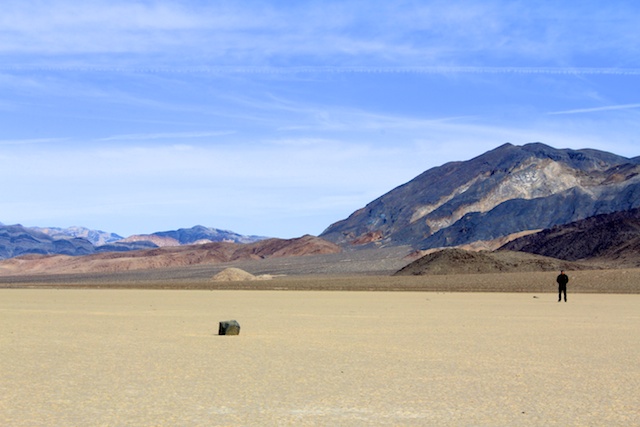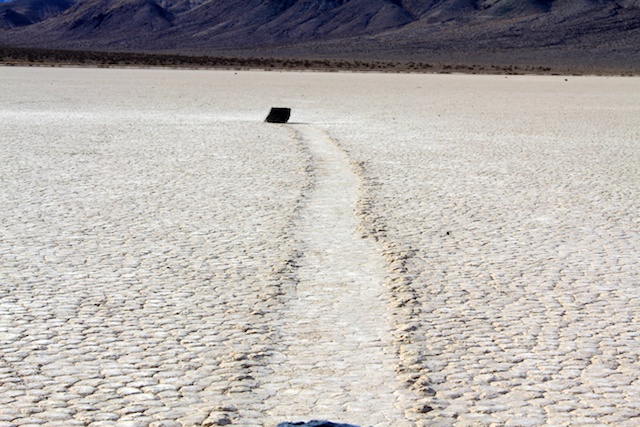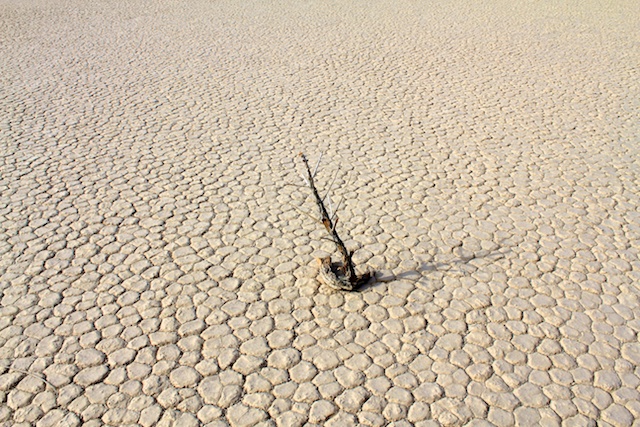 Here is a video showing the Racetrack
All in all, this was one of my favorite parts of our weekend in Death Valley. For the photographer, it is especially fun as it is so unique and provides beautiful photos. Even Amie enjoyed walking around and taking it in, though, so I would recommend you find a way to visit it if you are planning a trip to Death Valley.
Let me know what you think and get directions below.