Allegretto Vineyard Resort in Paso Robles
Having only opened a month before my visit, I was impressed by how beautiful the Allegretto Vineyard Resort in Paso Robles really was. This hotel exudes European style and architecture with its spectacular staircase in the lobby to its large central courtyard; it is one of the prettiest hotels I have been to in a while. While I didn't stay here, I got a chance to tour the property and eat at the restaurant, here is all the information.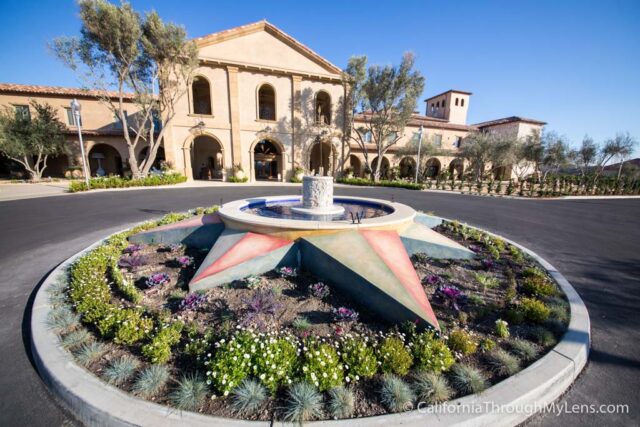 Details
Location: 2700 Buena Vista Dr, Paso Robles, CA 93446
Information from my visit in 2016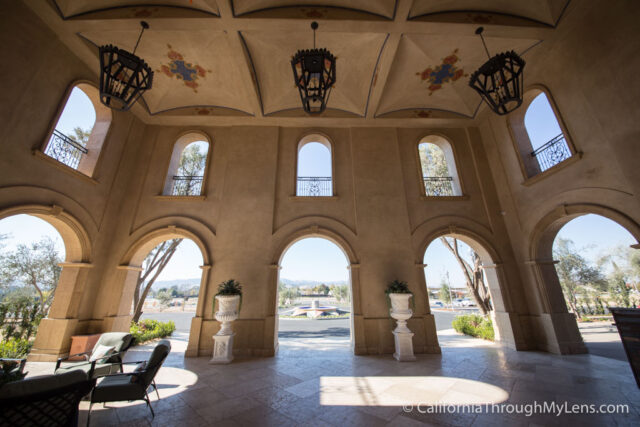 From the moment you walk through the large patio and into the beautiful lobby, you will feel as if you have left Paso Robles and entered another world altogether. The design has a range of earth tones, stone, and marble which is very relaxing and peaceful.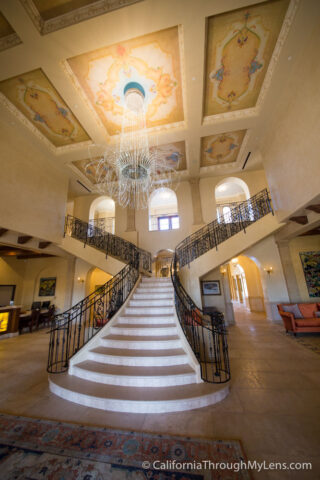 The lobby even has a slice of an old Sequoia Tree that lets you get up close and see how big these trees indeed are.
From the lobby, you can enter the courtyard, which is one of the most impressive parts of the hotel. The courtyard is gigantic with lots of areas to hang out, some even by fireplaces for cool nights.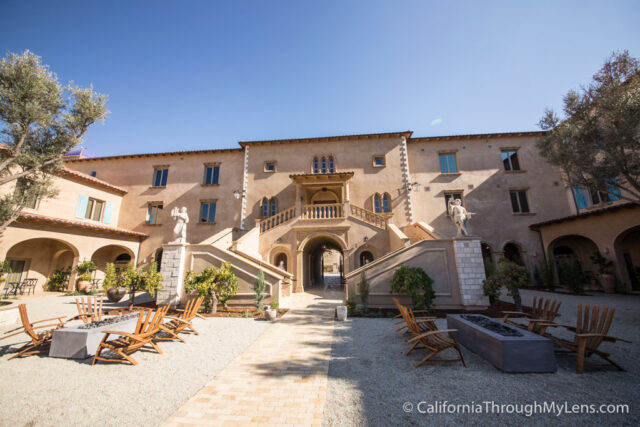 The art in the courtyard has all be commissioned and brought in from Europe to match the style they are looking to create. This was my favorite piece as it was carved out of an old wooden stump.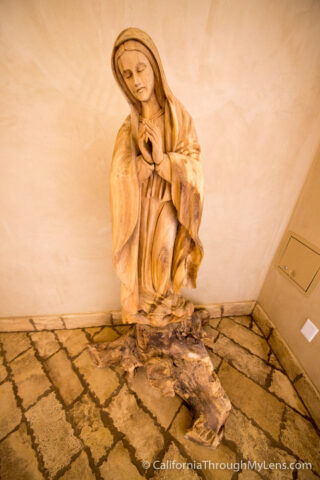 After exiting the courtyard through the attached brick tunnel, you will reach the back of the property where the pool is located and which leads to the patios of many of the downstairs rooms.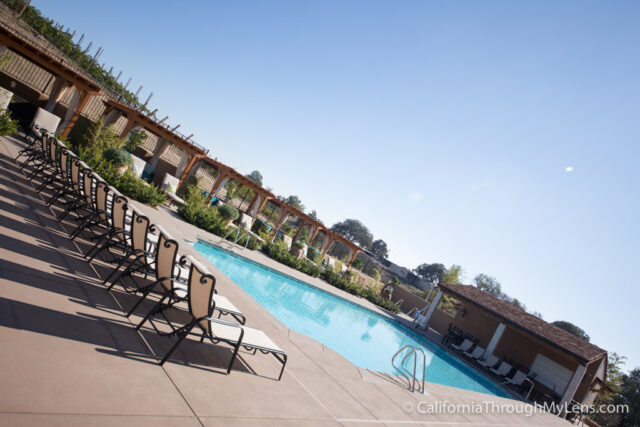 The rooms were spacious and had a clean design that matched the look of the hotel.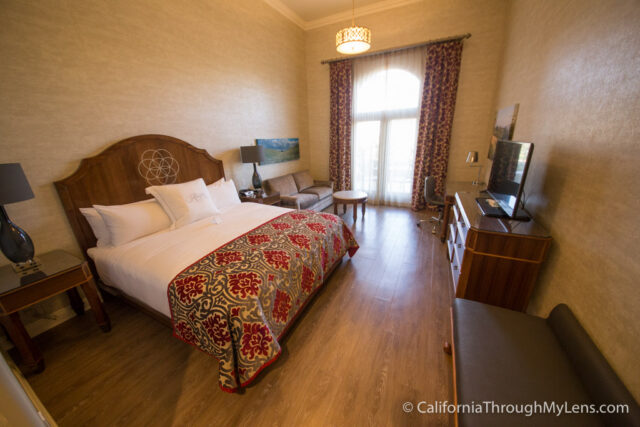 The room I saw also had a large marble floor bathroom as well.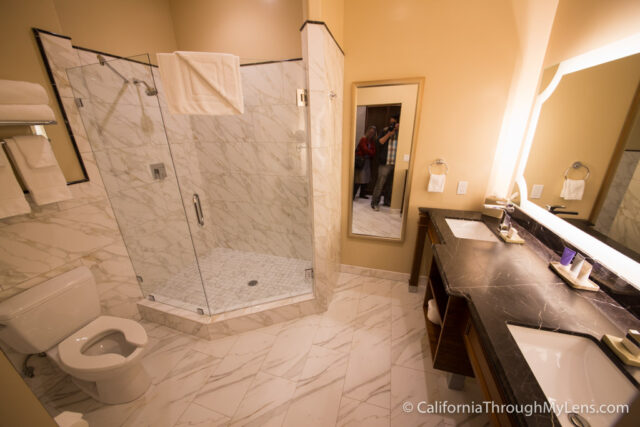 Lastly, there is a full spa on the property if you are looking to book a massage or treatment while you are there.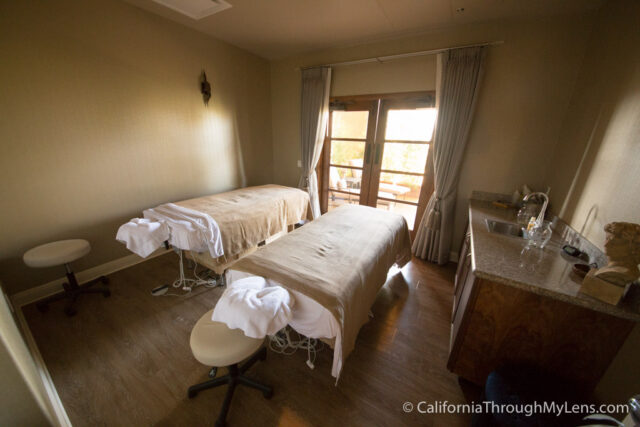 Cello Restaurant
For me, the highlight of my time at Allegretto was the lunch I had at the Cello Restaurant. While the menu was full of unique things, I ended up going with the tomato soup and the scallop salad.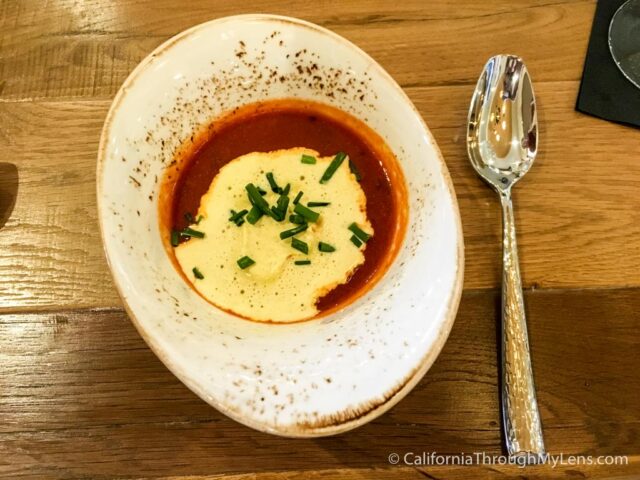 Both of the items were fantastic. The tomato soup even had a slight curry flavor that I liked. The highlight though, was the scallop salad. This salad contained three large scallops that were seasoned and cooked to perfection. Sometimes scallops can be a little underwhelming, but that was not the case here.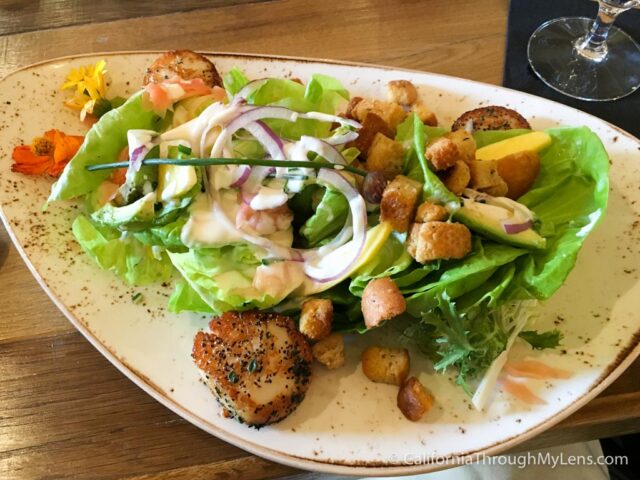 All in all, the Allegretto Vineyard Resort is a beautiful hotel in Paso Robles. I look forward to going back and staying there as I imagine the courtyard at night would be a beautiful place to relax. Let me know your thoughts in the comments.