Los Agaves: Santa Barbara's Best Mexican Restaurant
Over the last few years, Los Agaves has become a go-to spot for many travelers along Pacific Coast Highway, creating a raving fan club of which I am a part. The restaurant shot to a whole new level though when it was #16 on the Yelp 100 best restaurants in 2016. Now, stopping by this modern Mexican food spot will almost always include waiting in a decent line just to place your order. It is worth the wait though as it has some of my favorite upscale Mexican food in California. Here is all the information so you can visit Los Agaves as well.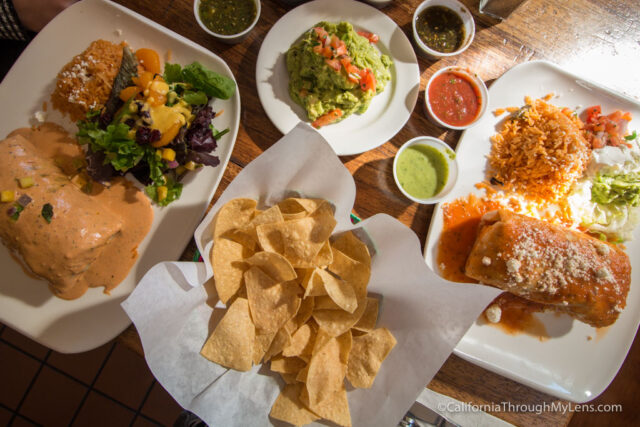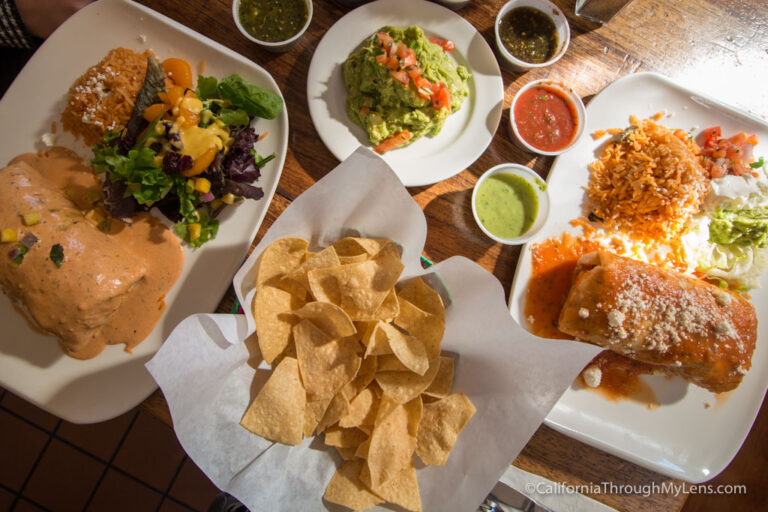 Details
Cost: $12-$15
Recommendation: I haven't had anything I didn't like here
Location: 600 N Milpas St, Santa Barbara, CA 93103
This information is from my visit in 2016, 2017, and 2019. I go here every chance I get
Visit all of my favorite spots in Santa Barabara here
Getting There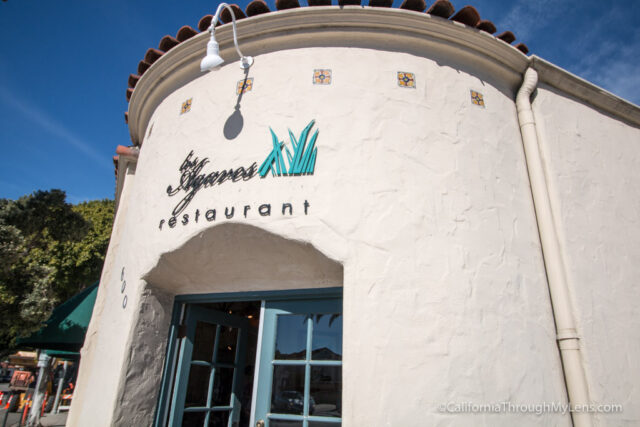 After getting off Highway 101 at Milpas St, you will proceed about a mile and a half up the street before arriving at Los Agaves on your right. There is a small parking lot in the back, but if it is full, there is street parking as well.
The Restaurant
After arriving and finding parking, you will proceed into the restaurant where it is an "order at the counter and find a seat" type place.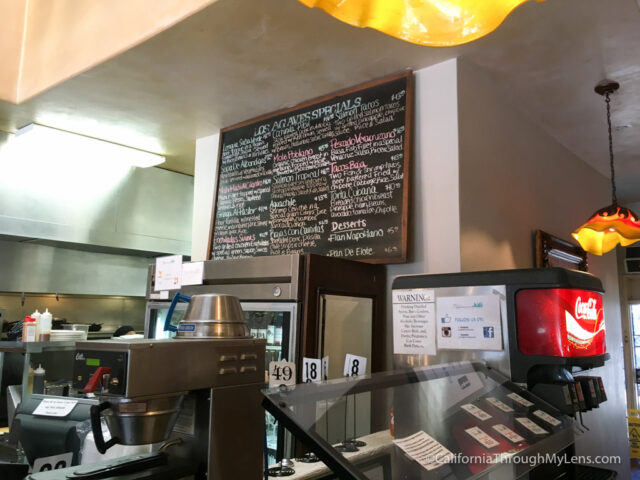 Luckily the restaurant itself is large, and I never have trouble finding a seat. They are usually pretty fast getting the food to you as well which is nice. Do be prepared to wait if you go on the weekend though as this is one of the most popular places in all of Santa Barbara.
I have tried a lot of different things, but here are some of my favorites: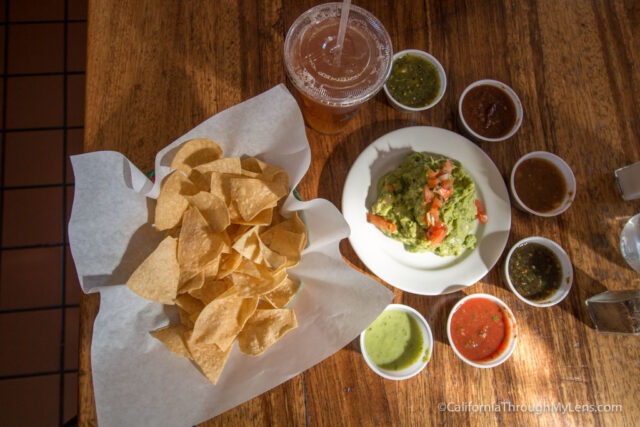 Guacamole – As simple as it comes but fantastic. Pretty much just mashed avocado, which works since there are so many different types of salsa to choose. The salsas run the gauntlet between mild avocado and super spicy.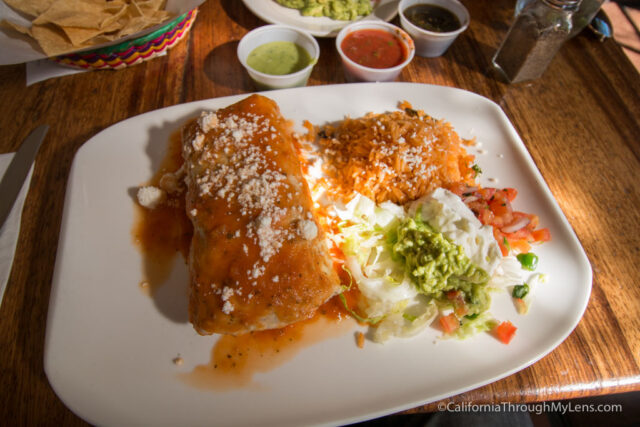 Burrito Mojado – A wet burrito with grilled chicken or steak, pinto beans and queso fresco topped with Salsa Roja. I always choose steak as it is perfectly cooked, thin cut steak that's full of flavor and juicy. They give you an ample portion in the burrito. I also like that the sauce that comes on top is sweeter than traditional enchilada sauce. It's a unique flavor, and of course, you can add more spice if you want with the salsas.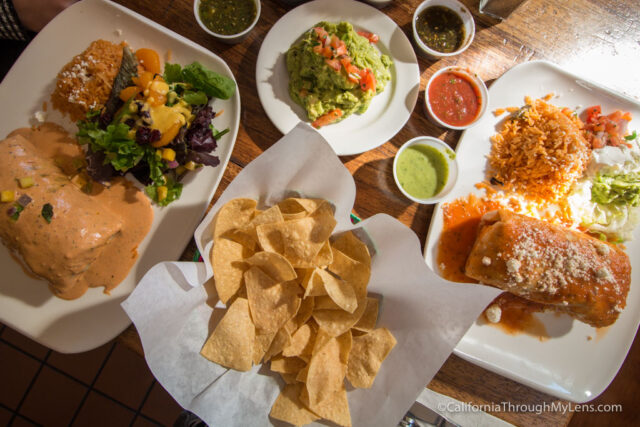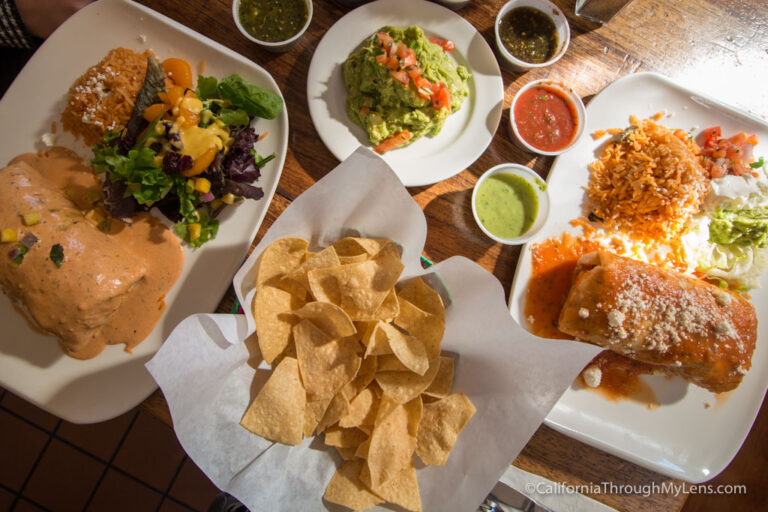 Agaves Burrito – One of their most ordered dishes, the Agaves Burrito is covered with a rich chipotle sauce and full of fish and shrimp. If you aren't a fan of sauce then just ask for it on the side, and you can add as much as you want. It's a simple burrito with fresh seafood, and that makes the flavors stand out a lot more. Comes with a salad that has a sweet citrus dressing and a side of rice.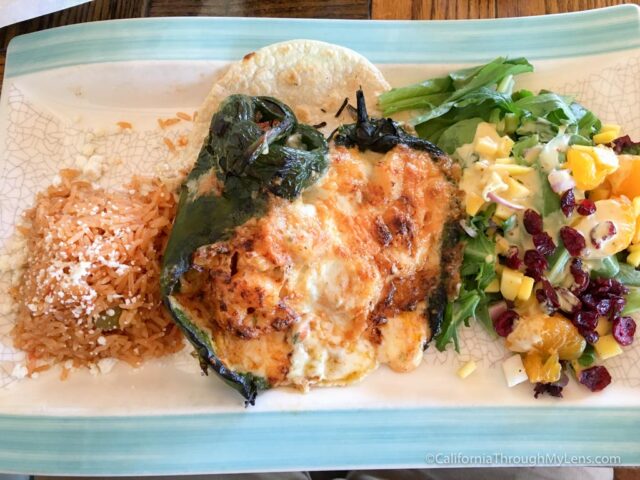 Chiles Norteños – Two chilies hollowed out and stuffed with shrimp, cheese, and a spicy chipotle sauce. After being cooked, it is served on a tortilla. The sauce and cheese make the dish rich and decadent. The dish is spicy though so be aware of that if you don't like spice, but for me it was perfect. It's like a chili relleno but in a much better way as the chipotle sauce adds a subtly sweet flavor to the dish.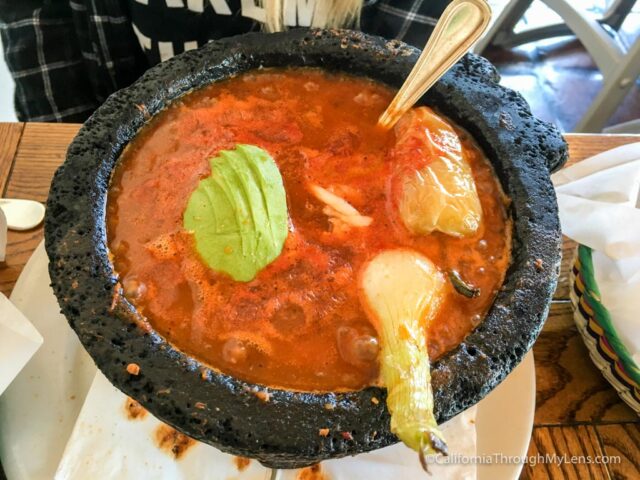 Molcajetas – Served boiling hot with nopales, avocado, onion and chili pepper. They have home-made blue and white tortillas that come with it on the side. It is a massive amount of food and could be shared. The flavor is robust and smokey with a right amount of spice. The shrimp that is sitting in it takes on the flavor and is fantastic when you add them to the tortillas. The tortillas are soft and taste like they were right out of the oven.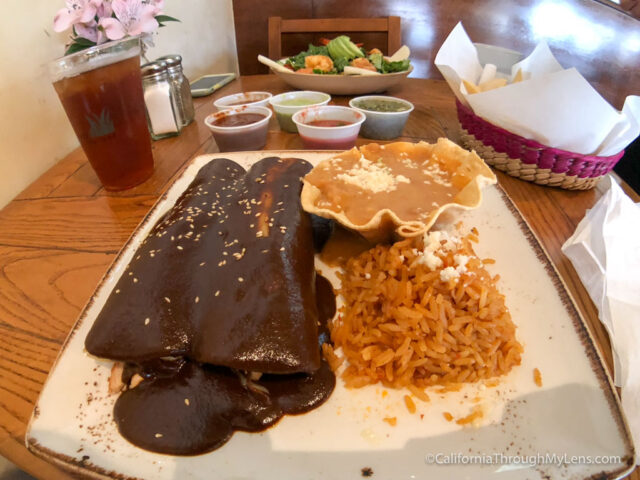 Chicken Mole Enchiladas – This is one of my favorite things here, as it has a rich chocolate mole taste with tons of grilled chicken stuffed in the tortilla. I love mole in general but they do it fantastic here, and it's one of my favorite places to get it.
All dishes come with a basket of chips, and they have an eight salsa bar you can enjoy.
As you can no doubt see, I am a huge fan of Los Agaves. It is one of those places that lives up to the hype, and I visit it pretty much every time I drive up Highway 1. Be sure to let me know what your favorite dish is in the comments.