Desert X Art Show in the Coachella Valley: Finding the Mirror House and 11 Other Exhibits (ended in 2017)
Desert X has officially closed (as of 2017), and all of these installations are now gone. The Desert X Art show is scheduled to happen every two years.
Desert X is one of those expansive art events that is worthy of the time it takes to visit all of its unique pieces. This show, if you can call it that, is spaced out all over the Coachella Valley, and it features art that you can both see and interact with in new and unique ways. Put on by a non-profit of the same name, the idea for Desert X is to have one of these massive shows every two years, leading to a scarce and rewarding experience finding all of the art pieces. I set out with a friend to see the 12 pieces that were still on display (formerly 15), and it was a full 8 hour day I would compare to going on a scavenger hunt. Here is all the information and be sure to visit before April 30th, 2017, as that is when the exhibit ends.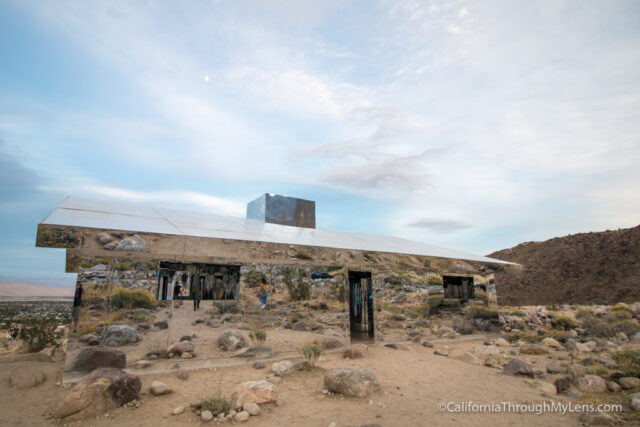 Details
Free
Check their site for hours as they can change
Location: All over Palm Springs, Palm Desert and Coachella
It takes about 6-8 hours to see all of it
This information was from my visit in 2017.
Getting There
I highly recommend that you take some time to look over the map on their site. This will show you where all of the exhibits are, and you can plan your drive based on which ones you want to see. Also, if you go to the Ace Hotel in Palm Springs (check the hours on Desert X site), they have an installation there with maps, shirts, and information on visiting the pieces. They also have docent lead tours on some of the weekends.
The Art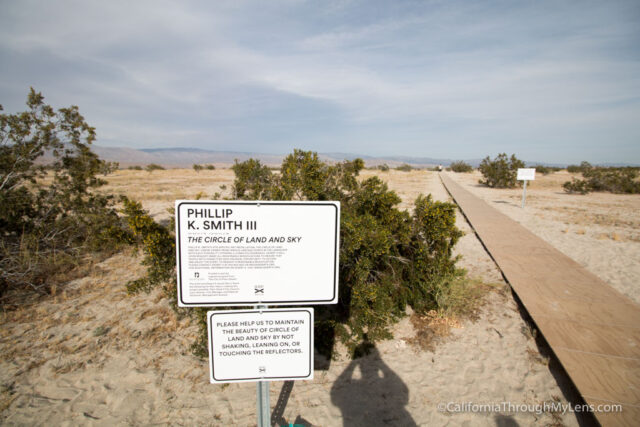 I am not an art aficionado, so I won't write about what the artist wants you to take from each of the pieces, but here are the different exhibits I visited in the order that I visited them in. I came out from Los Angeles, so if you are coming from there as well, then this can serve as a recommendation for how to see the exhibits most efficiently. Also, each piece is marked with a small sign near it that has the Desert X logo and the artist's name.
One I Call – Artist Sherin Guiguis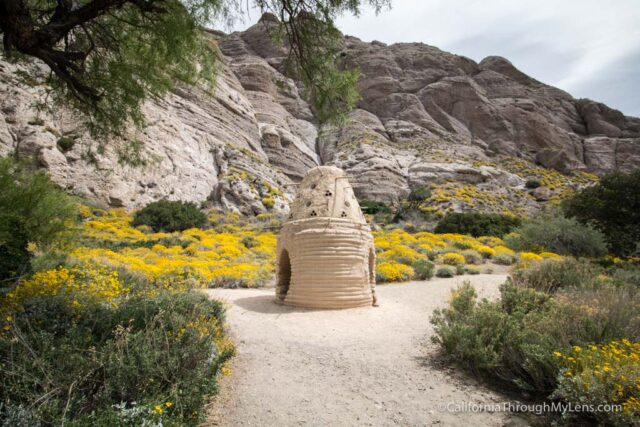 This is the first exhibit we saw, and it was located in the Whitewater Preserve. This area itself is fantastic to visit right now as the hills you drive past on the way are covered in wildflowers. After parking, you will make your way down a short trail before you see the exhibit.
Location: Whitewater Preserve
Donation Box – Artist Gabriel Kuri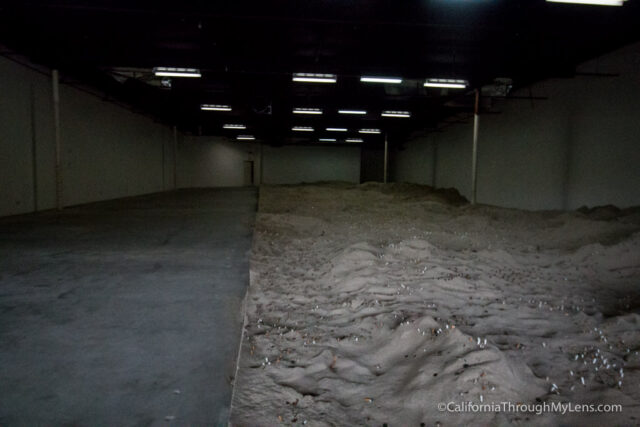 On the way to this exhibit, we passed the mirror house, but it was not open, and I wanted to see it at the end of the day, so we didn't stop. This exhibit is located in a small shopping mall, and you can only look at it through a window, which makes it difficult to see. It is one of the shorter stops as you basically look through the window and move on.
Location – 2500 N Palm Canyon Dr, Palm Springs
Alive – Artist Jeffrey Gibson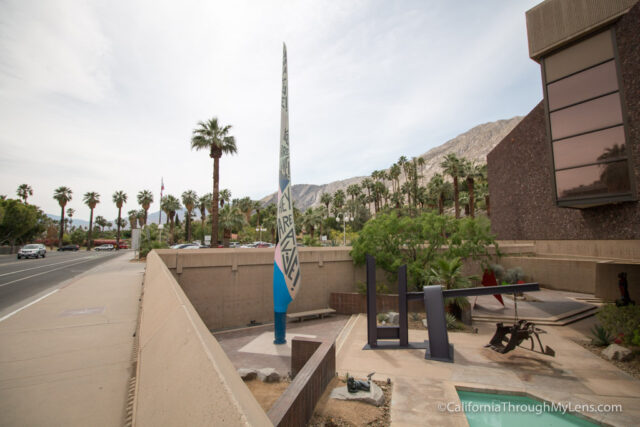 This exhibit is located inside the Palm Springs Art Museum, but you don't have to go in to see it. The piece is made from a wind turbine blade, and it sticks out massively from the museum's sculpture garden. The museum is a good one if you like art, but if you want just a quick stop, then you can look down on the piece from the parking area.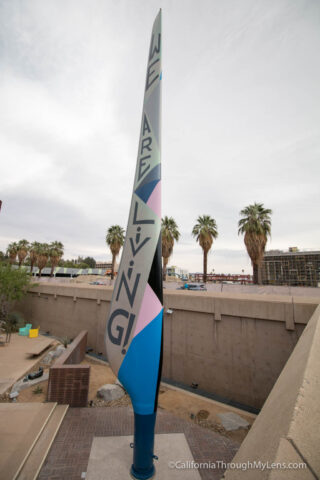 Location: 101 N Museum Dr, Palm Springs, CA 92262
Ace Hotel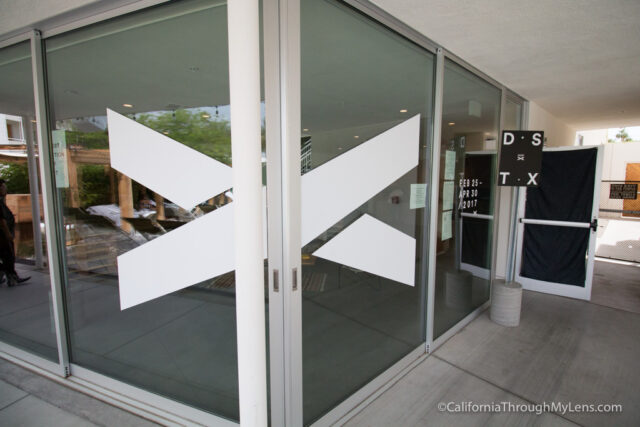 From here, we headed over to the Ace Hotel since it is the official headquarters of Desert X. The small building, located right next to the pool, houses all the information on the exhibits (be sure to check the hours). We grabbed a map and talked with the two volunteers who were excited to explain more about the history and what they were trying to do. It is a quick stop, but it is helpful to pick up a map as it has the hours on it for the different pieces as well.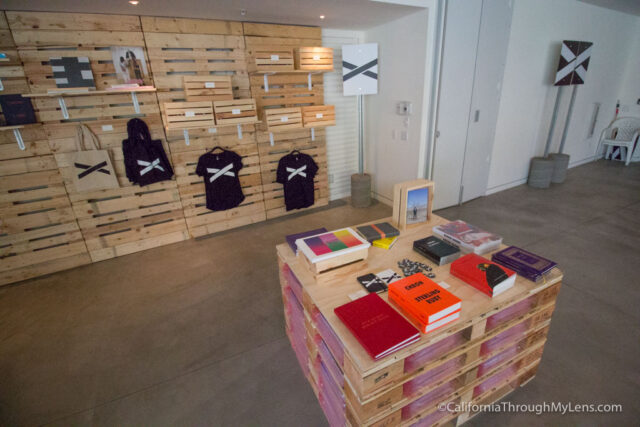 Location: 701 E Palm Canyon Dr, Palm Springs, CA 92264
hEarth – Artist Lita Albuquerque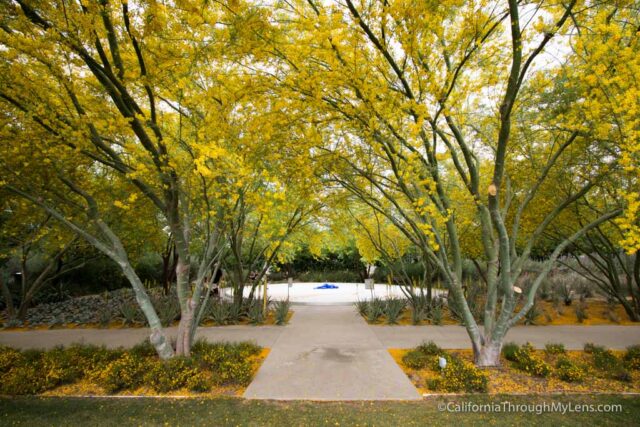 hEarth was one of the main exhibits that had a time window you needed to see it in. When we went, it was only Thurs – Sun from 8:30 AM to 4 PM, so we made it the next stop. It was located in the Sunnylands Gardens, and I was blown away by how beautiful that area was as well. There were flowering plants, lots of communal areas for people to relax at, and even a small restaurant. The art was along the back path, and it was one of those that looked much more unique in person than on the pictures online. It was in the top five of my favorite pieces in the show.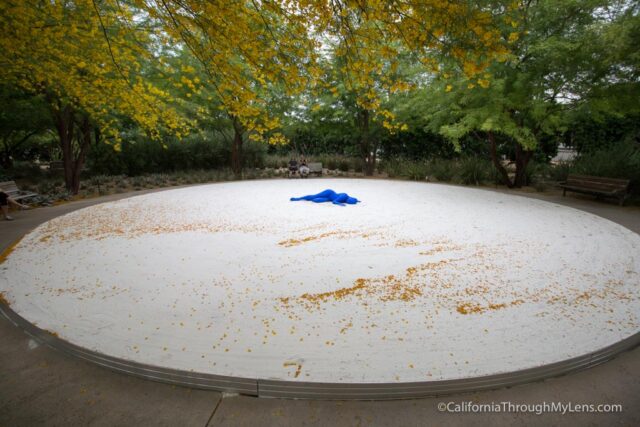 Location: 37977 Bob Hope Dr, Rancho Mirage, CA 92270
Curves and Zig Zags – Artist Claudia Comte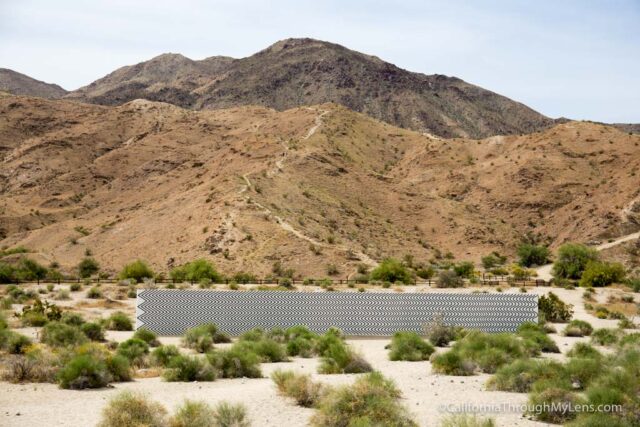 Curves and Zig Zags was another exhibit that I enjoyed a lot. It was a large curved wall situated in the middle of a desert area with mountains behind it. I liked the juxtaposition of the art and landscape. It was a popular one for professional photographers and two shoots were happening while I was there.
Location: 72500 Thrush Rd, Palm Desert, CA 92260
La Fiesta En El Desierto – Artist Armando Lerma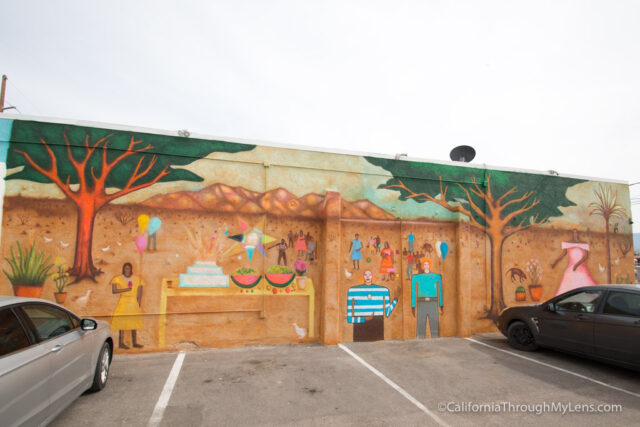 This exhibit is the furthest away of any in the show, and it took about 30 minutes to drive to from Curves and Zig Zags. It was a beautiful painting from Armando Lerma that was done on the back of a store wall. It was hard to experience as there were many cars parked in front of it, but it was a beautiful display.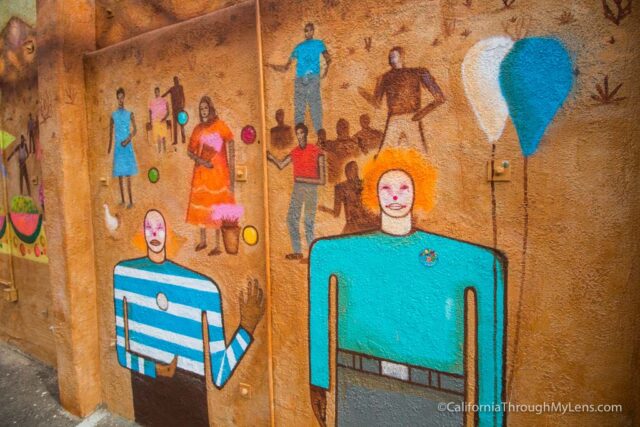 Location: 85963 Grapefruit Blvd, Coachella
Hollow Earth – Artist Glenn Kaino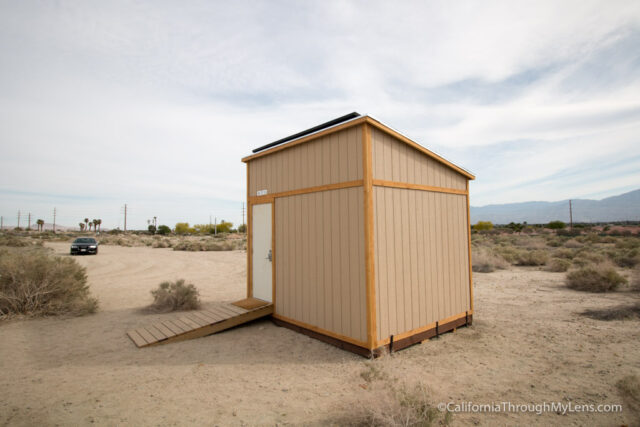 Hollow Earth is the first of two exhibits that require you to do some additional work to see them. For Hollow Earth, it is texting a number provided on the Desert X site to get the code to go into the house in the middle of the desert. Unfortunately, this one was charging when we went, and after waiting for 30 minutes, it didn't turn back on, so we were not able to see it in all its glory. You can mimic it by placing your phones with the flashlight directly onto the circle you walk onto though, so you can see what it would look like.
Location: Ave 42 & Golf Center Parkway, Indio
The Circle of Land and Sky – Artist Phillip K Smith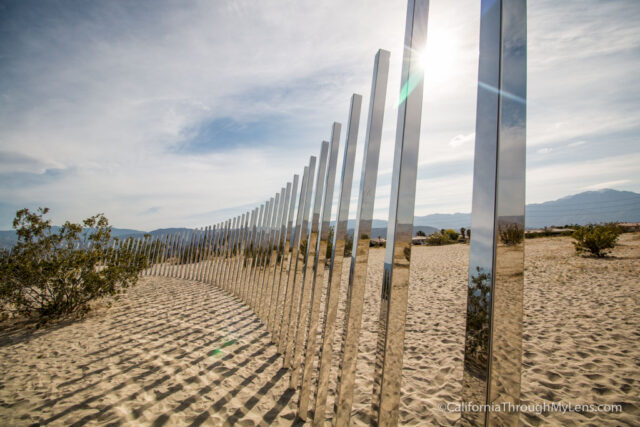 The Circle of Land and Sky is the second most popular exhibit in the show, and it is was to see why. It is a series of 300 different mirrors placed at 10-degree angles in a circle. I found it to be a lot of fun to just walk around and see what types of tricks the reflections played on your eyes. It is another exhibit that is popular at sunset and with professional photographers.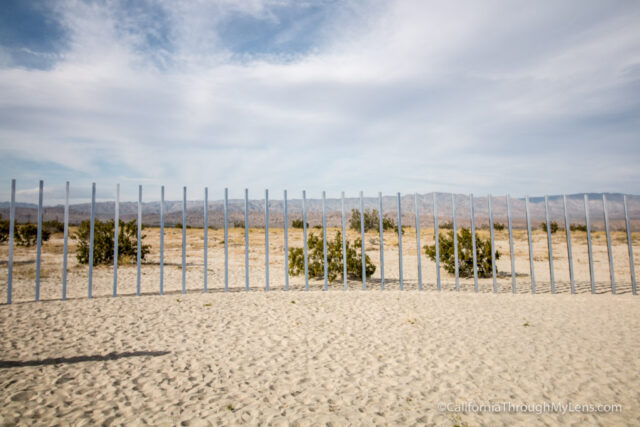 Location: Frank Sinatra Dr & Portola Ave, Palm Desert
I Am – Artist Tavares Strachan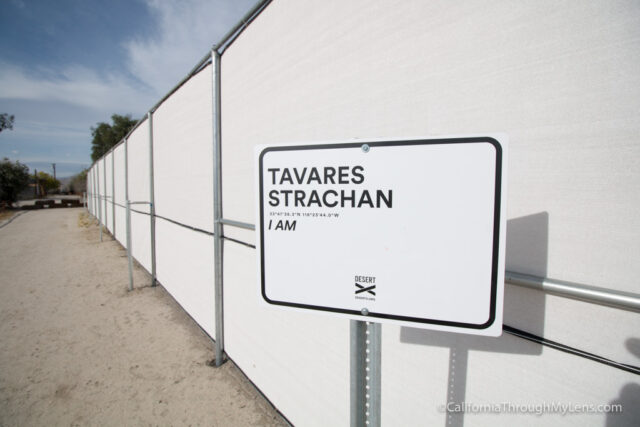 "I Am" was the only one I didn't get to experience. We went during the day, and it is only open from 7 PM to 10 PM. It features a series of neon lights situated in holes around a property, and from above, it spells out I Am. The photos from above look cool on their website, but there isn't anything to see during the day.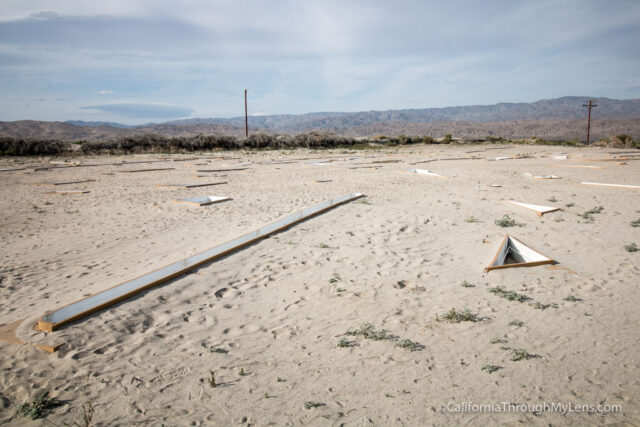 Location: 35050 Via Florencia, Rancho Mirage, Ca 92270
Monument – Artist Will Boone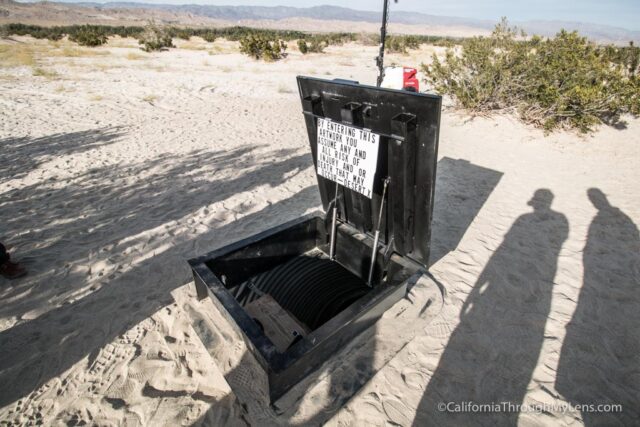 Monument is one of those exhibits I wished I would have experienced in the early days of this show. It requires you to email for a key to get into a roof hatch that leads to an underground bunker. When I got there, over 20 people were waiting to walk down into the bunker, so I didn't need any of the information provided via email. If you go during the week, be sure to follow the instructions on the Desert X site to email for entry.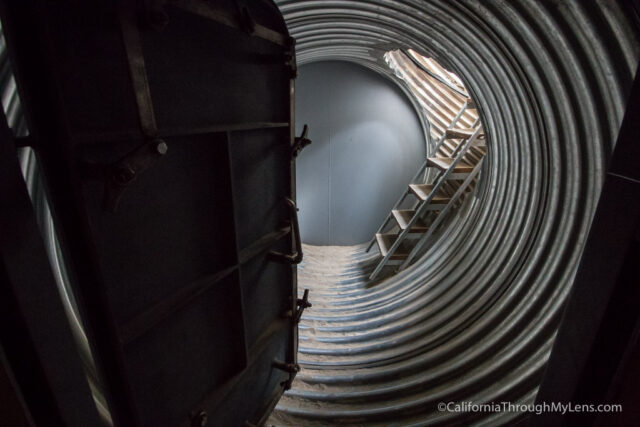 Location: Ramon Rd & Bob Hope Dr, Rancho Mirage
Visible Distance / Second Sight – Artist Jennifer Bolande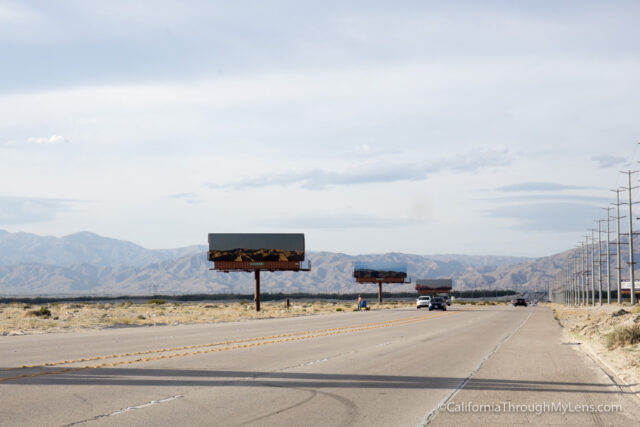 Visible Distance is an art piece that you would easily drive by if you didn't know it was there. The artist Jennifer Bolande turned standard billboards into what you would see if the billboard was not there. As you drive down the road, there are three billboards, each with a photo showing what is behind it. The exhibit is meant to be experienced driving by, and I thought it was very creative.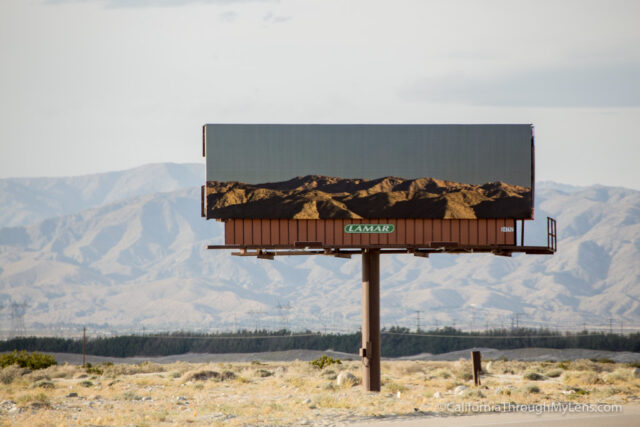 Location: Driving along Gene Autry Trail from Vista Chino or the Freeway
Mirage – Artist Doug Aitken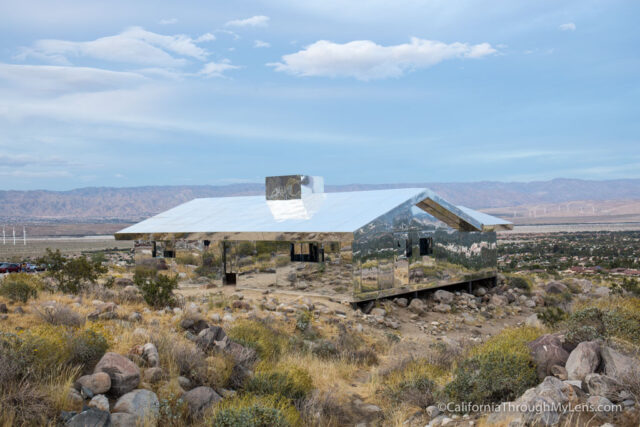 This is the most popular exhibit, and I am sure the one you have seen multiple times on social media. It is just as impressive in real life as it is in the photos. I spent a good hour here and went through the house probably seven times. It's just that impressive. It will be hectic when you go though as it has become a destination in the city.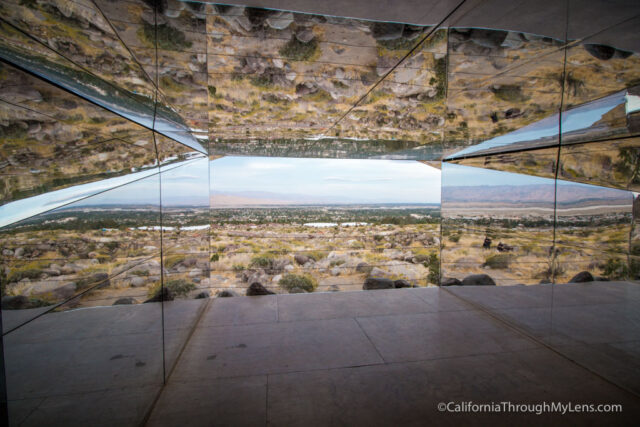 Check out a 360-degree walkthrough I did of the house here.
Location: 1101 W Racquet Club Rd, Palm Springs, CA 92262
Video
Here is a video I made of the whole trip so you can get a feel for it.
Make sure to see at least a few of these for yourself before they are over at the end of April; it is one of the most fun days of exploration I have had in a while. Let me know what you think in the comments.