Liberty Sculpture Park Along Interstate 15 in Yermo
If you have driven from Los Angeles to Las Vegas in the last few years, then you have probably caught a glimpse of the Liberty Sculpture Park, which is a set of large sculptures on the side of the road right before you pass Eddieworld. These sculptures were created to "celebrate freedom and memorialize the victims of communism." They specifically deal with events like the Tienanmen Square Massacre, and it is pretty sobering to see. If you want to visit the sculpture park, you can drive through and see the dozen or so sculptures right off the 15 Freeway. Here is all the information on this spot.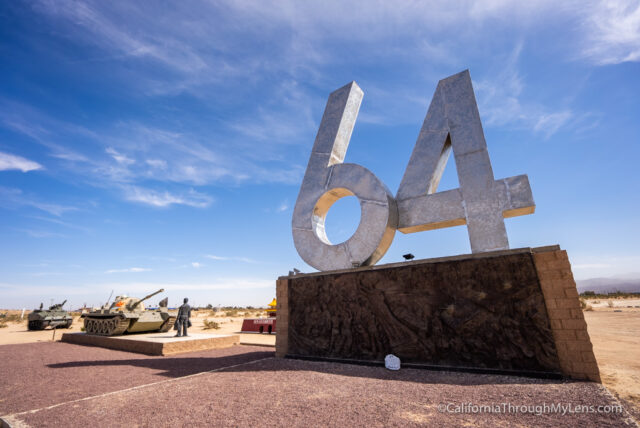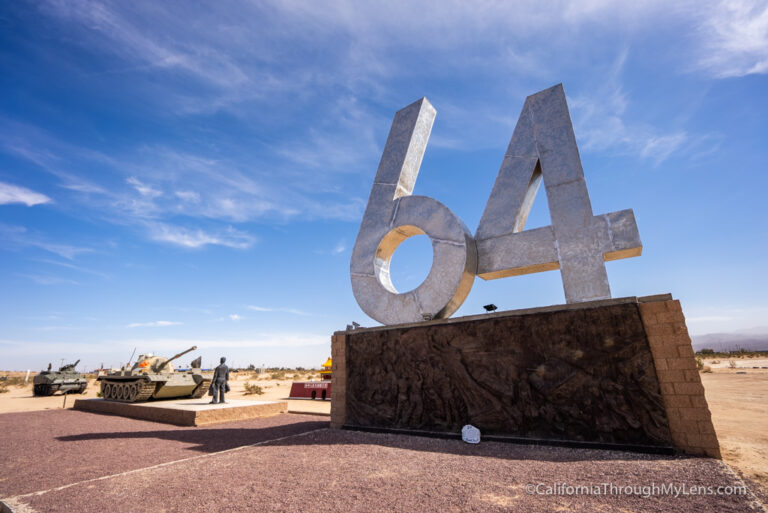 Details
Free to visit, but you can donate

 

Not sure about the hours, but probably sunrise to sunset, I would guess
Location: 37570 Yermo Rd, Yermo, CA 92398
Information from my visit in 2021
You can find more information on their Facebook page
Getting There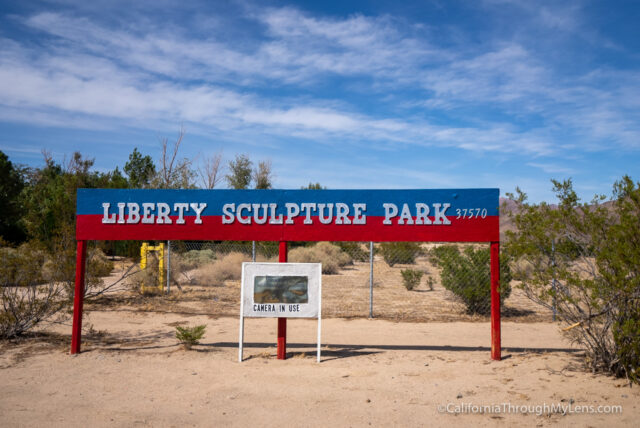 About 10-15 minutes after passing Barstow, you will see the sculptures and Eddieworld on your right. Get off the freeway on Calico Road and head south. Turn right on Yermo Road, and you will see the entrance on your right. It is a little hard to see, so be watching for it. 
Liberty Sculpture Park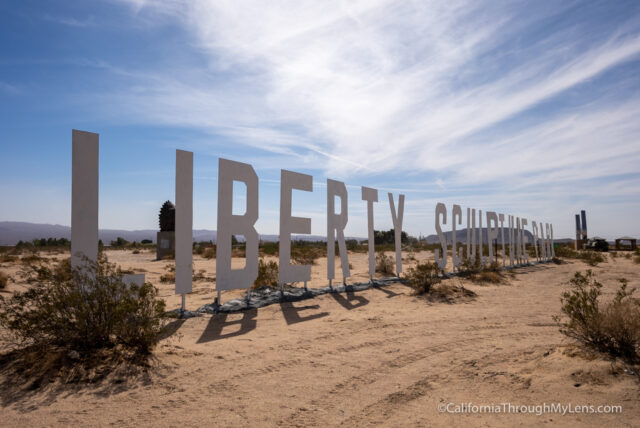 Once you drive through the gate with a sign saying "communists not allowed," you will go on a dirt road out to the sculptures. There seemed to be a few different ways out there, but you won't get lost, and the road was easily passible with a two-wheel-drive car when I went.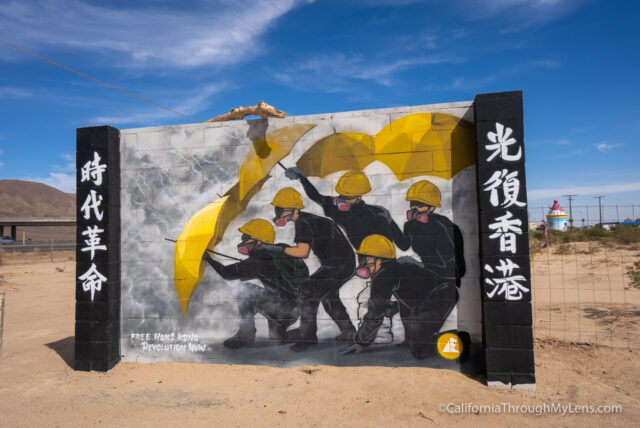 I headed to the right first and just took a slow drive to each of the sculptures. It was windy, so I only got out a few of them. Here are some of the sculptures you will see.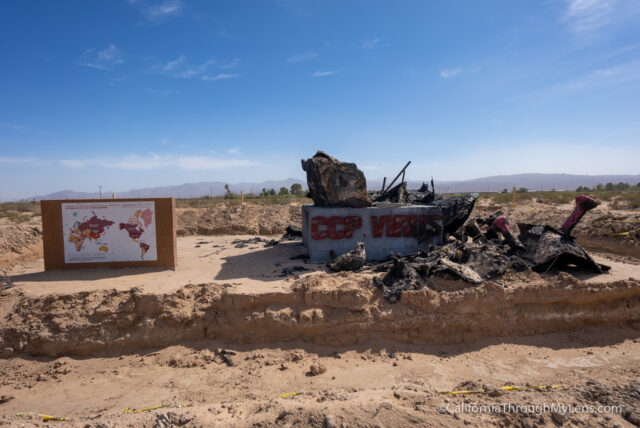 The road goes around the front of the Liberty Sculpture Park sign, which is more significant than it looks from the road.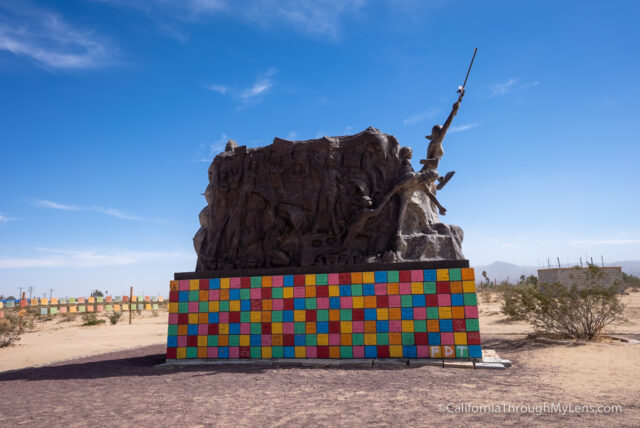 As you pass this sign, you will arrive at the main exhibit, the giant number "64," which the artist said refers to 6/4/1989, the date of the Tiananmen Square Massacre.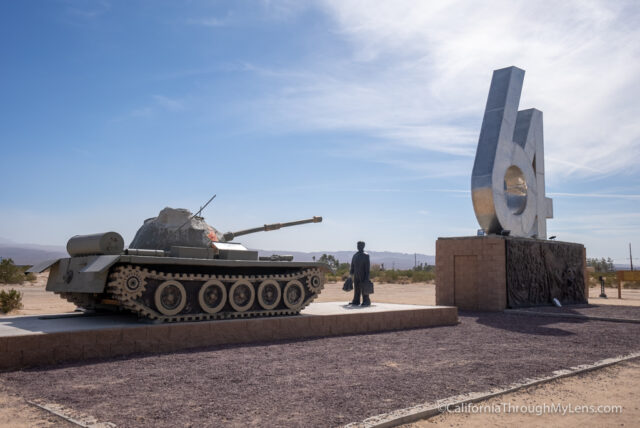 Next to the numbers is a statue of "tank man," the man who stood in front of the tank in the famous photo. The sculptures are really well done, and it is pretty crazy to see them in the middle of the desert like this.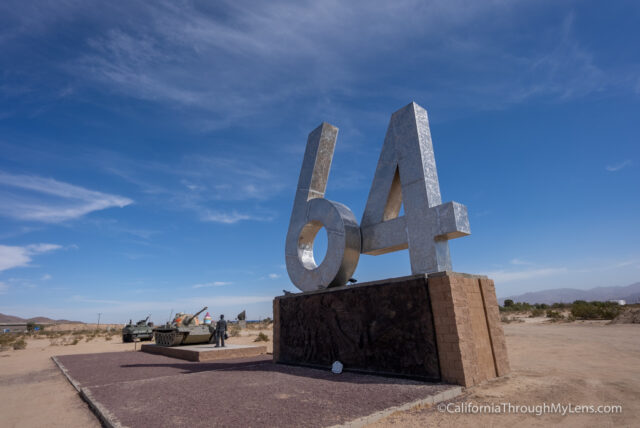 There is a picnic bench next to this statue and more information on the park itself.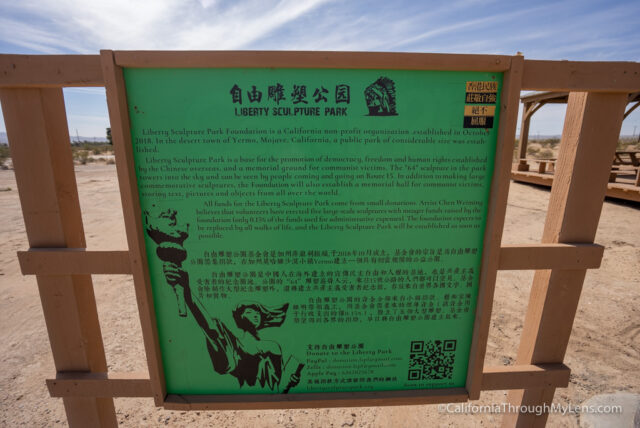 After seeing this area, you can continue exploring the park or get back on the road. This is a worthy stop commemorating a sad event that everyone should see on their way to Las Vegas. Let me know what you think in the comments.