Mist Trail: One of Yosemite National Park's Most Popular Hikes
Yosemite National Park's Mist Trail is one of the most popular trails in all of California. It is the trail that leads to the iconic Half Dome, but even by itself, it still combines a grueling uphill charge with two amazing waterfalls. Here are all of the details if you want to take down this famous trail yourself and check out more of my favorite Yosemite spots here.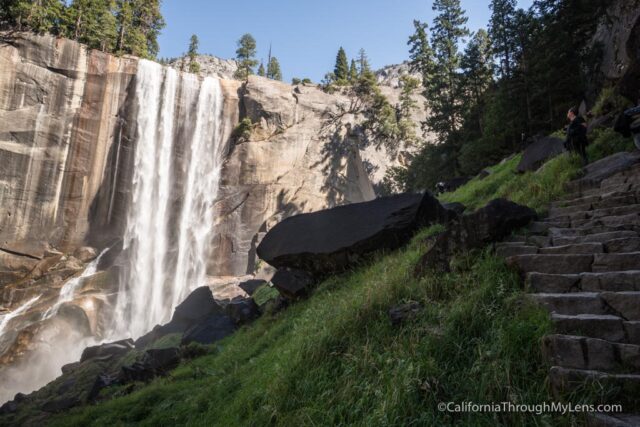 Details
3 miles round trip, more if you don't take the shuttle
1,000 feet of elevation
I did this hike in 2015, 2017, and 2019. It is one of my favorite hikes in California.
Read about all of my favorite Yosemite National Park attractions here
Update August 2020 – With the pandemic, you can only hike the mist trail one way from 9 AM to 4 PM currently. You must then descend by the John Muir Trail
Getting There
The Mist Trail is accessed by the park shuttle at shuttle stop 16 near Happy Isles. If you are driving into the park, you can park at Curry Village and shuttle / walk over. If you walk, it is an extra 1.5 miles round trip. There is trailhead parking a little closer as well, but it usually fills up pretty early.
The Trail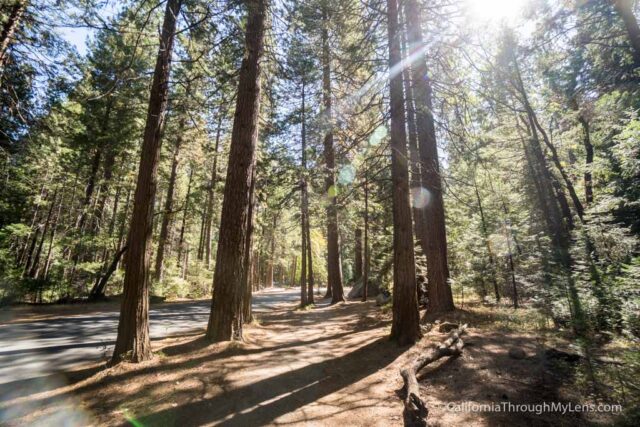 From the shuttle stop, you will head over the bridge that crosses the Merced River. You will then turn right at the sign and parallel the river as you start the hike.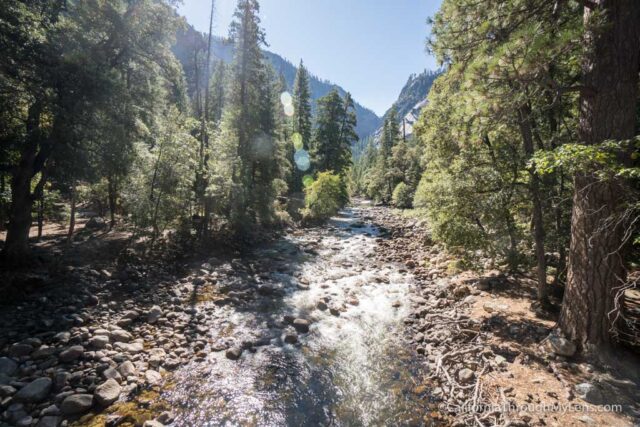 The trail begins flat but almost immediately goes uphill. I will say this in advance, most people are not prepared for this hike. They see the 3 miles round trip and think it's easy; it's not. The hike is uphill pretty much the entire way, and it's a steep uphill as well.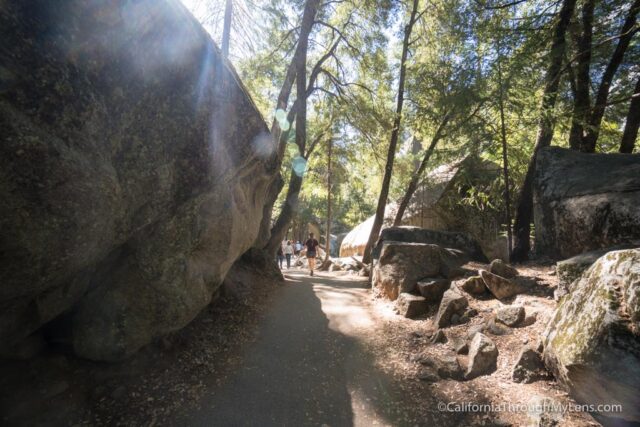 I have seen all sorts of people do it and a wide range of ages, but just plan on it taking a lot of time if you are not used to hiking uphill like this. The park usually suggests 2 – 6 hours. Six is a little excessive, it usually takes me 2 hours to do this hike to Vernal Falls, more if heading up to Nevada Falls, but planning on 4 is probably a safe bet.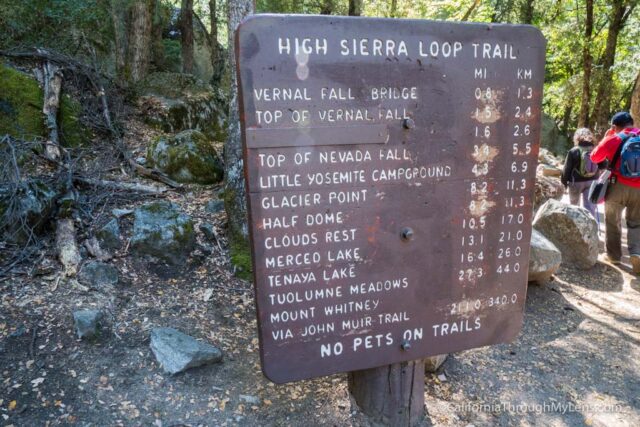 At the start of the trail, you will also pass the sign that designates the beginning of the John Muir Trail, one of the most popular long hikes in the USA. It is fun to see this sign and note that the summit of Mt Whitney is only 211 miles away.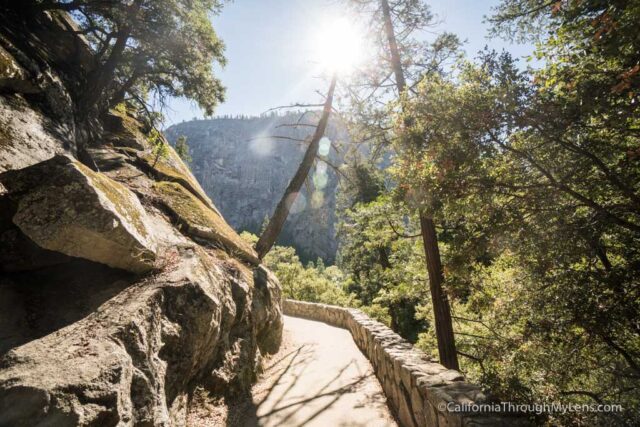 The trail heads up from here on a paved path. It is mostly shaded, but as you go up, you will go through patches of sun. Be sure to wear sunscreen and have water.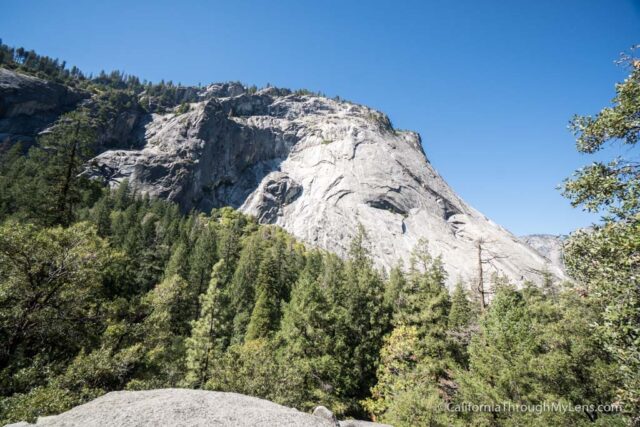 The views get more impressive as you gain elevation, especially looking up towards Glacier Point.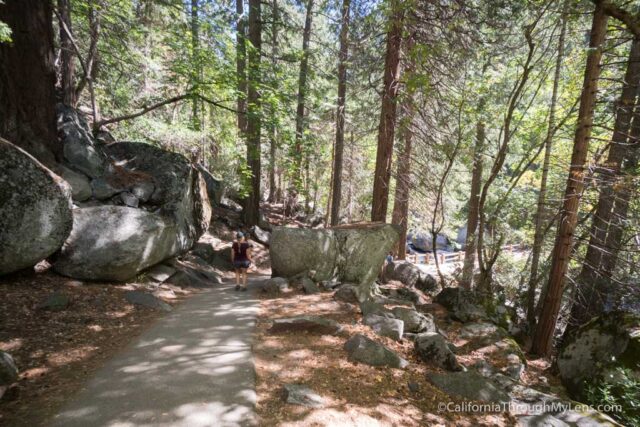 The trail continues to climb with a few downhill jaunts put in for good measure and eventually reaches the bridge.
The Bridge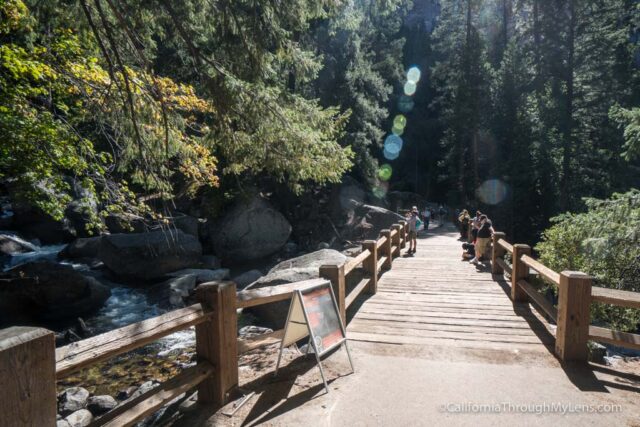 If you are destroyed from hiking this first part, then the bridge is a good turn around point. You can see Vernal Falls in the distance from here, and it only gets harder if you continue. There is also a water refill station and a bathroom here as well.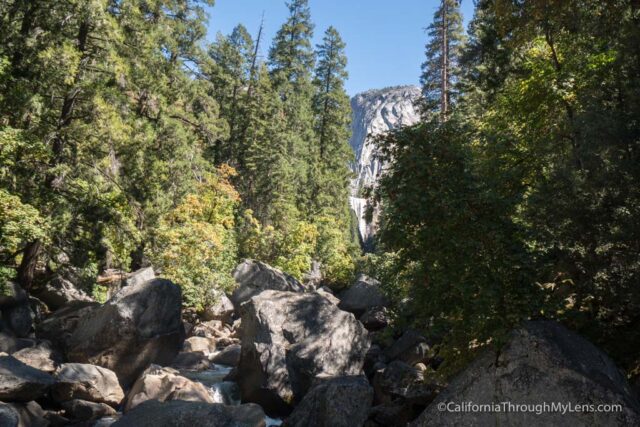 From the bridge, the trail continues a gradual climb through a shaded area.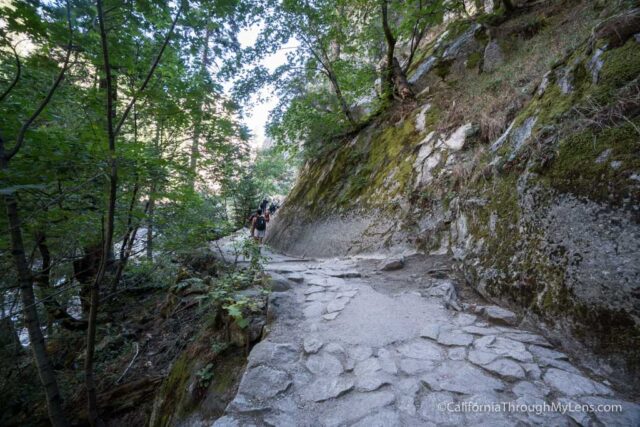 You will be walking along the river before you eventually reach the base of the stairs and can see Vernal Falls in front of you.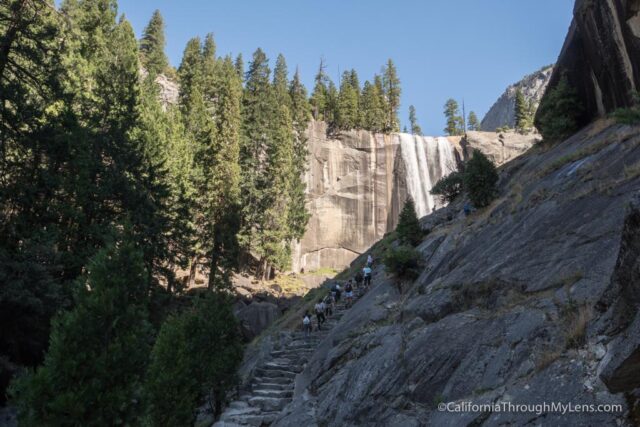 This area of stairs is where the Mist Trail gets its name. During the spring, when there is good water flow, the stairs are wet, and there is mist everywhere, getting you wet as well.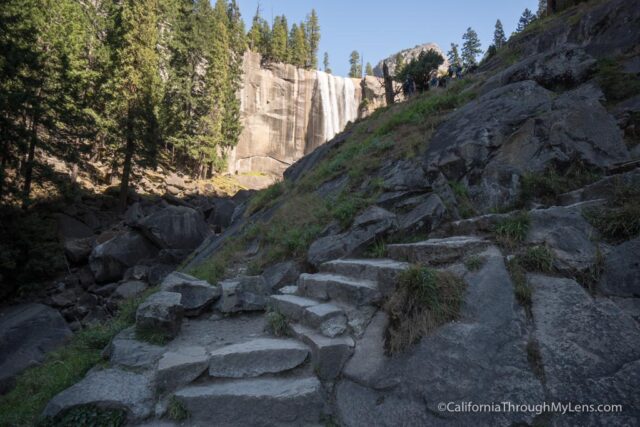 Be careful as this makes the steps more slippery, which is very apparent when you are heading down.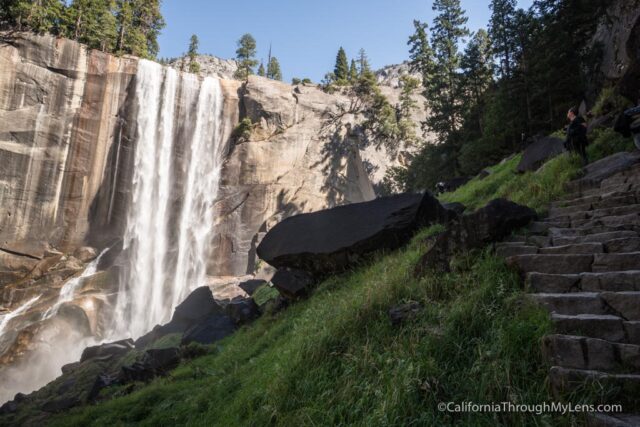 As you go up the stairs, you will notice how fantastic the views are of the waterfall in front of you. Take your time and pull out to enjoy the views and to rest as much as you need.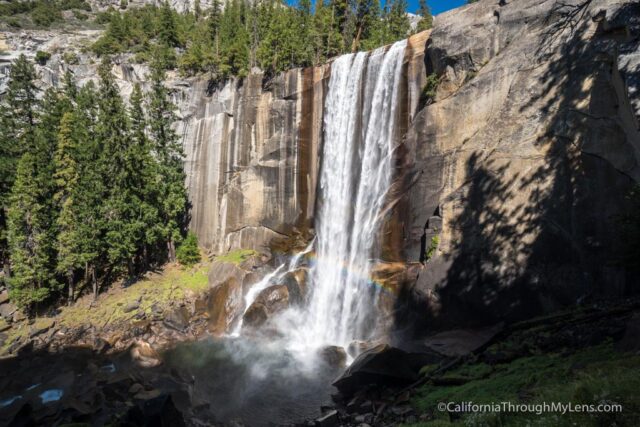 My favorite view is right before you enter the trees again. From here, you will be looking at the falls from a high angle and can often see a rainbow.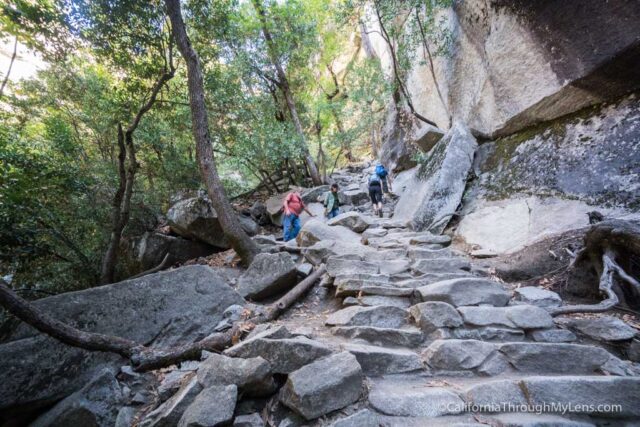 Entering the trees takes you to the last portion of stairs, but these are the toughest as well.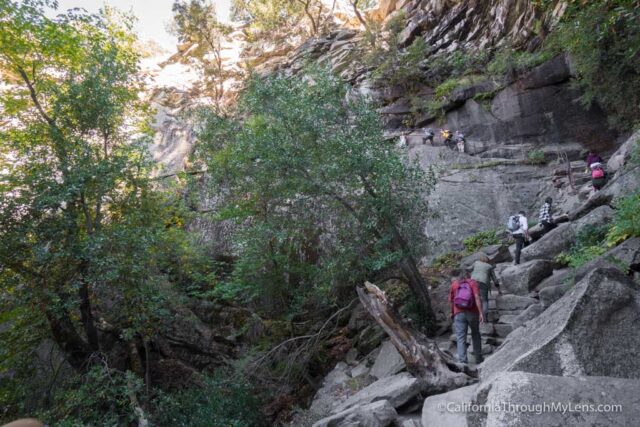 These stairs are broad and not accommodating for your knees, especially on the way down. You will be feeling it here, but the payoff is worth it.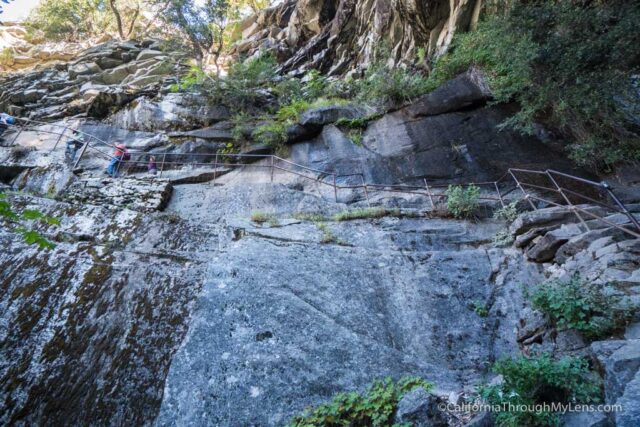 Continuing on, you will reach the cables, which is a narrow section cut out of the rock that you traverse to get to the top of Vernal Falls.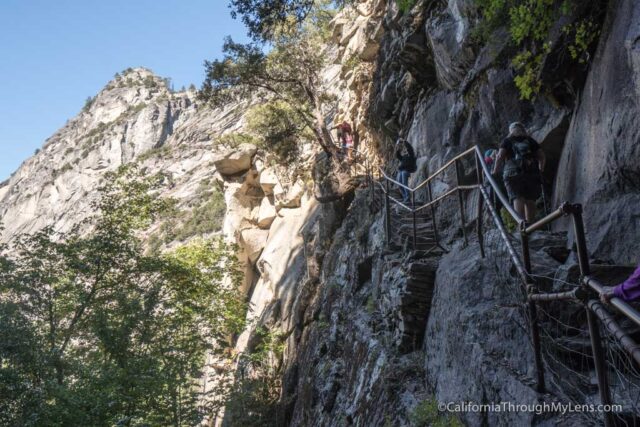 This is a slow area if it is busy as you have to let people pass as they come down.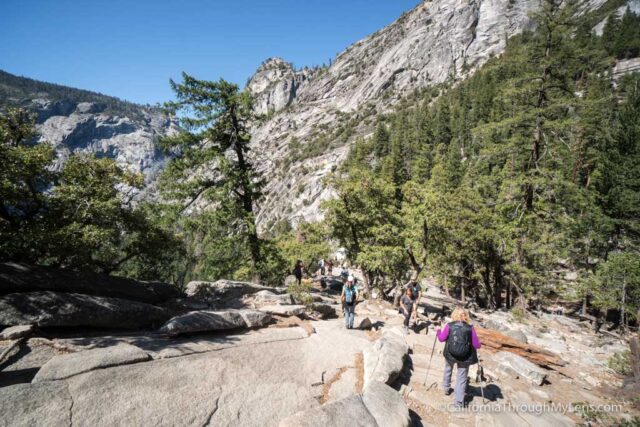 As you reach the top, you will want to head down to the overlook for Vernal Falls. This area is always popular with lots of people hanging around but just wait your turn, and you will be able to get a good picture.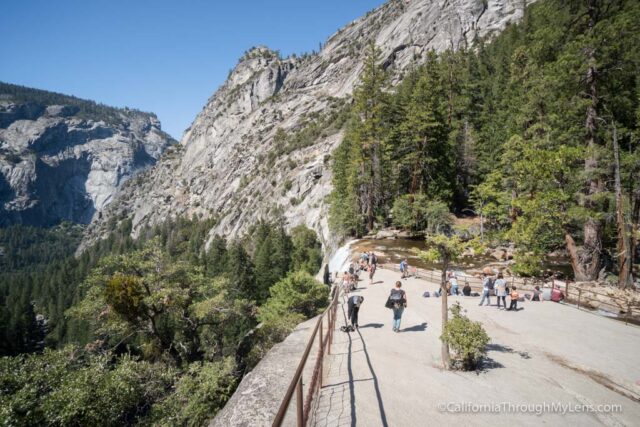 Make sure to stay behind the railing; people die here every year, and it's not worth the photo.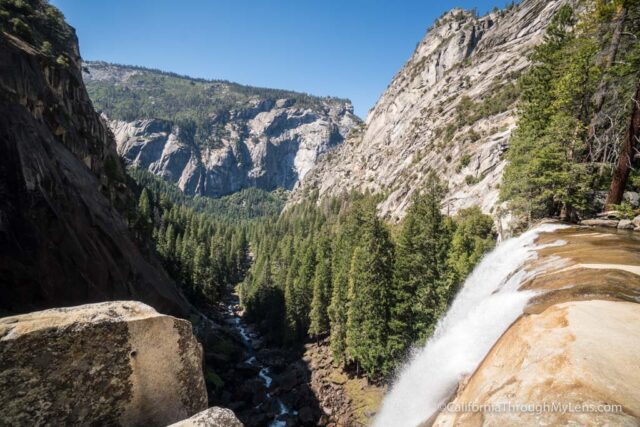 If you want to continue to Nevada Falls or Half Dome (only if you have a permit), you can read more about that here. If not, head back down the way you can and watch out for the slippery stairs.
Video
Here is a 4k video I made from my hike along the Mist Trail.
Even though this hike can be a zoo in the summer, it is still a must do in Yosemite. Make sure it is on your list if you go, it's worth it.