Nine Dishes you Need to Eat in Oakland
Over the last decade, Oakland has been going through a massive resurgence and becoming a go-to spot for foodies and explorers alike. I got a chance to spend three days traveling around the city and tasting the different culinary masterpieces on display throughout. This trip led me to this post on nine dishes you must try in Oakland. These are in no particular order, but check them out below and let me know what I left off in the comments. Also, note that these suggestions are from 2017, so they may have changed when you visit the restaurants listed.
Naughty Donut from Doughnut Dolly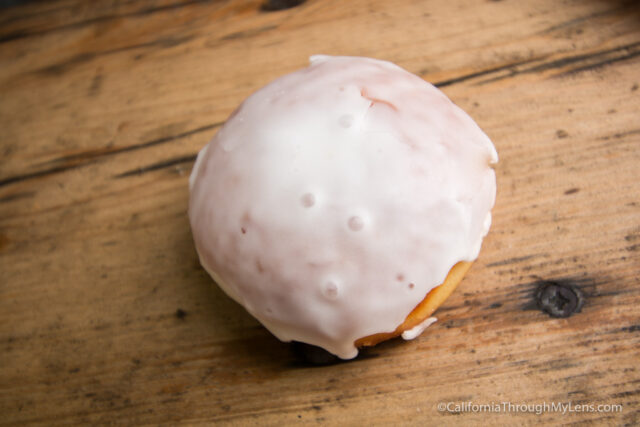 Located in the popular Temescal Alley, Doughnut Dolly sells only four doughnuts and four different cream add-ins. These two things make for a wealth of combinations though in picking a base and cream to create the perfect donut. I have had more of these, then I would choose to admit, but I would recommend the original cream (naughty cream) and a glazed doughnut. Sure it is sweet, but it is a hard to beat combination for your first trip.
Recommended Dish: Glazed Donut with Naughty Cream
Special Dumplings from Shan Dong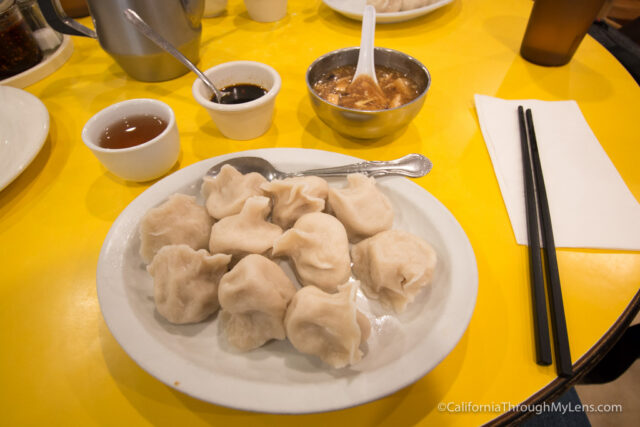 Located in the heart of Chinatown, Shan Dong is one of Oakland's most popular restaurants. It is easy to see why when you have the food though. The special dumplings are the standout here, made to order and filled with vegetables and pork. The outer part of the dumpling is moist and full of flavor. The sauce they are served with is what takes them to the next level though, as it is a sweet soy sauce base with just a little spice. Don't leave Oakland without trying them.
Recommendation: House Special Dumplings
Vegan Fried Chicken from Souley Vegan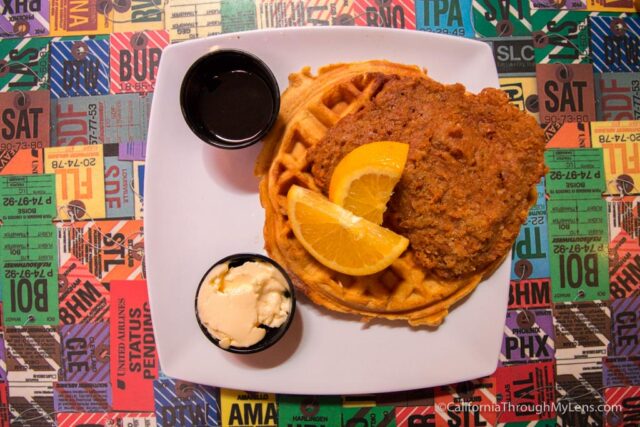 Yes, this recommendation is for chicken and waffles at a vegan place. No, the chicken is not really chicken, it is seitan, which is a wheat-based vegan protein. Sure it doesn't taste entirely like chicken, but it is flavored and cooked so well you won't even care. The way they create the chicken and waffle flavors without the chicken is fantastic, and as a non-vegan, I wouldn't hesitate to eat here again. I love that they take traditional soul food dishes like this and replicate the taste without meat, be sure to give it a try.
Recommendation: Fried Chicken and a Sweat Potato Waffle
Chicken and Waffles from Brown Sugar Kitchen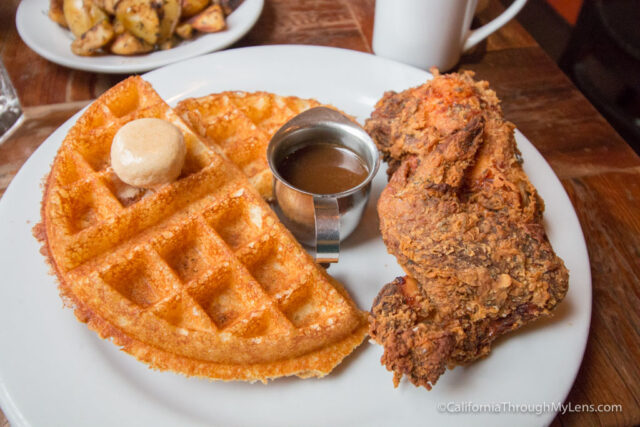 After a vegan chicken and waffles recommendation, I figured I should also include the real thing. The chicken and waffles from Brown Sugar Kitchen are just that. Served with a big waffle which is way better than it deserves to be, the chicken is the stand out here with a great crisp and a heavy batter that is not too greasy. Add to that the apple cider syrup, which is now one of my favorite syrups to have with waffles. Getting a bite with the chicken, waffle, and syrup is a legit flavor explosion. The dish is a pricey $18, but it is worth it.
Recommendation: Chicken and waffles with apple cider syrup
Out and In Pizza from Drakes Dealership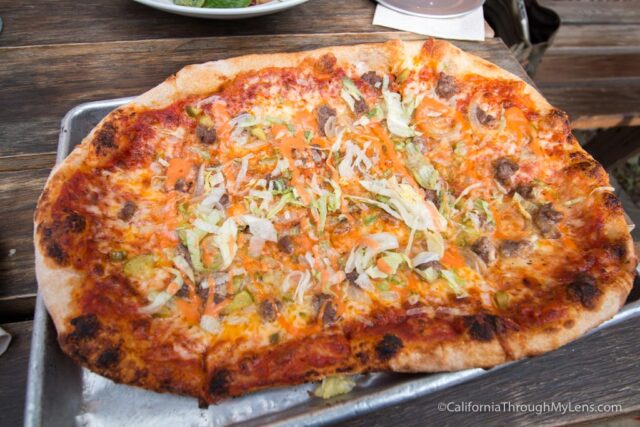 Regarding ambiance, it is hard to beat Drake's Dealership for a fun meal in the city, especially when the weather is nice. Luckily, both the food and the beer are top notch here as well. I could recommend the soft pretzel with mustard and bacon fondue, but for me, it doesn't get better than the Out and In Pizza. This pizza is designed to taste somewhat like the famous California establishment In-N-Out. It is served with pickles, grilled onions, a little lettuce, ground beef, and a special sauce. I will admit I wasn't that excited when I saw it, but after eating it, I was impressed.
Recommendation: Out and In Pizza and any beer
Ice Cream from Fenton's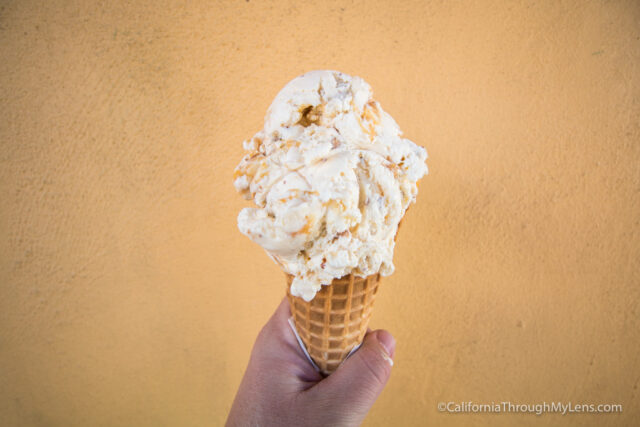 No list of Oakland food can be trusted unless it has Fenton's Ice Cream on it. This famous ice cream spot has been an Oakland staple for over a century and was even featured in the Pixar movie Up. The ice cream here is so delicious and full of flavor that you will not be disappointed. I usually get a different one each time I go in as there are so many great options to choose from.
Recommendation: It's ice cream, pick your favorite 🙂
Now we head into the more upscale dining establishments with three dishes that won't appeal to everyone right off the bat but that I would highly recommend you try.
Octopus from Shakewell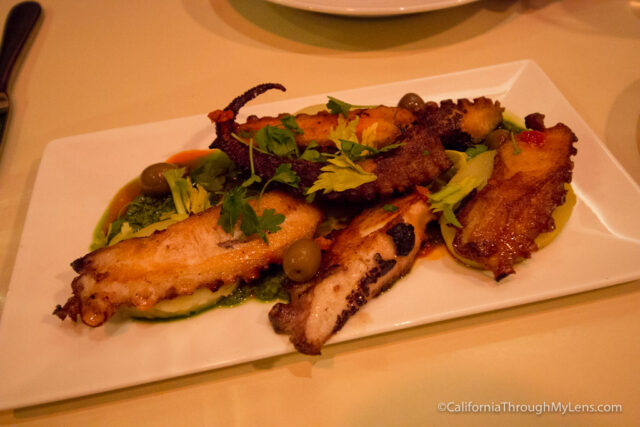 I usually stay away from octopus as it is not often prepared well and can be tough and chewy. This is the opposite of how it is at Shakewell though. The octopus here is a melt in your mouth fresh without being tough. It is served with potatoes, celery, salsa verde, and pickled Fresno chili, and it has a light spice to go with the smooth octopus. I wish I could eat it again as I am writing this post.
Recommendation: Octopus, Crab Toast or Churros
Oysters with Sea Urchin from Hopscotch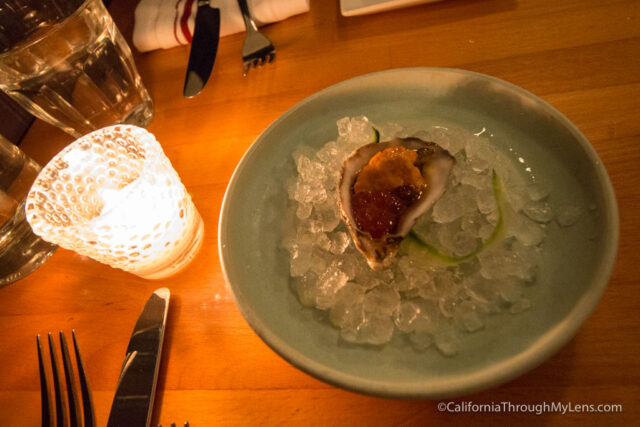 I know that a lot of people will not be a fan of this recommendation, but I would say, "don't knock it till you try it." I already love oysters, so it was an easy win for me, but my wife doesn't, and when she had them here she was equally impressed. If you have never had Sea Urchin, I'd describe it as the Foie Gras of the sea; in that, you don't want to order it at a cheap place, and when it is good, it is magnificent. This is a small one-bite dish, but it will leave you wanting more after you see how well each element of the dish compliments the others.
Recommendation: Sea Urchin, Salmon Roe Oyster 
Tonnarelli Cacio E Pepe from Boot and Shoe Service (Closed)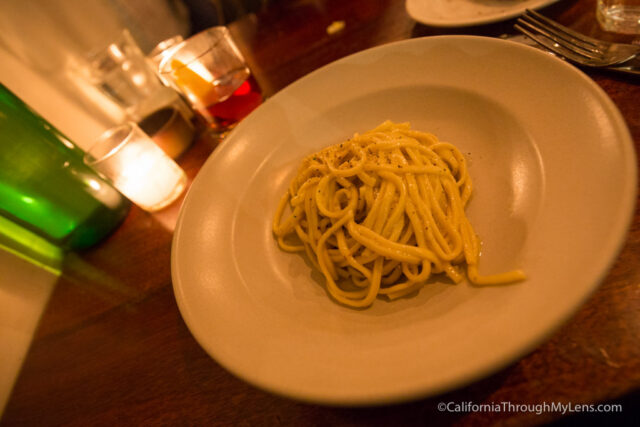 Since you made it through my unique recommendations, here is a real simple one to end the list with. The Tonnarelli Cacio E Pepe pasta from Boot and Shoe Service is as good as it gets for pasta. The simple dish is a portion of homemade pasta with a light olive oil sauce, cracked pepper, and salt, and that is it. The beauty comes from how good such a simple dish can taste. It is one of the best pasta dishes I have had in recent memory, and at $18, I don't feel like I overpaid. Check it out if some of the crazy options on the list didn't entice you.
Recommendation: Tonnarelli Cacio E Pepe Pasta
Video
If you are exploring Oakland, be sure to check out the video I made of exploring the city in 24 hours.
So there you have it, nine of my favorite dishes in Oakland. What did I leave off? Be sure to let me know in the comments.