I did a bunch of research on places to eat in Santa Barbara, and for seafood, the Santa Barbara Shellfish Company came up over and over again. I decided to try it, mainly because of the location right at the end of Stearns Wharf Pier and when I arrived at a page long wait on the sign in sheet, I knew it must be good.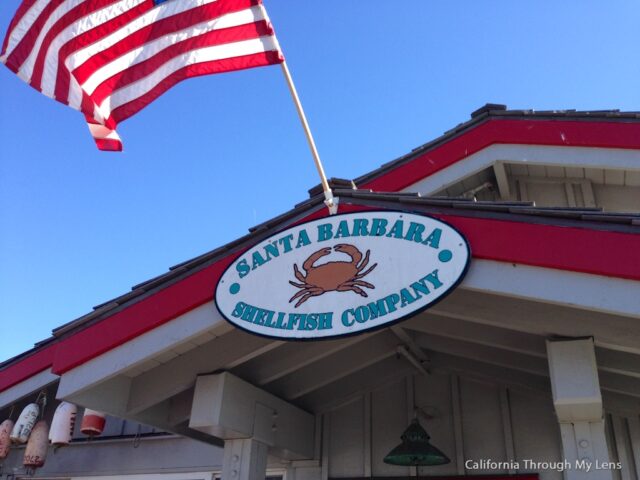 Details
10-20 dollars a person
Plan to wait at least 20-30 minutes during peak times
Can order to go from the side window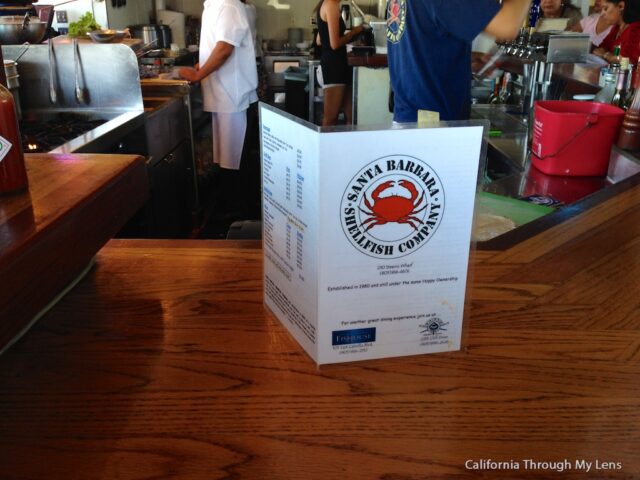 This restaurant has no tables inside, just bar seating on both walls. If you chose to eat outside, there are about four tables you can sit at which provide an epic view.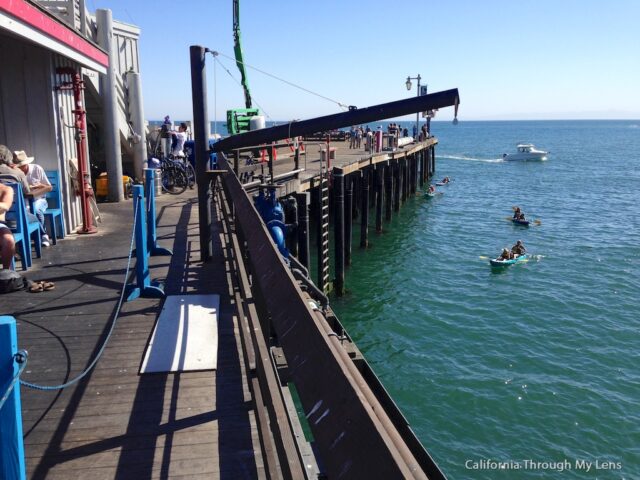 After getting a seat at the bar, I looked over the extensive menu of seafood. The waiter recommended anything that was fresh (still alive in the tanks) which included rock crab, spiny lobster and Maine lobster in the larger tanks.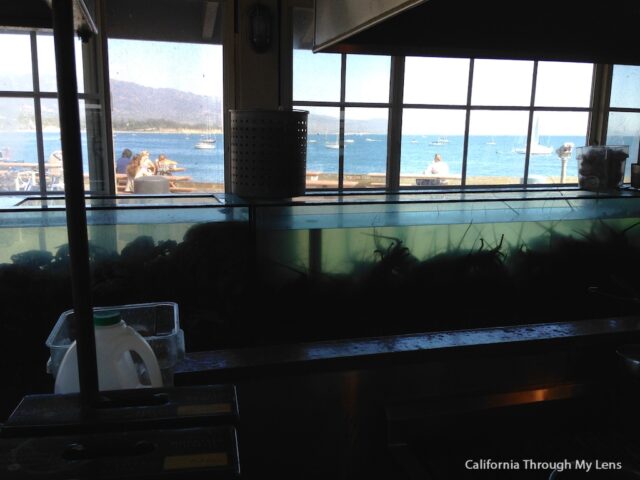 The Food
We ordered a rock crab, the Cioppino, an oyster shooter and onion rings. Here are my thoughts.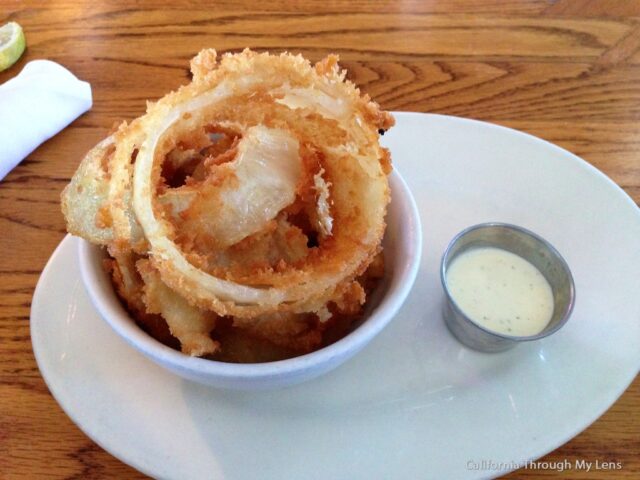 Onion rings – Amie and I both agreed, these were probably the best onion rings we had ever had.  At least I can't remember when I have had better ones. Flakey and deep-fried to perfection but not overly breaded. A must order.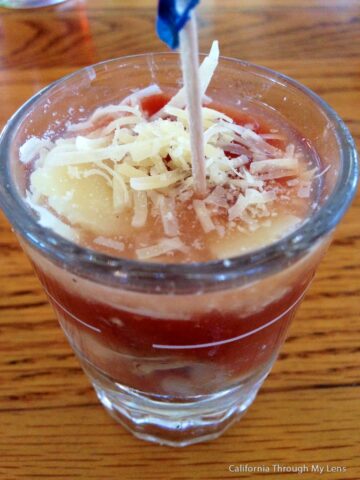 Oyster shooter – This one will vary widely whether or not you like oysters but for $2.50 for the shot I enjoyed it. It had an oyster, cocktail sauce, lemon and grated Parmesan cheese on top. Lots of good flavors all together and the Parmesan cheese was a hit.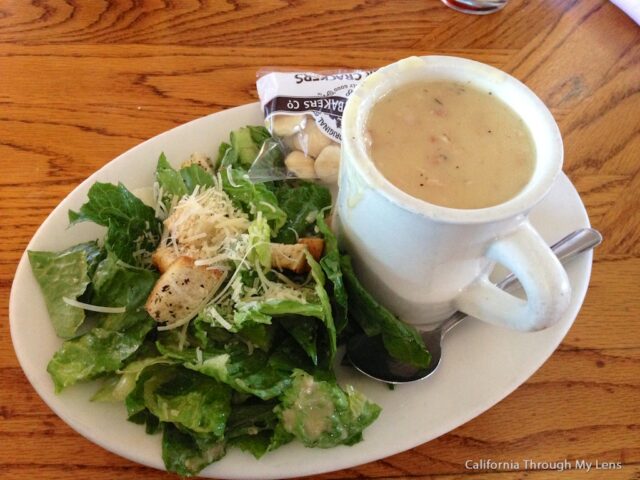 Caeser Salad and Clam Chowder – Highlight of the salad was the croutons; they were great, other than that it is normal. Clam Chowder was well done though; I would order that again.
Rock crab – The crab literally came out looking whole, and it was massive! It was already cracked for you and had big chunks of crab that were buttery and sweet. There was a lot to go around, and it came with the above clam chowder and a salad. Big fan of this crab.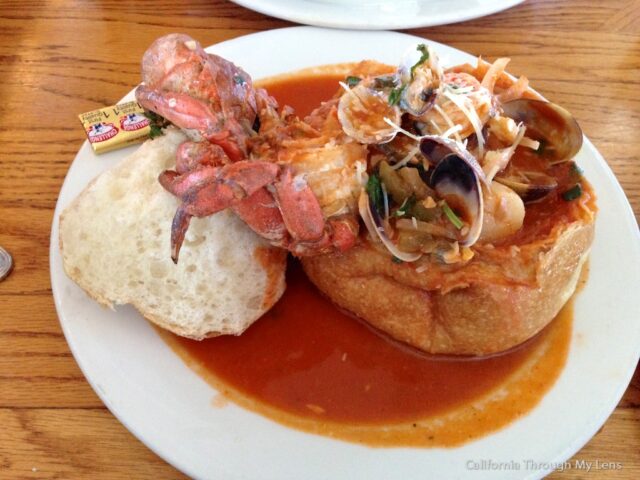 Cioppino – This is mainly a seafood stew with a marinara based sauce. Normally I would not be too excited about a marinara sauce, but this one was simply perfect. The clams, mussels, scallops and shrimp were all cooked in it then dumped in a bread bowl. It had a little spice to it which I loved, and I didn't want it to end. I would probably order the same thing next time.
Update 2017 – I went again and I ordered the Cioppino again. It was even better then I remembered.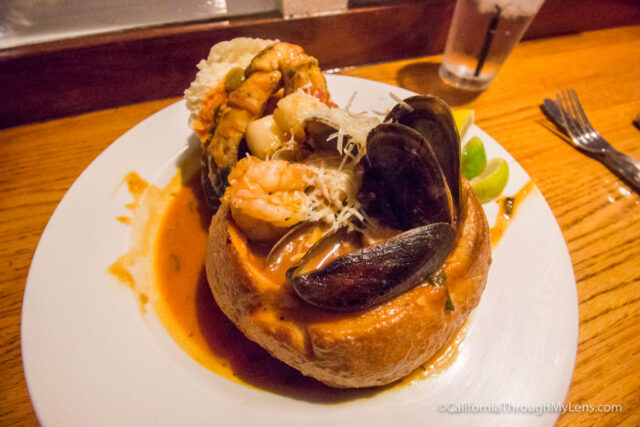 Make sure to not wear nice clothes if you are ordering crab as you will have to crack some of the pieces and it can get messy.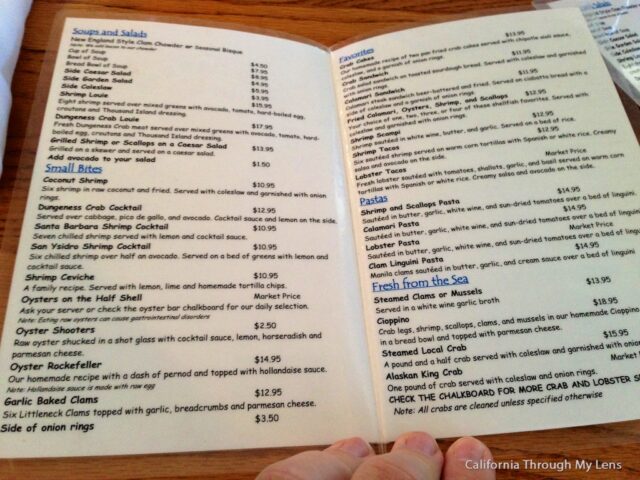 All in all this place was amazing. It is on the pricey side if you order like we did but you can't say you didn't get the freshest food when you see it sitting in a tank across the restaurant. I have no problem recommending this place so check it out and let me know what you think in the comments.
Get Directions