Surfin Donuts in Mission Viejo: Maple Bar Breakfast Sandwich
Surfin Donuts is a donut shop that makes a breakfast sandwich or a hamburger using any of the donuts they have in the shop as the buns. Do I really need to tell you more than that to make you want to go?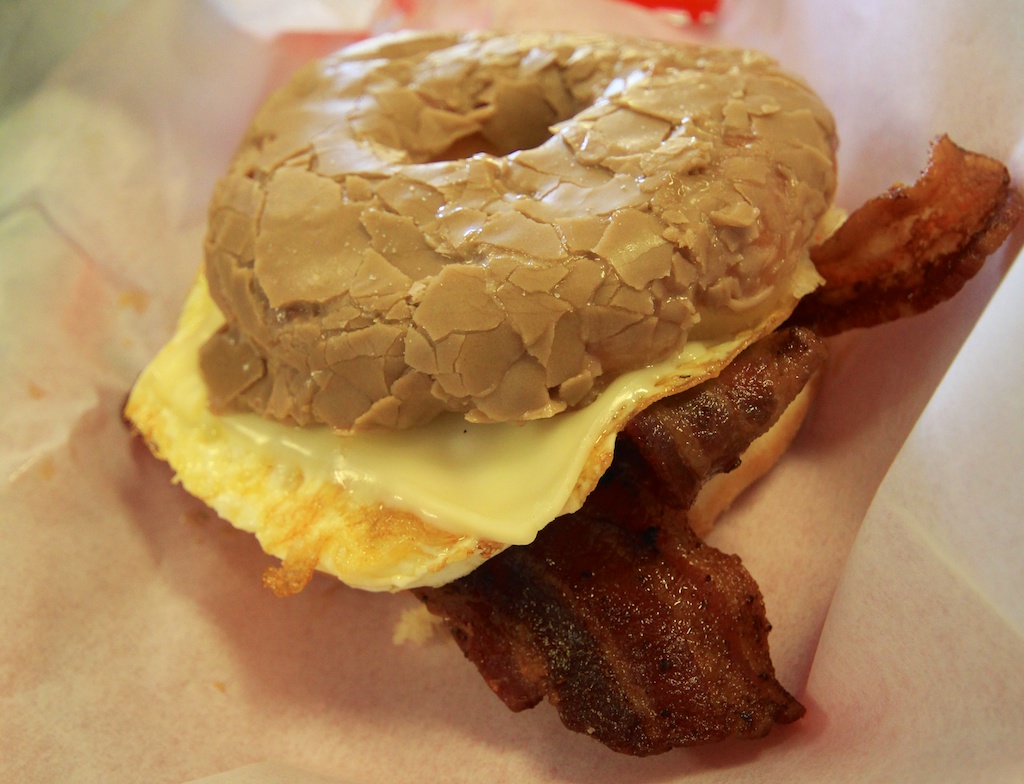 Still here? Ok, we will continue. Surfin Donuts is located right in the heart of Mission Viejo, which is in the Southern part of Orange County. When you arrive, it looks just like a traditional donut shop, with all the standard options plus a couple of new additions like a Red Velvet Donut.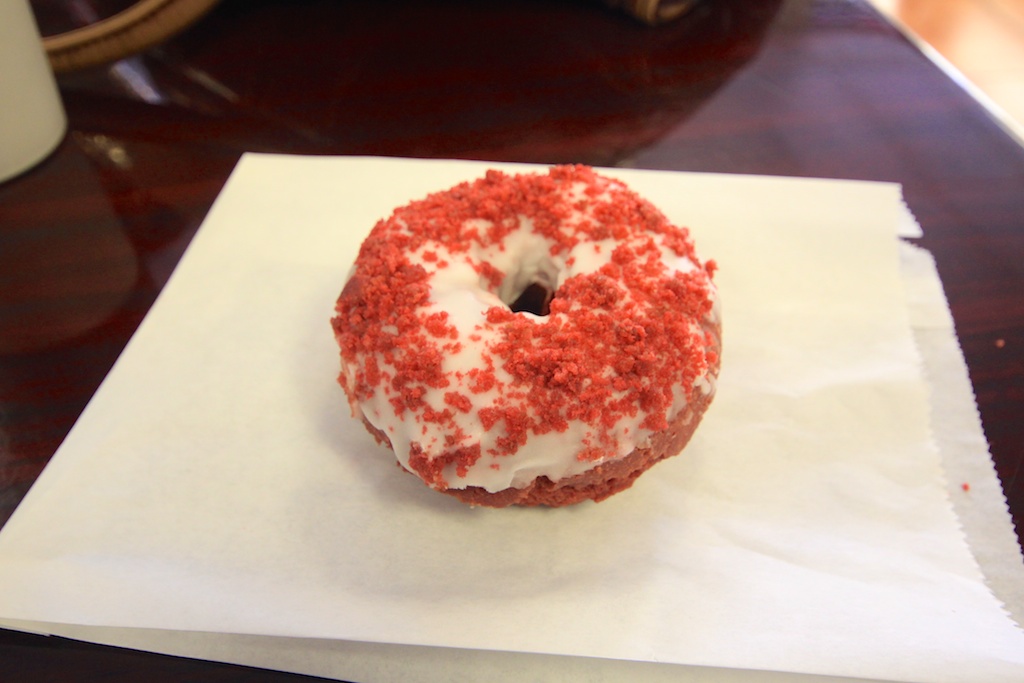 If you go on a weekend though you will notice all of these people are not here just for the donuts, they are here for all of the great breakfast options (burritos, eggs, etc.) as well as the sandwich mentioned above. It was hard even to get a table as there were a ton of people there and pretty much a constant stream of people continuing to flow in. I didn't care about the line though, as I had been looking forward to eating here. I had also heard that they made a bacon jelly donut, so I figured I needed to give that a try as well.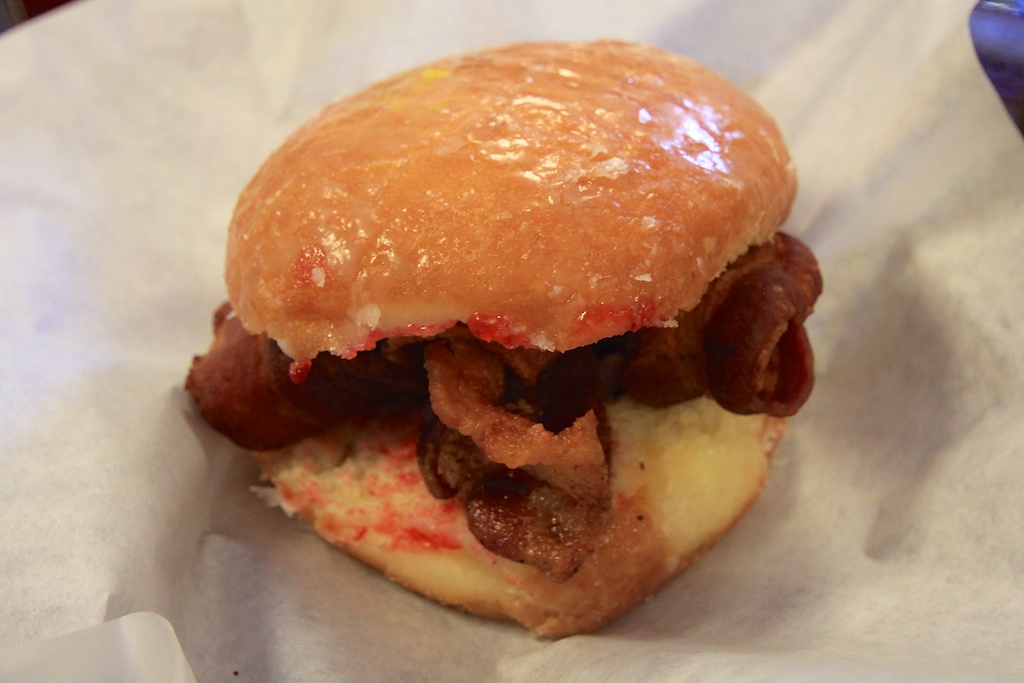 The first round with my friends Jordon and Hayley was the red velvet and the bacon jelly. The red velvet was good but nothing too special. The bacon jelly came with three fat strips of bacon in between a jelly donut. I was apprehensive at first, but after a couple of bites the jelly did add a unique sweet and salty flavor to the donut.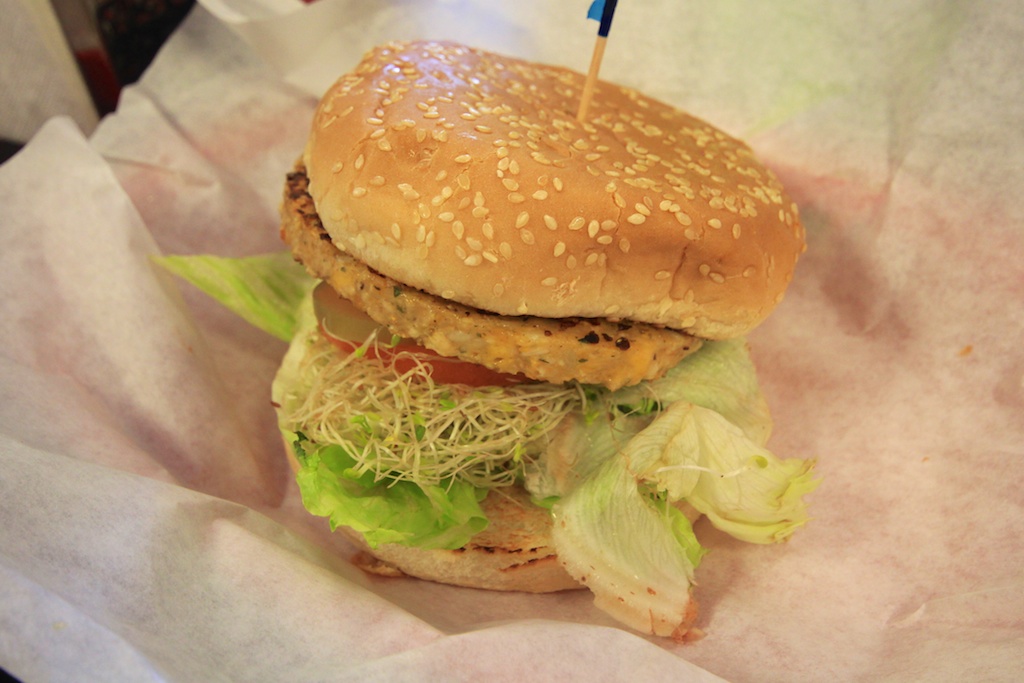 The second round was a maple donut sandwich. This consisted of a maple donut, cut in half and stuffed with eggs, cheese, and bacon or sausage. My friend and I were both blown away by how good it was. Even Amie, who is a health food addict, had to admit it was pretty amazing. They made the wrong thing, so they gave us the veggie burger you see above, and it was pretty good.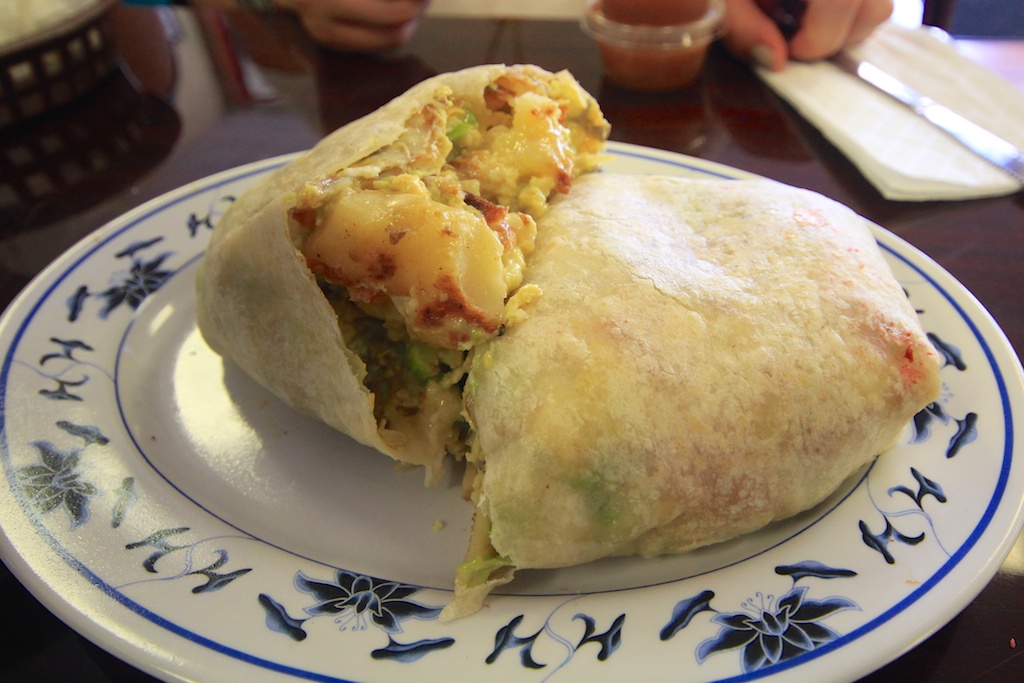 Amie also ordered the veggie breakfast burrito, which had a bunch of different types of veggies in it and was a great addition to the maple bar sandwich.
I have even heard that they make burgers with whatever donut you want to use as the bun. I don't know how I feel about that though, seems a little intense. Surfin Donuts also has a variety of 8-10 different types of coffee, which allows you to test some new brews to see if there is something you have been missing out on.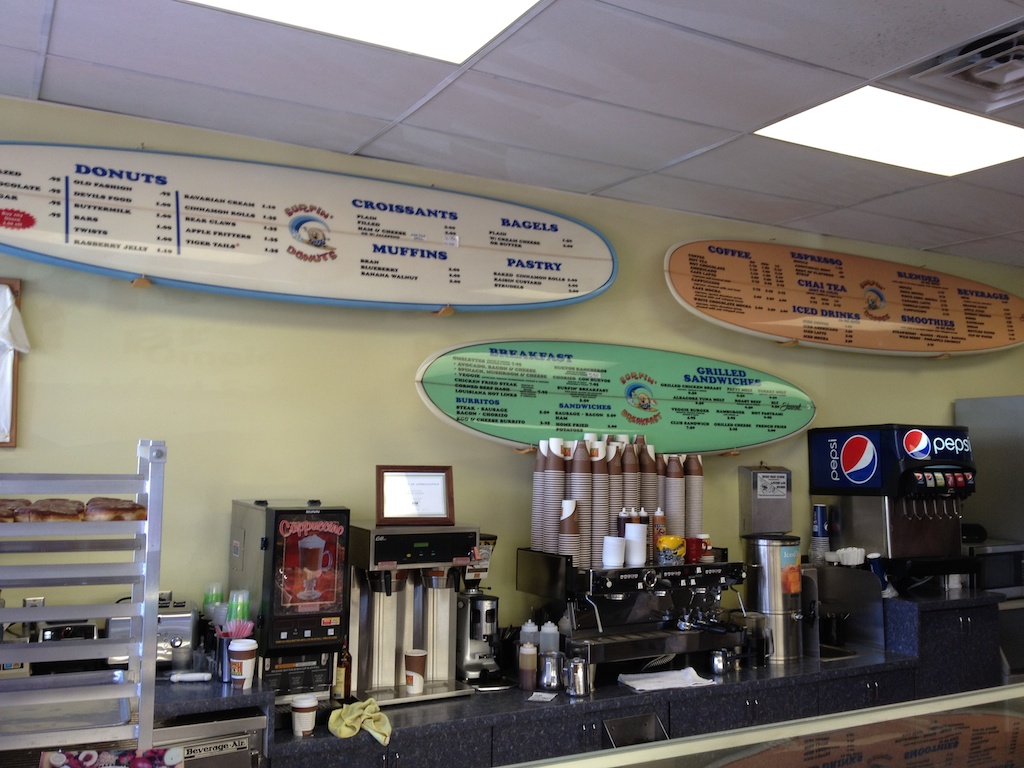 All of the food we had above came out to around 15 bucks (as of 2013). Even for a typical breakfast, that is a pretty reasonable price. I did love this place, it's not somewhere I can eat all the time, and I am glad it is not in my town as I may be forced to do that; however, if what I wrote about in the post sounds good to you, then you really should try it out, I bet you haven't had anything like it before.