Wacko Soap Plant: The Los Angeles Shop For Strange Things
Wacko Soap Plant, the self-described "2nd happiest place on Earth," is an excellent example of the eclectic vibe of Los Angeles. Only 20 minutes from the glitz and glamour of Beverly Hills and 10 minutes from downtown Hollywood, this shop is more exciting to me then both of them are a majority of the time. Within its aisles, you can find everything from a rubber chicken purse to a Batman pennant flag, just to name a few. If you are a fan of the unique, then you will be right at home at Wacko Soap Plant. Here is all the information.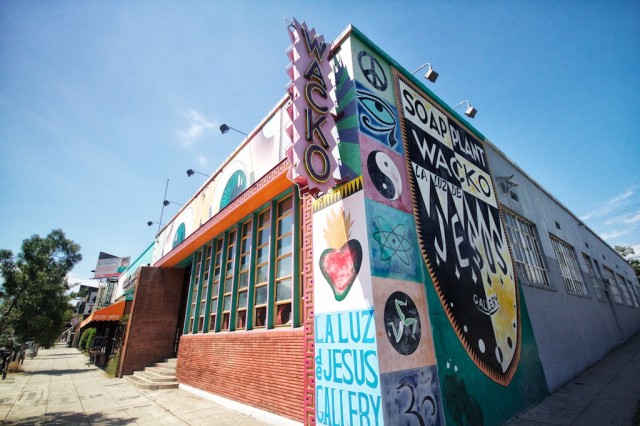 Details
Open 7 Days a Week
Hours: M-W 11 AM – 7 PM, Thur-Sat 11 AM – 9 PM, Sun 12 PM – 7 PM
I wrote this post in 2015 so some of the information may have changed.
History
From their site:
Soap Plant opened in 1971 as a tiny, family-run shop in the Los Feliz section of Los Angeles. Mom handled hand-crafted soaps, Dad designed the graphics and sons Peter and Billy Shire produced original ceramics and leather wares, respectively. Billy's outrageous leather outfits garnered him clients like Elton John and the New York Dolls.
By the early 1980s, Soap Plant was Billy's alone, and he moved the shop to Melrose Avenue. In this larger space, he added books, ceramics and unique jewelry to his ever-increasing stock, and Soap Plant's eclectic array of items helped turn Melrose into an internationally recognized shopping destination.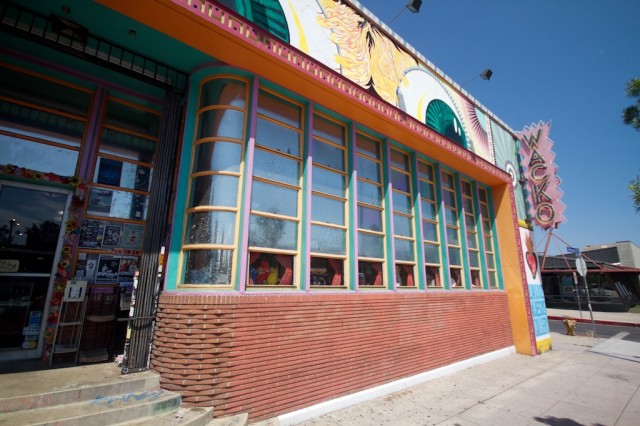 In 1995 Billy Shire moved his entire empire back to the neighborhood where it all began. The new (and current) location boasts over 6,500 square feet of retail space in a 10,000 square foot building, with a private backlot that hosts what Details Magazine calls "the best party in town": La Luz de Jesus Gallery's art openings on the first Friday of each month.
The Shop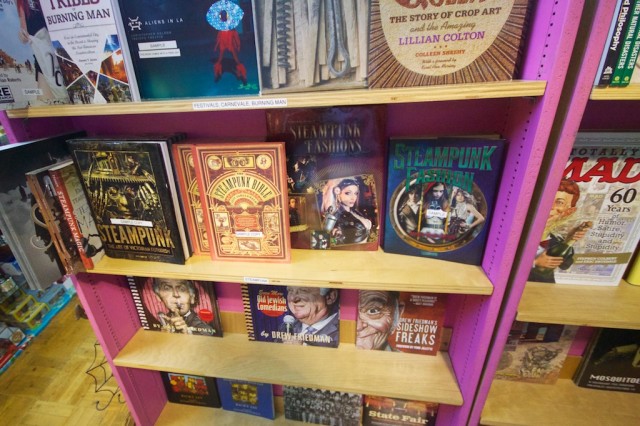 As soon as you walk in the store, you will notice its massive collection of books. These books have a little bit of everything, with a focus on sci-fi and just straight weird stuff. I loved the section dedicated to steampunk, as I am a huge fan of that style.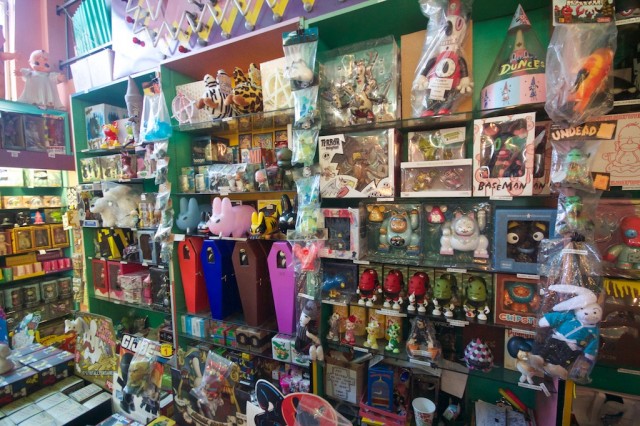 The next best part of the store is their collection of action figures. I am a kid at heart, and I love to collect cool action figures and pop culture art pieces, so there was a lot I wanted as I walked the aisles.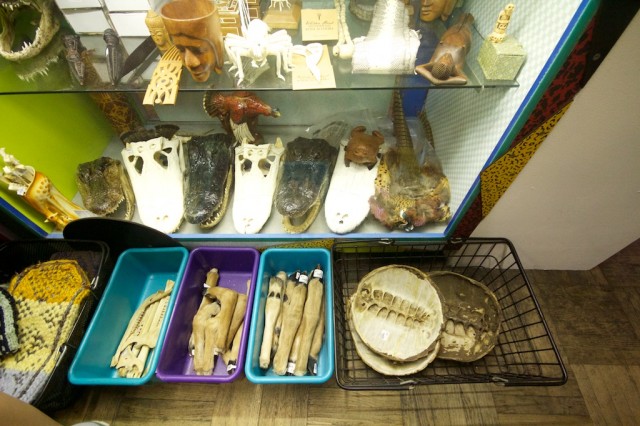 As you travel to the back, the selection gets much weirder. There is an entire area dedicated to preserved bugs like scorpions and snakes, as well as crocodile heads and actual turtle shells. Not sure how this fits in, but it is unique.
They also have a lot of fun masks in this area as well. I wish I could say I didn't put them on, but I gave in and posed for a couple of pictures.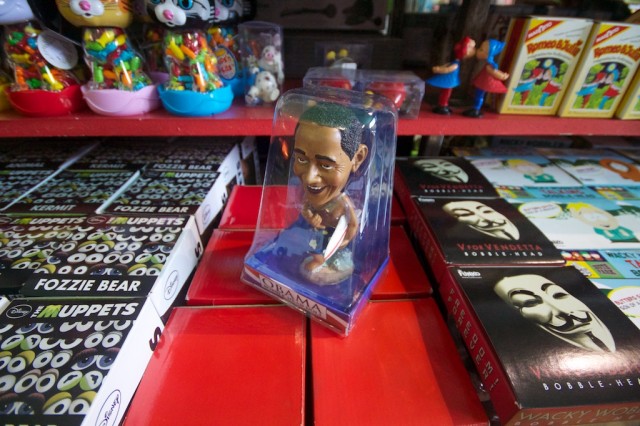 One of the standout finds was this bobblehead of surfing Obama; I mean, who doesn't want Obama telling them to hang ten? There was a lot more craziness in this store, check out the pictures at the end to see it all.
La Luz de Jesus Gallery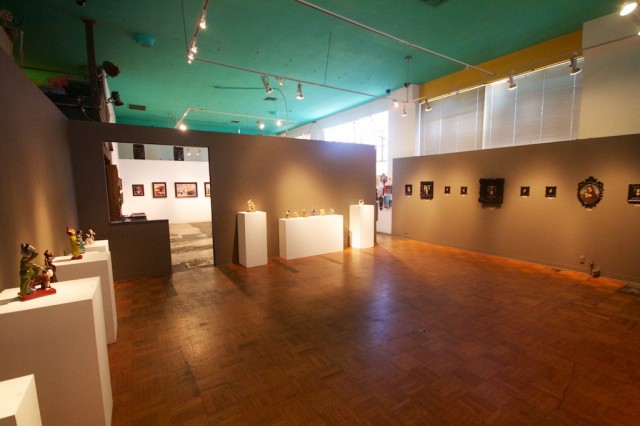 I also went and explored the gallery while I was there. It is just as strange as you would expect for a store with the above items. I was not aware of the history before I went, but apparently, it is a trendy gallery for those with more unique tastes. I mean, you can even see the below figurine of Mickey with a AK-47 (my interpretation).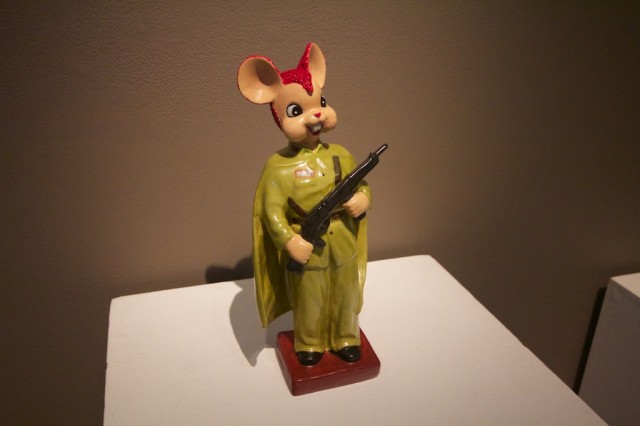 All in all, this is a bizarre place that is not for everyone. That being said, I am a fan of places like this, like Archie Mcphee's in Seattle, and I spent a good 45 minutes here. If you are looking for a gift for someone who has everything, consider visiting Wacko Soap Shop, heck you might even leave with some Zombie Jerky!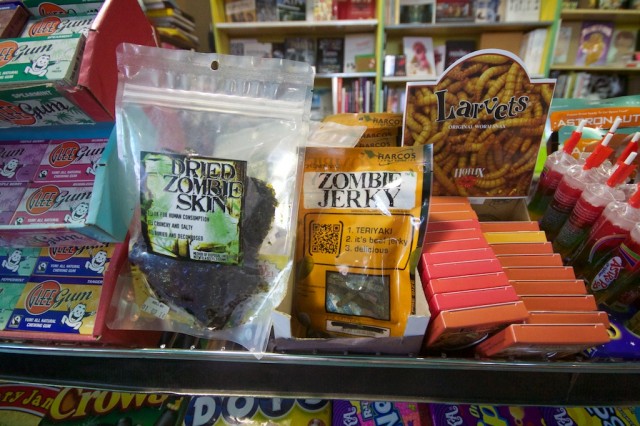 I will leave you with the words of wisdom I saw as I left the store.