Whoa Nellie Deli: Best Gas Station Food on Highway 395
If I were to tell you that a gas station has one of the best meals on Highway 395, you would probably think I was crazy, right? Well, that is what I am saying, as a trip to the Whoa Nellie Deli at the base of Tioga Pass Road is one of the best places you can eat on the entire drive. The chef here is making upscale food like fish tacos and lobster taquitos that you would never expect to find in a gas station, or if you saw it, you probably wouldn't order it. If you are making the drive on Highway 395 and can afford a little bit higher priced lunch, then you really should check out Whoa Nellie Deli.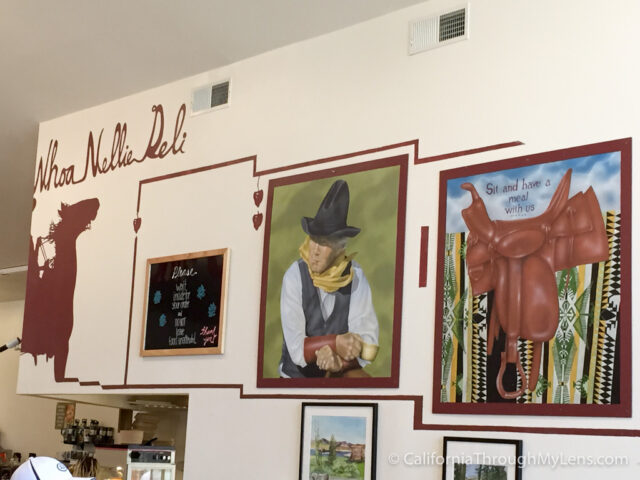 Details
Cost: $12-15

Hours: 6:30 am – 9:00 pm

Location: 22 Vista Point Road, Lee Vining, CA 93541

I visited in 2015, 2018 and 2019
Getting There
After turning off Highway 395 onto Tioga Pass Road, you will see the Mobil Gas Station that houses this culinary delight. I would not recommend you get gas here though, as it always seems to be a good 50 cents to a dollar more expensive than the rest of the stations around.
Whoa Nelli Deli
Each time I have visited Whoa Nelli Deli, there have been a ton of people eating and soaking in the views of Mono Lake that can be seen from its porch.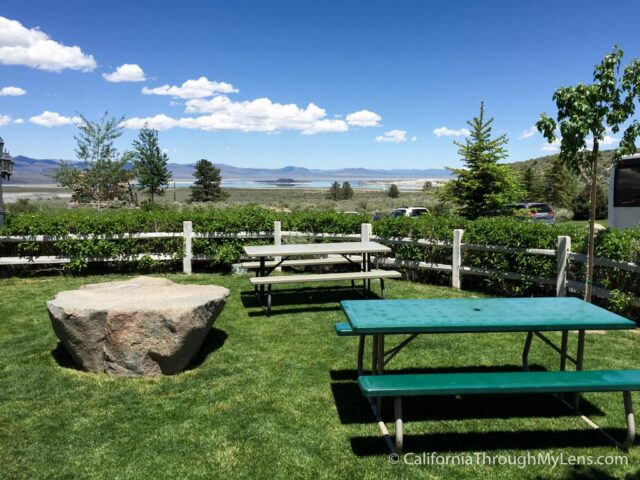 When you enter the deli, you will see that it is much nicer than most gas station food spots. There are a lot of booths you can sit in and two big menus.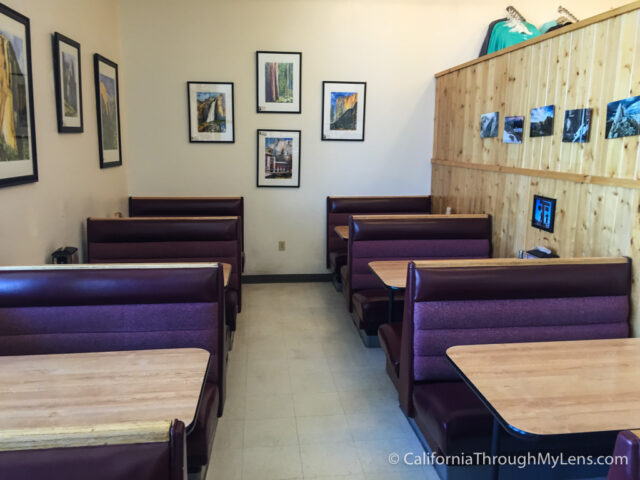 The meals themselves range from the standard stuff like hamburgers and sandwiches to the unique like lobster taquitos and buffalo meatloaf. The unusual stuff will cost more, but that is where I landed when looking at the menu.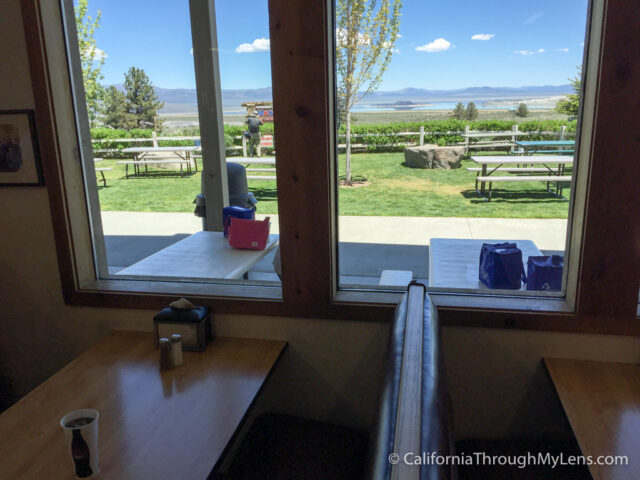 I ordered the steak sandwich, which has horseradish on top, and my wife ordered the lobster taquitos. After grabbing a booth with a view of Mono Lake, we anxiously awaited the meals.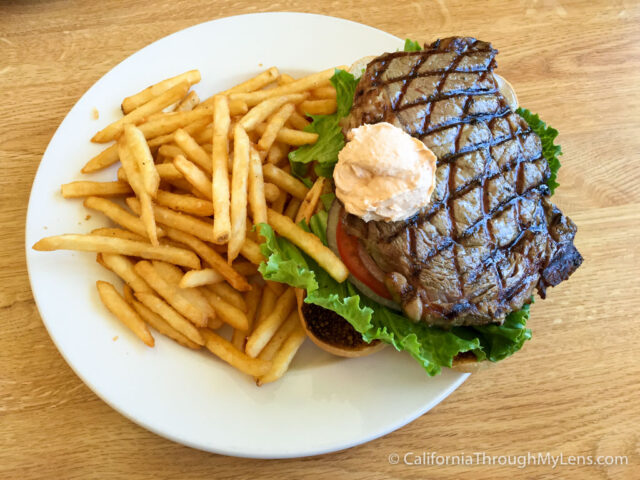 First, the steak sandwich came out, and it was a full steak sitting on top of tomatoes, grilled onions, and bread. I had to cut it down the middle even to fold the sandwich. The steak was prepared just like I ordered, and the horseradish was creamy and a little spicy. I would prefer it to be spicier, but it was still good. I dove right into the sandwich and liked the way everything worked together. The steak was juicy and easy to eat, which made the sandwich more enjoyable. The highlight was probably the fries though, as they had a breading on them that was good.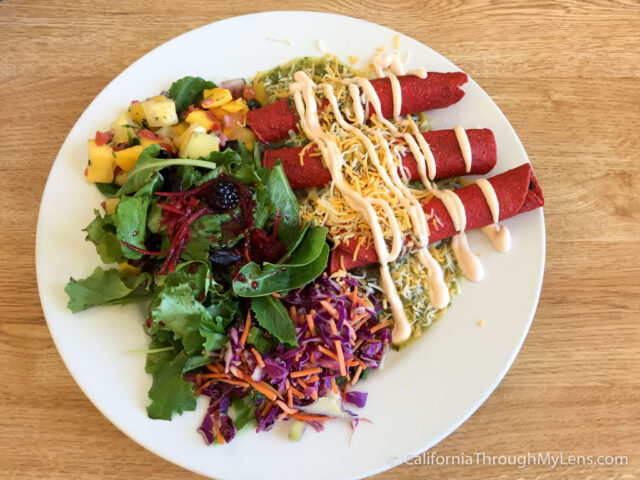 My wife dove into the lobster taquitos and enjoyed them as well. They don't have a strong lobster taste with the salsa and cheese that is added to it, but the mango salsa they put on the side is on point. She quickly ate the whole thing and gave it a solid 8 out of 10.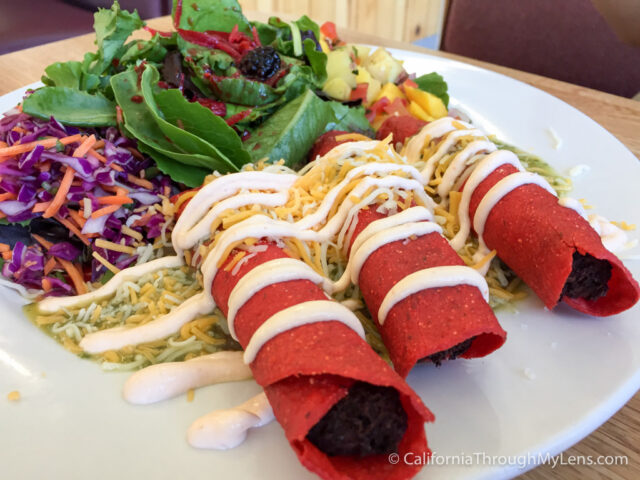 On subsequent trips, we have started to order the fish tacos each time. They are delicious here, and it's now hard for me to order anything else.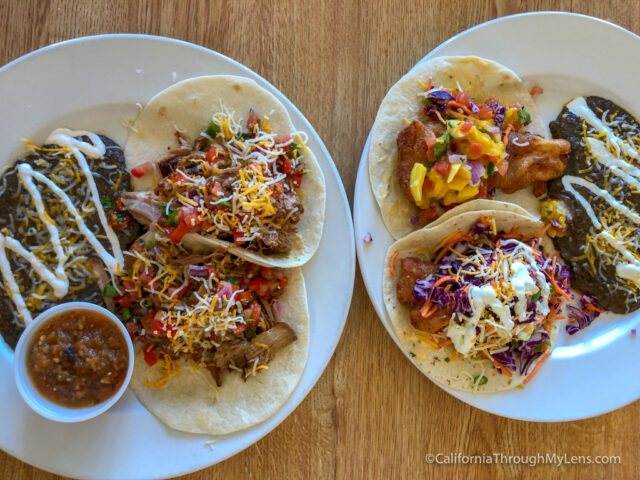 As far as gas station meals go, this has to be one of the best in all of California. The food is unique and prepared well, and while it can be a little pricey, it is a fantastic stop on a road trip, especially since it is so close to highlights like Mono Lake, Bodie, and Yosemite. Give it a try and let me know your thoughts in the comments. Also, check out the rest of my Highway 395 recommendations here.