Yaks on the 5 is one of the best restaurants along Highway 5 from Sacramento to the state line. It was even voted as one of the top in the United States when it made the Yelp Top 100 list in 2015, and I have confirmed it myself on multiple occasions. It doesn't look like much from the outside, but it is full of unique flavor combinations (lavender ketchup anyone?) and down-home charm. It's a little pricey though so know that going in; I don't think you will leave feeling you didn't get your moneys worth though. Here is all the information.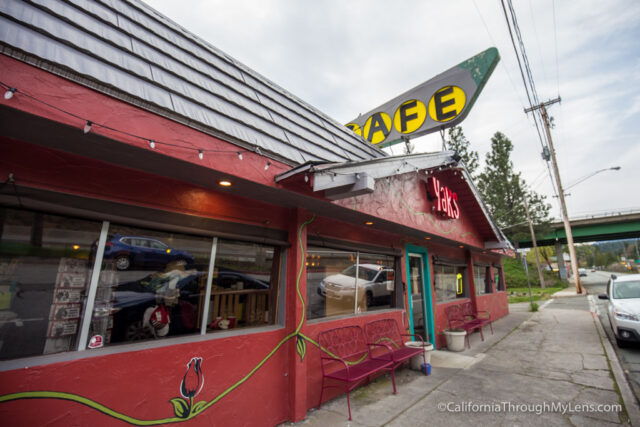 Details
Cost: $13-$18
Hours: Daily from 11:30 AM – 9 PM
Location: 4917 Dunsmuir Ave, Dunsmuir, CA 96025
Getting There
Yaks on the 5 is located right off the 5 Freeway; you can see it from the road. There is a sign an exit or two away as well, so you won't miss it.  You will get off on Dunsmuir Ave and there is street parking around, as well as a lot in the back.
The Restaurant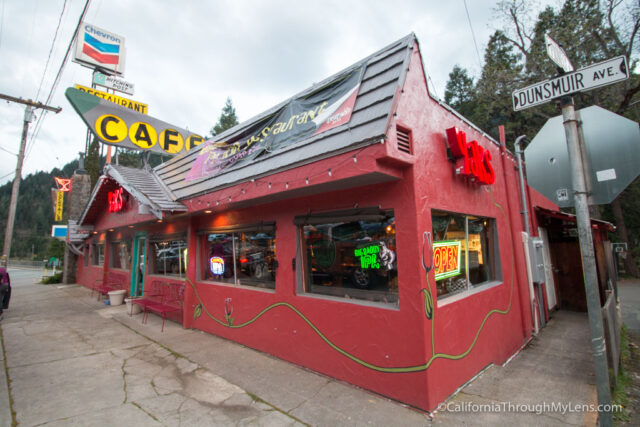 Yaks is almost always busy, from the travelers that have heard stories about it to the locals that swear by its food. I have had to wait a few times, but you might get lucky and get a quick seat. The restaurant has tables strewn around two small rooms, and they do make the food fast, so it never seems to take long.
The menu is traditional American fare with hamburgers, salads, and sandwiches; but what sets them apart is the crazy combinations they add to their burgers. For example, there is a burger where they take their famous sticky buns and put a burger between it. Here is what we ordered after 10 minutes scouring the menu.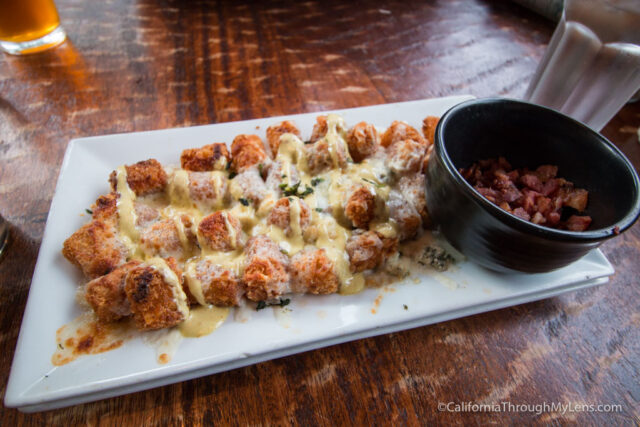 Scott's Tots – Cheesy, savory goodness, it's like a tater tot, and a mozzarella stick had a baby and then swaddled it in a layer of gooey cheese. We got bacon on the side cause my wife is a vegetarian, but the salty bacon makes the flavor come to life. It doesn't look as good as it tastes but taste is all that matters, you need to order this to start your meal.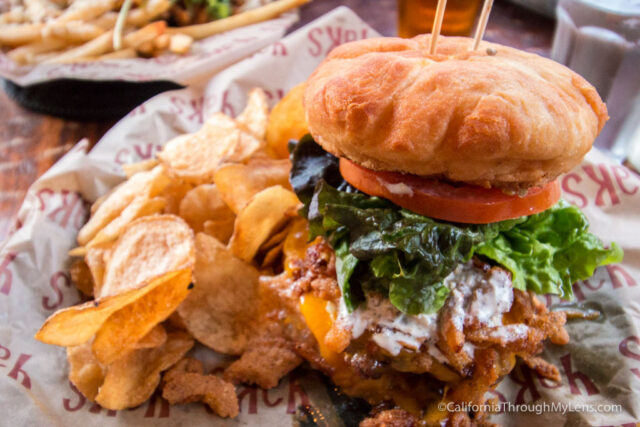 Garlic Burger – The most popular burger on the menu. These burgers are beautifully crafted and stacked high with ingredients. This one is a garlicky beast, but you should have already known that going in. The beef is cooked medium, and it is juicy and full of flavor. Add to that the cheese graciously melted on the home made bun and it's a burger that is hard to beat. Even the fresh baked bun is a hit here as it is not too heavy and has an almost flakey crust.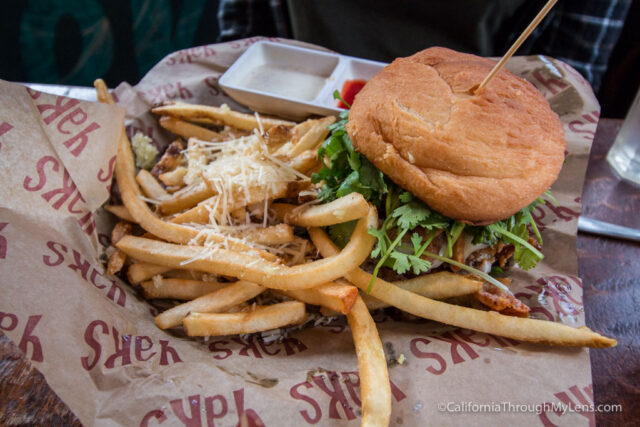 Cilantro Veggie Burger – The home made veggie patty is a combination of beans and vegetables which makes it a versatile patty to pair with all the crazy burger options. The siracha lime aioli on this burger adds a nice citrus kick to it and the mountain of cilantro is great if you like that kind of thing. My wife does but not me. She went with the garlic fries but both of us like the chips better.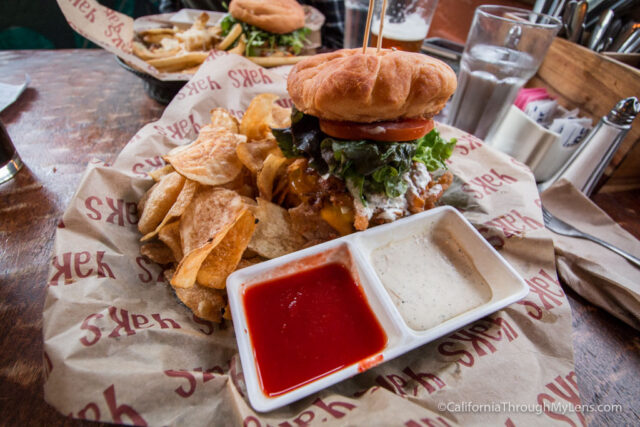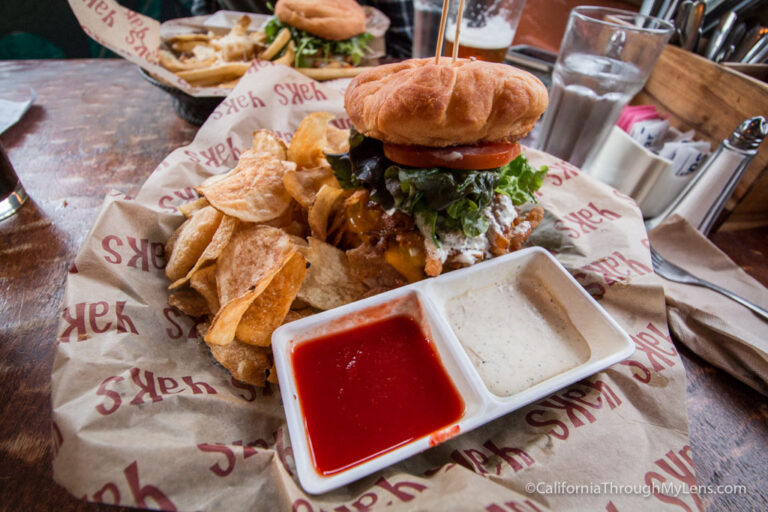 The burgers are served with a lavender ketchup and a garlic aioli. The home made lavender ketchup is the stand out here it has a subtle lavender taste but an excellent sweetness. I was a huge fan, and I don't generally love ketchup. My wife even asked for more as it was that good.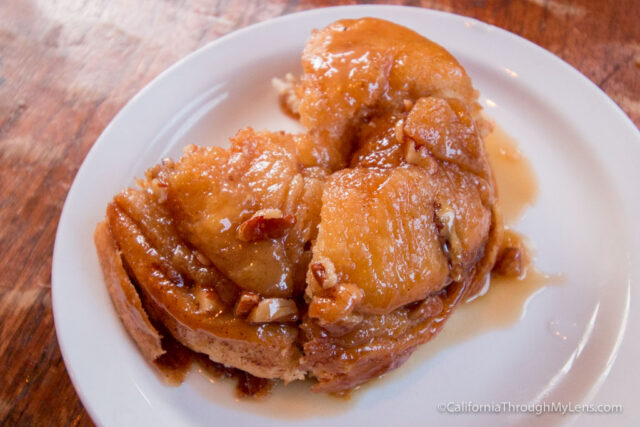 Sticky Bun – Lastly, we ordered the most popular dish at the restaurant, the homemade sticky bun. These delicacies have a light bourbon flavor with a warm melting caramelly sauce. It's so delicious and full of flavor, tasting like it was baked with love just like the sticky buns my grandma used to make. Bourbon, brown sugar and butter, what more do I need to say.
All in all, Yaks on the 5 is a great road trip stop. It is a little pricey, but it is what you would expect when you have so little options, and you use fresh ingredients. Let me know in the comments what you think if you give them a try and I highly recommend that you do.