Denny Bar Co. Distillery: Great Food & Drinks in Etna
Located in Etna, a small town about 45 minutes from Yreka, Denny Bar Co. Distillery is one of the best meals you will ever have in a town like this. The restaurant looks like something you would expect to see in Los Angeles or San Francisco, with a fun modern vibe that still maintains that historical feel. I didn't know what to expect when I drove all the way out here to try it, but both my wife and I loved the food, atmosphere, and spirits they make on the property (you can even request a tour). Here is all the information.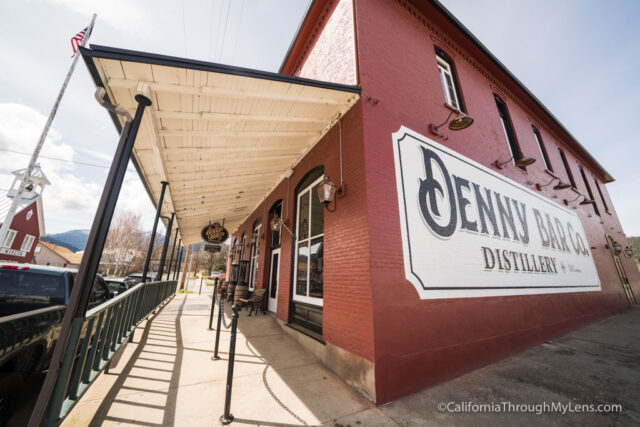 Details
Cost: $13 – $20
Hours: Wed-Sat: 11 AM – 10 PM, Sunday 8 AM – 4 PM
Location: 511 Main St. Etna, CA 96027
This information is from my visit in 2018
Read about all of my favorite spots in Siskiyou County here
Getting There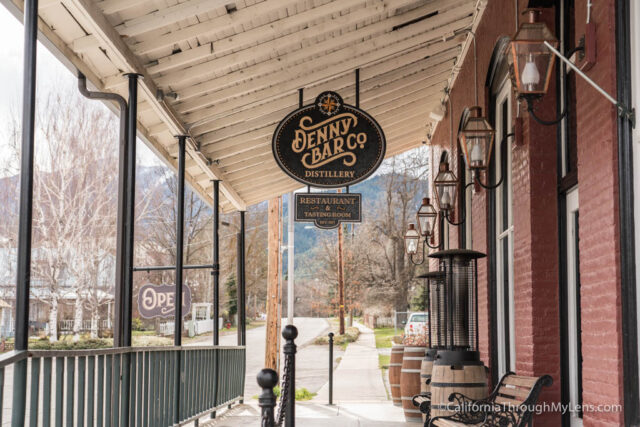 From Yreka, it's about 40 minutes on Highway 3 to get out to the town of Etna. There is one main road in the downtown called Sawyers Bar Road, and that is where the restaurant is located. You can't miss it since the name is painted in large font on the side. There is lots of street parking around.
The Restaurant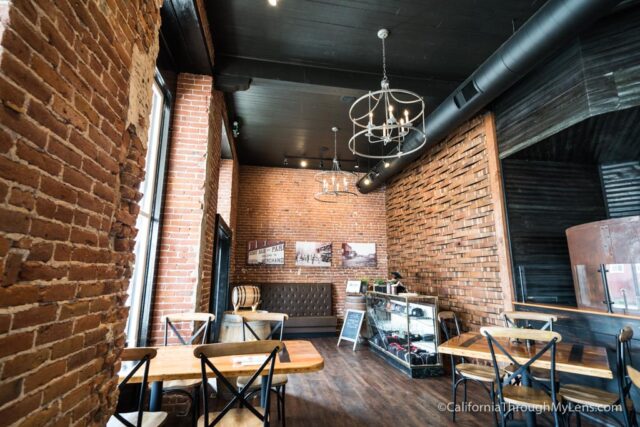 Amie and I came in for brunch on a Sunday, and it was pretty busy with most of the tables occupied. The waitress told us that even though it is out of the way, word of mouth has been spreading about how good it is.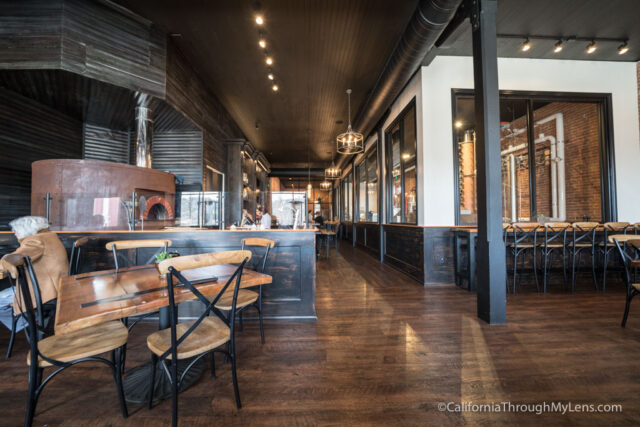 The interior has a lot of wood and metal tones to go with the brick walls. It seems very modern for an almost 100-year-old building.
The Food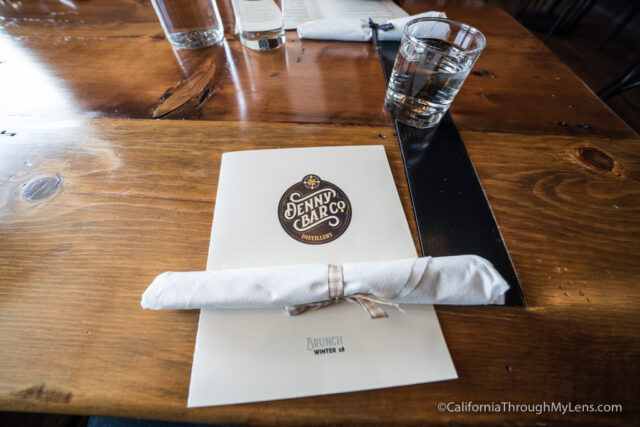 The menu had a lot of fun items on it, and here is what we ordered.
Avocado Toast – This was such an impressive dish with really fresh ingredients from the local farms. It came on two slices of toast served with avocado, peppers, bacon pieces, pickled onions, and cheese. It's way different then you would expect, as avocado toast is often very avocado focused, and this dish has avocado as only a part of the flavor. I really liked the bacon bits that they put on top, they were made in house and tasted as fresh as bacon bits can taste. Also, the dish has a sweet, spiced herbed aioli that adds an excellent pop of flavor, and that balances out the spicy Fresno peppers.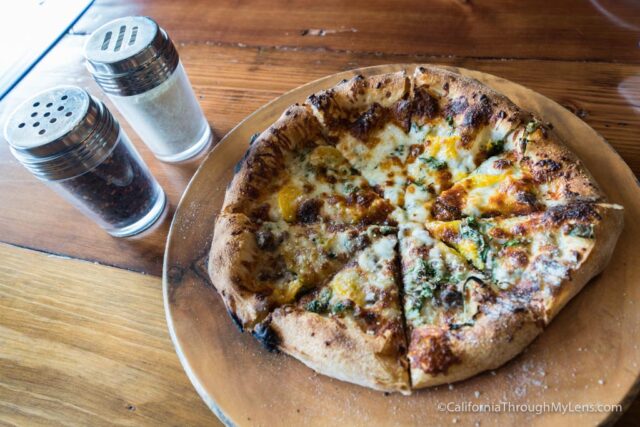 Asado Pizza – Pizza with beef, peaches, Brie, arugula, and balsamic. A great combination of flavors with the sweet coming from the peaches and savory from the meat. Add to that the creamy Brie, which serves as a substitute for the usual red sauce, and you have a fantastic pizza. It says it serves two, but I think that would be pushing it, depending on how hungry you are.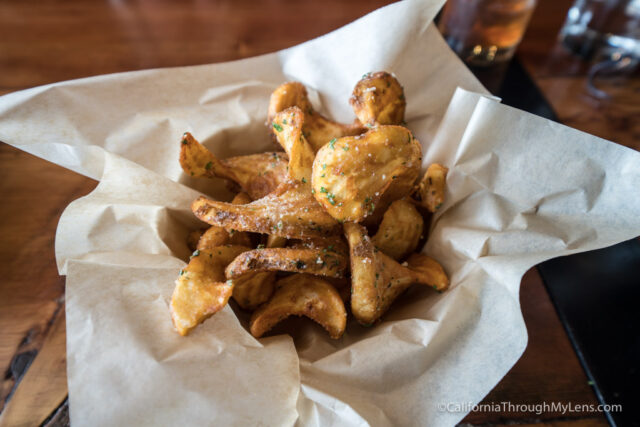 Truffle Fries – Spiral carved potato wedges, fried well, and then topped with truffle oil. They had a nice truffle flavor with a light dusting of salt and garlic. These were great to share and different than most French Fries. They were served with ketchup and ranch.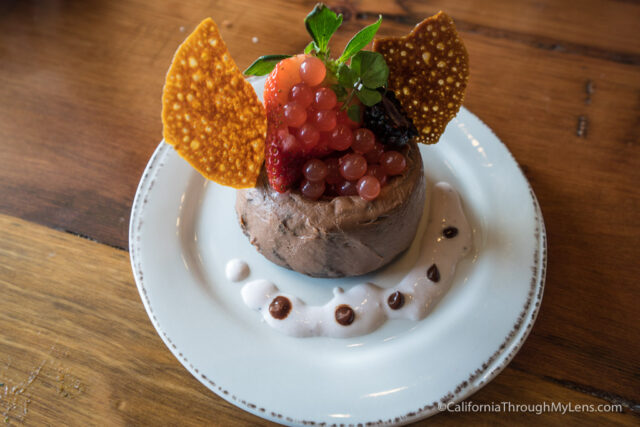 Caramel Corn Chocolate Cake – Made with local caramel corn, this dish is decadent. The cake was served with hazelnut frosting and a strawberry compote.
Distillery Tour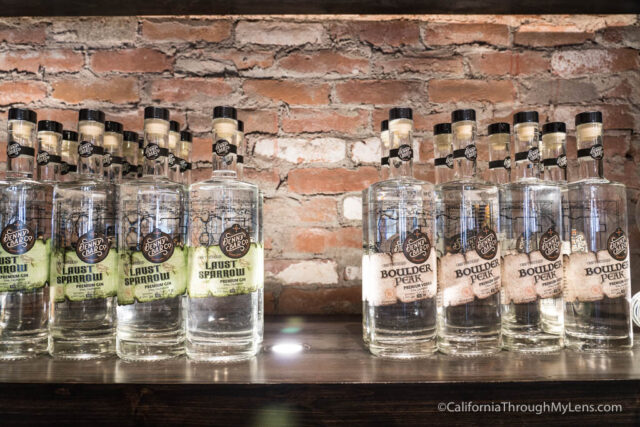 I had called in advance to see when the tours were, and we got on one after we finished our meal.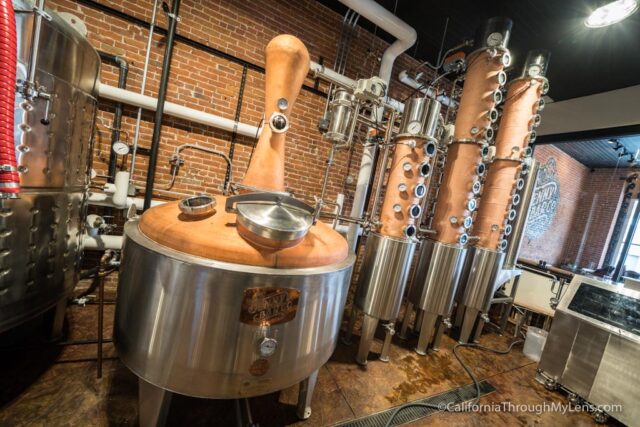 It is a short tour, but it takes you into the area where they make the vodka, gin, and now whiskey.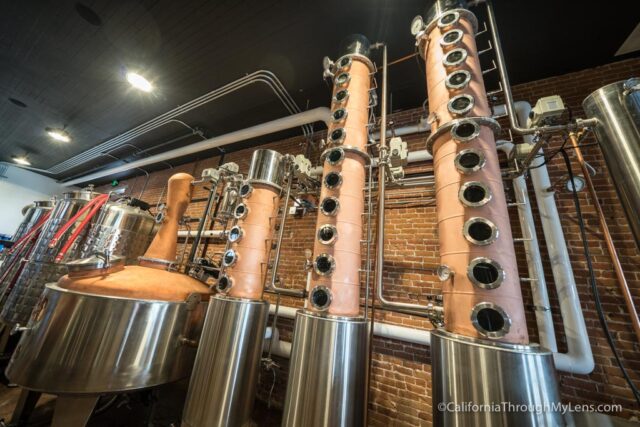 After the tour, they even let us try the different spirits, and I have to say, their gin was fantastic.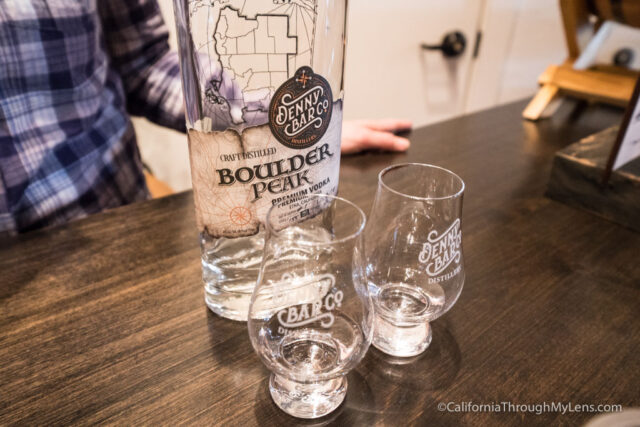 If you are spending some time in Siskiyou County, then I highly recommend heading over to Denny Bar Co. to sample some of their food and spirits. It's a great spot, and it was easily worth the drive, plus the Scott Valley area is a ton of fun to explore as well.