Ever since I started this blog I have always wanted to visit Glass Beach. The way that the small pieces of sea glass wash up on the shore made it onto my California bucket list and has not left. Maybe this is why, while it was awesome, it did not live up to my expectations. I have heard that people take tons of glass from it everyday and because of that most of the colors are gone and it is all white. This is how it was when I saw it, and I still recommend you visit it if you are interested but it is just not as epic as I expected.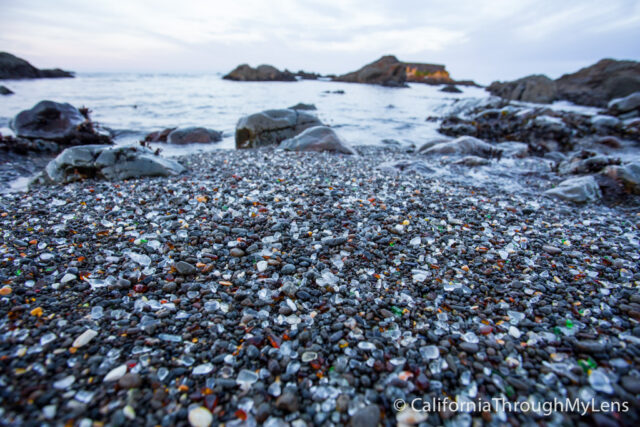 Details
.25 mile walk to the beach

Free to park

Go at sunrise to avoid the weekend rush.
To get here turn on Elm St, right near the Dennys on the North side of Fort Bragg. From here you will drive to the intersection with glass Beach Road and park. After parking you simply walk the trail down to the beach. The glass is on the left hand side in a small cove when you get down there.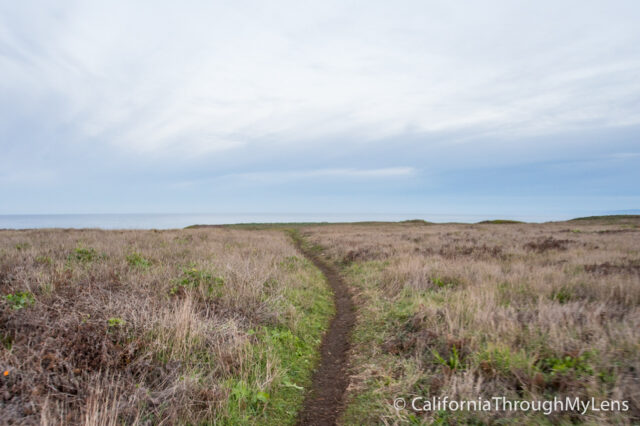 History
In the early 20th century, Fort Bragg residents threw their household garbage over cliffs owned by the Union Lumber Company onto what is now Glass Beach, discarding glass, appliances, and even vehicles. It was referred to it as "The Dumps" by local residents.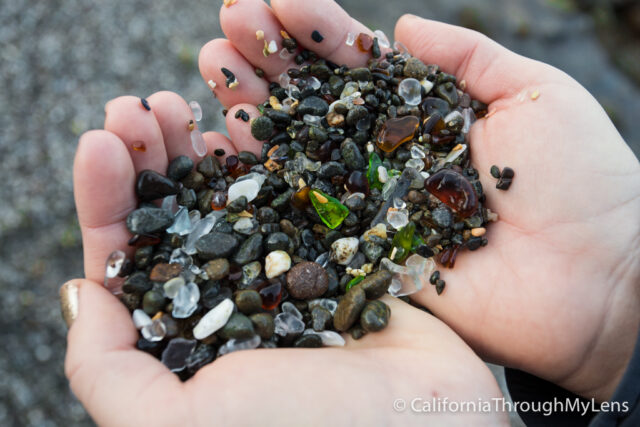 The California State Water Resources Control Board and city leaders closed the area in 1967. Various cleanup programs were undertaken through the years to correct the damage. Over the next several decades the pounding waves cleaned the beach, by breaking down everything but glass and pottery and tumbling those into the small, smooth, colored pieces that cover Glass Beach.
Glass Beach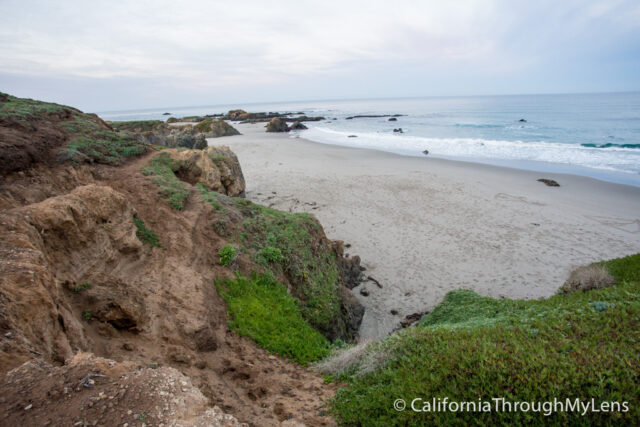 After heading down the trail I was greeted with a beautiful beach right at sunrise. Just being here at this time was a perfect way to experience the beach without the normal crowds searching the glass.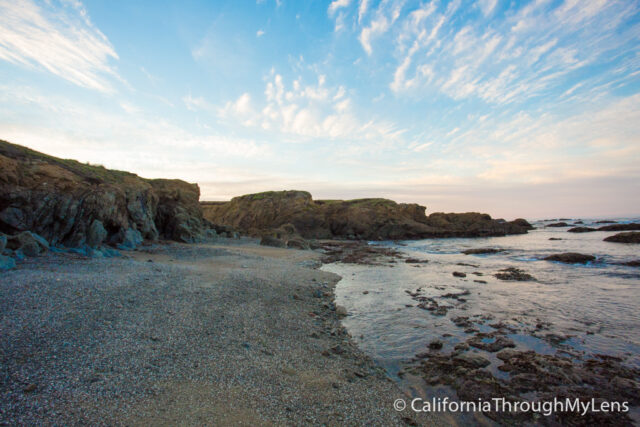 I walked along the regular beach and up over the rocks to the small cove where all the glass is. There really is a lot of glass here and it makes for some epic pictures.
I mostly found a lot of clear glass all over but was able to see a few bits and pieces of greens and reds.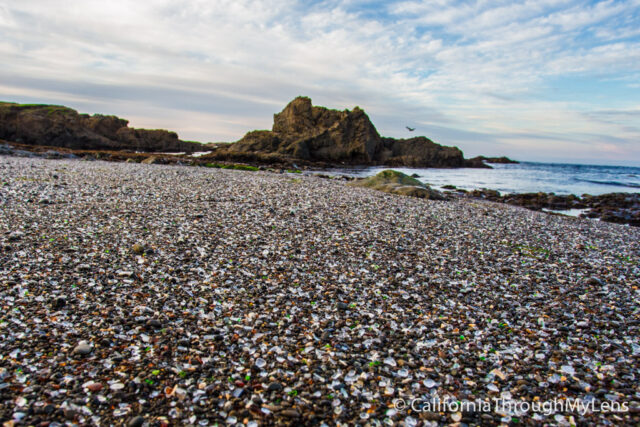 All along the beach are small tide pools as well that house everything from crabs to sea anemone.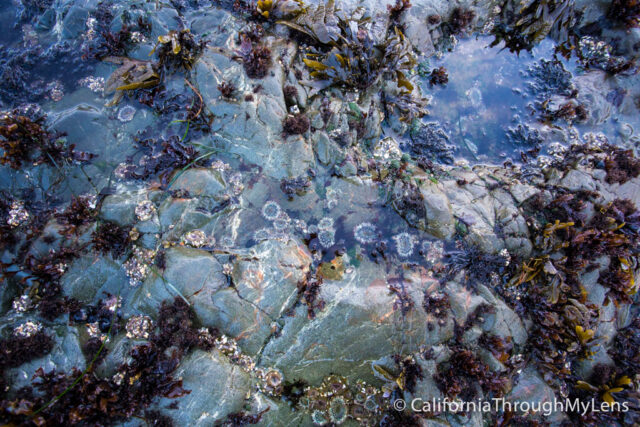 I found it especially interesting to see the juxtaposition of nature with the glass from human trash. In this picture you can see glass resting next to a sea anemone.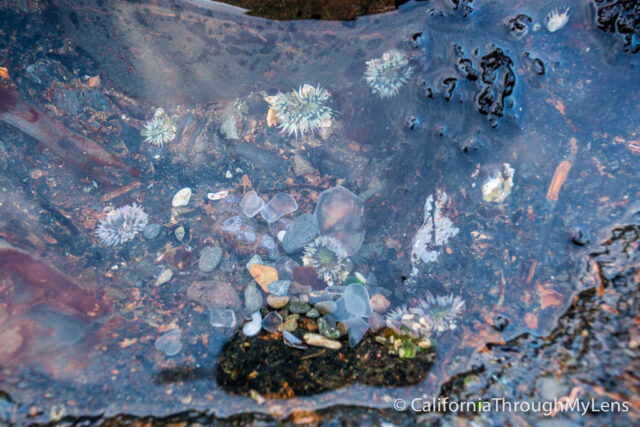 I had my wife grab a handful of the sand / glass so that you can see what it is made up of in the below picture (don't worry I put it back).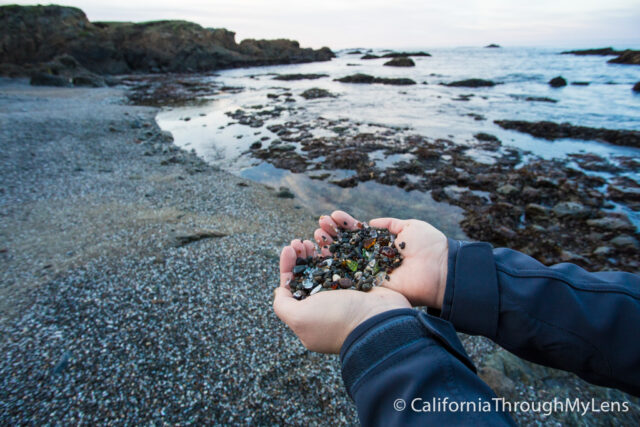 I explored for a good 20 minutes just admiring the way nature repurposed the trash into something amazing.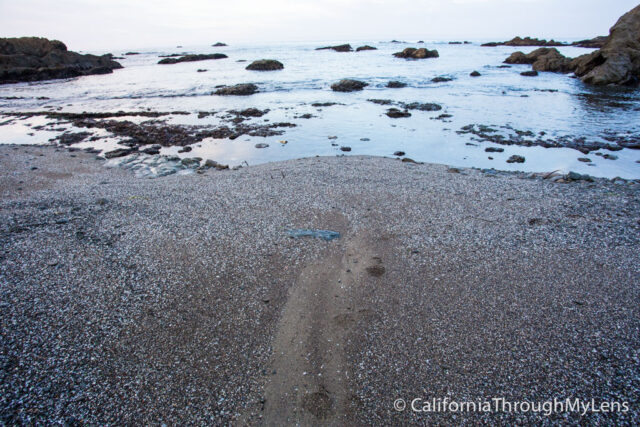 As I was leaving I saw a bucket sitting in the sand and it reminded me why we need to not take things from places like this so that others can enjoy it for generations to come.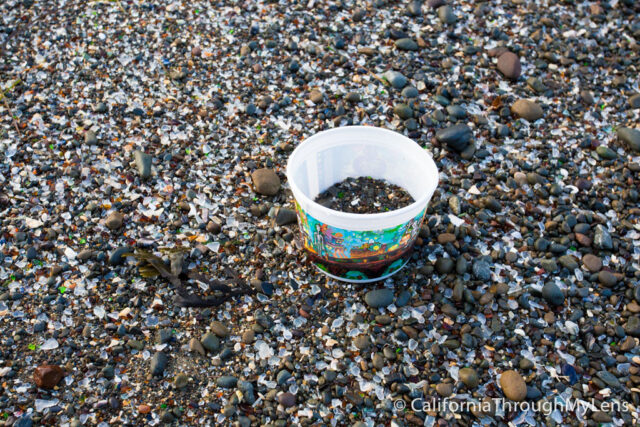 Here is a short video of my time there as well.
All in all, this is a beautiful beach and a very unique place to visit on Pacific Coast Highway. I have to imagine it was more beautiful a decade ago, but I did enjoy being able to check it off my California bucket list. Here is a video of my time there as well.