Grace Cathedral in San Francisco
In the center of the Nob Hill district of San Francisco stands Grace Cathedral, a beautiful old church which began its construction in 1928. Over the decades it took to make this cathedral, many different artists and sculptors came to help it along. It was finished in 1968 and still stands as a stunning work of art that is as amazing on the inside as it is on the outside. I would highly recommend a visit here, but you can read on for information and photos to see it for yourself.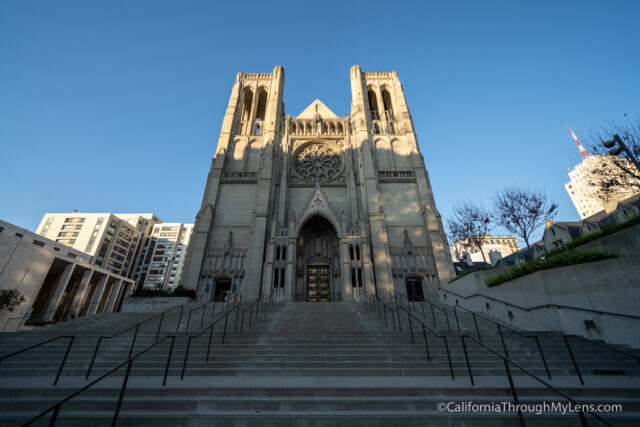 Details
$12 for a self guided tour, $20 for a docent lead tour. More on the tours here
One of only seven remaining Episcopal men and boys cathedral choirs
Location: 1100 California St, San Francisco, CA 94108
The History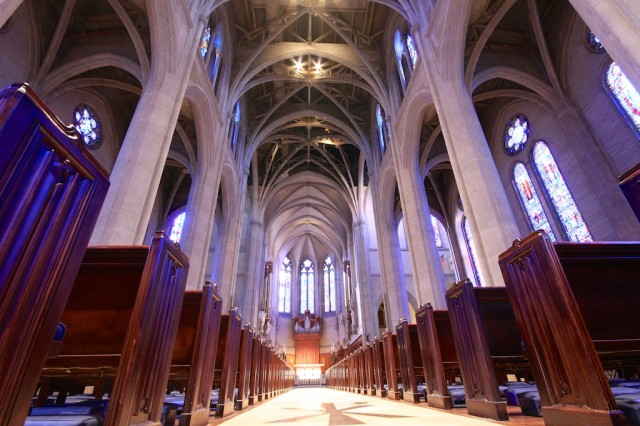 Its ancestral parish, Grace Church, was founded in 1849 during the California Gold Rush. The cathedral is the daughter of historic Grace Church. The first little chapel was built in the gold rush year of 1849, and the imposing third church, for a time called Grace "Cathedral," was destroyed in the fire following the 1906 earthquake. The railroad baron/banker Crocker family gave their ruined Nob Hill property for a diocesan cathedral, which took its name and founding congregation from the nearby parish. Dean J. Wilmer Gresham nurtured the young cathedral, and work began on the present structure in 1928. It was completed in 1964 as the third largest Episcopal cathedral in the nation.
Update 2018
I went back at the end of 2018 for an art installation featuring 2,000 paper doves with lights and music adding to the display. Here is a photo and watch their website for more events like this.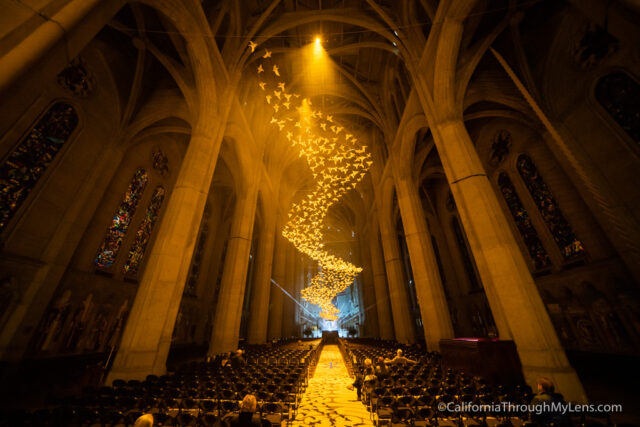 The Exterior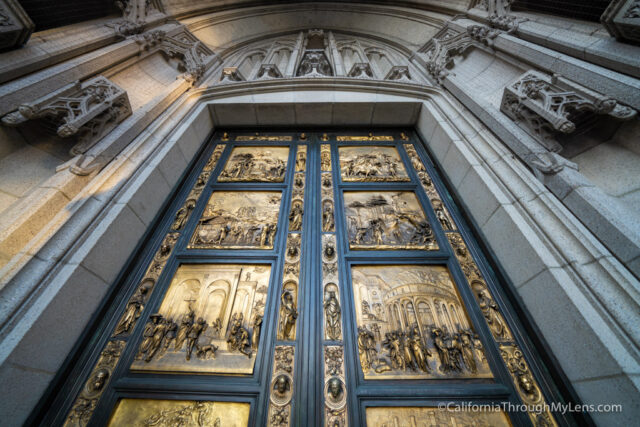 The exterior of the Grace Cathedral was designed in the French Gothic style by Lewis P. Hobart. It is stunningly beautiful and a sight to see as you walk the grounds. It is very reminiscent of the famed churches it was designed to mimic like Notre Dame in Paris.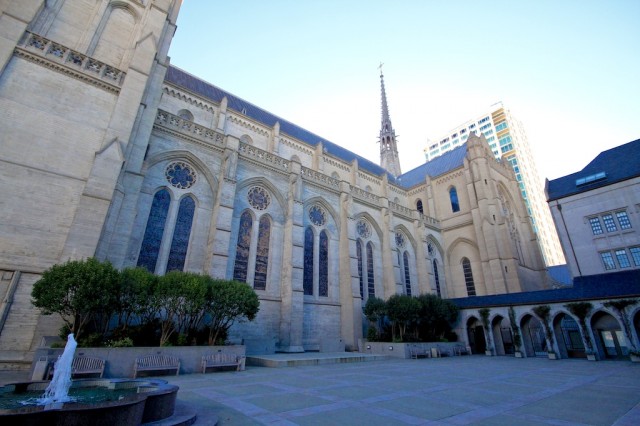 The Labyrinths
When I heard that there were labyrinths I assumed they were the elevated mazes that you see in the movies; however, when I got there, I found out they have a religious significance as it is said that if a visitor walks the pattern of the labyrinth, it will bring them to a meditative state. The labyrinths are placed right into the ground, and there are two labyrinths at Grace Cathedral, one outside and one inside.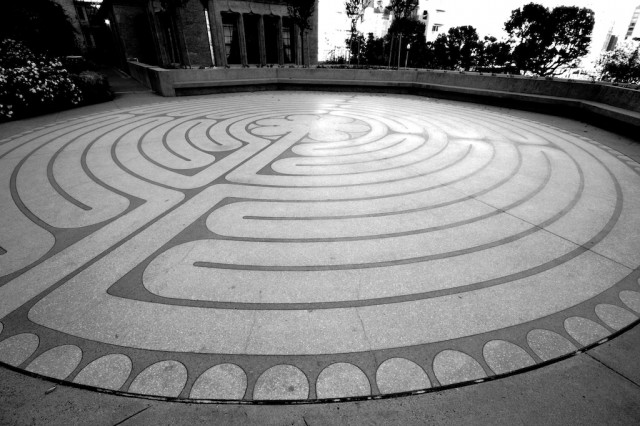 The Interior
To say the interior of this church is beautiful would be an understatement. It is stunning from the moment you enter, with its beautiful pews, priest area, stained glass, sculptures, and art.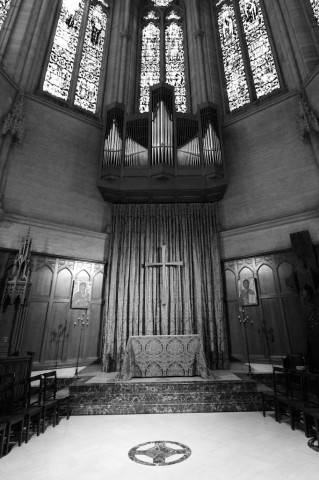 I took my time walking the inside and was happy to donate 10 dollars to preserving such a beautiful old building and church.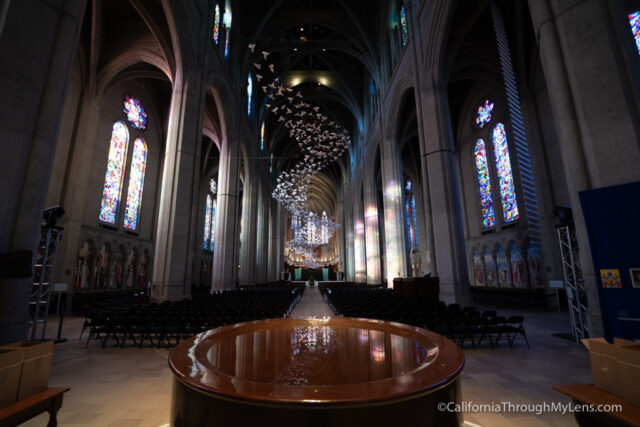 As I made my way up to the front, I couldn't help but wonder what it would be like to attend a mass here. I was not able to on this trip but would love to on a future one.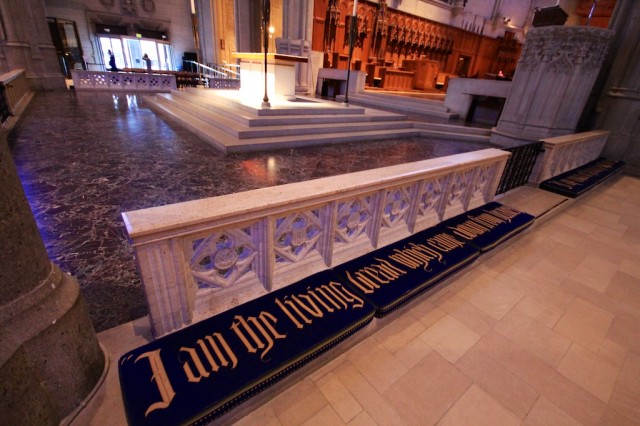 It was hard not to take a lot of pictures as there was so much to see and so many beautiful angles to capture it all. I found black and white added to the architecture of the church.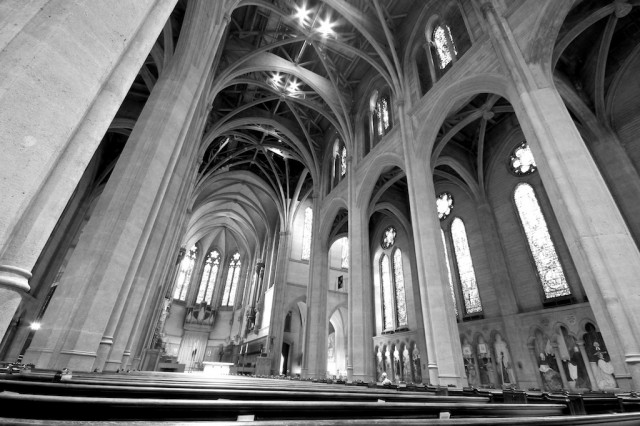 The Art
There was also a lot of beautiful art on display around the cathedral. I am not too versed in the arts, so I didn't know what I was looking at a lot of the time, but there were many works that I loved. The below sculpture caught my eye, as well. It was right when you walked into the church and was made entirely of stone.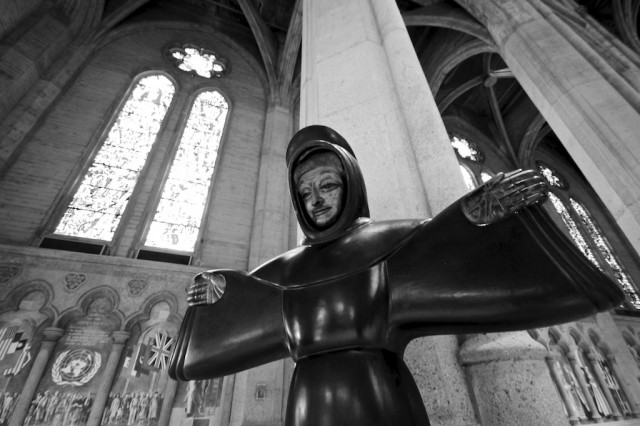 I could go on and on about this cathedral; it was like I was visiting Europe right in the heart of San Francisco. I loved being able to tour it and would even say that the photos do not do it justice, you really should check it out for yourself. Find more spots to explore in San Francisco here.