Half Dome: The Ten Best Viewpoints for the Iconic Rock
Half Dome is the iconic granite mountain in Yosemite National Park that you know from your pre-loaded Mac desktop screensaver. It is one of the most easily recognizable places in all of California, up there with the Golden Gate Bridge, and if you haven't seen it in real life, then be sure to add it to your list. However, if you have seen it, then consider experiencing it from another viewpoint, like the ten options below. All of which provide a different angle for the famous rock. Be sure to let me know in the comments if I left off a view you love as well.
Glacier Point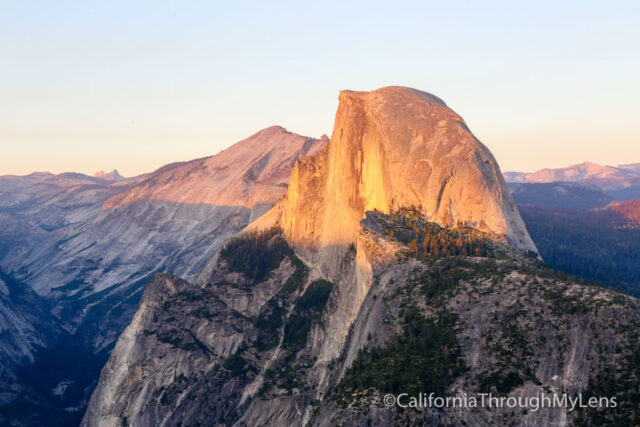 Glacier Point is the most famous and unobstructed viewpoint since you are practically right across from Half Dome itself. The valley that is between you provides an excellent foreground for photos as it is incredibly vast. This is the best spot for stargazing, as you can see the outline of Half Dome below the stars. It is also a trendy sunset spot where you can get great photos of the last light on top of Half Dome. Overall, it is probably the best place to view Half Dome from.
Read more about Glacier Point stargazing here.
Washburn Point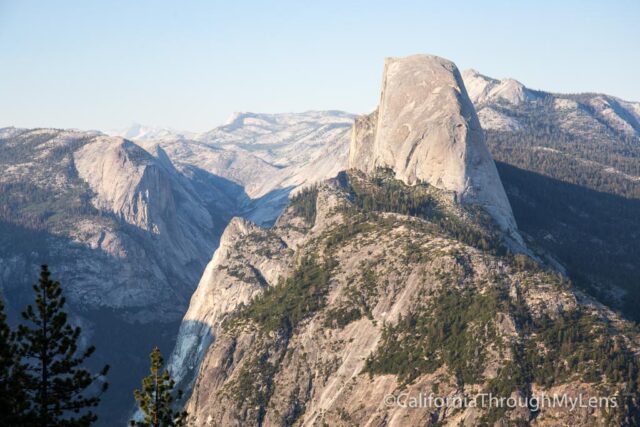 Only a mile from Glacier Point, Washburn Point provides a beautiful and distinct view of Half Dome. While Glacier Point is more straight on, Washburn Point is a little more to the side, so the dome is not as defined as you would expect it to be. It is still a great way to see the Yosemite backcountry though.
Mirror Lake
The next viewpoint is from Mirror Lake, a short hike in the Yosemite Valley. This view lets you look up at the face of Half Dome from below. It is one of the most distinct views as you have a shallow vantage point, which makes the rock very prominent.
Read more about Mirror Lake here.
Cook's Meadow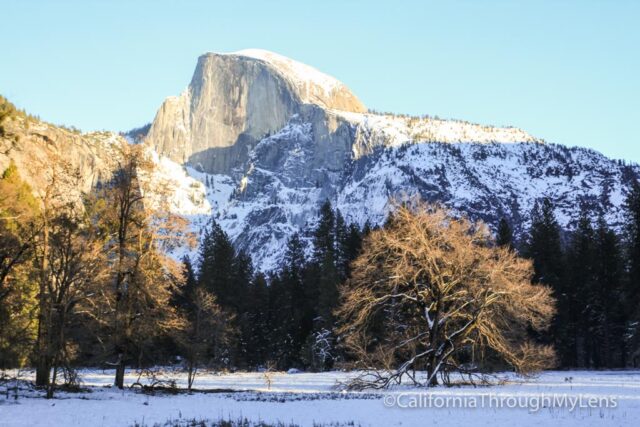 Cook's Meadow is one of my favorite viewpoints. I love the way Half Dome looks with the old tree in the foreground, and it was photographed many times by Ansel Adams as well. For added awesomeness, go to this spot when there is snow. The snow adds a lot to the view, especially at sunset.
Sentinal Dome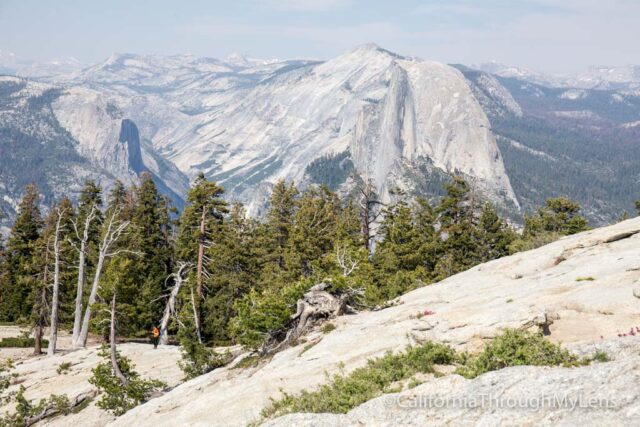 As one of the less popular hikes in the park, this 2-mile loop on Glacier Point Road provides a similar view of Half Dome as Glacier Point, but from higher up. The top of this dome is almost at the same height at Half Dome, so it is pretty epic.
Read more about hiking Sentinal Dome here.
Olmstead Point on Tioga Pass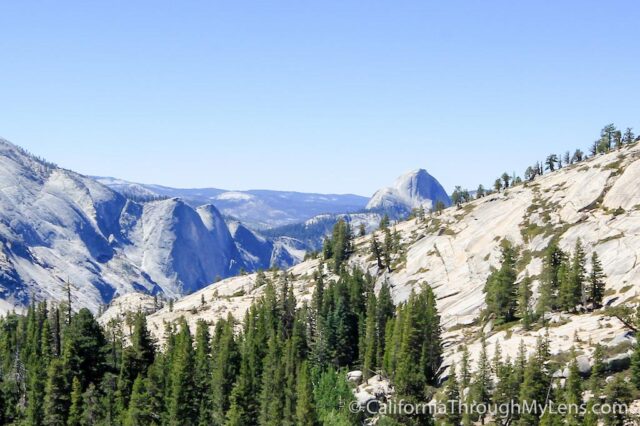 When driving Tioga Pass in the summer, be sure to stop at Olmstead Point as you can get a great view of Half Dome from the backside. I love this view as it gives you an appreciation for how epic the climb is up the backside if you haven't done it.
Top of the Sub-Dome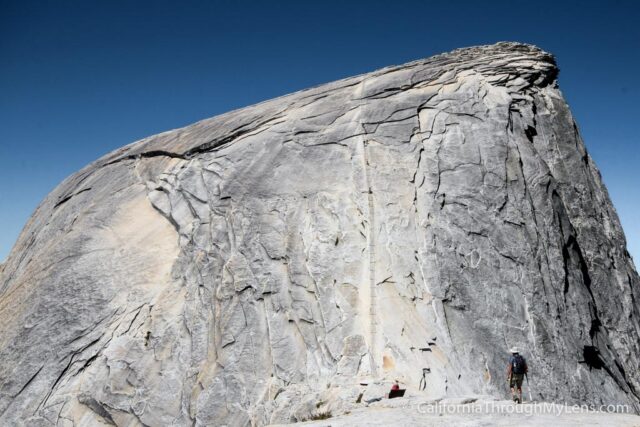 Of course, one of the best views of Half Dome requires a lot of work, and that is hiking to the upper part of the sub dome. The sub dome gives you a closeup view of the backside of Half Dome and the infamous cables that allow you to climb it. The above photo is one of my personal favorites, as the view is just ridiculous.
Top of Half Dome Itself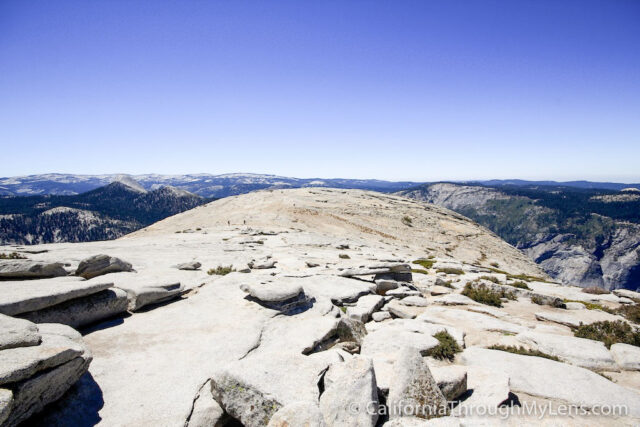 If you want to see all of the different characteristics of this unique rock, then you need to get on top of it and look over the edge. Half Dome is a lot bigger on the top than you would anticipate, and it is crazy to stand upon it and look out over the valley. This is a really tough hike though, so don't take it lightly.
Read more about the hike here.
Tunnel View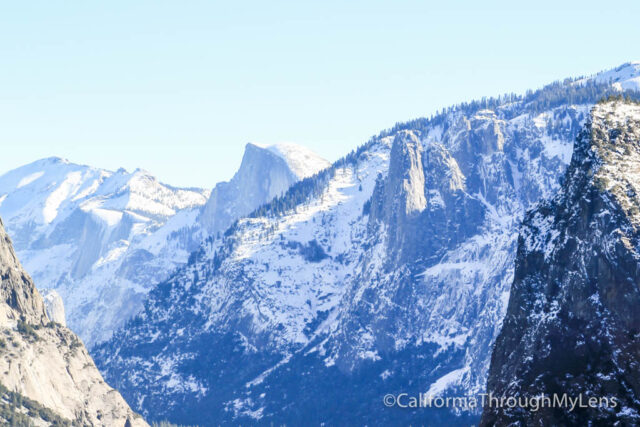 Tunnel View is one of the main views that everyone sees when they enter Yosemite from the south. It is fantastic and a personal favorite of mine as you get to see the valley with El Capitan and Bridalveil Falls in front of you and Half Dome in the back. I will never forget the first time I saw this view as a kid.
Viewpoint near Foresta on Highway 120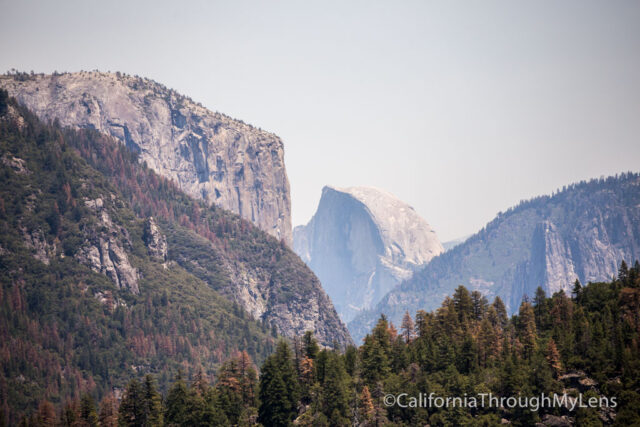 If you are driving in from the north, then you do not have an experience like Tunnel View. However, the viewpoint near Foresta on Highway 120 is a great spot to stop and marvel at the iconic dome, which is peaking its head out over the top of the mountains.
So there you have it, my ten recommendations for viewing Half Dome. What did I leave off? Be sure to let me know in the comments. Also, you can see all of my favorite spots in Yosemite here.