Route 66 Attractions from Needles to Barstow
One of the goals I set for myself in 2016 was to finish my drive of Route 66 in California. A few years ago, I drove two portions of it, from Barstow to Victorville and from San Bernardino to Rancho Cucamonga, but I still needed the part from Needles (where it enters CA) to Barstow. I was somewhat dreading this one as it was a 3.5-hour drive from my house just to Needles, but a few weeks ago, I had a free day, so I set out at 7 AM to see what I can find. Here are all the details for what you can see / where you should stop on the drive down the Mother Road from Needles to Barstow.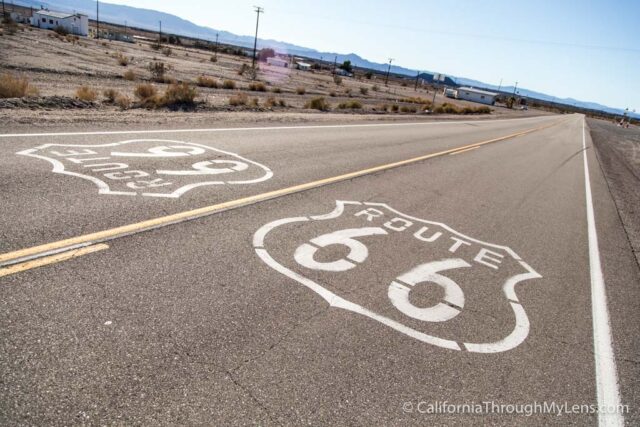 Details
171 Miles
3 hour drive time
Can be incredibly hot in the summer
Old Trails Bridge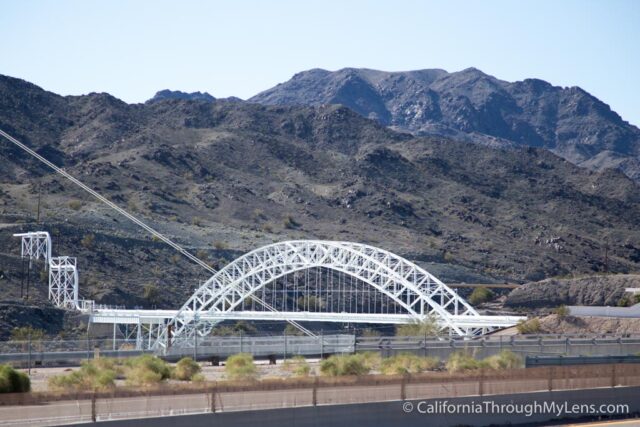 If you drive down to where Route 66 enters California, you will find yourself about 20 minutes south of Needles. This is where a famous bridge, known as the Old Trails Bridge, spans the Colorado River, which was once part of Route 66. Today the bridge is just for an oil pipeline crossing, and I found it hard to get to a good spot to take a picture, but you can see the best shot I was able to get above and let me know if you have a suggestion for how to see it in the comments.
Route 66 Tower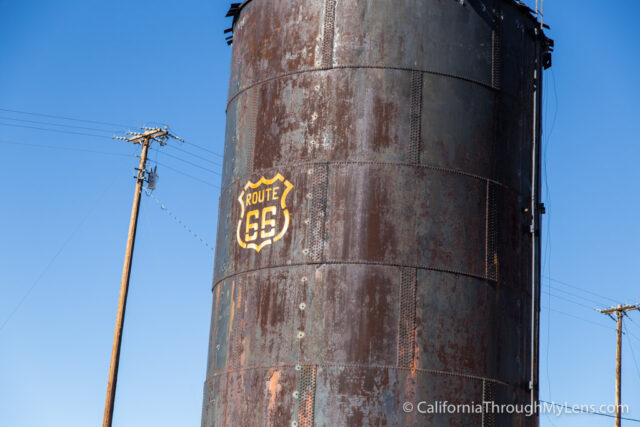 Also, right across the border on the Arizona side, there is a cool old tower with Route 66 on it that I thought was a fun stop, even though it isn't in California.
Downtown Needles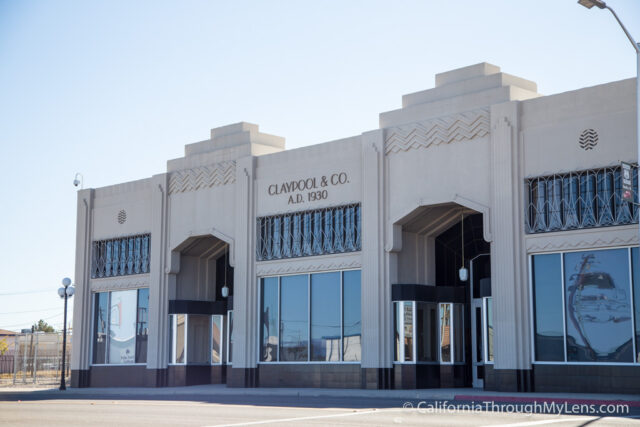 After driving about 15 minutes in the barren desert, you will make your way to downtown Needles. There isn't a lot here, but there are a couple of old buildings and a few places with fun Route 66 art.
El Garces Hotel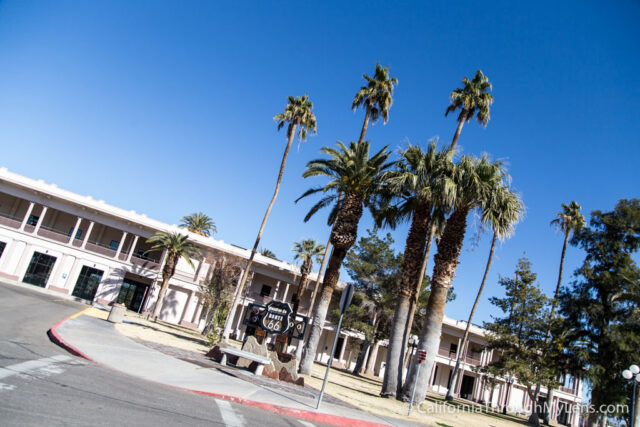 This is the main attraction in downtown Needles as it is an old hotel that they are now renovating and one of the only remaining historic buildings in this area. There wasn't much I could see while I was there, but it was fun to see something that is from the time period when this road was driven.
Gus's Fresh Jerky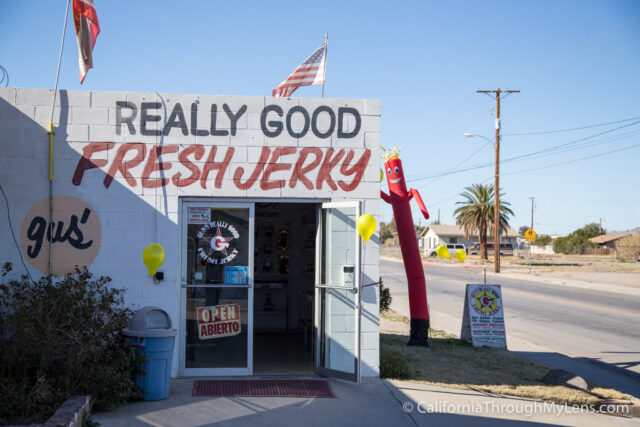 After leaving downtown, there is a little jerky stand about 2 minutes off Route 66 if you want to go to it. I got some delicious dried mangos here, but there is a honey stand coming up as well though, so you may choose to skip it.
Food – Needles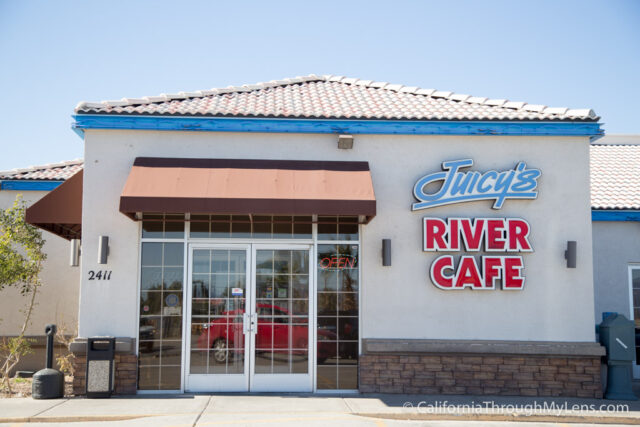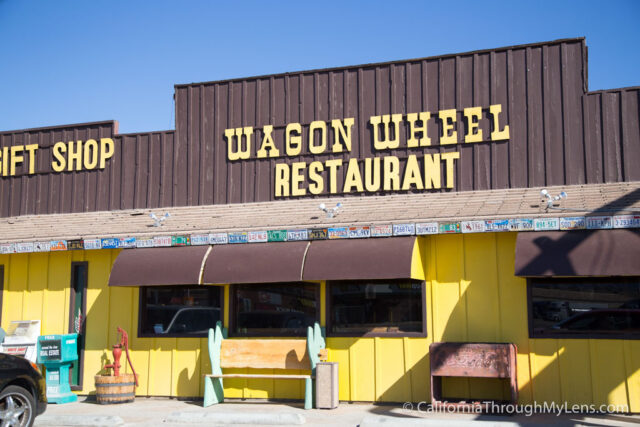 The two main food spots along Route 66 in this area are Wagon Wheel and Juicy's River Cafe. Both are diner food, and I have had decent meals at both of them, nothing to write home about but good enough. Do note that you need to eat before you do the next stretch, as there is nothing to eat again for a while.
Honey Stand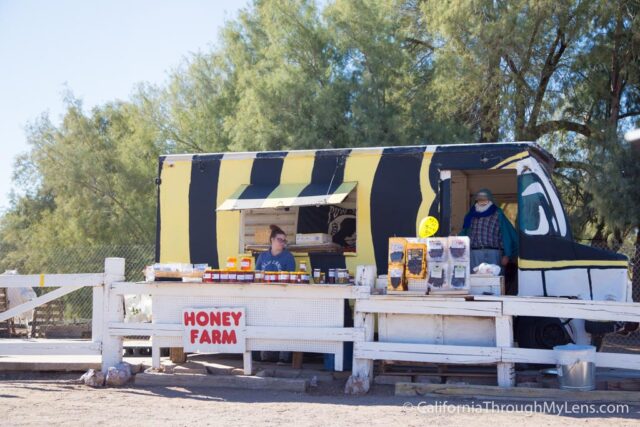 Route 66 is Highway 40 for a little while before you get off on Highway 95 North. When you do, you will see signs for this little honey stand. It is a fun, quick stop where you can take a picture in a cut out of a bee and buy some fresh honey. I have no idea how long this will be there though. From here, you keep driving on Highway 95 North till you see the left turn that leads you to the city of Goff.
Goff's Schoolhouse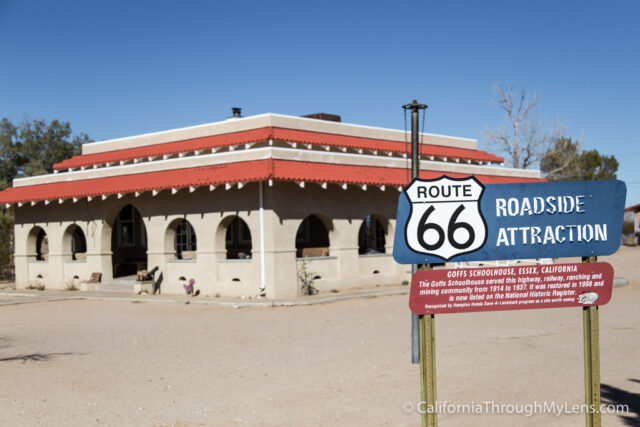 Goff is one of the best kept up areas on this entire stretch of Route 66. While it doesn't have any food or gas, it does have a well-preserved schoolhouse museum. The schoolhouse here was built in 1914, and it is in great shape with a docent that watches over it and lots of things to see/interact with. You can read more about it here, but note it is only open on Sat, Sun, and Mon.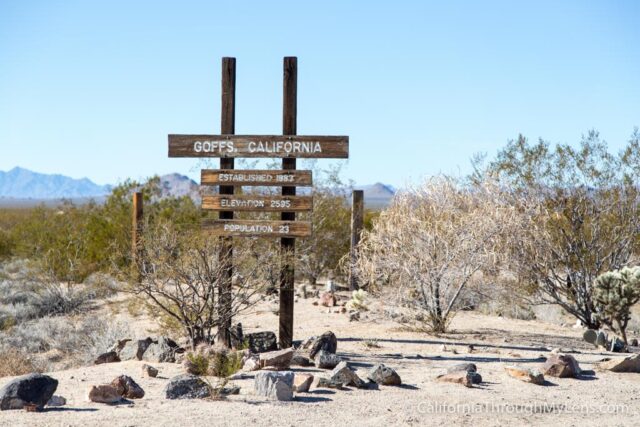 The road for the next 30 or so miles has nothing at all on it. It is very barren, and I didn't even see any other cars. It will eventually cross over Highway 40 on its way to Essex.
Essex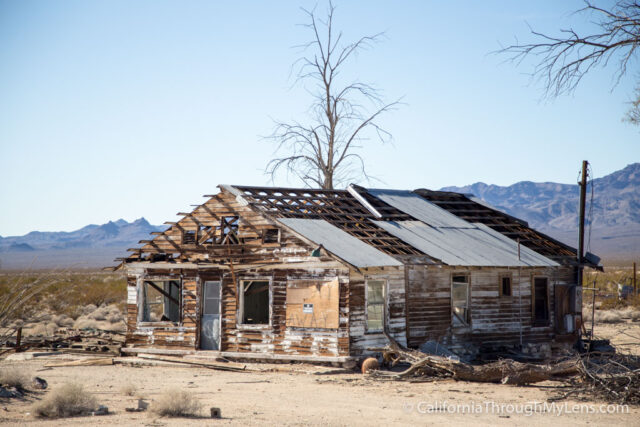 The town of Essex is not much more than a few broken-down buildings currently. I took a couple of pictures, but there isn't anything to do here or see other than the ruined buildings.
Rock Graffiti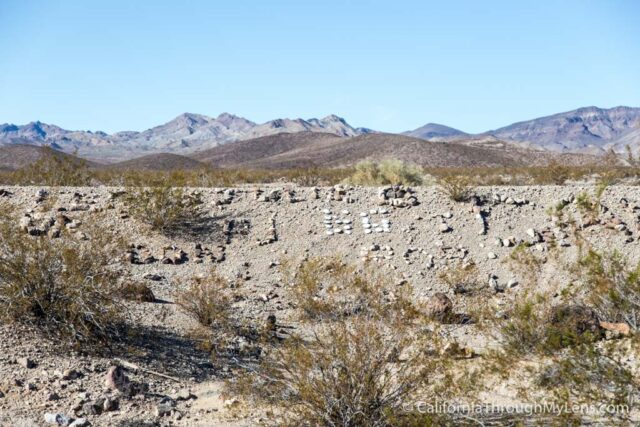 From Essex to Amboy there is not much to see either, notice a trend? I did notice that for a few miles, there were a lot of rocks that spelled out people's names along the train tracks. These went on for miles, but I am not sure what the purpose of them was.
Route 66 Plaque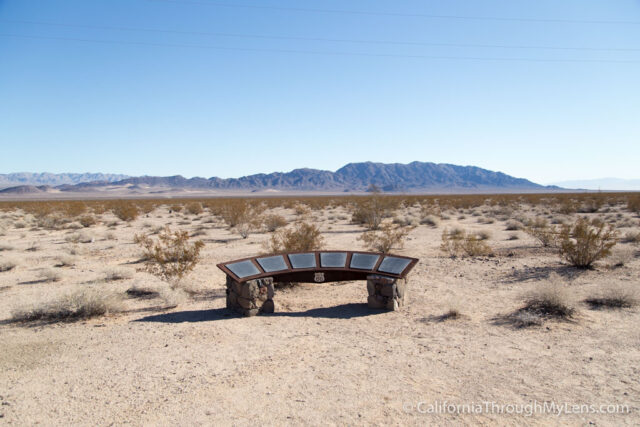 When you are getting close to Amboy, you will see a sign for a kiosk. This will lead you to the above plaque with some information on Route 66 as well as the area. It is an excellent viewpoint as well, and one of the only things like it on this stretch of the drive.
Roadrunner's Retreat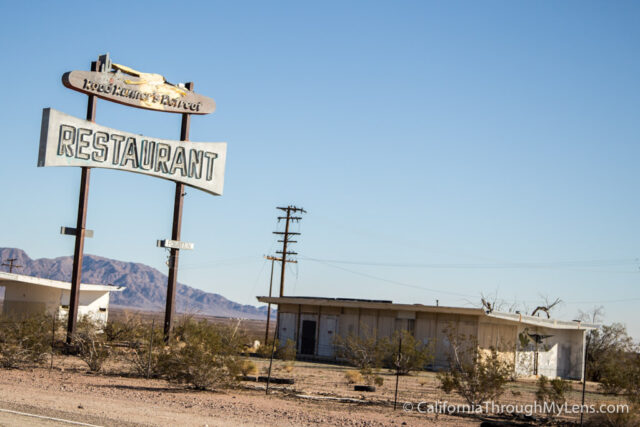 On the outskirts of Amboy, there is an old sign for Roadrunner's Retreat that I saw. I know nothing about it, but I thought it was cool sign, the building has long since stopped being a retreat.
Amboy – Roy's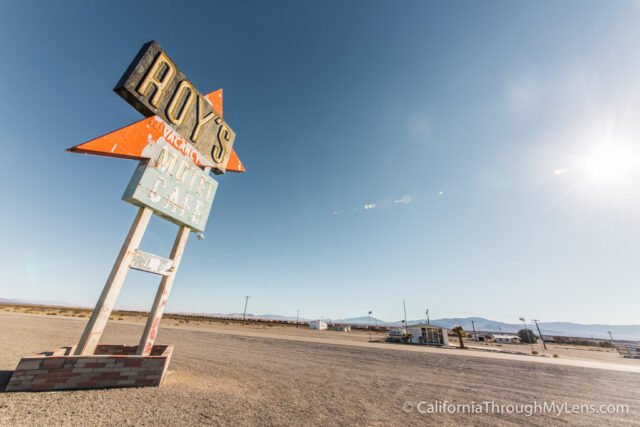 Amboy is the city that was once sold on eBay, and it is the main attraction on this stretch of Route 66. There is a small gas station here with some food and some costly gas. Also, there is an amusing old sign that is popular for photography and the remains of an old motel and school.
Amboy Crater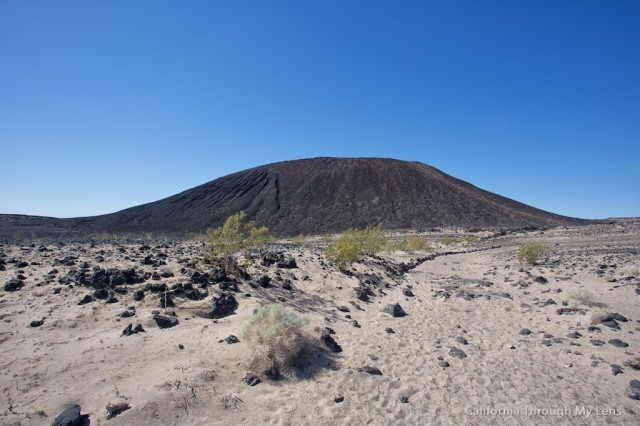 Just a little bit down the road from Amboy is the Amboy Crater, which is another top-rated attraction. I have hiked to the top of the crater, and you can read about that here. It is a fun spot to view from the shaded lookout point as well if you are not in a hiking mood.
Bristol Dry Lake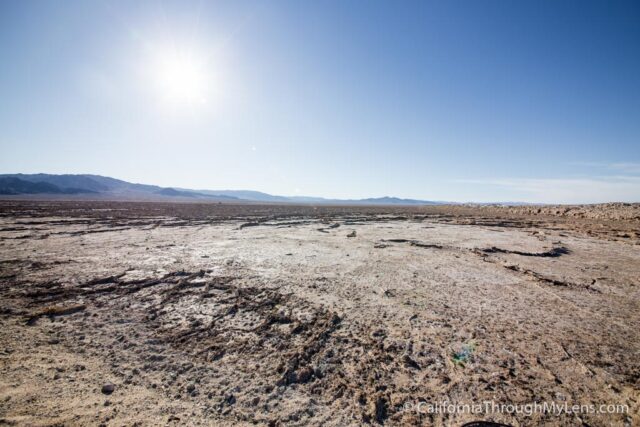 The turn off for the dry lake is before you reach the crater, and if you head 5 miles down this road, you will see a massive salt flat. This is where salt is actively mined, and it is a Badwater-esque area during certain parts of the year with seas of salt.
Ludlow Cafe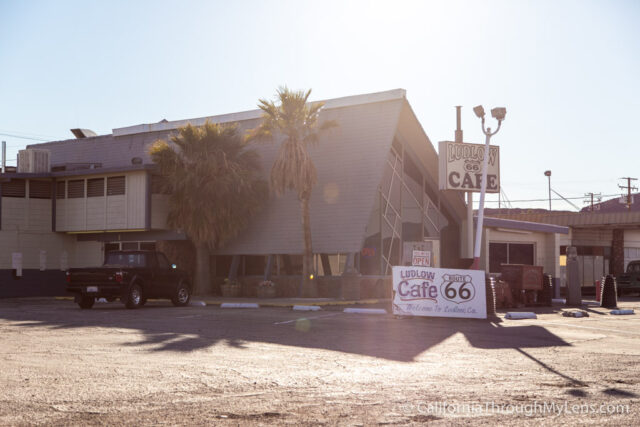 The town of Ludlow doesn't have much in it either, only a motel, gas station and cafe. I haven't eaten at the cafe, but it looked like it had a Route 66 vibe from the outside.
Bagdad Cafe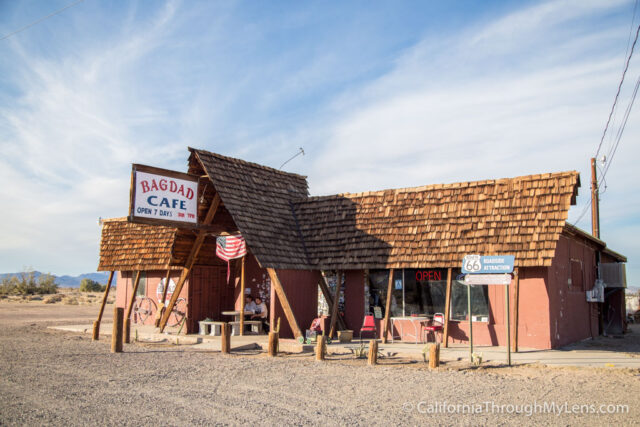 From here, you can either hop back on Highway 40 or drive Route 66, which pretty much parallels it for the next 25 miles. I chose to drive the highway as the road was in better shape. I got off again in the town of Newberry Springs, which is where the famous Bagdad Cafe is from the movie of the same name. I didn't eat here either, but it was a fun and historic spot to see.
Daggett Pioneer Cemetery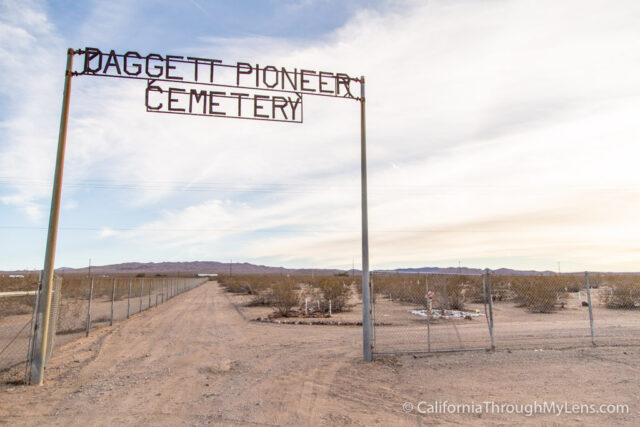 The last stop that I did on this stretch of Route 66 was at the Daggett Pioneer cemetery in the town of Daggett. There is not much information about it, but when you drive through the city, you will see it on the outskirts of town.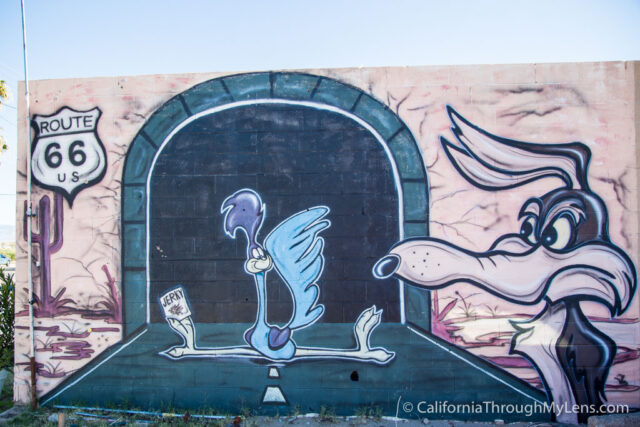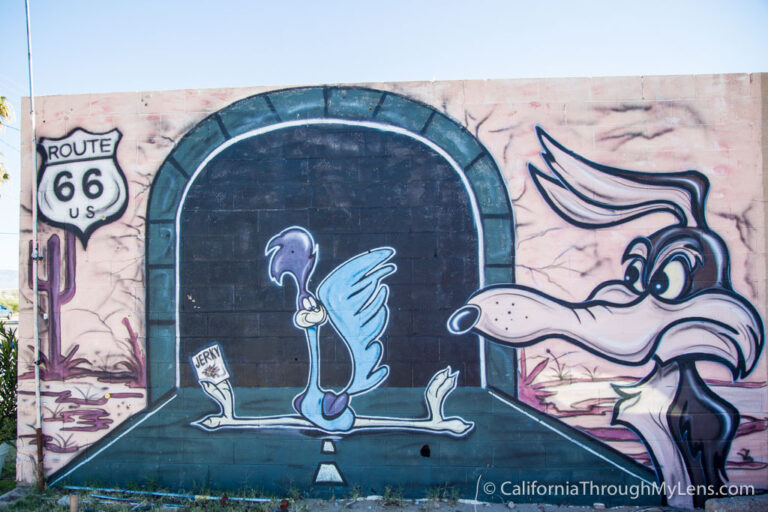 As you can see, this day on Route 66 is a barren adventure through the California desert, and it doesn't have a lot of main attractions. That being said, I always like driving on this road as it makes me think about its incredible history and about all of the people that came through this area. I enjoyed my time on Route 66, and you can read about my stops on the next section here.