Tar & Roses: A Fantastic Restaurant in Santa Monica
On a recent visit to Santa Monica, I was researching places to eat and stumbled on Tar & Roses, which was in the Yelp Top 100 List in 2016. Since Yelp is one of my go-to food resources, I knew I had to make the stop at this upscale modern eatery. I can easily say I was blown away by how good the food was during my one hour meal, and if your looking for a great restaurant to try in Santa Monica, then look no further.  Here is all the info.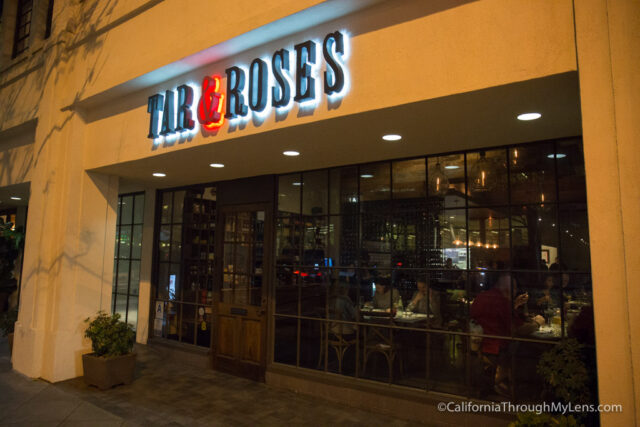 Details
Cost: $20 – $30
Get a reservation if going on the weekend
Location: 602 Santa Monica Blvd, Santa Monica, CA 90401
This information is from my visit in 2017
Getting There
The restaurant is located right on the corner of Santa Monica Boulevard and there is street parking around, as well as a few paid structures. Like anywhere in LA, it is not always easy to find parking though.
The Restaurant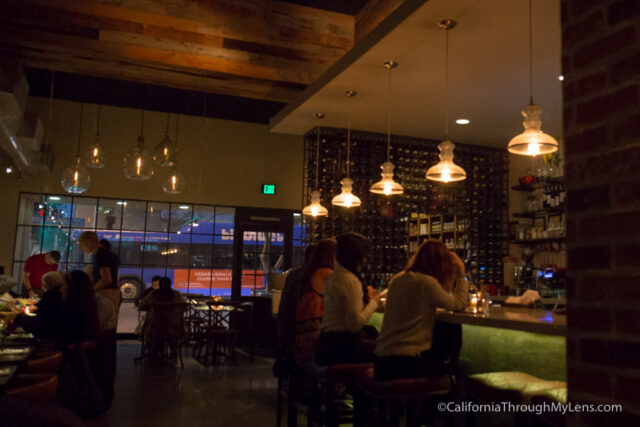 The restaurant is relatively unassuming from the outside as it has clean white walls and a small sign. Inside, however, it is dimly lit and elegant, making the most of its small space with spread out tables and an open kitchen.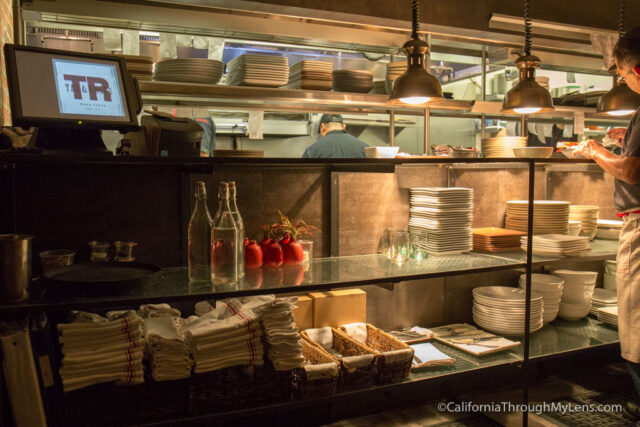 The Food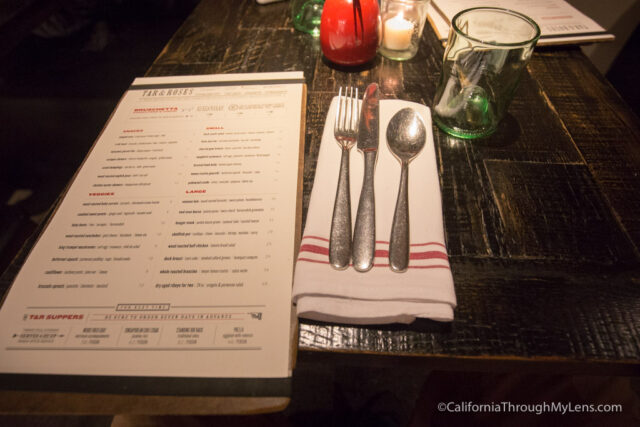 The menu runs the gauntlet between small plates and full entrees, but since there were so many things that sounded good, my wife and I just decide to try some of the smaller dishes. Here is what we ordered.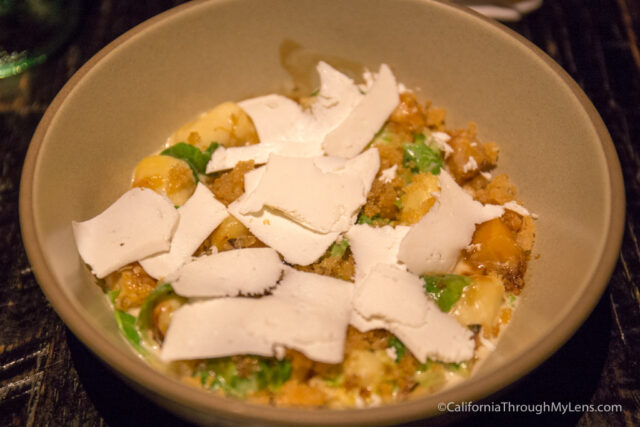 Lemon Ricotta Gnocchi – Hand made pasta that is rich and full of flavor. The lemon ricotta provides a vibrant taste that is surprisingly fresh tasting with the citrus. It's actually very refreshing, which is a weird way to describe a pasta dish. The bread crumbs that they put on top add a nice crunch to the plate.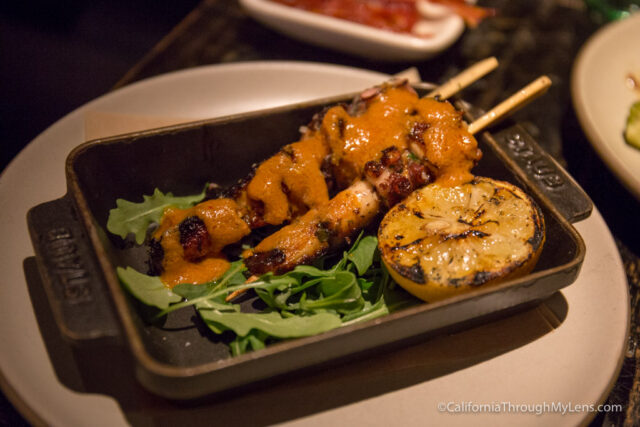 Octopus Skewers – Large succulent pieces of octopus that are cooked so well that they melt in your mouth. The chorizo vinaigrette has a hint of chorizo, but not so much that it overpowers the flavor. I couldn't get over how succulent the octopus was, as it is not at all like the bubble gum texture it often is.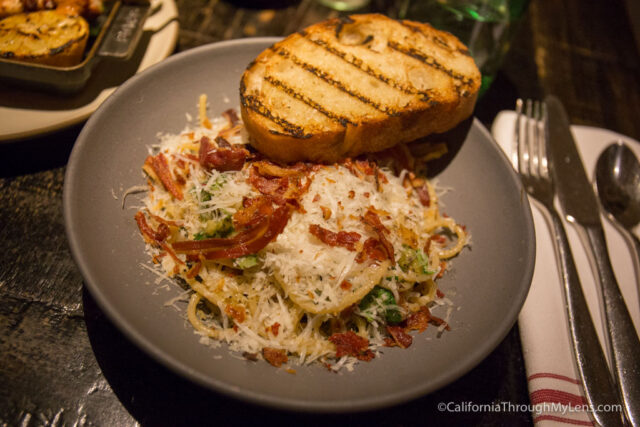 Spaghetti Carbonara – This pasta doesn't come with the traditional sauce, it has olive oil and cracked pepper with an over easy egg on top. It's a very subtle flavor, and it's amazing how good an egg could be on pasta like this. The pancetta adds a nice smoky kick, and the parsley is actually a welcomed addition to round out the flavors.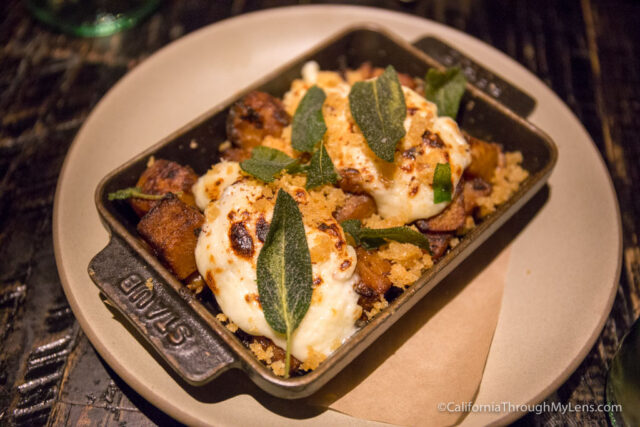 Butternut Squash – This dish comes with parmesan pudding, sage and bread crumbs. The plate has rich winter flavors and tastes like something you would have on Thanksgiving or Christmas. The parmesan pudding is very hard to describe. It has a hint of sweetness and a creamy, melt in your mouth texture. I also liked that they charred the cheese on top of the dish as it had a sweet burnt flavor.
Brussels Sprouts – I have never had them served with high-quality mustard, and it is honestly an impressive preparation. The mustard adds a fantastic flavor to the Brussels, but it's not at all overpowering. The salty pancetta is always a great pairing with the vegetable, and that is no different with this dish.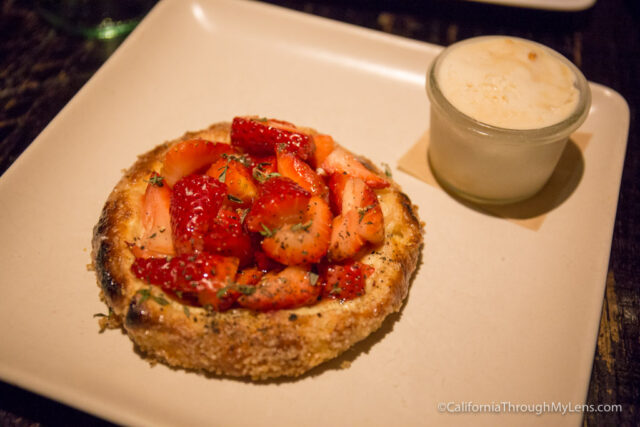 Strawberry Crostata – Fresh strawberries with thyme on top, sitting on one of the best pastries you have ever had. The dish is served with a honeycomb ice cream that has actual honeycomb pieces inside. It's one of the best desserts I have had in a long time.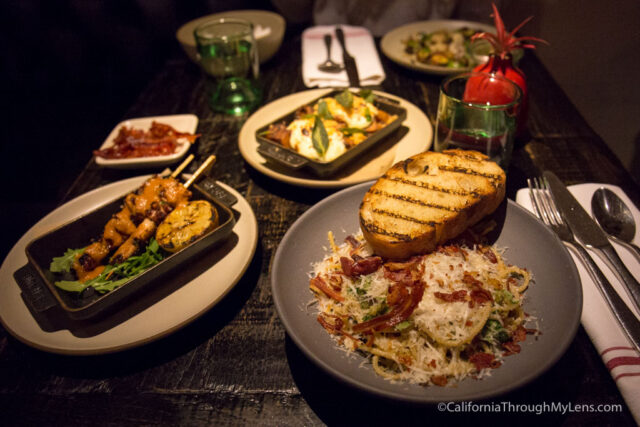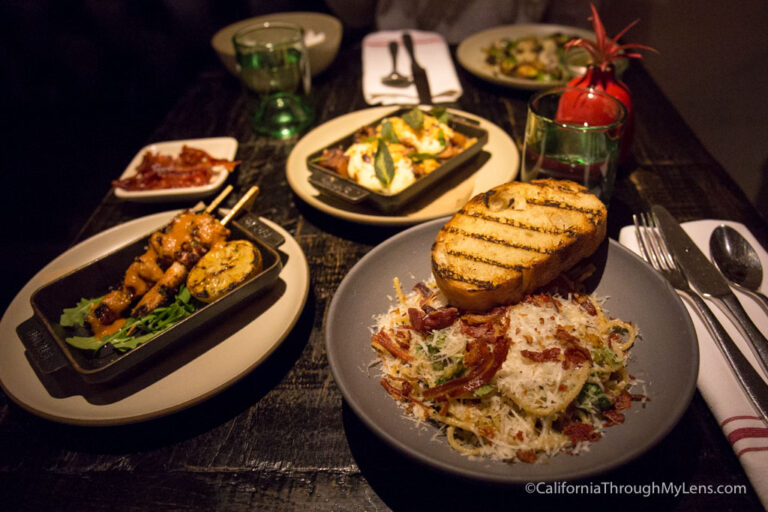 When our time at Tar and Roses was done, my wife and I both agree that it was one of the best meals we've had in the Los Angeles area in a long time. Everything was flavored uniquely and prepared to maximize the ingredient's potential. If you are in the area, be sure to give it a try and let me know what you think in the comments.