Wurstkuche: Exotic Sausages in Los Angeles
Located right in the art district, which is quickly becoming a fun hipster area of Downtown LA, Wurstkuche is the king of strange meat sausages. Their menu features everything from rattlesnake and bison to pork and rabbit. It is the place to go if you want to try something new and a place I often go as I am a huge fan of their food. Here is all the information.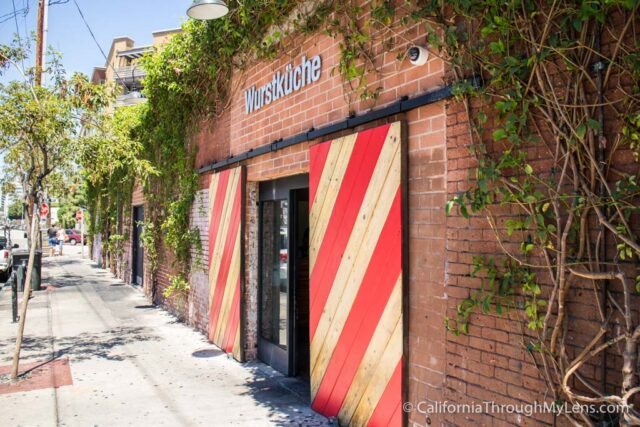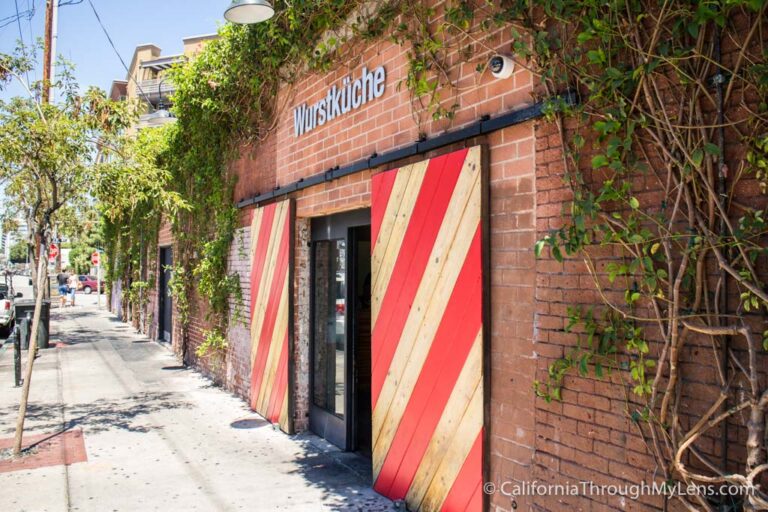 Details
Hours: 11 AM – 1:30 AM daily

Cost:$15

Location: 800 E 3rd St, Los Angeles, CA 90013

Paid parking is available, and there are a few spots on the street
Information from my visit in 2015, 2017 and 2020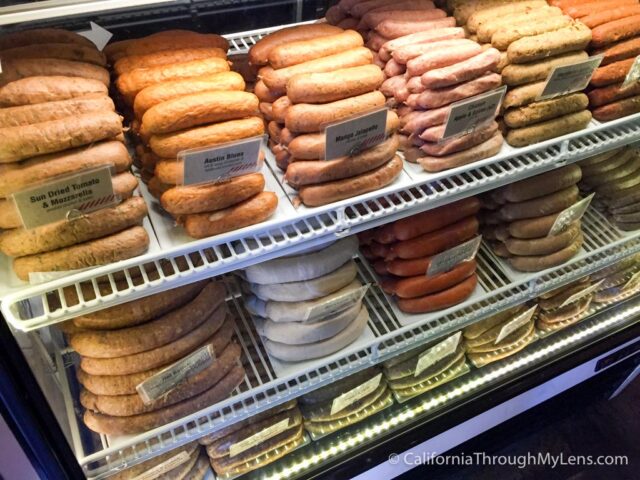 Right on the corner of the Art's District is the brick-walled building with a small sign sits Wurstkuche. It is a well-known spot that has over 6,000 yelp reviews and is always busy. When you walk inside, you will grab a spot in line as you wait to place your order and review the menu.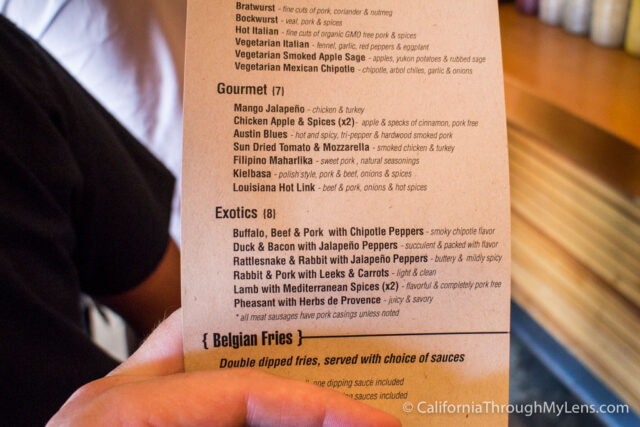 The line is always long when I go, but it gives you time to gawk at the crazy amount of sausages they have and make a choice of what you will eat.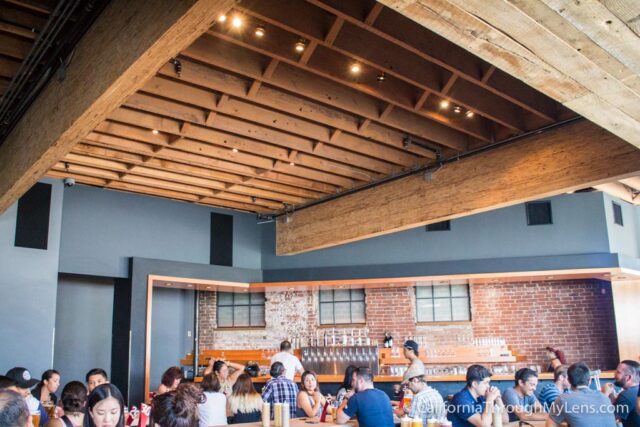 After ordering, you walk down a dark hallway into a large back area with communal tables and lots of room. It is very industrial but a nice spot to hang out in with a good vibe.
The Food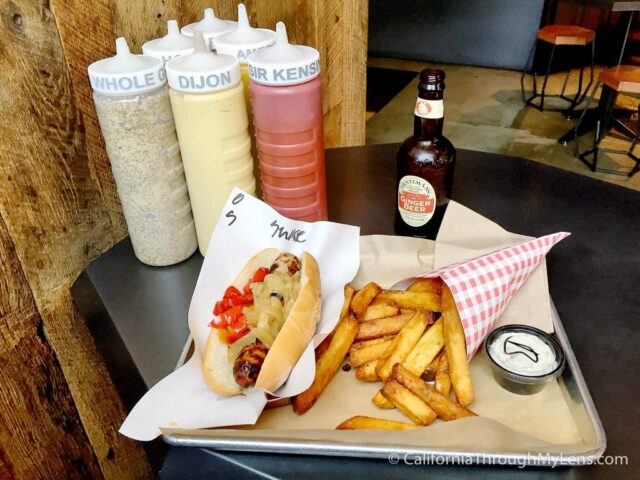 I recommend the rattlesnake and rabbit. It is one of those meats that you probably have never had before, so why not give it a try. All of the sausages come with a choice of two toppings from which I always go sweet peppers and caramelized onions. The sausage has a buttery, sage type taste. I would say it is different then you would anticipate, but I liked it a lot. There is even a hint of spice at the end as well. The sweet peppers are a great addition; the flavor adds a savory taste to the dish. I added the whole grain mustard to it, and it didn't disappoint.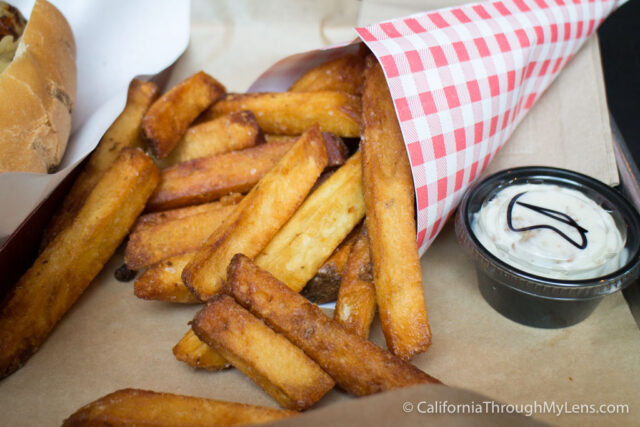 For sides, I recommend the truffle fries. They are $2 extra, but they are fantastic. There is a collection of 10 different sauce options as well, which you can pick one of, but for me, it's all about the blue cheese, walnut, bacon sauce. The fries are crispy and overloaded with flavor. I like the crunch a lot and they went perfectly with the blue cheese, walnut, bacon sauce.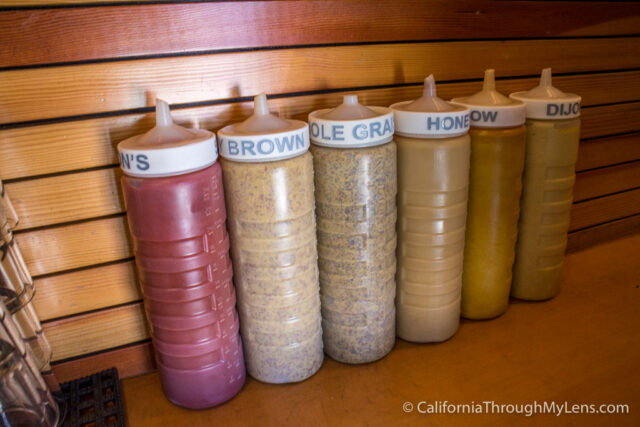 Also, when you sit down in the back, there are six different kinds of mustards you can use for your sausage, ranging from honey mustard to whole grain. I like most of them, but I will let you decide on your favorite.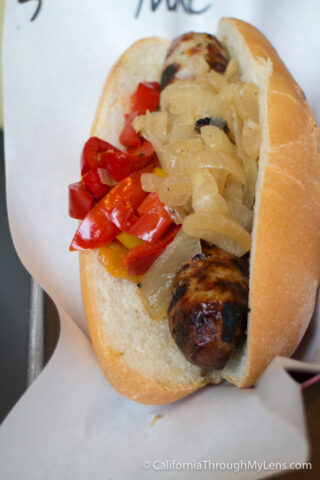 All in all, this is an enjoyable spot to try out. There are options for everyone, even vegetarians, and it is unique with its possibilities. I have gone back many times over the years and always enjoy trying new things here. Let me know what your favorite sausage is below.