Calistoga Food Guide: Where to Eat Breakfast, Lunch, Dinner & Dessert
Disclosure – Some of these meals were provided for me free of charge; all opinions are my own.
In the northern part of Napa Valley, sits the small town of Calistoga. This town is brimming with hot springs, culture, and unique spots to check out, such as the castle winery, petrified forest, and the old faithful geyser. While spending a weekend here, you would be remiss if you didn't set aside time to also indulge in its many culinary delights as well. I had the opportunity to try a lot of different restaurants and have compiled some of my favorites below. Of course, there are more spots to explore in the city, and if I left one of your favorites off, be sure to let me know what to order there in the comments. Also, if you are looking for an excellent excuse to visit, I would suggest going during the Harvest Table event. During that event, they close down the main street and set out a 1,000 person table for a fun night of food and wine. Without future ado, though, here are my favorite things to eat in Calistoga. Also, this information is from my visit in 2017 and may have changed.
Breakfast
Sam's Social Club at Indian Springs
Indian Springs is not only a fantastic hot springs resort, but it also has an excellent restaurant called Sam's Social Club. This spot has a ton of outdoor seating that looks directly over a beautiful hill, I have even seen deer on the hill in the morning. It is a great spot for a relaxing breakfast; here is what to order.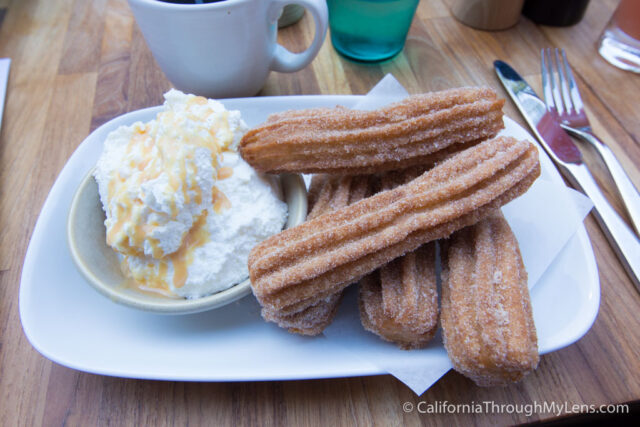 Candy Capped Churros– Light and fluffy with a soft breading and the perfect amount of cinnamon and sugar. It also comes with a creamy caramel whipped cream on the side. The candy capped mushrooms are actually blended into the churro batter, and while you wouldn't know based on the taste, it is an exciting addition. These are the perfect "dessert for breakfast" meal.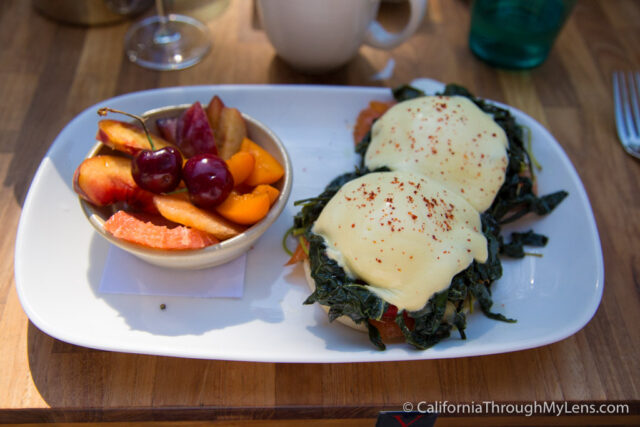 Eggs Benedict – With a collection of kale, tomatoes, smoked salmon and hollandaise sauce, this Eggs Benedict is incredibly fresh and not too overpowering. It tastes much healthier than a regular Eggs Benedict and will not leave you with a lump in your stomach.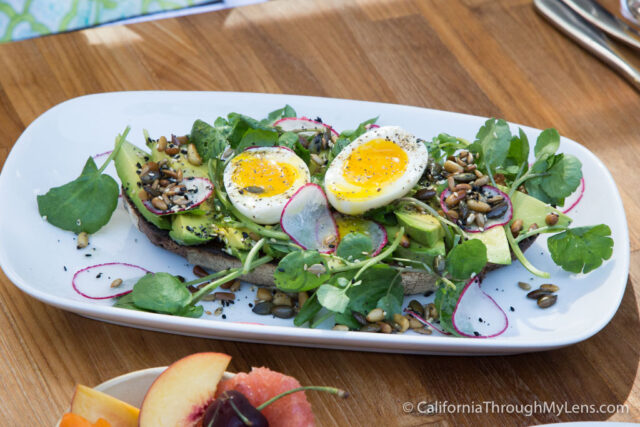 Avocado Toast – A boiled egg sits on top of a large piece of toast covered with avocado, seeds, and watercress. The presentation is fantastic, but the taste is even better.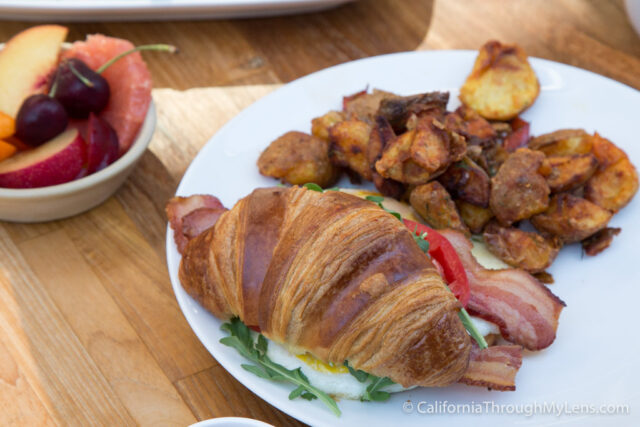 Breakfast Sandwich – An over medium egg with bacon, tomato and sharp cheddar all in between a croissant. The buttery croissant melts in your mouth and pulls out the flavors of the cheese and egg.
Café Sarafornia
As one of the last diners in Napa Valley, Café Sarafornia is a great spot for more traditional breakfast options. The menu ranges from mainstays like omelets and huevos rancheros to burritos and corned beef hash. It is an excellent low-key spot for breakfast.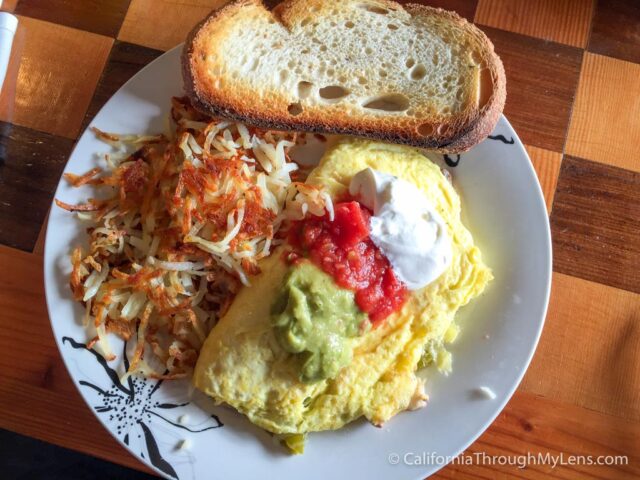 Palisades Omelette – This omelet features green chilies, mushrooms, jack cheese, and guacamole. It comes with an ample portion of hash browns as well and toast of your choice. The chilies added a lot to the omelet, and I am a sucker for the thin cut hash browns. It was a lot of food, and I wasn't even able to finish it.
Calistoga Roastery
If you are looking for a quick grab and go type breakfast, Calistoga Roastery is a great option. They have lots of good coffee drinks and a decent amount of pastries so that you can just grab a quick and cheap meal if you are in a rush.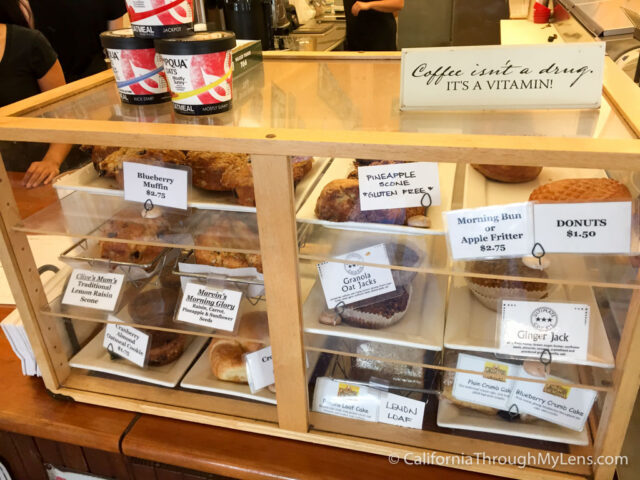 Lunch
Bosko's
Bosko's is a traditional Italian restaurant in a historic building from 1888. The menu features home-style Italian food with a lot of wood-fired pizza options as well. I loved this spot as everything I had was great; here are a few of my favorites.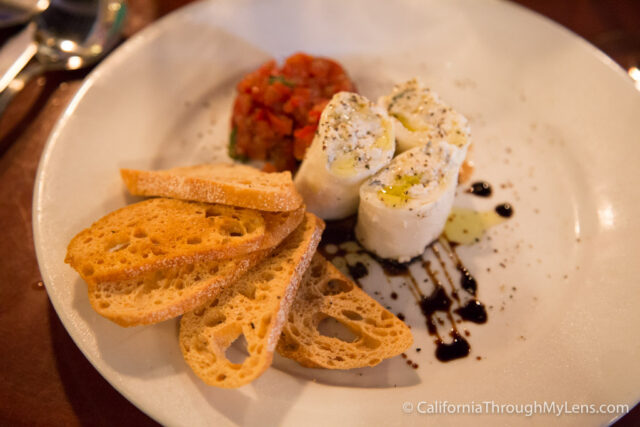 Burrata– The cheese is creamy and smooth, and the tomatoes go perfect with it. If you only order one thing here, I would highly suggest that it be this.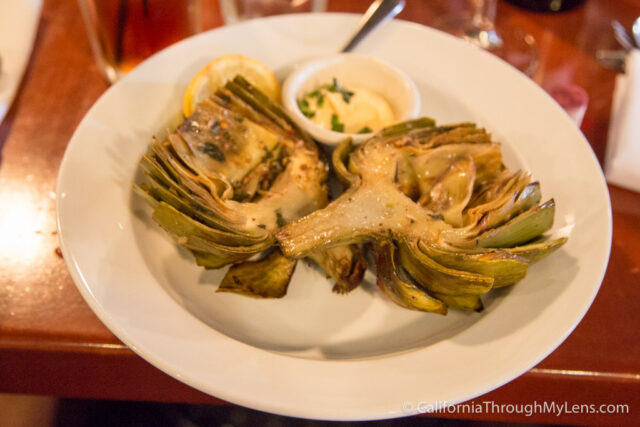 Artichokes – Nice baked flavor with lemon aioli, they have a light citrus flavor that compliments the artichoke.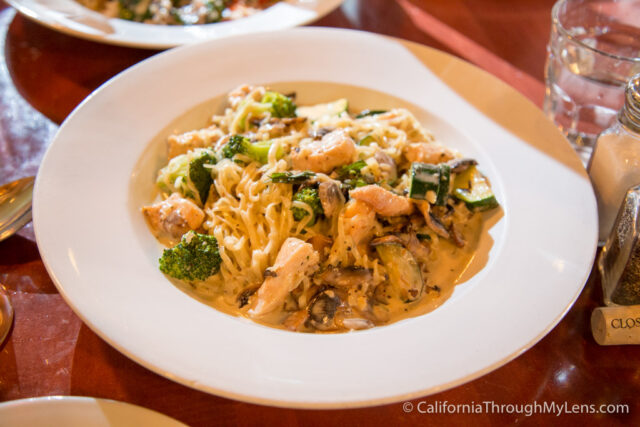 Silvana – Creamy but not too rich, it is a good sharing option. I appreciated the great additions of the mushrooms, chicken, and zucchini to round out the dish.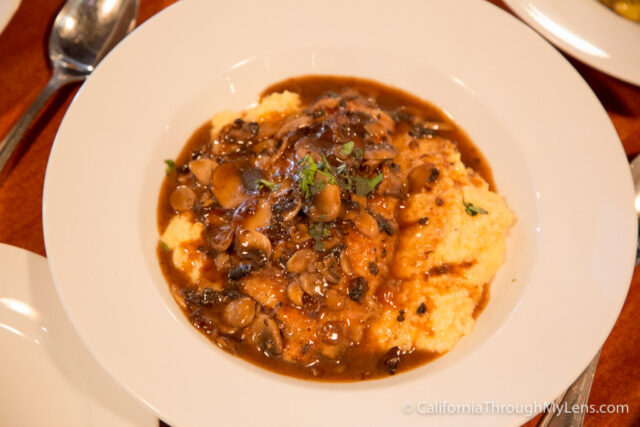 Chicken Marsala – Massive flavor in the sauce and chicken with a polenta base that resembles grits. My favorite dish here and one that I cannot wait to eat again.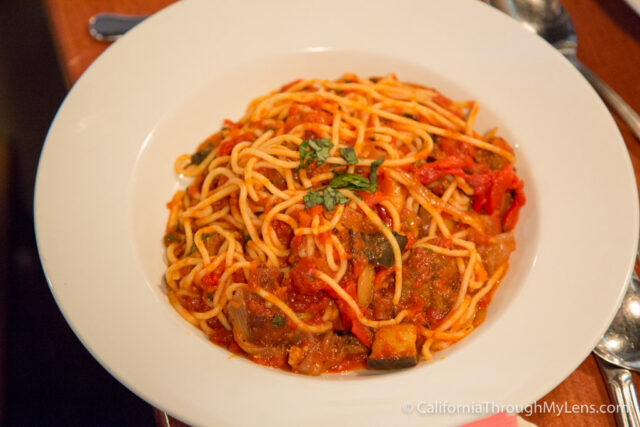 Godfather – Nice spicy flavor for the spaghetti with a vibrant red pepper taste that makes it much more than traditional spaghetti. My second favorite dish at Bosko's.
Dinner
All Seasons Bistro
The oldest restaurant in Calistoga, All Seasons has a beautiful corner location with a cute upscale dining room. The bar that goes along the entire wall has traditional decor that compliments the white interior. I mostly stuck with appetizers here, but I will have to try the main dishes next time I am in the area.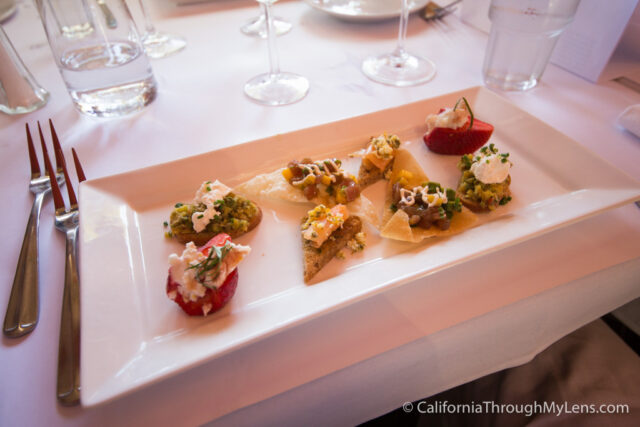 Smoked Salmon on Crostini – Easy bite-sized food that is a great way to start the meal. I appreciated the way the salmon was smoked as it had a lot of flavor.
Strawberries with Goat Cheese – This was exactly what it said, a hunk of goat cheese inside of a strawberry. I didn't anticipate liking this, but I am happy to report that it is a great combination. The restaurant does not always have it, but when it's there, get it!
Lobster Bisque – A great addition to any meal here, the bisque has a seafood taste that is present but not overpowering. I prefer it this way and would say this is one of the better lobster bisques I have had.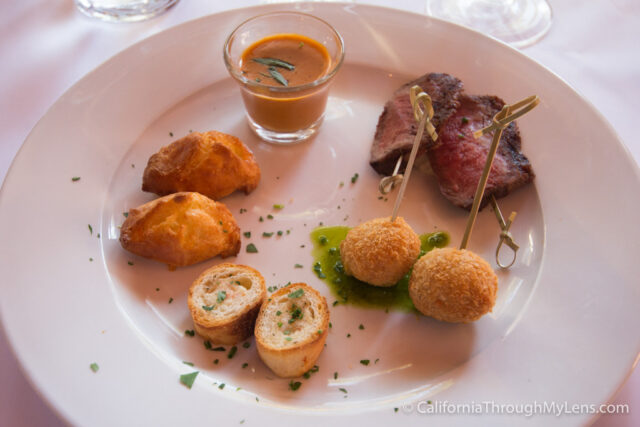 Brannon's Grill
An upscale eatery right across from All Seasons, Brannon's is a more modern restaurant with a great selection of steaks as well as oysters to round out the offering.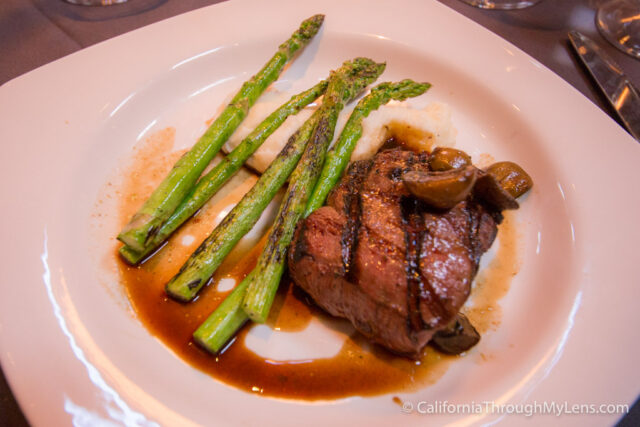 Hanger Steak – Good slice of meat, well prepared with fantastic mashed potatoes and good grilled asparagus.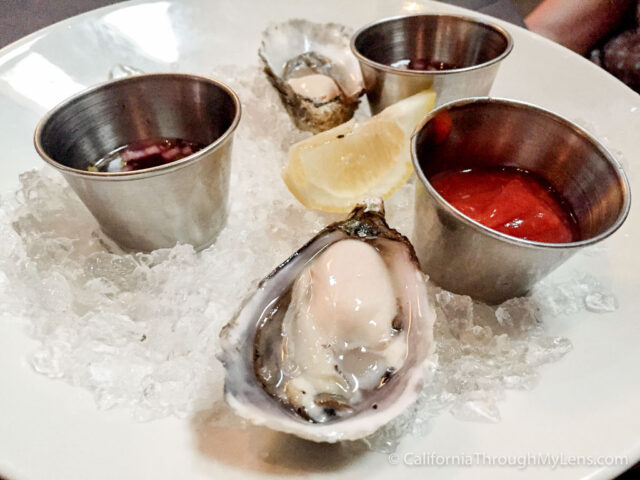 Oysters – The oysters here are fantastic as well, I highly recommend them, and they have all of the usual oyster toppings.
Evangeline
One of the newer spots in the city, Evangeline, is a great place to dine at for a night-time meal under the stars. They have a unique sampling of dishes with a French vibe, and it was one of my favorite spots I ate at.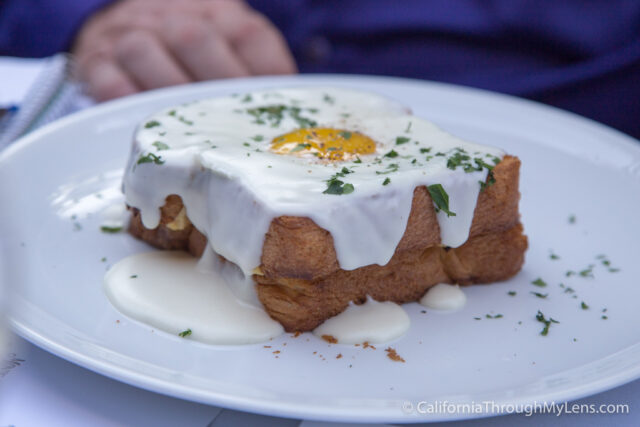 Croque Marin – A grilled cheese with bacon, fried egg, and sauce. Really good but pretty rich, I was a huge fan of this dish.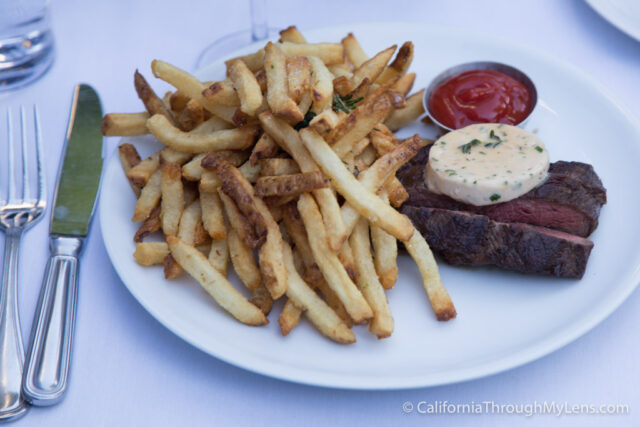 Steak Frites – A juicy steak cooked perfectly with a delicious sauce and thinly sliced to bring out the flavor. It also had an ample portion of french fries that were tasty.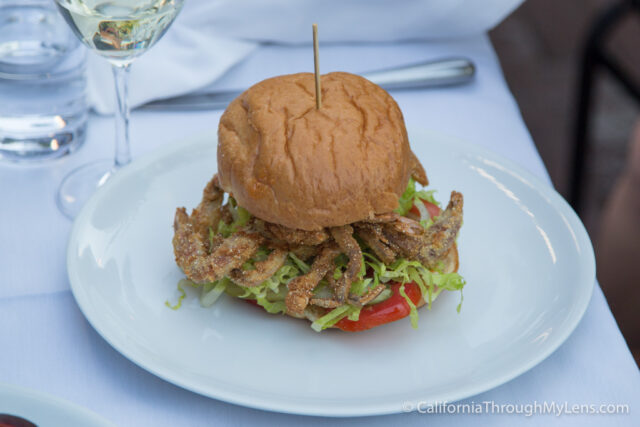 Soft Shell Crab Sandwich – Again, this was not something I thought I would like, but it was a delicious sandwich with a melt in your mouth portion of crab. Not for everyone but I liked it.
JoLe's
A more contemporary American restaurant, JoLe is a clean and modern spot with small plates and prominent taste. I got to sample a few of the main appetizers they have, and here were my favorites.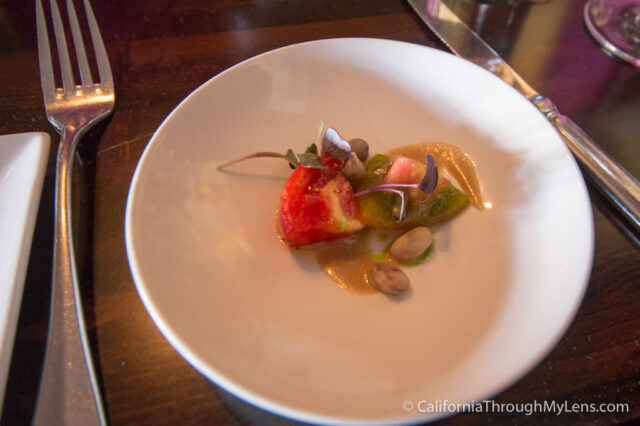 Heirloom Tomatoes – Amazing and light tomatoes with a balsamic sauce that has a strong flavor. It also has a hint of cranberry and is the perfect appetizer to get your palette started.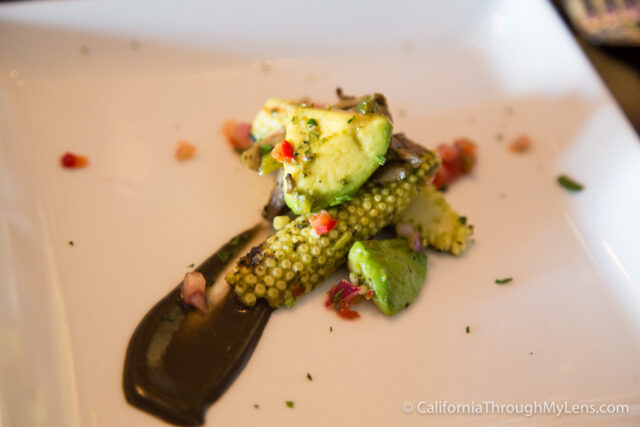 Grilled Baby Corn and Avocado – This dish had a spicy sauce that worked well with the grilled baby corn. Not something I would usually like, but it is prepared well here and had a farm-fresh type flavor.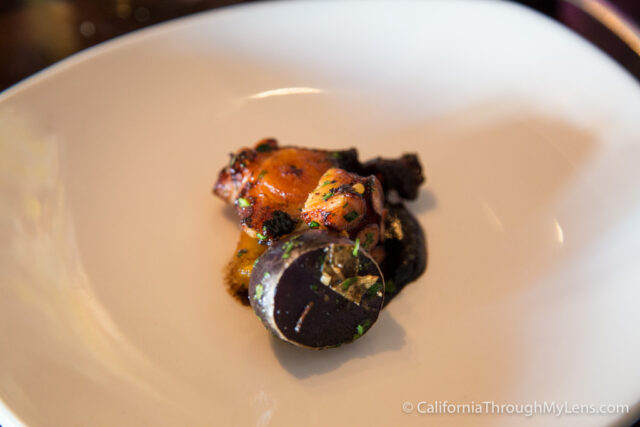 Mediterranean Octopus – Grilled lightly with a straightforward and not overpowering octopus flavor. If you haven't tried octopus, then this would be an excellent way to ease yourself in. The sauce reminds me of Ethiopian food in a good way, and the texture of the octopus was smooth.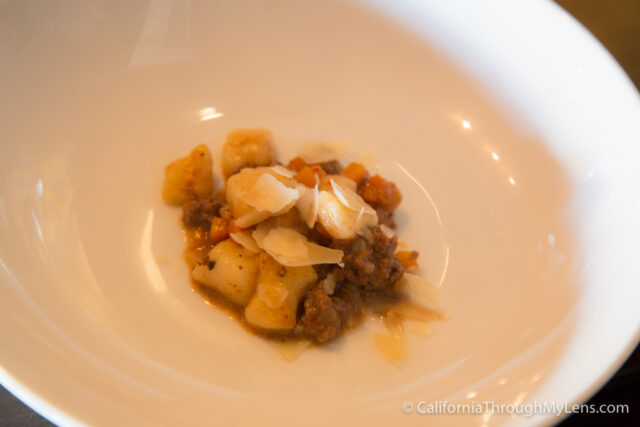 Potato Gnocchi – Creamy but not too rich, it features Six Sigma beef and oven-dried tomatoes. It has a subtle spice from the chili flakes that works well with the decadent gnocchi; this is my favorite of the dishes at JoLe.
Dessert
Calistoga Inn & Restaurant
I liked the Calistoga Inn and Restaurant as it had a lovely interior dining hall and a large outdoor dining area. We sat outside under the lights, and it was a beautiful location to drink wine and have dessert at.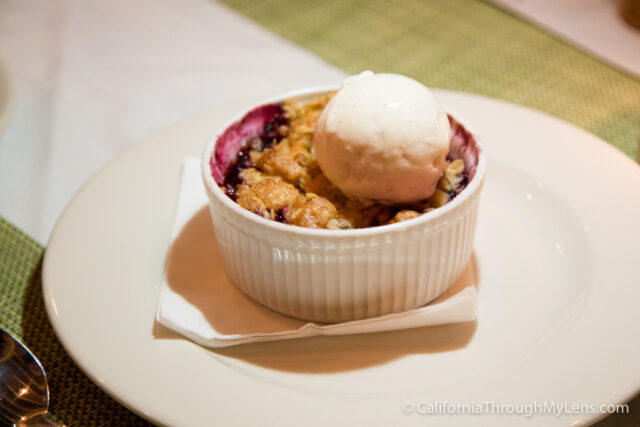 Berry crumble – Not too rich but with a pleasant berry flavor. The dish comes out warm with an ample serving of vanilla ice cream to compliment the crumble.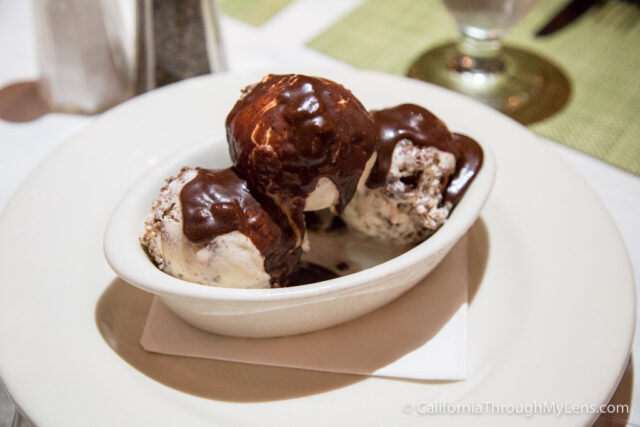 Brownie Ice Cream – My favorite of the desserts here, it tastes like the brownie is sandwiched into the ice cream. I didn't even think it had a brownie in it when I first saw it as it is hidden under the ice cream. It gives you a good portion of both in every bite.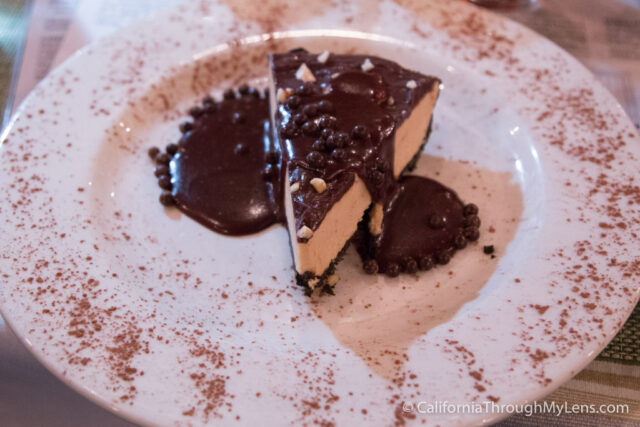 Peanut Butter Pie – The peanut butter pie is super sweet but as always the chocolate and peanut butter flavors are fantastic together. This is my second favorite, as the taste is incredibly rich but incredibly tasty.
Barolo
Barolo is a contemporary Italian kitchen with a focus on local and seasonal ingredients. The restaurant is very modern with purples and reds in the decor, and the atmosphere is fun and inviting. They are only open for dinner and dessert, but I just had dessert.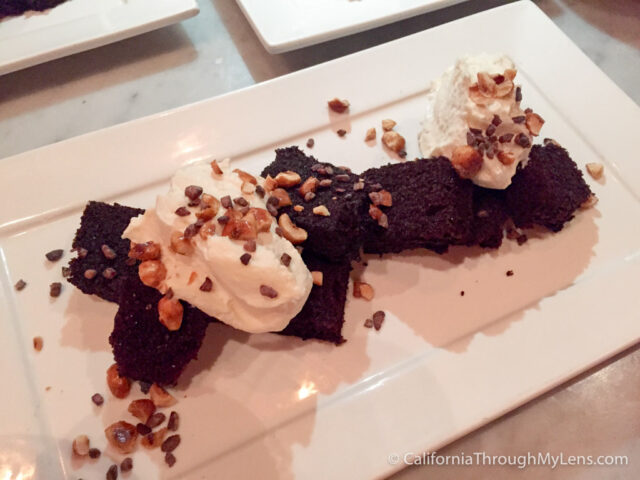 Chocolate Olive Oil Cake – My favorite of the bunch, a moist cake with candied walnuts and whipped creme.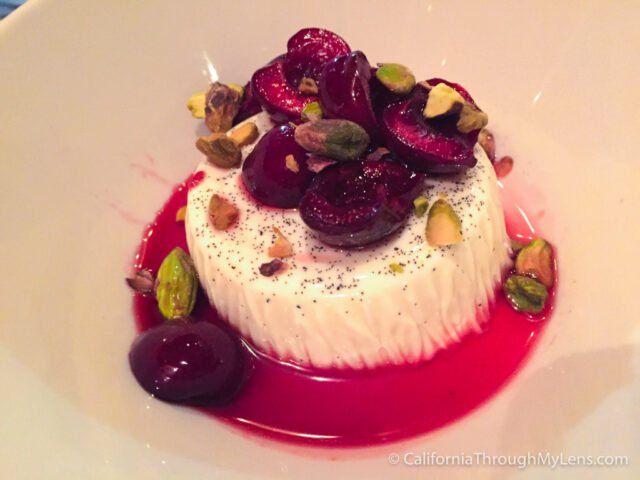 Vanilla Panna Cotta – This dish has a unique taste with the cherries and the pistachios. I would say this as the flavor is very different but still good.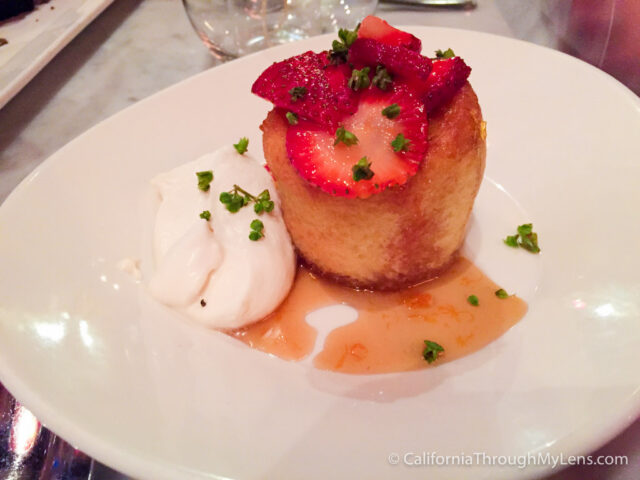 Italian Cake – A great take on strawberry shortcake with a strong basil flavor. The basil was an excellent addition to the dessert and not a flavor that you usually expect in a dessert.
Wineries
Not to be left out, there are a lot of great wineries in Calistoga as well. Here are a few:
Tank Garage Winery
The first winery you see when you enter the town, Tank Garage Winery has a fun location, built to mimic an old gas station. The inside has a lot to look at as well with a pinball machine, motorcycle, and artistic wine bottle art.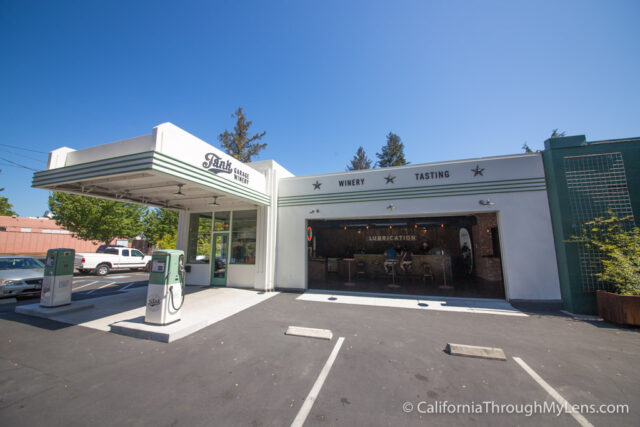 Castello di Amorosa
Castello di Amorosa is the castle winery with over 107 rooms and many tours throughout the day. It is a fun spot for the whole family to explore. Read more about it here.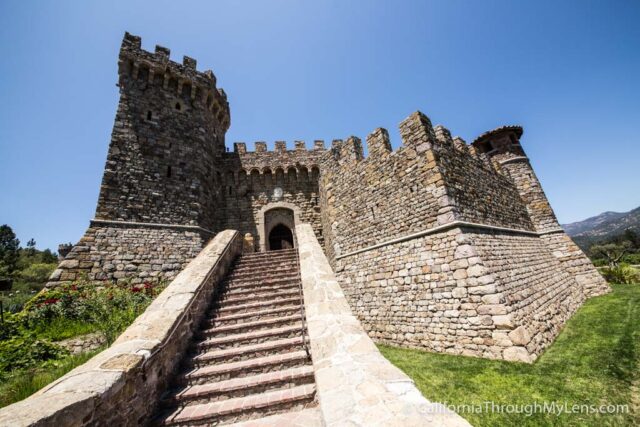 Phifer Pavitt
This winery has only two wines but has one of the best wine tasting rooms I have ever seen. Read more about it here.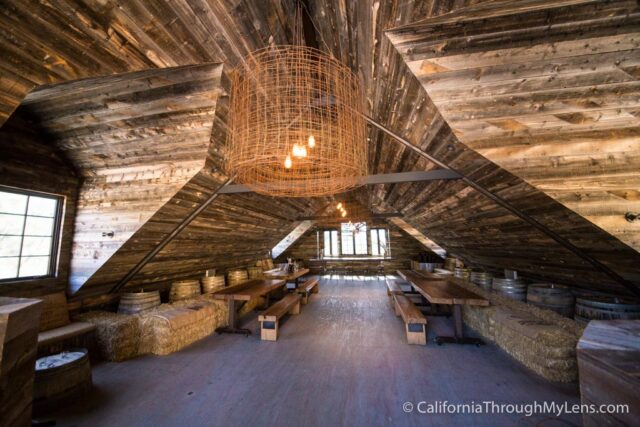 Jericho Canyon Vineyard
A great local winery that features ATV tours, a wine cave and over four different wines to try. Read more about it here.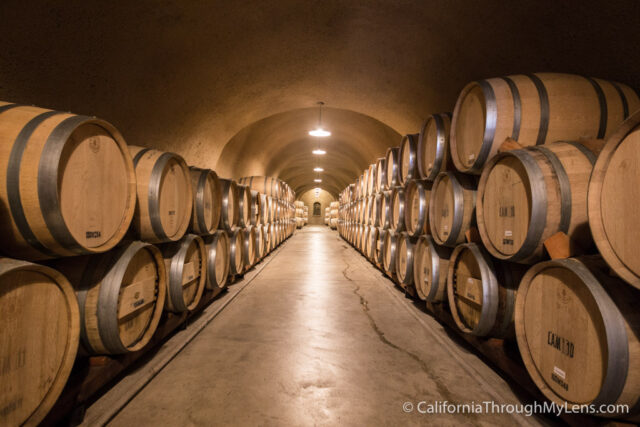 So there you have it, my super long post on all of the excellent food and drinks Calistoga has to offer, let me know what I left off in the comments below so I can check it out next time I am in the area.
For more recommendations for food and drinks in Calistoga, check out this site.