Old Faithful Geyser of California: A Unique Attraction in Calistoga
In the city of Calistoga, north of Napa sits a bunch of unique attractions such as Castello di Amorosa (the castle winery), Petrified Forest, and Old Faithful Geyser. I recommend going to each of these attractions if you have time, but the Old Faithful Geyser is definitely one of the better ones. I was initially worried it would be a typical tourist trap, but when the geyser exploded, it was quite impressive and something I recommend seeing. Here is all the info.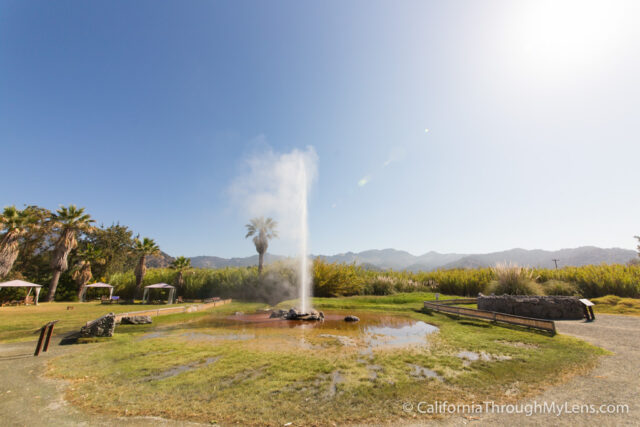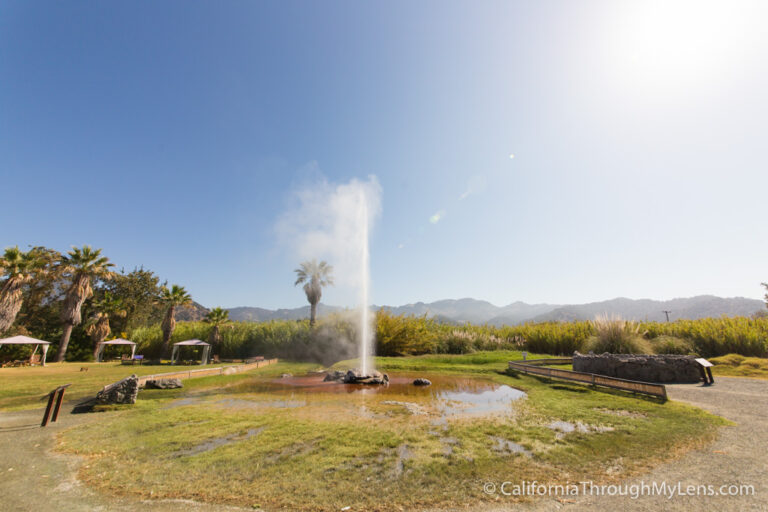 Details
Cost: $15
Generally erupts every ~40 minutes (sometimes it can be longer though)
Lasts 4-8 minutes
Fainting goats and guard lamas
Hours: 9 AM – 6 PM
Location: 1299 Tubbs Ln, Calistoga, CA 94515
Information from 2017 and 2021
Video
Here is a video I made during my visit in 2021.
History
This is a small excerpt taking from their site here:
Centuries ago, the people of the native Wappo Indian Tribe believed in the "Legend of the Healing Waters." The Wappos noticed steam rising through the earth and the mineral waters bubbling out of the ground. Having discovered the healing properties of the waters and their therapeutic effect on tired and aching muscles, the Wappos used the mud to treat bee stings and sunburns with great success. Before long, word of the legend spread, leading people to travel great distances to experience the benefits of the healing waters. Visitors would relax in bamboo sweat lodges, soak in the natural pools, and take in the serenity of Mount Saint Helena.
Visiting the Geyser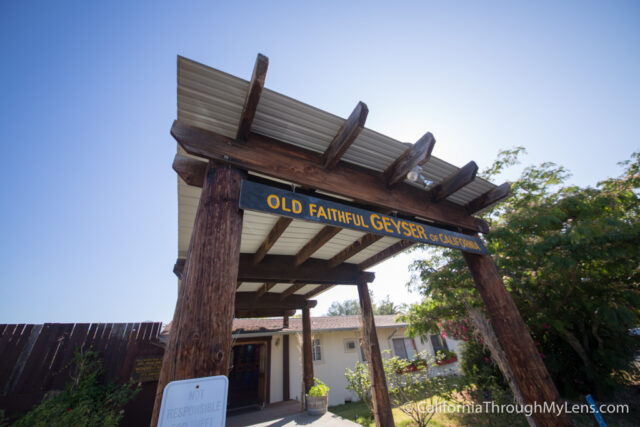 After arriving in the big parking lot, you will enter the small store, pay your fee, then head out to the large back area. They had discounts for students and teachers when I was there, so utilize that if you fit the criteria.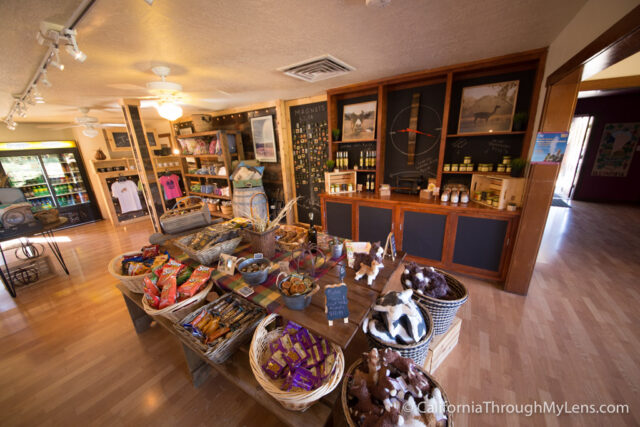 The outer area has a few attractions such as the geyser, a small farm with goats, bocce ball courts, a small museum, and bathrooms.
Most people just head over and sit next to the geyser to wait, not to miss the show. When I went, the guy checking me in told me that the geyser had exploded around 25 minutes prior and was set to go off soon, so I just grabbed a spot at one of the tables and relaxed while I waited for it. We came back again in 2021 and they had added a lot more spots for waiting. We had to wait for an hour and didn't have any trouble doing so with all the stuff there was to do.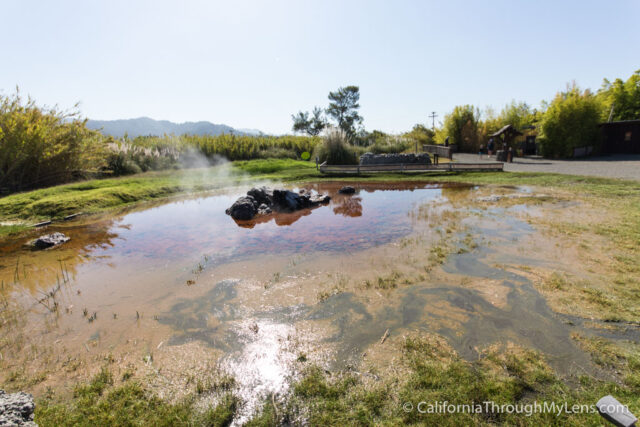 After about 10 minutes, the geyser started to bubble, and the show began almost immediately after that.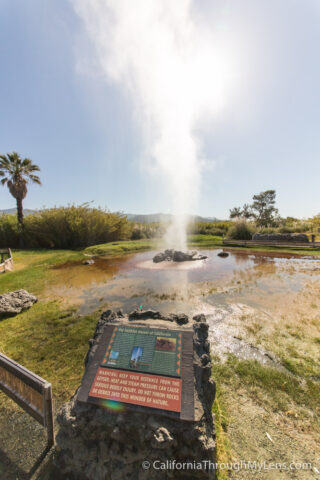 The geyser erupted for about 5 minutes, and it went about 60 feet in the air. It was pretty awesome to see, and I enjoyed that it went for so long. Here is a small video as well.
I tried to watch it from many different angles, so here are a few photos of it while it was erupting.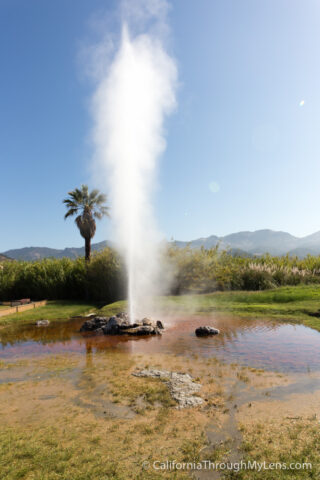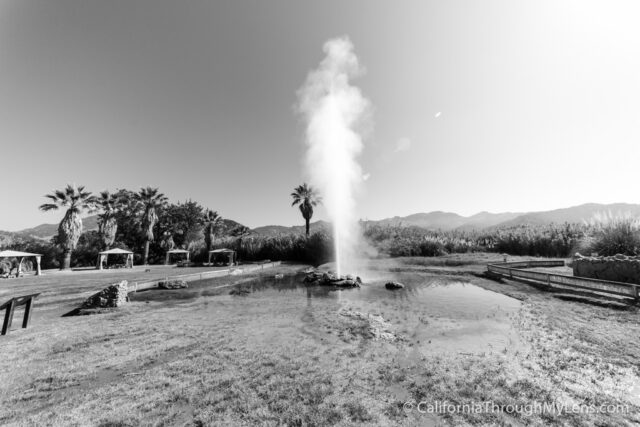 After it erupted, most of the five people there with me left, so I went and explored the rest of the small property. When I cam back in 2021, there was probably 50 people there watching it with me, so it has gotten a lot more popular.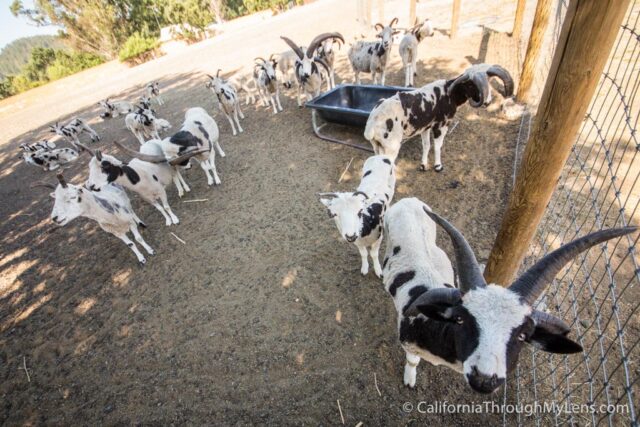 In the back, they had a large area with lots of different kinds of goats. Everything from fainting goats (no, I didn't see them faint) to goats with massive horns walked the back property.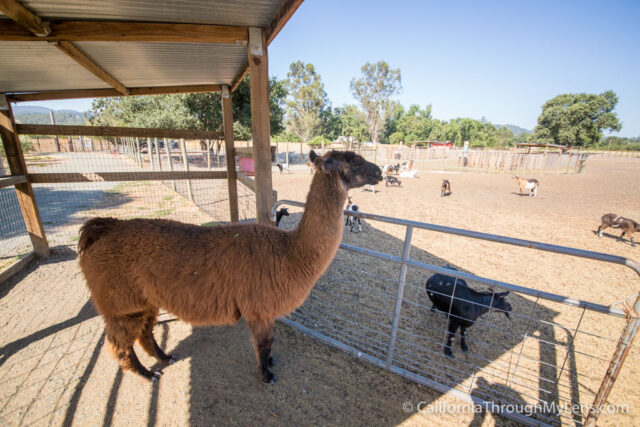 The funniest thing to me was the llama that they had called a guard llama. It was awesome to see it sitting there protecting the goats. They had a whole story on how these llamas lookout for smaller creatures in their native habit, so I hope that is true as it is pretty great.
After taking it all in, I headed to the exit, not feeling ripped off, which is what I was worried about with this attraction. It would be an expensive spot for a whole family, but it was pretty unique and not something that I have seen before in California. It is totally worth visiting next time you are in the area!